Confession time.
We've asked Craftsy sewing and quilting instructors about their worst sewing room mishaps, as a reminder to take it slow and stay safe while sewing! From iron burns to cuts and slices, these sewers are sharing their stories to help remind all of us to be careful while sewing.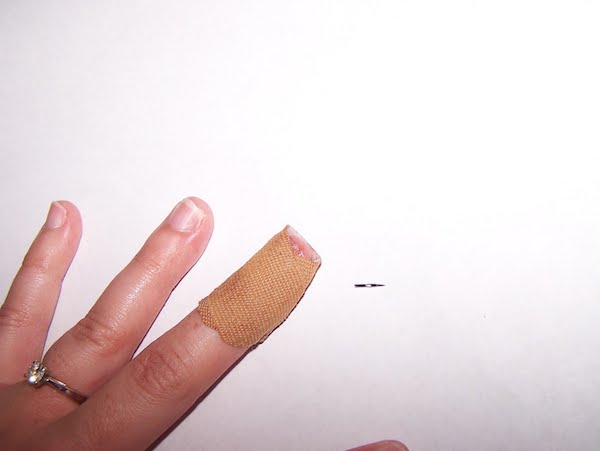 Photo via Lindsay Sews
1. Always close rotary cutters
Personally, I haven't suffered any sewing-related injuries. (Knock on wood!) But I have seen some students in my classes cut themselves on rotary cutters left open. One dear lady cut her bare foot pretty badly by knocking her open rotary cutter off the table and it fell on her foot! The lesson everyone should learn is to close their rotary cutter each and every time they use it.
– Craftsy instructor Kimberly Einmo
2. Keep your eyes on the needle
Oh man! My most recent sewing injury also happens to be my most embarrassing moment. I was teaching at the Modern Quilt Guild's Sewdown in Nashville. As a part of my class, I demonstrate the designs on a sewing machine. I had the students gather around so they could watch. As I was quilting, I turned to answer a question and sewed through my finger! That wasn't the worst part since my machine was in "needle down" position, the needle stayed in my finger as everyone looked on. I am proud of how I handled it though, I calmly raised the needle freeing my finger. I grabbed it in my other hand and held it under the desk. I finished the rest of the segment and then went to check it out. It hurt like heck but wasn't too bad at all. The moral of the story? Keep your eyes on the needle!
– Craftsy instructor Angela Walters
3. Be safe while ironing
I've been pretty lucky when it comes to sewing injuries. The only major one I've suffered was an iron burn, and it was one of those times when I was chain-pressing. When I chain piece a boatload of half-square triangles, for example, I like to chain-press, laying as many half-square triangles out on my ironing board as I can and pressing each one, then reloading the ironing board to do it all over again. This particular time, I picked up the iron with my left hand, which is super out of the ordinary for me, as I'm not a left-hander. I'm not even sure why I did that, but I then managed to iron my right arm rather than my fabric, so I've never picked up my iron with my non-dominant hand again. I guess what I learned was to think twice before bringing a hot iron down toward something!
– Craftsy instructor Elizabeth Dackson
4. Make sure your nails are trimmed
I once sewed through my nail. I learned to trim my nails and to keep my hands away from the front of the needle and place them to each side.
– Craftsy instructor Carol Doak
5. Use cutting tools as intended
I have been sewing a long time, and have the scars to prove it! Iron burns, rotary cutter accidents and sewing through my finger with the machine are all there. The worst was a very bad cut slicing off the side of my index finger on my left hand. I learned that you need to be careful with every cut to set the blade of the cutter right up next to the ruler. I had accidentally started the blade on top of the ruler and then the cutting motion sent it careening wildly into my hand holding the ruler. I don't make that mistake anymore!
– Craftsy instructor Ann Petersen
6. Treat scissors with caution
I was trying to complete a quilt in a hurry and while I was flustered I fumbled trying to grab my scissors. They fell out of my hands and came to rest about 1/2-inch from my foot, and stuck straight down in the floor. I learned to take a deep breath and to not stress while completing a project. It will lead to injuries and mistakes!
– Craftsy instructor Amy Alan
7. Slow down and enjoy the process
I must admit that I currently have 3 iron burns on my arms!  This is what I get for trying to get too much done in too short a time (aka high-intensity quilting). Perhaps I'll learn to keep my flailing arms away from a hot iron, but my guess is that these war wounds won't be my last.
– Craftsy instructor Amy Gibson
Troubleshoot your sewing machine problems without stress! Get to know your machine, its components, what's wrong with it and when to go to the pros in this Craftsy's FREE Sewing Machine 911 class.
Sign me up!
Have you had any

sewing

-related

injuries

? What are your sewing safety tips?