There are a lot of quality sewing-specific tools out on the market, but a lot of the organization in my studio is done with non-sewing equipment. I am a highly organized person, and things like clutter do not sit well with me, in my studio or beyond. I like things tidy and grouped logically. The joy of being a creative professional is having the ability to make a total mess, so do not think that my studio is tidy 24/7, but after a tornado hits, everything always finds its way back to where it belongs, until the next wave of inspiration hits.
Below are some of my non-traditional approaches to sewing room organization that I use in my own space that might prove helpful for you too!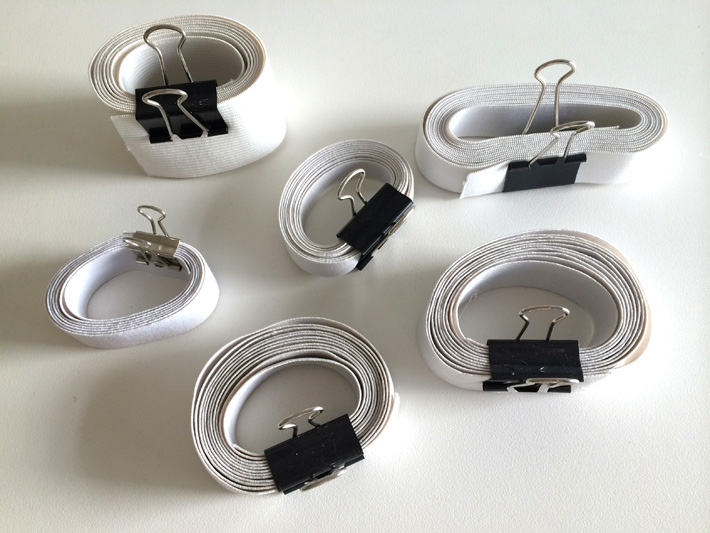 1. Binder clips
I use binder clips for a ton of things in my studio and my home too. (Works better than any chip clip I've ever seen!) They are cheap, easily available at every office supply store, grocery store or drug store, and they can help you bind all kinds of things. In the photo above, I use them to keep cuts of elastic in order. What's nice about this is that once they are clipped like this, I can toss these into a bin or a drawer, and they won't get tangled or messed up.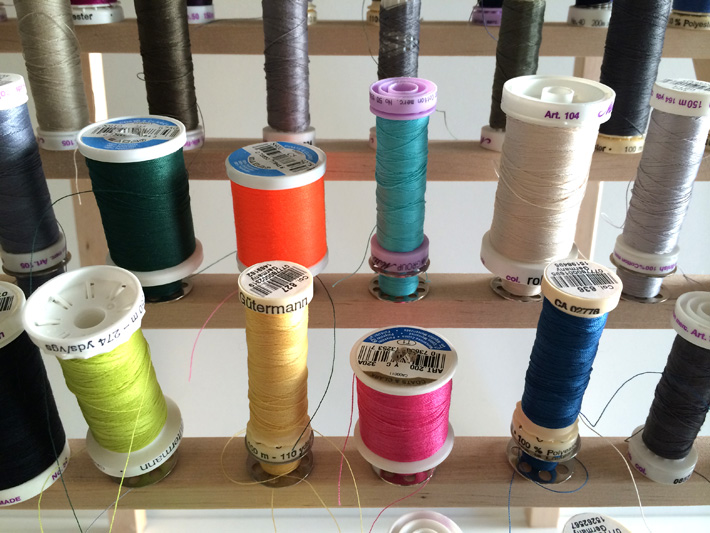 2. Thread and bobbin stacking
When I wind a bobbin for use on a project, I almost never empty the whole bobbin and have a bit of it left. But I loathe trying to mate the lost bobbin with its spool mate on my thread rack. Now you could argue that if I cannot tell if they are a match or not, the color is likely close enough to be used as a pair. But a little-known secret is that I'm mildly colorblind. Nothing major, but sometimes I cannot tell one color from the next and when I think I'm pairing a spool of gray thread with its bobbin mate, I might actually be pairing it with a gray that's much more green or blue than the spool. So I like to stack my bobbins and the spools on my rack to keep them together. It's a simple hack, but it works. Once I take the bobbin and spool off my machine, I just stack them together and they are ready to be mated again for the next project.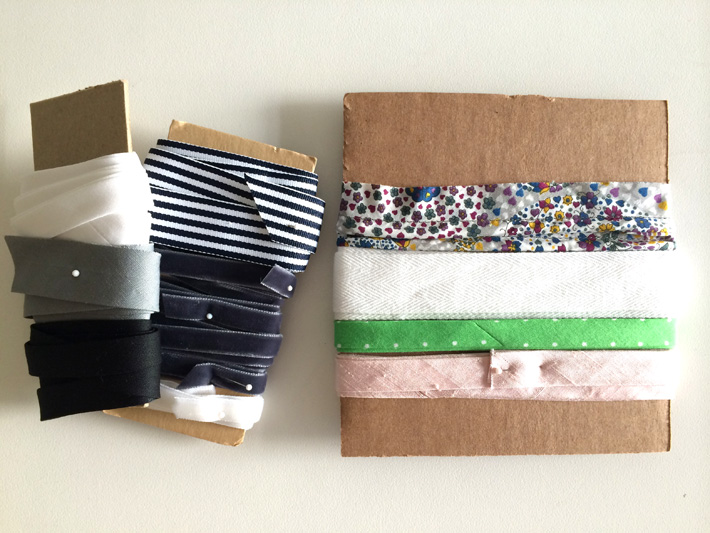 3. Cardboard trim organizers
Much like my elastic and binder clip solution, I need some sort of organization for my trims, too. I like to save the little cardboard insert that comes inside commercially available bias binding and use those for winding other trims or homemade binding. I also have cut strips of cardboard boxes to use as well, as pictured above. Then these can be stacked nice and neatly in a drawer or bin and you can see what you have at all times.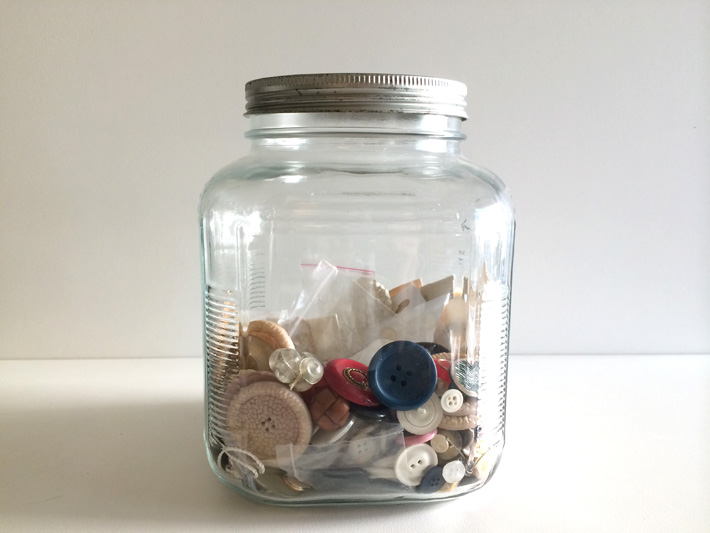 4. Button jar
I have two methods of organizing buttons in my studio. The first is the big button jar pictured above. This is just a jar I bought at a big box store ages ago that I dump buttons into. Now this is far from organized, but it is a nice way to just keep them all in one spot.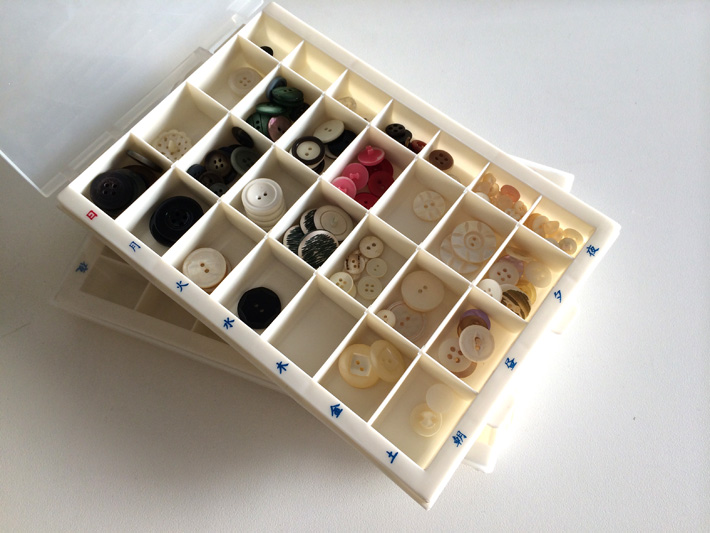 5. Pill trays for buttons
For a more organized approach for your button storage, try using pill trays. I picked these up at Daiso in Los Angeles, and they are far nicer than your average pill organizer. In fact, that might not even be what these are meant for, but they have the same type of storage bins and lid. Pill trays can be bought everywhere, and they are a wonderful way to keep like buttons together. Though they are best for the smaller buttons in your stash.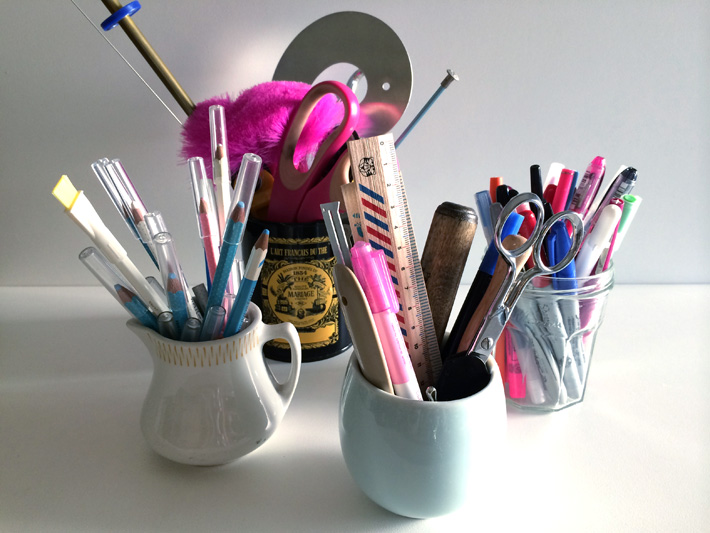 6. Tool canisters
I like to have my main tools on hand and at the ready, but I didn't want to instal a peg board or similar wall organizer, since my studio is in my home and I wanted something a little more visually pleasing. I also like that unlike a peg board, these canisters can be put in a cabinet anytime I want them to go away completely. These are items I have collected along the way: a vintage creamer, jam jars and tea canisters. Gather things from your home that have meaning to you to help organize your space!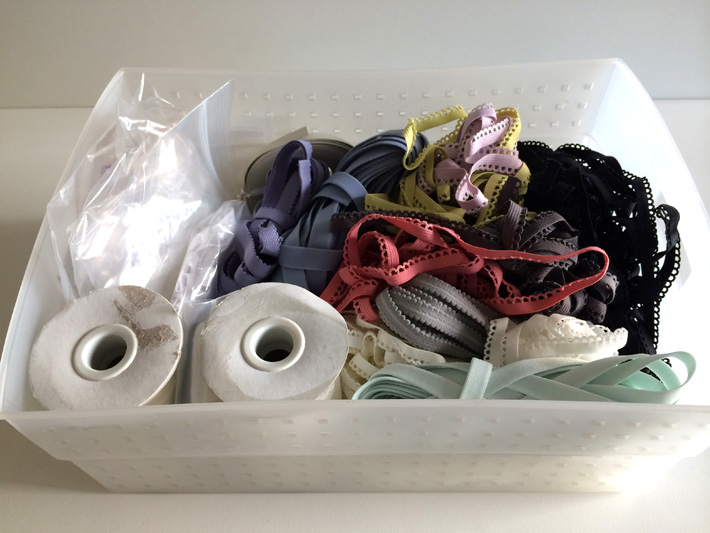 7. Make friends with bins
Bins of all kinds will help you organize your space, and none of my bins came from sewing or fabric stores. Scour the bins at resale shops, office supply stores and kitchen supply stores for the most interesting shapes and sized bins. This bin pictured above is just for organizing my lingerie and specialty elastics. I like that I can have a bin for each thing, so when I need that item I know just where to go.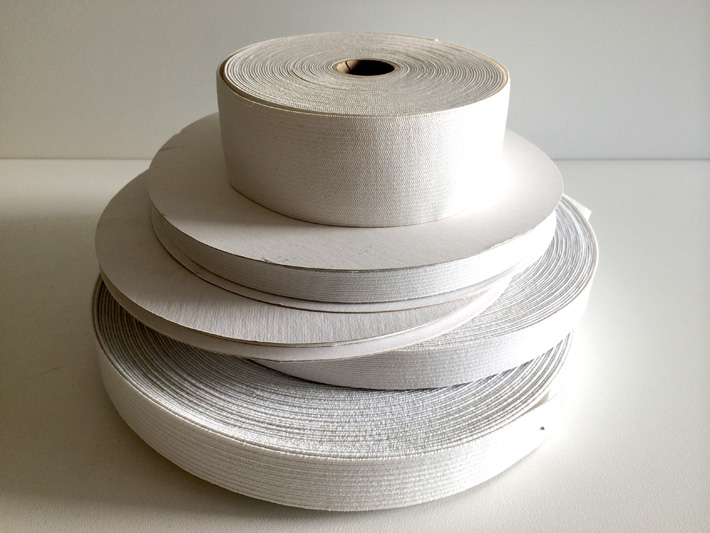 8. Buy in bulk
Don't you hate it when you are ready to sew something and you don't have that notion you thought you did? Ugh, I surely do! So I have gotten in the habit of buying in bulk. The one thing I like to buy by the roll is elastic. Pictured above is a stack of elastic rolls in a range of widths so that no matter what the need, I have the size. These are easy to store as well, since they can just stack on a shelf.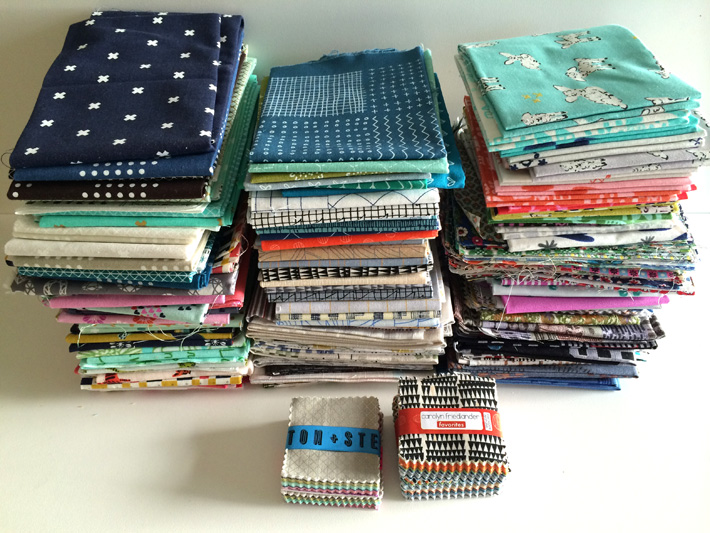 9. Organize fabric by type
I like to organize my fabric stash by the kind of fabric, by the print or by the color, depending on what it is. For example, pictured above is part of my stash of pre-cut quilt weight fabrics that will be used just for quilting. I keep all of this kind of fabric together so I know what I have at all times. I also keep all my lingerie fabrics together in one bin, as well as all my solid colored wovens, and all my knits too. That way when I know I want a knit, they're all together; or when I know I need a solid, the same is true.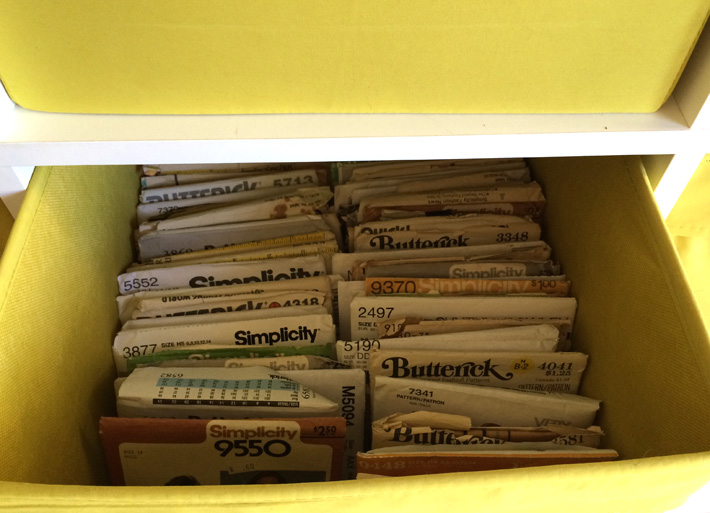 10. Pattern storage
I find that one of the harder items to organize is sewing patterns, but my best find has been at Ikea. The bins they sell to go into their cubical storage systems fits a traditionally sized pattern side by side. Awesome! That way you can pile them in two-wide, and fill the bins from front to back. Then the bin itself can fit into the cubical shelf, or on any shelf you have at home.