Is one of your New Year's resolutions to go green in 2014? If so, sewing these reusable snack baggies will help you stay on track!
This very cool project uses a unique material called PUL. PUL stands for polyurethane laminate. It is a polyester knit fabric that has been laminated on one side with a thin film of polyurethane. This fabric is lightweight, flexible, breathable and is completely waterproof. It can also be machine washed and dried, even at high temperatures.
Photo via Swoon Patterns
Repurposed snack bags
I have always tried to be environmentally conscious, so I wondered if there was a way to use PUL in projects that would help to make our lives more eco-friendly. With that idea in mind, I lined a basic, but chic, bag pattern, like the Swoon Dottie Vintage Bag pattern (seen above), with a piece of PUL to create a lunch bag. From there, I realized we could be making snack bags, kitchen wet bags and so much more!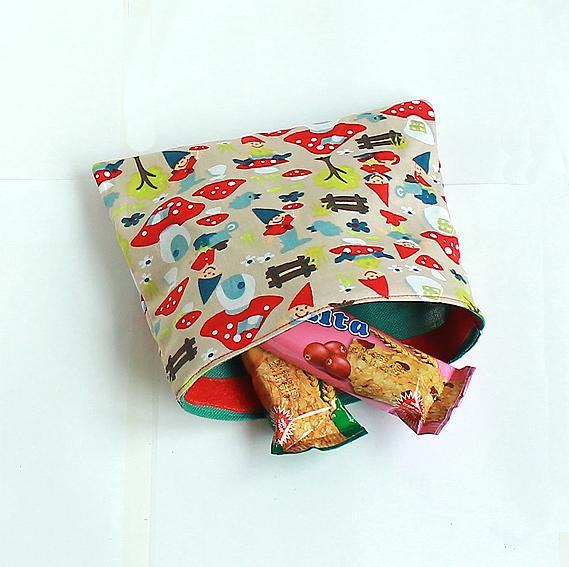 Photo via Kikoi
Snack bags from a pattern & fun fabrics
One of the easiest and most functional projects I stumbled upon is a reusable snack bag. Begin with a fabric bag pattern, like the Reusable Snack Bag pattern (seen above), that is similar in size to a typical plastic sandwich bag. To make mine, I used fun, bright fabrics, lined them with PUL and added a Velcro closure. The end result is a sandwich baggie that can be used over and over again, and that can be machine washed and dried.
As I was making some samples I started thinking about the endless possibilities for this item. These baggies could be used to store just about anything — cosmetics for traveling, juicy fruits in your lunch, pretzels or chips for an afternoon picnic, clothespins and rubber bands in your kitchen — the list is endless!
Once I made my first set of baggies, this idea took off like wildfire! My friends were creating sets of baggies made with fruit and kitchen-themed fabrics. One person even used very chic and modern fabrics to match her existing black and silver lunch tote. Others were making baggies, filling them with cookies and handing them out at holidays and birthdays. And the best thing about these baggies is that they can be used time and time again.
PUL really opens up a fun outlet for sewers to create even more eco-friendly projects. I love being able to sew something that is also helping the environment. I'd love to hear how many plastic baggies you are saving because of the reusable snack bags!
Will you handcraft your snack bags?