Knit fabrics are ideal for summer because they're comfortable, versatile, and easy to wear: All the things we tend to love during the hotter months. Today, I have a round up of sewing patterns using knit fabrics that will work for many different occasions. Sometimes you may want to whip up something quick so you can get out and enjoy the weather, and other times you may want to sew inside all day in the cool of the air conditioning! Either way, one of these projects is bound to suit your summer fancy!
Check out these sewing projects using knit fabrics. They're as lovely as a summer breeze!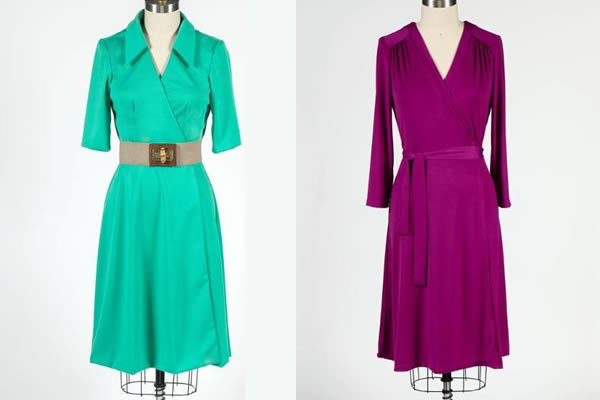 Photos via Bluprint instructor Dyanne Marte
Wrap dresses
Never underestimate a simple knit wrap dress! They are arguably the most multi-purpose style you can sew. Choose a sturdy double knit or a jersey knit with lots of drape, depending on the look you'd like to achieve. A wrap dress is truly "season-less" and is the perfect style for daytime/nighttime transitions. Everyone should sew at least one!
[box type="shadow"]
Join the Bluprint class The Perfect Knit Wrap Dress to learn how to sew this lovely and classy wardrobe staple!
[/box]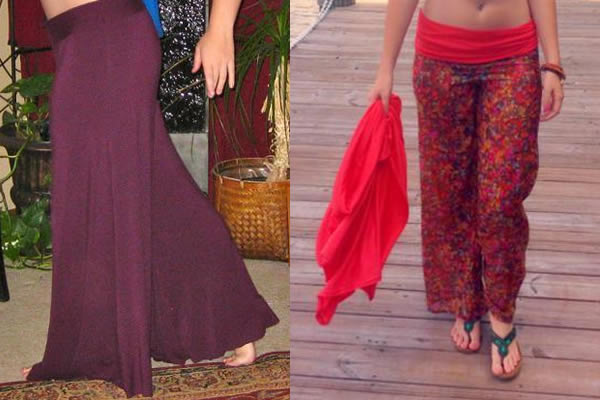 (Left to right) Flared Dance Pants via NightLilyDesigns; Bohemian Palazzo Pants via Ori
Palazzo pants
Popular now for beach and dance-wear, palazzo pants have been comfortably chic since the 1920's! Cool, lightweight and flowy, these pants are definitely a summer staple. Sew one pair, and I bet you'll have a closet full before you know it! They're an easy style to learn and love.
Get the Flared Dance Pants Pattern here.
Get the Bohemian Palazzo Pants Pattern here.
(Left to right) Vintage Wrap Top via RedPointTailor; Knit Pullover Top via Scheri Manson
Vintage-inspired tops
Experiment with the beautiful draping qualities of knits with the very vintage Dolman or "batwing" sleeve style top. You could also take advantage of the form-fitting, shaping properties of knits and show off your figure. Both styles are very different but still very feminine, and most definitely summery.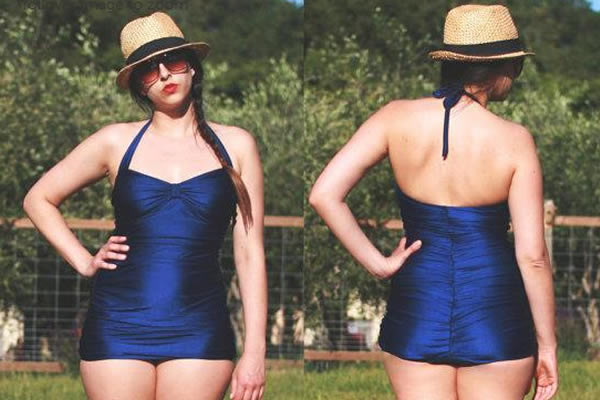 Photo via Bluprint member closetcasefiles
Bombshell swimsuit
This retro-inspired swimsuit style is all the rage. Classy and flattering on all sorts of figures, they don't call it the bombshell swimsuit for nothing!
Get the Bombshell Swimsuit Pattern here.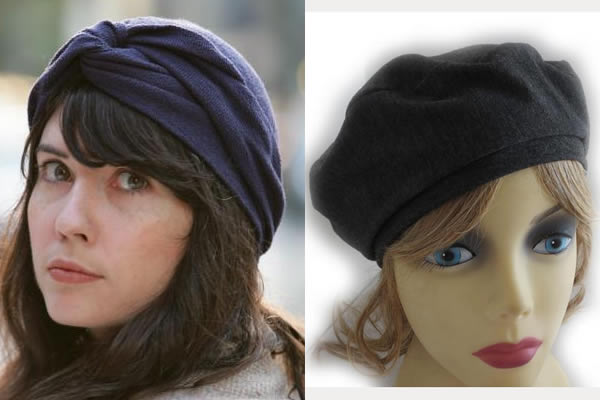 (Left to right) Vintage-Inspired Truban via acommonthread; Stretch Beret via stitchypatterns
Knit hats
Vintage-style turbans and berets are as easy and fun to wear as they are to make. A little fabric goes a long way when you sew classic, versatile hats like these.
Get the Vintage-Inspired Turban Pattern here. 
Get the Stretchy Beret Pattern here.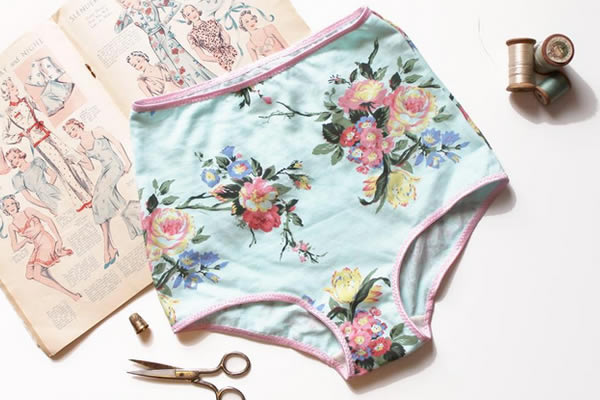 Photo via Bluprint member OhhhLulu
Undergarments
Make lovely boutique styles yourself when you sew gorgeous patterns like those available from OhhhLulu! Designer Sarah has a wide selection of lingerie patterns that could easily be made into swimwear as well. If you like small sewing projects and dainty knits, try sewing your own undergarments!
Check out the collection of lingerie patterns from Bluprint member OhhLulu.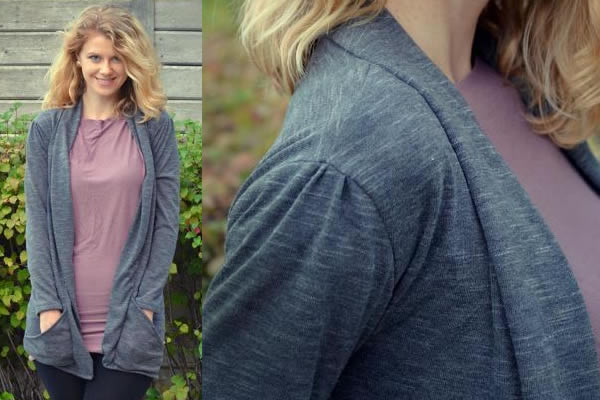 Photo via Bluprint member DesignFixation
Slouchy cardigan
A nice lightweight cardigan makes a stylish coverup when you want a bit of protection from the sun or a chilly breeze. Make one and wear it all year round!
Get the Coastal Cardigan Pattern here.
[box type="shadow"]
Need a little more instruction before conquering sewing with tricky, stretchy knits? Then sign up for the Bluprint class Sewing With Knits: 5 Wardrobe Essentials. You'll learn to tackle this challenging fabric with ease as you create five comfortable and versatile knit garments!
[/box]
Now that you've seen a variety of comfy wardrobe staples just waiting to be made, the question is: what summer style will you sew first?