There is just no way around it; mastering the art of sewing is a big undertaking. A good rule of thumb to help you achieve success is to start small and gradually add new skills to increase your sewing confidence. Take classes, join sewing groups, and search out online resources to help you learn new tips and techniques. Most sewing problems can be resolved by practice, and not getting hung up on being perfect. You will learn from every mistake you make!
However, to save yourself some frustration, it's helpful to educate yourself on common sewing mistakes before you make them so they can easily be avoided. Here are 10 of the most common pitfalls to watch out for.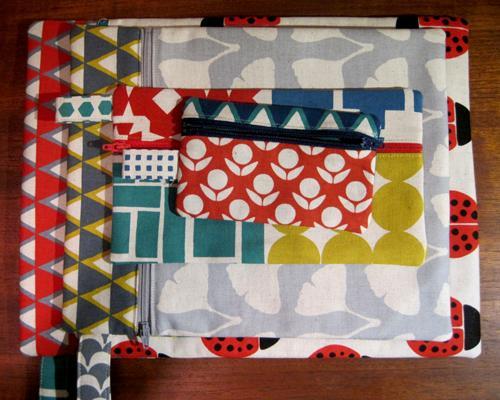 Photo via Craftsy instructor Kristin Link
1. Choosing a complicated project
If you are very new to sewing, do yourself a favor and try a few simple projects before diving into something complicated that either has loads of pattern pieces and/or difficult fabrics. Once you have mastered stitching straight and accurately on woven fabrics, then it is time to branch out into more complicated sewing.
If you're just starting out, check out Craftsy's FREE Bag-Making Basics mini-classes. Instructor Kristin Link walks you through making simple drawstring and bucket bags and reversible totes and zipper pouches, like the ones seen above, with easy-to-follow, step-by-step instruction.
2. Not buying enough fabric
It is usually a good idea to buy a bit more fabric than the pattern indicates for several reasons. It is easy to make a mistake when you are cutting out a pattern, and having some extra fabric may mean the difference between completing the garment, or not. Some fabrics shrink in the washer/dryer, so you may not be able to cut out all your pattern pieces after pre-treating your fabric. If your fabric is a directional print or has a nap, it will usually take more than the pattern indicates, too.
3. Not buying the correct fabric for the pattern
Most commercial patterns include a "suggested fabrics" section that lists the type of fabric the designer thinks is most suited to the pattern. It is not uncommon for beginners to buy fabric based on an appealing pattern design or color, and ignore the laundering requirements, the drape of the fabric, or whether the pattern requires a knit or woven fabric.

Photo via Craftsy instructor Joi Mahon
4. Using the wrong pattern size
Take accurate body measurements before buying your pattern size. Patterns do not use the same measurement scale as ready-to-wear clothing manufacturers.
5. Laying out the pattern pieces incorrectly
Start by correctly aligning the selvedge edges of your fabric and smoothing it so it is completely flat. Each piece of your pattern contains information about how it should be cut out. Check first for those pattern pieces that must be cut out on the fold of the fabric, and align these on the folded edge. Also be sure to check how many of each pattern piece you need to cut; some pattern pieces will require only a single cut piece, while others might need two, four, or more pieces cut from your fabric.
6. Cutting inaccurately
Well-drafted patterns are designed to fit together accurately, and that means cutting exactly along the cutting lines. Notches, buttonholes, and other pattern markings also need to be transferred to your fabric pieces.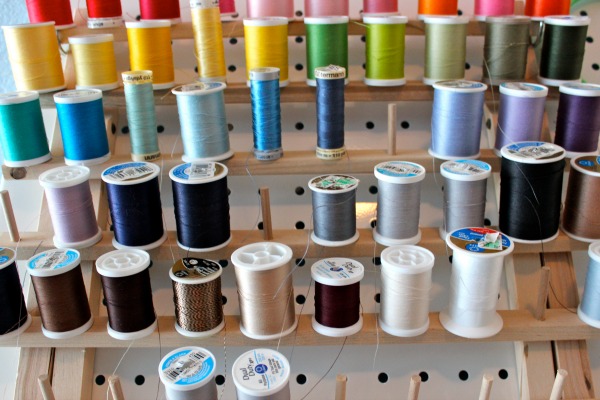 7. Using the wrong thread or needle
Most garment construction should be done with 100% polyester all-purpose thread. Rayon, silk, quilting and topstitching thread are not appropriate for clothing construction, so be sure to check the label. See also our post on types of sewing thread.
Also be sure to use the type of needle required for your fabric or project. Universal needles are commonly used for natural fibers, ballpoint or jersey needles are for sewing with knits, and stretch needles are designed for elastic or very stretchy fabrics. Specialty needles, such as metallic or leather, are also available for sewing projects. In all cases, match the needle size to the weight of the fabric; the larger the number the larger the needles circumference.

8. Not pre-treating your fabric
A good rule of thumb is to launder your fabric prior to construction that same way that you intend to launder the finished garment. See our post on how to wash fabric before sewing for more helpful tips.
9. Sewing over pins
Metal striking metal is never a good idea. Hitting a pin with your sewing machine needle might cause the needle to break, the pin to bend, and most likely will dull the needle point and cause crooked stitching.
10. Infrequently changing your sewing machine needle
Sewing machine needles should only be used (on average) for 6-8 hours of actual sewing time before being replaced with a fresh needle.