Every sewing machine needs a custom cover for a few big reasons: It protects your beloved sewing machine from dust and protects your kids from needle-related accidents. Plus, a machine cover adds a pop of color to your sewing room while giving you something fun to sew!
Make your own sewing machine cover with these six sewing patterns.
1. Sewing Machine Cover With Accessories
Get a PDF pattern to make a sewing machine dust cover, pincushion and thread catcher. All three sewing room accessories are quilted, but you can use pre-quilted fabric to make it quicker.
2. Sewing Machine Cover With Video Tutorial
Here's a fully lined sewing machine cover, including a triple pocket and a handle on top. This FREE project comes with PDF instructions and a handy video tutorial available on YouTube. This looks so easy that even a beginner could sew it.
3. "Stitch Me" Sewing Machine Cover Appliqué
This pattern is a little bit involved because it involves the appliqué technique. On the other hand, the decoration is so fun that you may not be able to resist it! In the designer's sew-along, you'll also learn how to adjust the dimensions to fit your own machine.
4. Sewing Machine Cover With Vinyl Top
This pattern comes with three variations: a short version with sides, a long version with sides, and one without sides at all. Each variety includes a top vinyl window so you can see and show off your beloved sewing machine.
5. Made For Me Sewing Machine Cover
This pattern includes one set of standard measurements (19″ x 12″ x 8″) and instructions to customize your dust cover. Plus, there's plenty of space to add any personal touch you like: paper-pieced quilt designs, embroidered designs, appliqué and more.
6. Brother Serger Cover
This last pattern is not for a regular sewing machine, but for a serger or overlocker. Designed for a Brother 1034d serger (one of the most popular models), you can easily change the measurements to fit a different model. 
More Sewing Room Ideas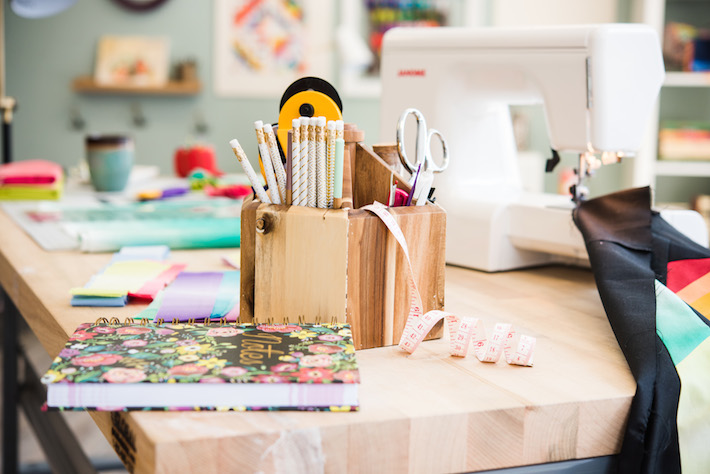 Discover our favorite sewing room decor, organization ideas and so much more.