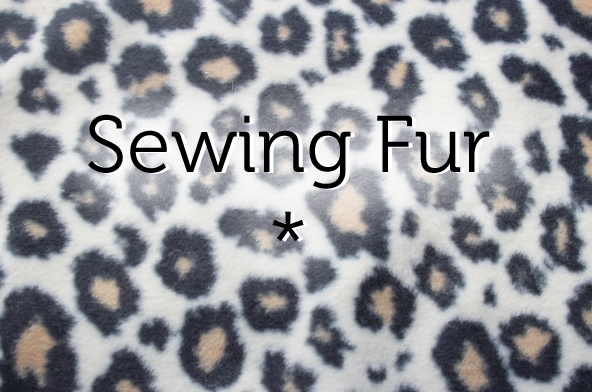 Faux fur is a fun option for sewing projects in the colder months of the year. Although it can be a bit tricky to work with, sewing patterns calling for faux fur usually have very simple lines, so aside from wrangling the fur, you'll actually be dealing with a fairly straightforward project. And if you're using a pattern that doesn't call for faux fur specifically, be sure to choose one without any pleats or gathers. Either way, there are a few sewing fur tips to keep in mind as you begin your project.
When selecting your fur, remember that the heavier the fur, the more difficult it will be to sew. If this is your first sewing project with faux fur, you might want to look for an option with a low pile.
When it's time to cut your pattern pieces, take note of the direction of the fur: you will want it to be laying down. Make sure you cut all pattern pieces with the fur going the same way, otherwise it will be very noticeable on your finished garment. Any easy way to make sure you are doing this is to mark several arrows indicating the nap of the fur on the back side. You can do this with a marker or pen; it won't show through on the right side of the fur.
It's a good idea to use weights on top of your pattern pieces when cutting. Depending on the thickness of the fur, pinning might distort the shape of the pattern. Weights will give you the most accurate cut. If you don't have any weights on hand, dig around in your pantry for some canned goods; they'll work just fine in a pinch. You might find it easier just to trace around your pattern pieces on the backside of the fur rather than trying to cut around the pattern.
Only cut through one layer of fur at a time. Use sharp scissors or a razor blade to cut just the backing of the fur, not the fur itself. (Otherwise you'll end up with a whole pile of fur.) Once you have the back cut apart, gently tug to separate the fur. This ensures that the long strands of fur are left intact; this makes seams less noticeable.
Comb the cut edges of the fur towards the center on all of your pieces. This prevents strands from getting caught in the seams.
This is the most time consuming of the sewing fur tips, but hand baste all of your seams before running through your sewing machine. You'll thank yourself later.
Adjust your stitch length to be longer; somewhere around 2.5 to 3 should work well. Sew with ¼ inch seams to reduce bulk. If your pattern calls for a larger seam allowance, trim to ¼ inch.
If you are sewing fur to a lighter-weight fabric, keep the fur on top. Otherwise, the lighter fabric is likely to get bunched up.
After sewing a seam, gently comb out (you can use your fingers but an actual comb is helpful, too) any stands that got caught in the seam. This is much easier to do if you do it after each seam, rather than waiting until the end.
One of the most important sewing fur tips is to be sure to clean your machine after. Fur will throw a lot of lint into your machine and it's best to get it out as soon as possible so it doesn't damage your machine.
Have you worked with faux fur before? Let me know in the comments!
Then explore how to sew lingerie and chiffon. Then come back to the Bluprint blog tomorrow for a beautiful free sewing pattern, and on Saturday to learn great tips for sewing leather.