If you've done any regular garment sewing, you've probably run into the term "ease" at some point. There are a few different types of ease that play an important role in your sewing projects and how they fit. In general terms, sewing ease is the difference between your actual body measurements and your finished garment measurements at the same points (bust, waist and hips). The amount of ease greatly depends on what you're sewing and what it's made out of. When you're leaning how to alter patterns, knowing about each ease is especially important.
Wearing ease
Wearing ease is the minimum amount of extra room added to a pattern to allow for comfortable, non-restricted movement. All commercial patterns, as well as ready-made clothing, has wearing ease built in to allow you to sit, move, raise your arms, breathe easily, etc.
Design ease
Design ease is any amount of ease, beyond the basic wearing ease, that's added to a pattern to alter its silhouette or general shape. Design ease is the difference between a pencil skirt and a full circle skirt.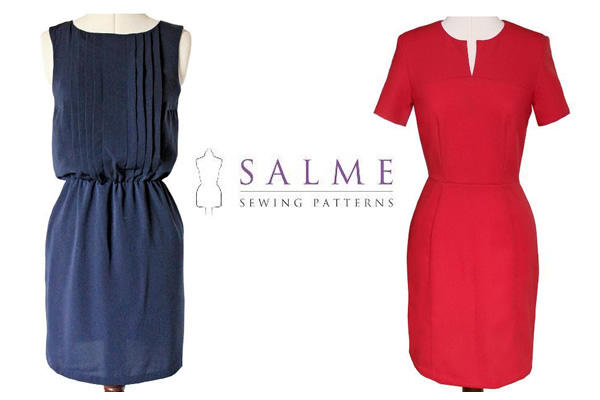 Photos via Bluprint member Salme Patterns
Notice the difference between design ease and wearing ease in the photo above. The Salme Pleated Sleeveless Dress pattern on the left has wearing ease, as well as extra design ease, added to the bodice for the pleats and a loose fit around the bust. The Salme Sandra Dress pattern on the right has enough wearing ease added to the bodice to allow for comfortable movement, but with a much tighter fit overall when compared to the Pleated Sleeveless Dress.
Negative ease
Negative ease is used for stretch fabrics that have more give and can stretch around your body comfortably by themselves. A negative ease garment will measure smaller than your actual body measurements, but will still stretch enough to fit you comfortably. Bathing suits and active wear, like yoga pants, will have negative ease.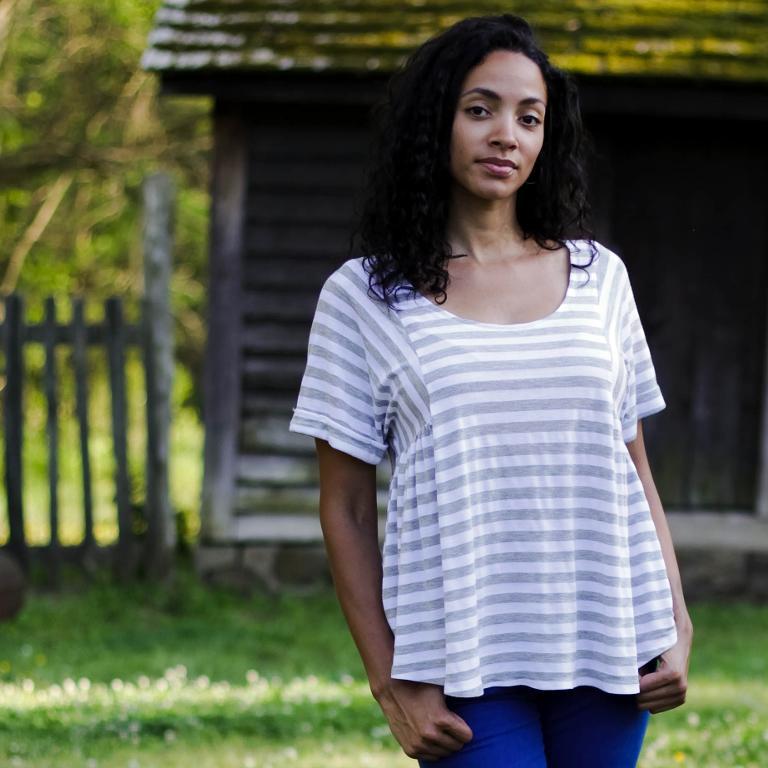 Poloma Top Pattern via Bluprint instructor Meg McElwee
No ease
No ease is seen with basic pattern drafting when creating a sloper block based on your body measurements alone. The purpose of the sloper block is to establish your body shape in fabric form so you can make or adjust patterns based on your custom shape. The sloper is not meant to be worn as a finished garment and should be nearly skin tight when trying it on. Wearing ease and design ease are added later to transform your sloper into an actual sewing pattern.
If you're interested in learning more about sloper blocks, take a look at Suzy Furrer's patternmaking classes.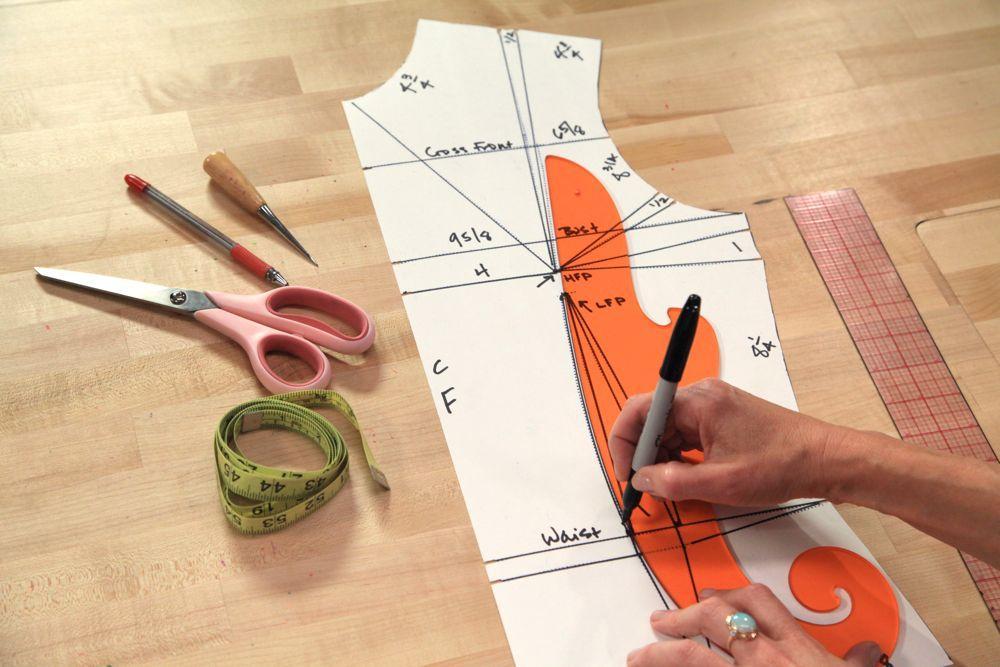 Photo via Suzy Furrer
Ease plays a big roll in how we choose our fabrics and patterns.
Knitwear, like T-shirts and jersey dresses, can have negative ease, with no shaping or closures, and still fit because the fabric will stretch around you. A woven dress that's very fitted must have a zipper, darts and similar functional design elements to shape the woven fabric to you in a flattering way. That all sounds very obvious to the average seamstress but wearing ease can get a little tricky, especially when comparing patterns between different companies, and even different decades. It's important to pay attention to the size chart, as well as the finished garment measurements, on the back of your pattern.
Photos via Lucky Lucille
Food for thought
Butterick B5895, more widely known as the Gertie Capri pattern, is a vintage inspired capri pattern that is meant to be comfortably snug around the natural waist and fitted throughout. One would assume that selecting your size according to the pattern envelope would give you a pair of pants that fit just like they do on the model. However, if you pick your size based on your body measurements alone, you might be disappointed when your pants end up much too big, especially if you're sewing with a stretch fabric.
A size 10 is meant to fit a 34.5 inch hip, but the finished measurements are 38 inches at the hip. That means there's 3.5 inches of wearing ease to consider when fitting the pants. I used a stretch cotton sateen for this particular pattern, and therefore picked the size that was the closest to my body measurements when finished, not as the envelope instructed based on my size. Due to this change I ended up sewing four sizes smaller than I originally planned!
[box type="shadow"]For more information on fitting techniques and how ease affects it, sign up for the Bluprint class Fast-Track Fitting: In the Details with Joi Mahon.[/box]
How has wearing ease affected your sewing/fitting in the past?