My main goal in sewing for my family (mostly for my active daughter), is to create clothes that will be worn (and won't stay hidden inside the closet) and that will last without getting undone or ripped along their seams after a few wearing-washing cycles.
To comply with the first condition above, I know I have to sew using knit fabric (provided it is pink and/or twirly): knits are soft, usually wrinkle-free (read: no need to iron them!) and perfect for sportswear.
For the second one, I have to admit that I struggled a while. Everybody says knit doesn't fray, and most of the times is true, and they all says you don't need to finish seam allowances… not really!
Raise your hand if it never happened to you to spend hours sewing anything with knit fabrics and, as soon as you've worn it, you heard that awful "pop", meaning a seam had broken.
It happened to me several times and it was really throwing me off, screaming "poorly homemade". This happens because a standard seam doesn't stretch as much as the fabric, but there are several ways to avoid it!
Here are my best tips for you, learned the hard way, to create strong, durable seams on knit fabrics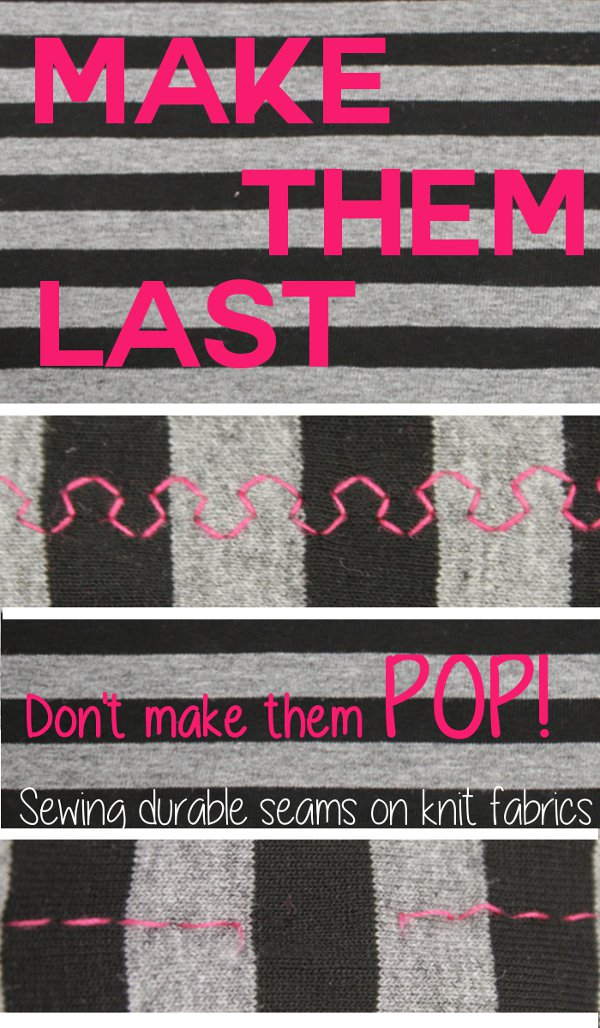 Choose the fabric wisely
Choose the knit fabric accordingly on your project: i.e. check for stretch content and great recovery (think leggings, that will bag above knees and it, if you choose the wrong fabric); search for interlock, double knit or ponte, if you are going to sew a knit jacket or a cardigan, jersey is perfect for a t-shirt, and so on.
Remember that sourcing high-quality fabrics doesn't necessarily mean spending a lot of money.
Refashion is the key: Shop your closet or a thrift shop for pre-loved knit fabric garments you can cut as if they were fabric from the bolt.
Avoid worn-out and threadbare garments: a too thin (or worn) fabric will probably break soon, next to the main seams (crotch, underarm), forcing you to patch your newly sewn garment.
Talking about choosing knit fabric, I've learned a few new-to-me tricks and secrets about sewing knit fabrics with Linda Lee's class The Ultimate Guide to Sewing Knit Fabrics, one of my favorite classes, indeed!
Choose the right needle and pins
I know a few sewers that use Universal Needles for sewing knits (and I've done this mistake me too): unless you like the grunge look of holes in the fabric all along your seams, appearing after a few washing cycles), I'd suggest you don't do the same. You may be lucky, or not… I don't like to try the chance, when I sew!
Better choices are needles labeled as Ballpoint /Jersey or (even better) Stretch.
They have a rounded tip that slips between knit fibers, instead of piercing them, causing broken yarns.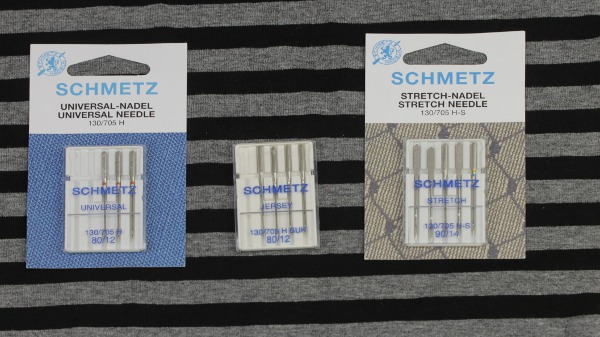 I tried both kinds and I've randomly experienced skipped stitches with the ballpoint type, so I tend to buy the stretch ones (which have a slightly less rounded point), sizes 11 (75) for lighter weights and 14 (90) for all the rest of knit fabrics. I use them for both my sewing machine and my serger. 
Same bits of advice apply to pins: use ballpoint ones, if you can source them, and try to pin inside seam allowances, to avoid holes!
What about the best thread?
In my childhood, I've never seen my mom sewing with a polyester thread, only Cotton n° 50. And this is probably one of the whys she was convinced one couldn't sew knits on a sewing machine!
Please don't do the same mistake, use a good polyester thread and you'll be much more happy: it's stronger and more stretchy!
Other option is the cotton wrapped polyester thread (like Dual Duty), which combines both materials qualities: strength and stretch from polyester and heat resistance from cotton.
A specialty thread you can use for durable seams on knits is wooly nylon: a yarn-like spongy textured thread that has a lot of stretch built-in.
Wind your sewing machine bobbin with it (better by hand, or it will be too stretched) or thread your  serger loopers for extra-stretch seams!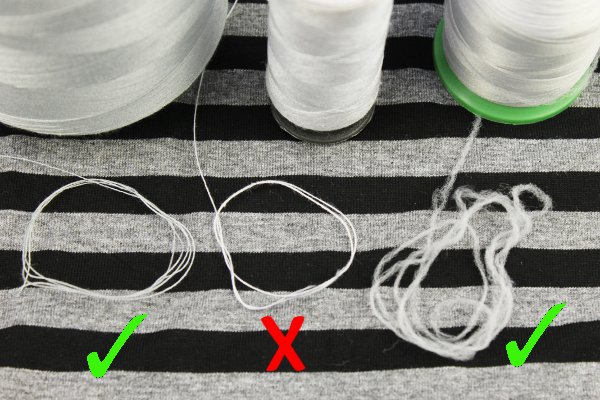 Extra tip for serger: You can use the thread nets around the spools if you have troubles with the wooly nylon feeding evenly!
What to avoid:
Old thread
Thread that was exposed to direct sunlight (like on a glass showcase)
Thread inherited from an old grandma who hadn't sewn from a lot of time
Thread from garage sales.
In this case, better safe than sorry, you want to avoid a too weak thread!
Durable seams with a sewing machine
You can sew knit fabrics with a variety of stitches, some are better than others. I do not have a fancy computerized or electronic sewing machine, with 2000 different decorative stitches, just a regular mechanical old-style one, with 12 functional programs: more than enough!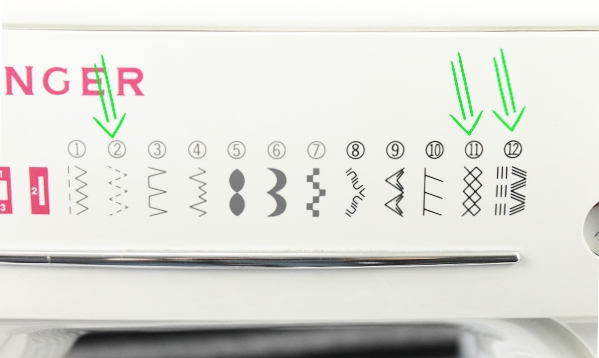 What you need to keep in mind, to sew a durable seam on knits, is that your seam has to stretch with your fabric.
On my sewing machine, my favorite stretch stitches are:
Triple straight stitch (#12 above): perfect for sewing crotches that won't embarrassingly pop!
Three-step zig-zag (#2 above): great for finishing seam allowances but also for attaching elastics and seaming (make it narrower)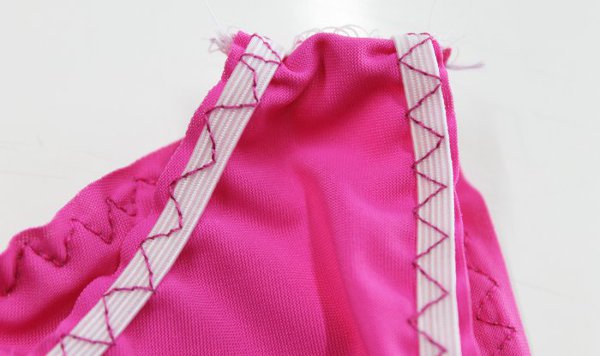 Honeycomb (#11 above): I love it for a decorative yet functional topstitching like I did in The Sweetest Tank below.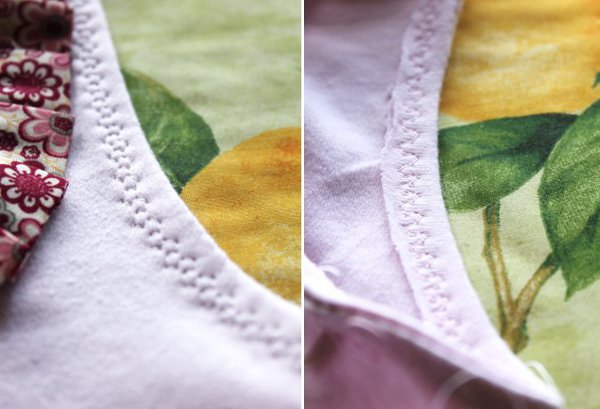 Get the free pattern here
If you don't have those stitches available on your sewing machine, try with a regular zig-zag! Play with length and width until you're satisfied, and slightly decrease tension.
As always, test is the keyword: Sew a swatch to decide settings, then pull the seam a few times, to sham wearing: if nothing breaks, you're all set to go!
How to treat seam allowances
What I Never Ever skip when sewing knits, no matter what the pattern says, it's to finish seam allowances: knits don't ravel, it's true, but finishing together those hanging little pieces of fabric will help them stay flat inside your garment, adding strength to the seam.
For seams that need to be REALLY STRONG but yet elastic (e.g. crotches) I usually sew two rows of triple straight stitch side by side (1/4″ apart one from each other), then finish the seam allowance with a 4-thread overlock.
Less critical seams will get a single row of triple straight stitch and a zig-zag (or 3-thread overlock, or even a 2-thread overlock, if lightweight) on their raw edges.
Durable seams with a serger
As I've just said, as a rule of thumb, most of the times I sew my seams on knit fabric with a sewing machine, then finish their seam allowances together with a serger.
I can think to a couple exceptions:
1) Super stretch knits (think to swimsuits, leotards, active wear)
I prefer to sew my seams with a 3-thread Super Stretch stitch, stronger than the 3-thread overlock, using left and right needles + lower looper threads. 
With it I have successfully sewn this leotard for my daughter, and she's been using it at her gymnastic training without accidents from a while, now!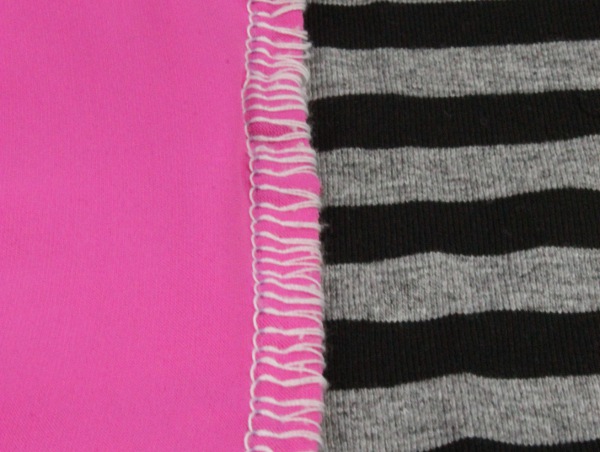 For this serger stitch, I use the following tension settings:

2) Garments that don't need to last (like Halloween costumes)
In this case, I would directly serge my seams using a 4-thread overlock seam, unless I'm sewing a Catwoman Leotard 😉
Note: If you aren't planning to add a serger to your sewing room, try with this budget-friendly alternative — a Lock Cutter Sewing Machine Attachment
A few tips concerning hems:
Fact #1: Hemming knits can be a nightmare!
Fact #2: Hemming knits the same way you do with wovens (turn and topstitch with a regular straight stitch) will lead to popping seams.
What can you do? Try with:
Double-needle perfect to imitate that two neat rows of stitching you see on RTW hems. It keeps a little bit of stretch, thanks to the zig-zag on the wrong side.
Note: For added stretch, use a hand-winded bobbin with wooly nylon! 
Add cuffs, either regular, made using the same fabric or even contrasting.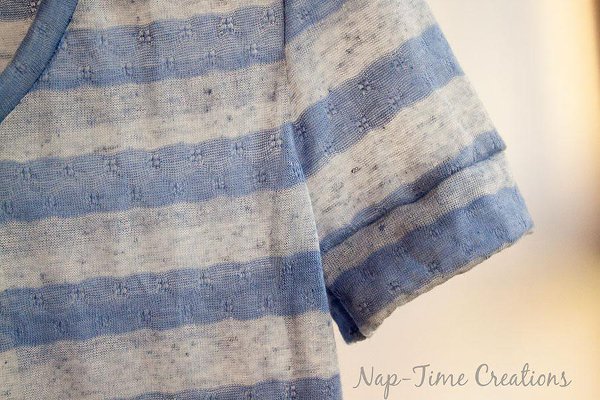 Get the free pattern here.
Or, you can make a virtue out of necessity, adding an eye-catching cute lace crocheted cuff detail like these: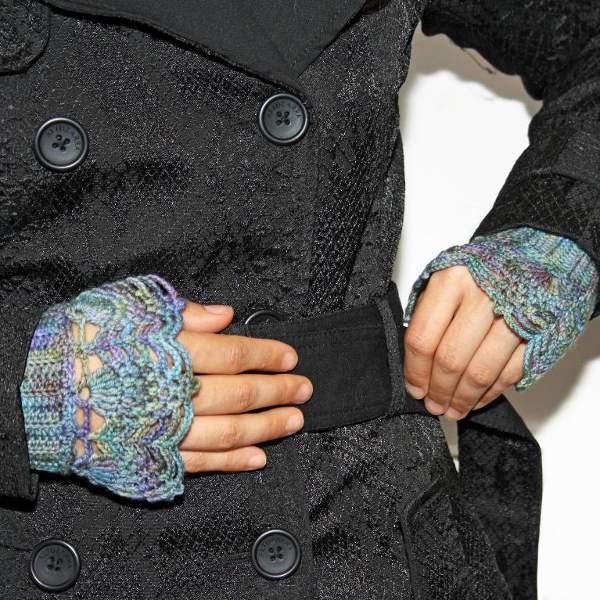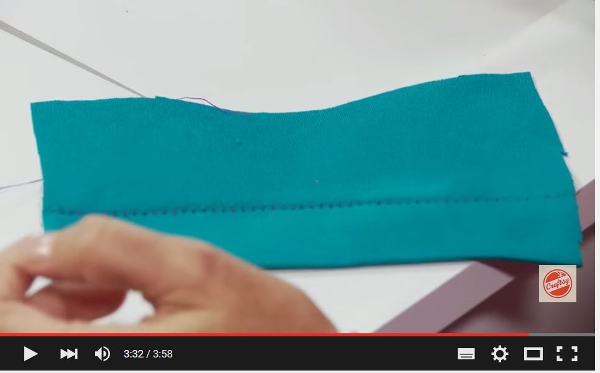 I hope this will encourage you to start sewing knit garments that lasts, maybe think about the instant gratification you can have by buying one of the adorable knit & serger-friendly independent designer PDF sewing patterns available on Bluprint.
Learn the best techniques for working with any knit fabric.
Become an expert on sewing knits, from the sheerest tissues to the heaviest sweater knits and everything in between!Enroll Here Now »