Next time you shop for clothes, take a close look at the items that draw your attention. I mean take a really close look at them. As sewers, we take our inspiration from the clothes we see on the racks in stores, as well as from magazines, online and television. I know I do, and those bits of inspiration are typically what drive us to sew our own garments.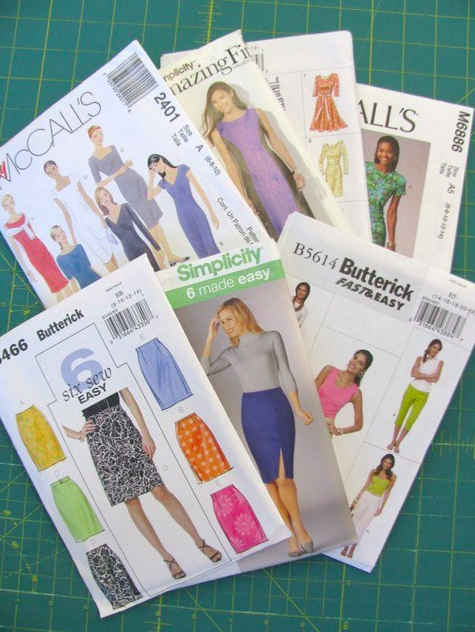 But, if you take a really close look at the clothes that inspire you, you will be amazed at how many are fundamentally based on the simplest and most basic silhouettes.
This is not the case for all, of course, but a surprising number of them start from rather basic designs that have been enhanced to create runway-worthy looks. It's the choice of fabrics, added styling details, or embellishments that truly create today's most fashionable designs. By replicating those same enhancements, whichever they may be, to a small set of basic patterns, the same store-worthy looks can be easily re-created when you sew your own wardrobe.
It starts by acquiring a small set of basic sewing patterns that will serve as templates for creating, or should I say re-creating those store-worthy looks. These are simple patterns in basic silhouettes tailored to your style preferences. Each is adjusted to address your personal fitting issues. Once that's done you can, literally, build a wardrobe of clothes from them. Yes, this requires a bit of sewing know-how. It is helpful to know how to add the style elements you want, and of course, know how to execute the techniques. But nowadays, you can learn how to do just about any sewing technique online, especially right here on Bluprint with our ever-growing collection of sewing classes.
The beauty of using these adjusted-to-you basic sewing patterns is that they are typically among the easiest garments to make. With all the fitting adjustments already made to the patterns, you are simply adding whatever style details are needed. These patterns are somewhat similar to slopers but are so much better because ease (both wearable and design ease) and seam allowances are already incorporated into them.
While the set of base patterns will differ from person to person, here are ones that you can surely sew your own wardrobe from:
The set includes 7 patterns: 4 dresses, 2 skirts, and 1 pant pattern. Bear in mind that tops, shirts, and jackets can be derived from the dress patterns.
The dresses
McCalls 240: This sheath dress pattern is a wonderful base pattern to work from for making dresses, tops or blouses. It's simple semi-fitted silhouette, 3 neckline, and 4 sleeve length variations. A great pattern for building an unending number of stylish looks.
Simplicity 1586: Another basic sheath dress but with princess lines. Princess lines are very flattering to most figures but require a good fit. Having a base pattern where the fit has been perfected to one's body can serve as a great base for many tops, dresses and even jackets.
Vogue 8766: This is a basic dress pattern with a defined waistline. It features slim to full skirt versions, as well as a sleeveless and multiple sleeve length options.
McCalls 6886: An additional sheath style dress, but this one is designed for knit fabrics that can be made into tops as well. Since so many of today's fashions are made in knits, having a base pattern designed and fitted for knits in your arsenal is always handy.
The skirts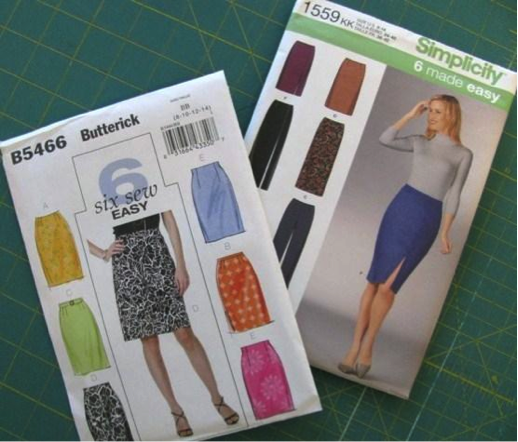 Butterick 5466: This simple A-line skirt pattern is a great starting point for any skirt bottom. It features several waistline options, and once well fitted to the individual, it can also become the skirt pattern for a dress. Or, it can be enhanced in a wide variety of ways by adding a vent or kick pleat, or a pair of welt pockets to the front.
Simplicity 1559: A straight pencil skirt with length variations. A very basic pattern, but any number of style variations can be added.
The pants
Butterick 5614: A basic pant pattern with an option for a capri-style or mid-calf length tapered leg. Having a pair of pants that fit well, as almost anyone can attest, is a godsend. This is a wonderful pattern that once well fitted, can be easily modified to create the look you want.
[box type="shadow"]
Save the trip to the store and sew your own wardrobe instead!
It's easier than you think, especially with Bluprint's wide collection of clothes sewing classes. Whether you want to sew your own couture jacket, learn how to a make designer jeans or master sewing on the bias, Bluprint's got the expert instruction on hand to make your clothing design dreams come true.
[/box]
Do you enjoy sewing your own clothes? Which basic sewing patterns do you use most often?