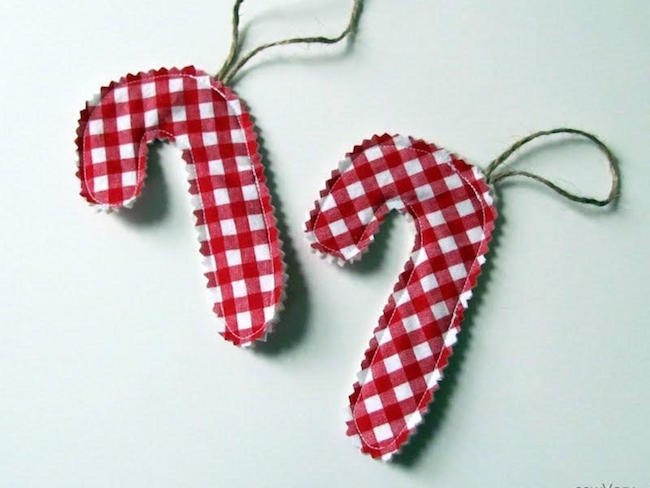 Photo via Bluprint member sewVery
1. Christmas Candy Cane Ornament
Grab some scraps of red-and-white fabric (we like this collection) and stitch up a whole bunch of these quick candy cane ornaments.
Get the FREE Pattern
Photo via Bluprint instructor SewCanShe
2. Quilted Argyle Christmas Stocking
Try your hand at quilting techniques like piecing (with straight seams only!) and foundation quilting in this modern design. Make it in your favorite colors or classic holiday hues. 
Photo via Bluprint member SandraHealyDesigns
3. Silver Tree Pillow Patchwork Sewing Pattern
There's more to holiday decor than tree skirts and stockings. Sew up these pillows in a low-volume, silvery fabric and take them out each year.
Photo via Bluprint member Adeline's
4. Santa Toilet Paper Cover
Don't forget the bathroom! Bring a little charm and organize your bathroom with this cutie.
Photo via Bluprint member Kenzie Mac & Co.
5. Snow Much Fun
Why wait for Christmas? Once the first snow falls, hang up this modern wall hanging. Leave it up long after the Christmas cookies are gone!
Photo via Bluprint member Kenzie Mac & Co.
6. Holiday Stocking/h3>
The fabric you select makes all the difference in these stockings! You can always use felt or cotton, but don't rule out unusual fabrics like tweed or velvet!
Photo via Bluprint member Cynthia Treen Studio
7. Christmas Wreath Advent Calendar
Count down to the best day of the year with this sweet felt wreath. The pattern includes instructions for the calendar base, numbers 1 to 25 and the ornament counters.