Sure, your pasta tastes great. But how does it look on the plate? If it looks like a messy pile of noodle goo, then chances are you need some ideas for prettier pasta presentation. 
Photo via Craftsy blog
For home cooks, it's challenging to make pasta look as professional and beautiful as in a restaurant.
However, there are several extremely easy tricks that you can use at home to make your pasta creations look just as great as they taste. From tried-and-true methods to creative ideas, these ideas will have you plating your pasta with panache in no time. 
Tried-and-true methods for plating pasta
These are some time-honored traditions for making pasta look better on plates. Try one or multiple tips the next time you make pasta! 
1. Add the sauce before serving. 
For the cleanest plating of pasta, sauce it up before serving. This means that you should toss your pasta in sauce versus dolloping it on top of a mound of pasta.
The already-sauced pasta is easier to arrange on a plate without the sauce dripping down the sides and will start you out on the right foot. 
2. Choose beautiful dishes.  
Have you ever noticed how beautiful food looks on Pinterest or in an Anthropologie catalog? Hint: look at the dishes used to serve said food. Food stylists rely on beautiful dishes to make food look more attractive, and you can take a hint for your at-home serving! 
Photo via Craftsy blog
3. Garnish, garnish, garnish. 
Garnish is an obvious way to pretty up your pasta, but how? Here are some easy ideas. 
Shredded or grated cheese
A generous dotting of shredded or grated hard cheese (such as Parmesan or pecorino Romano) is a classic pasta finish that also brings more flavor and visual appeal to the dish.
Herbs
Herbs are a beautiful and flavorful way to make your pasta look prettier on a plate. Choose a flavor that's harmonious with the dish: for instance, basil leaves on top of pasta pomodoro, or a sprig of fresh rosemary on top of cheese ravioli in a rosemary cream sauce. 
An ingredient employed in the dish
Reserve some of an ingredient featured in your pasta dish to use as a bit of garnish for the finished plating. For instance, if making pasta carbonara, you could reserve a little bit of the bacon or ham or one of the herbs used in the dish to use as garnish later on. 
Edible flowers 
Edible flowers are along the lines of garnishing with herbs, but add an unexpected and slightly exotic element to your finished pasta.  
Creative solutions for impressive pasta dishes
Looking for an out-of-the-box way to make your pasta look fantastic? Try one of these tricks.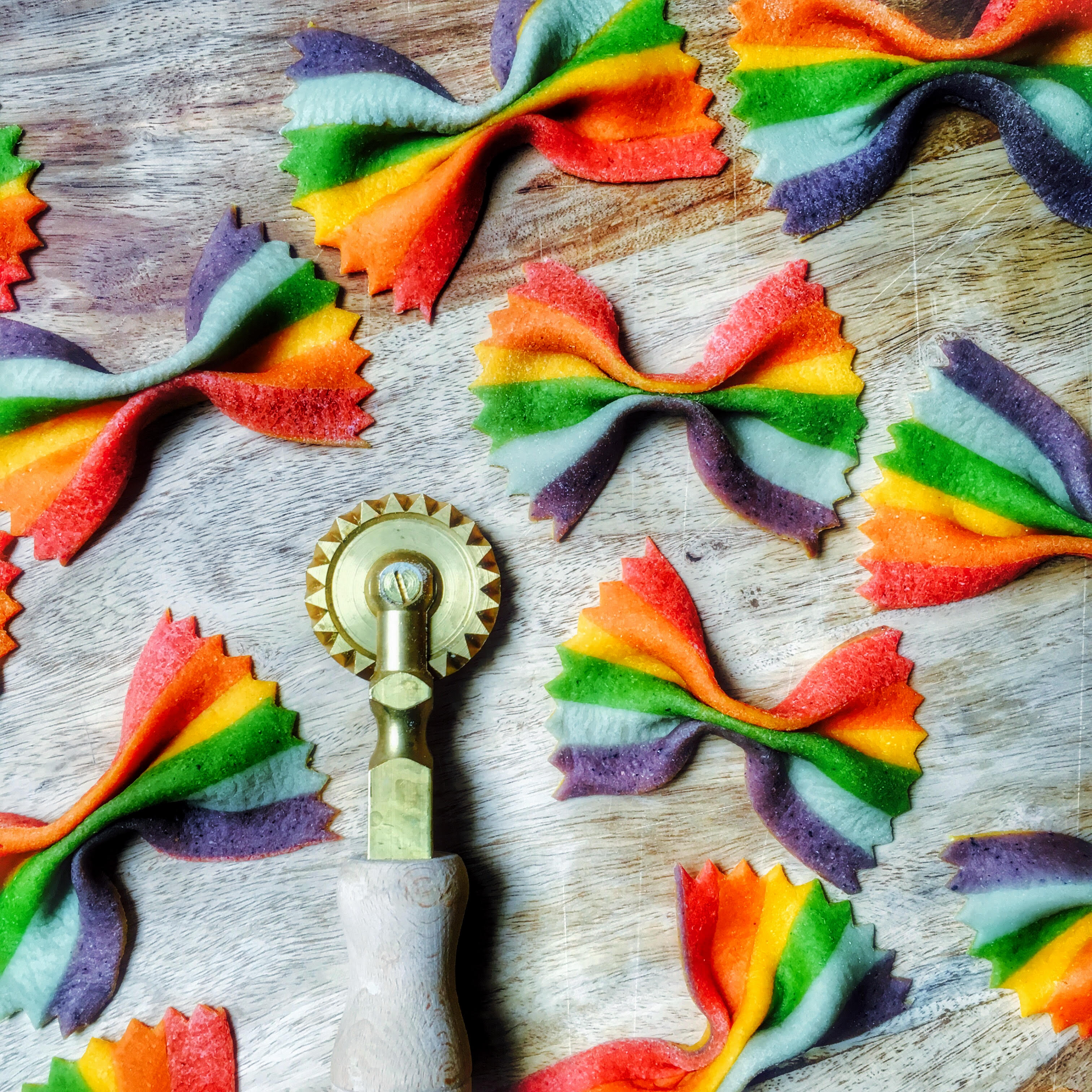 Photo via Salty Seattle
4. Use beautiful pasta. 
One sure-fire way to ensure pretty pasta is to start with beautiful noodles! Tricolor pasta or pasta made with beet or spinach easily up the visual appeal of your pasta.
But these days, those are far from the only options. Culinary pioneers like Linda Miller Nicholson create pasta that's a work of art in and of itself. (Linda even shares a tutorials for making the rainbow noodles above). These rainbow bow ties would look stunning even just tossed with olive oil and a little grated Parmesan!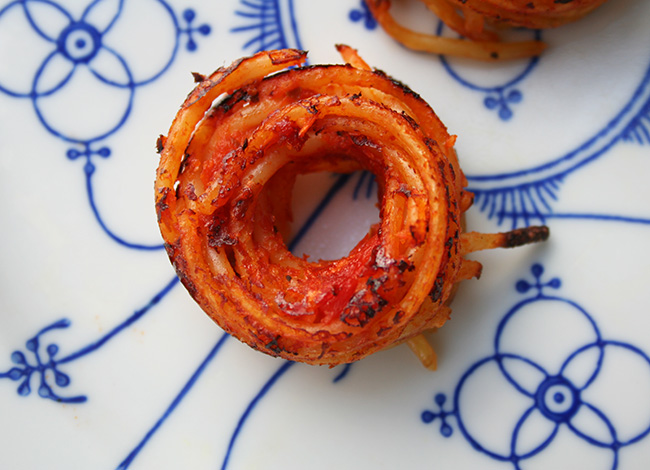 5. Doughnut-ify it. 
Have you noticed the doughnut-shaped spaghetti trend? It started in New York, but it's easy to make right in your own kitchen. Cook and sauce your pasta, then press it into doughnut molds. Bake at 425 F for 6-10 minutes, or until the pasta becomes crisp; invert onto plates and serve as a savory snack!
6. Make nests. 
Nests are not just for birds! Forming nests with your cooked pasta can be a whimsical, fun and appealing way to serve it to guests.
One of the easiest ways to make pasta nests is to use a fork to twirl sauced pasta into shape in cupcake tin liners. Bake at 425 F until crispy, 6-10 minutes, then remove from the oven, remove from the pan, garnish the well in the center (with a little extra sauce, tomatoes or other ingredients) and serve.