If you have been quilting for some time, you probably have your favorite method for piecing, basting and binding your quilts. I wanted to share with you a fast & friendly quilting tip that I recently discovered: serged quilt bindings.
Photo via Lindsay Sews
Give your serger a try for a fresh take on attaching your quilt binding!
I bought myself a serger mainly to experiment with apparel sewing. I wasn't expecting that I'd ever find a use for it in my quilting — until the other day. I decided to bind a quilt in double gauze fabric (pictured below), which is a little thicker and more unruly to bind with than quilting cotton (pictured above). Just like normal, I trimmed off the excess batting and backing from my quilted top. Instead of machine stitching the binding on my sewing machine, I took the quilt directly to my serger and attached the binding.
The result? Binding with my serger was so quick and easy! When I shared my discovery with some quilting friends online, some people responded that they'd never heard of this method before, and others shared, "I always serge my quilt bindings." Who knew?
[box type="shadow"]
Before I share my serger binding method with you, perhaps you could use a refresher course in basic machine binding. Check out the Bluprint class Finishing School: Edges and Bindings with Mimi Dietrich to learn how to finish you quilt binding.
Or, check out another quick quilting trick from Bluprint blogger Sherri in her free tutorial on constructing a continuous bias quilt binding.
[/box]
Photo via Lindsay Sews
Here's my basic serged quilt binding method:
1. Cut 2.5″ strips of cross-grain binding (cut selvage to selvage). Attach the binding strips together on a diagonal, to reduce bulk in any one spot.
2. Press the binding in half, wrong sides together.
3. Use a walking foot and your sewing machine to stitch the raw edges of folded binding to the perimeter of your quilt front, mitering the corners. Stitch 1/4″ to 3/8″ from the raw edge.
4. Using your serger and the previously stitched line as a guide, finish the raw edge of your quilt binding. This will trim your quilt binding evenly and securely stitch all fabric layers together in one, easy step. I used a four-thread overlock stitch with each of the four tension dials set to 4 (medium tension).
You can learn more about the different types of serger stitches in the guest post "What Does This Serger Stitch Do?" from Bluprint instructor Amy Alan.
5. When you get near each of the corners, make sure to ease off before serging over the corner (see photo below). Otherwise, you will nip off your binding's mitered corner on the other side.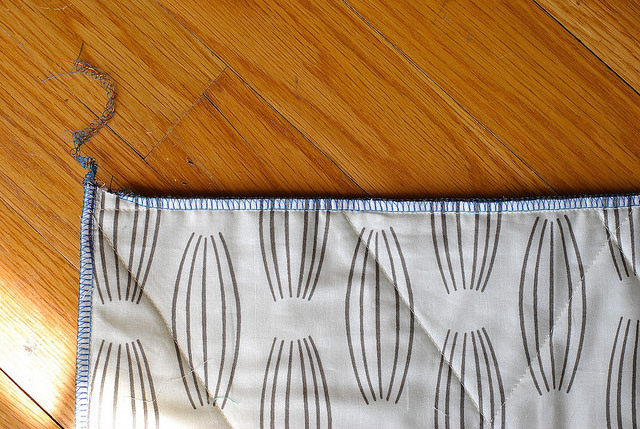 Photo via Lindsay Sews
6. With a serged binding that's a little thinner than 1/4″, you should now be able to neatly fold over your binding toward the back of the quilt. Press the binding to the other side. Head back over to the sewing machine and use your favorite method (pins, clips, basting glue, etc.) to secure the folded binding.
I found that when I serged the edges, I didn't need to use any pins or clips to machine stitch my binding to the quilt back. I simply folded a small section and machine stitched it to the back of the quilt (in a thread matching the quilt front.) The result was an incredibly quick, even and easy-to-wrangle quilt binding!
[box type="shadow"]
Would you like to learn more serger tricks? To find out what your serger is capable of doing, check out Amy Alan's Bluprint course, Beginner Serging: Machine Basics & Techniques. You'll discover how to properly thread a serger as well as how to achieve many different types of stitches. Now that I'm a proud owner of a serger, this class is the next on my list of sewing courses that I'd love to take!
[/box]
Do you use a serger for any part of your quilting process?
We'd love to hear about it in the comments!