Do you love the metallic trend that's rocking the cake decorating world right now? Gold cakes get a lot of play when it comes to metallic cake love, but silver cakes are on the rise. From hand-painted luster dust fondant to ultra luxe edible silver leaf and hand-placed mini silver drageé candies, the cake world is taking a shine to silver.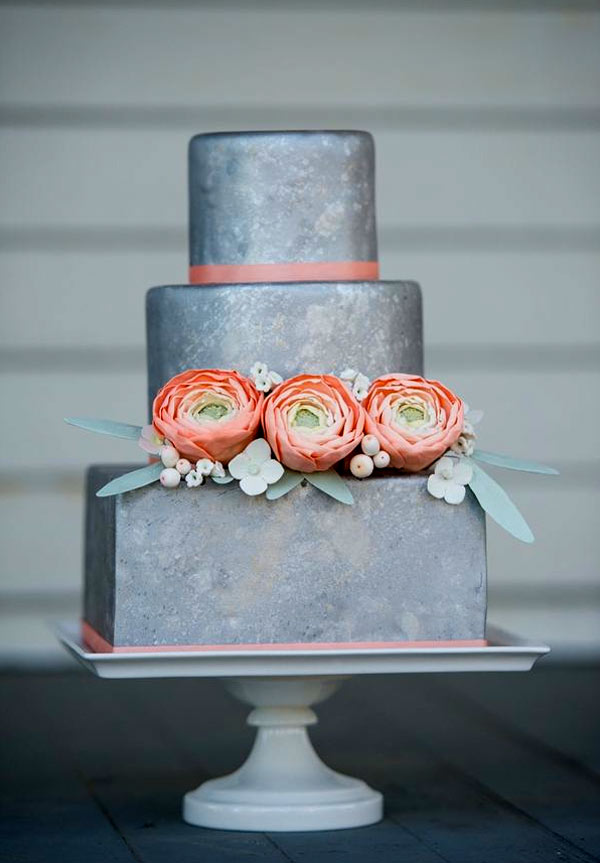 Photo via Brooke Allison Photo; cake by Erica O'Brien Cake Design
Silver galvanized metallic cake:
This cake by Erica O'Brien Cake Design is stunning in silver. Doesn't it look like a shiny, well worn piece of metal? She achieved this look by airbrushing fondant in silver and then dabbing, painting and flicking various shade of metallic luster dust onto the cake. The result is a work of silver cake art. I love the contrast of the masculine metal offset by the gorgeously rendered pink peach ranunculus sugar flowers, berries and leaves.
Learn how to replicate the gorgeous sugar flowers seen here in the Maggie Austin's Sugar Berries, Leaves & Blossoms class. Or take the Bluprint Master Series class The Art of Airbrushing with Lisa Berczel to take your cake-painting skills to the next level.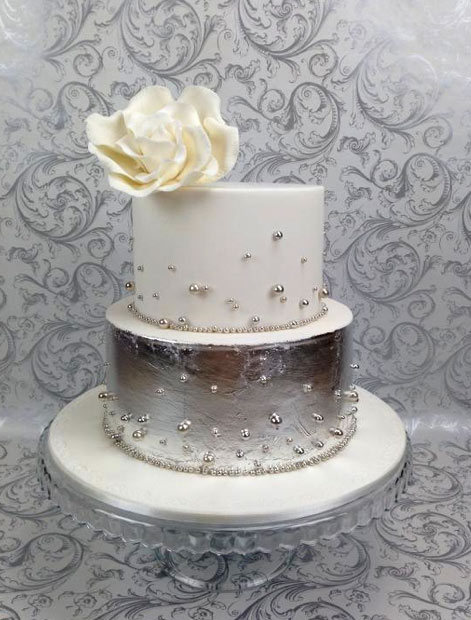 Photo via Bluprint member ACAKEMAKER1
Faye Cahill inspired silver leaf cake:
This Bluprint student made this sharp-edged silver beauty while taking Jessica Harris' online class Clean & Simple Cake Design. Jessica Harris has a special trick for her renowned sharp edged buttercream — don't we all want to achieve sharp, fine edges? This cake reminds me of a glitzy art-deco-themed New Year's Eve party. A ball tool and double-sided tape were used to adhere the silver drageés here. Tricky, huh?
Do you have any tricks for getting your edges sharp? Do tell!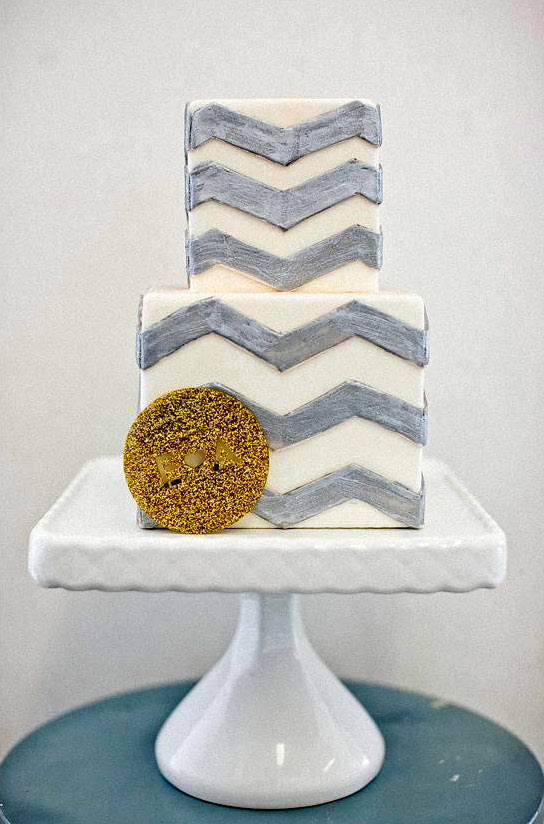 Photo via Sweet & Saucy Shop
Silver chevron tiered fondant square cake:
Hand-painted fondant laid out in a chevron pattern makes this silver and gold cake stand out from the bunch. I love the sparkly gold monogram medallion, too.
If you love the hand-painted look, sign up for The Hand-Painted Cake, a FREE Bluprint mini-class taught by boutique baker Erin Schaefgen.
Photo via Bluprint member Kim's Cakes
Silver sensation wedding cake:
Named by the cake artist herself, this silver sensation is covered in hundreds of silver drageé candies. As cake designers, we can appreciate the time and effort that went into this creation. Check out how uniform and perfectly placed the silver drageé balls are. This is one awesome blinged-out cake.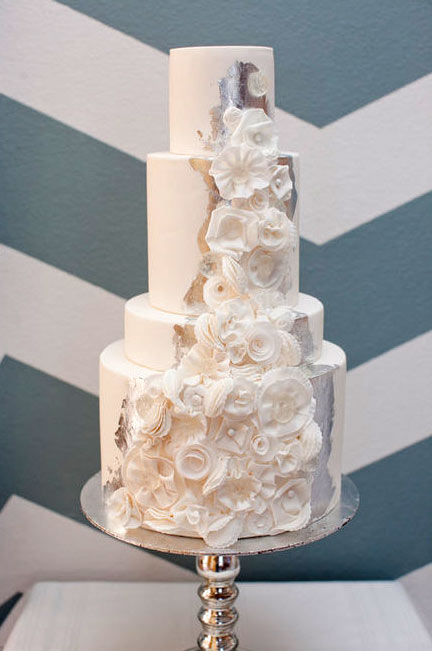 Photo via Hey There, Cupcake! San Diego
White multi sugar flower swag with silver leaf background:
I love how the edible silver leaf looks as though it's been brushstroked on like slashes of shiny paint. The silver leaf works as a backdrop for a whole flourishing collection of white sugar flowers. The way they are all formed together looks like fabric.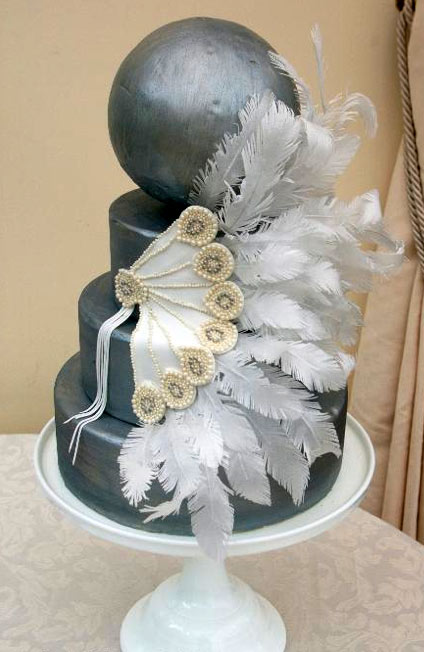 Photo via Bluprint member Nadyatk
Art deco silver feather cake:
Bluprint member Nadyatk created this stunning art deco cake beauty while enrolled in Fashion Inspired Fondant class with the amazing Joshua John Russell. Yes, those light-as-air feathers are edible — they're made from edible rice paper! Nadya's cake materials were gum paste, sugar pearls for the fan, and metallic silver luster dust to cover the fondant.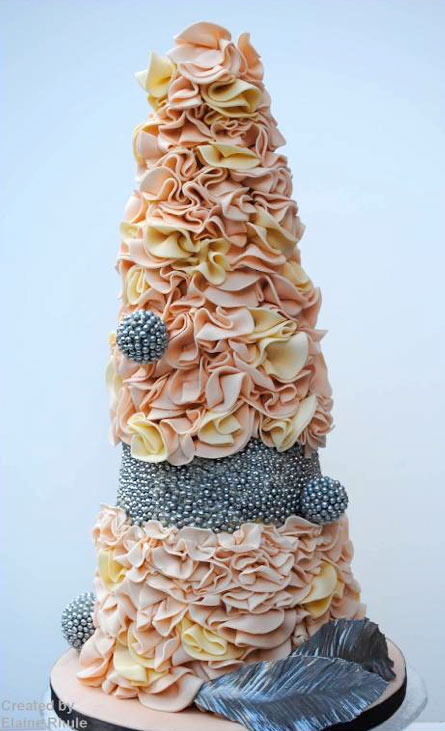 Photo via Bluprint member Elaine Rhule
Ruffles and silver ball sculptural cake:
Bluprint member Elaine Rhule created this towering sculptural ruffled cake while taking Marina Sousa's popular Jeweled Wedding Cake class. This sculptural is so unique with its peach fondant ruffles contrasted with gunmetal silver sugar jewels. This is definitely a statement cake.
Check out Intro to Isomalt to learn how to make stunning sugar jewels and pearls like those seen here!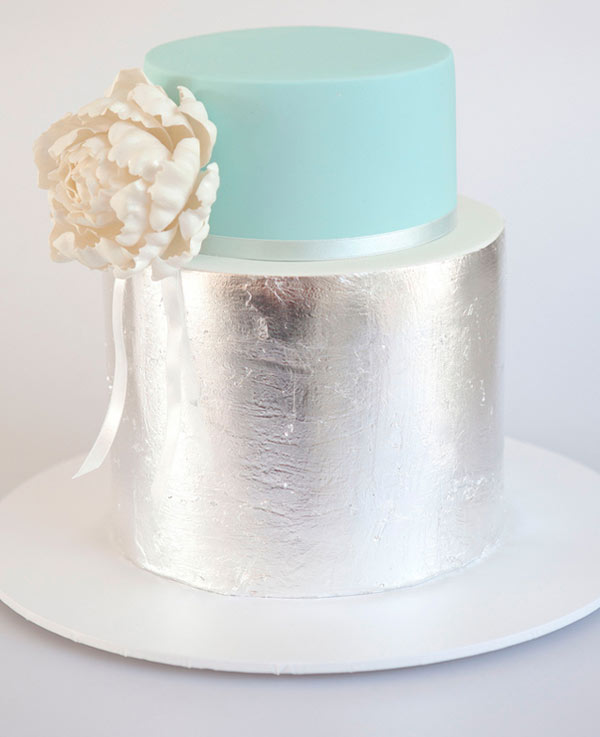 Photo via Sweet Tiers
Turquoise and silver leaf cake:
This simple, modern cake is so lovely with its shiny edible silver leaf on the bottom tear and Tiffany blue top tier, perfectly adorned with a flawless white sugar peony. This cake would be so lovely on a dessert table next to hand-painted silver leaf macarons and mini cupcakes in silver cupcake liners topped with turquoise buttercream.
Are you stoked on the silver glitz and bling? Want to make your own jewelry and sparkle-soaked cake? Check out Marina Sousa's Jeweled Wedding Cake class to learn how to deck your cake out in edible embellishments. If you're loving the metallic trend, you'll also enjoy our roundup of gorgeous gold cakes.