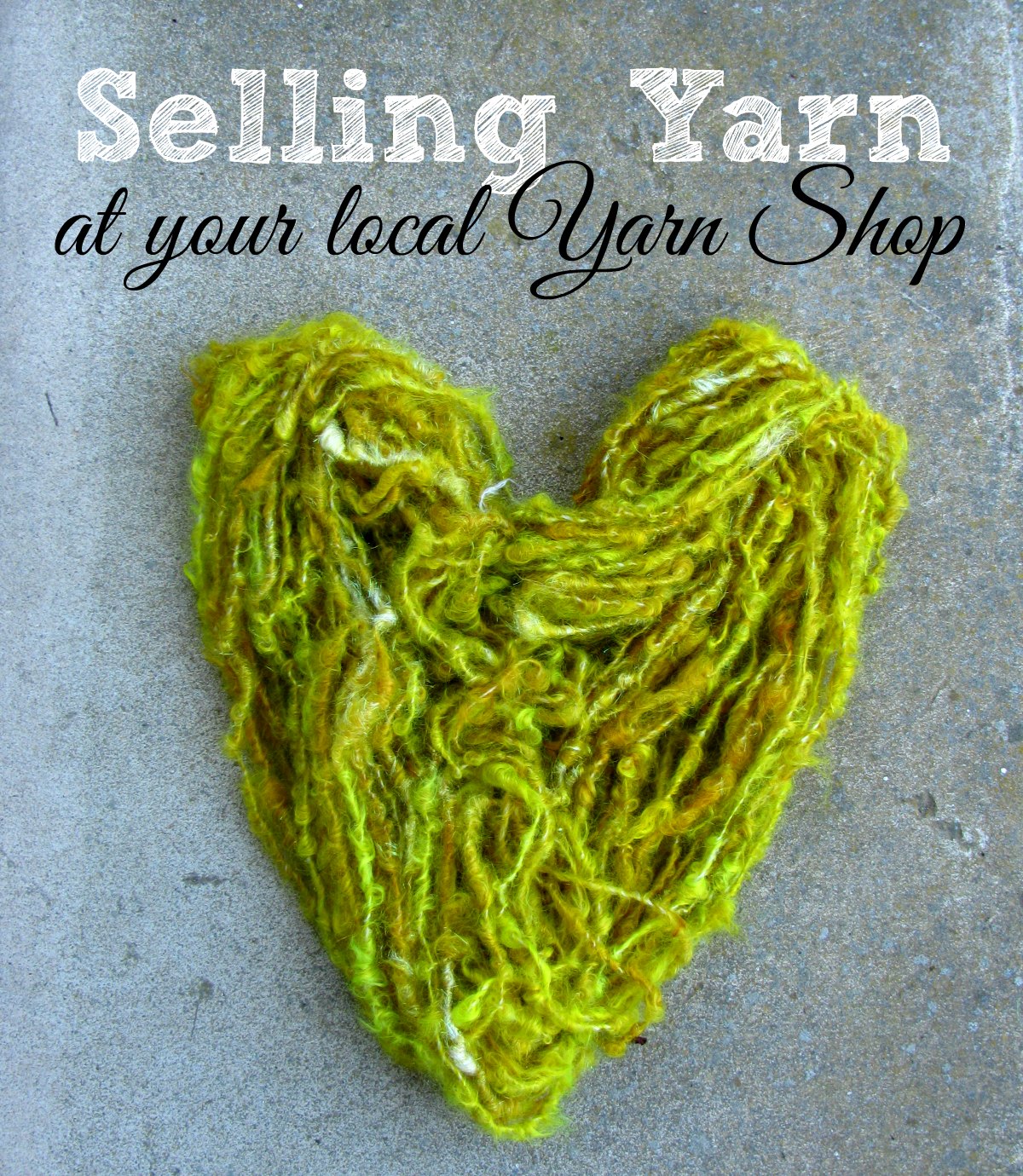 If you don't want to go through the learning curve of technology to open up an online shop to sell your yarn or just want a way to connect with your community, try contacting your local yarn shops to see if they would be interested in selling handspun to their customers. Yarn shops often love featuring local artists and unique yarns, and some will even host a afternoon or evening where you can bring your wheel and spin yarn for customers to watch and learn.
Here are my top tips for how to start selling your art yarn at a your LYS!
Visit the shop.
Every yarn shop is different, and has unique repeat clientele. Consider bringing in a basket of your completed handspun yarns to show the shop owner and see if they might be interested. Yarn shops know their customers well, and if your yarns don't interest them it's probably because they know their customers wouldn't be interested.
So don't take any rejection personally. Just one or two yarn shops with the right customer base will keep you plenty busy spinning during the week to keep your inventory stocked up!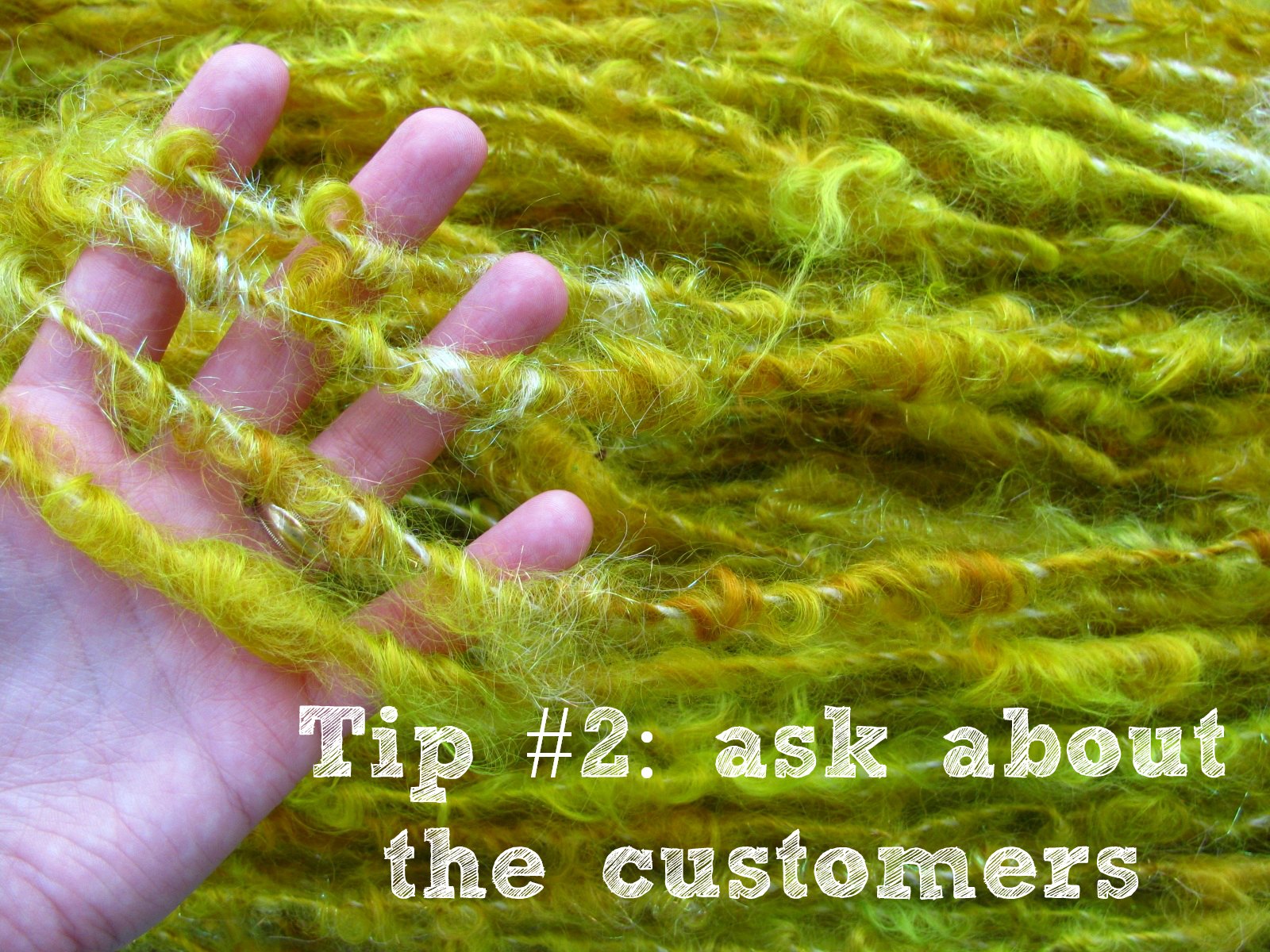 Ask about the customers.
I've sold in shops that can't keep purple yarns in stock, where orange skeins sit around for months. It's great to have the inside scoop about what's popular, what's selling, what customers are excited about – so you can tailor your skeins to help meet this need. Ask about popular weights, blends, and colors. If you don't get a specific answer, that's fine – it never hurts to ask.
Write patterns for your yarns.
One thing I learned about working in a yarn shop is that customers are not often inspired by the yarn itself, but by a completed pattern. Once they can see the finished project, then they will pick out the yarn to make it. I, on the other hand, will fall in love with a yarn first – then fit it into a pattern. If you are an art/textured yarn spinner this can be a challenge. Every skein I spin is different, so there's no pattern that fits all of them (unlike a line of commercial yarns).
Take a moment and consider the yarn from an experienced knitter or crocheter's point of view. What is it's purpose? What are some project ideas? Write up a couple patterns to sell free with purchase of a yarn – and knit up samples of what customers can create with your unique yarns.
You might also ask the yarn shop about using some of their most popular commercial yarn with a skein of your yarn in a pattern. This will help sell more commercial product as well. The patterns don't need to be complicated – a simple bag, hat, scarf, pillow, cowl, legwarmers, or mittens are just as fun to knit and make great gifts for the holidays.
Price your yarns for that market.
Different shops may sell different price ranges of yarns based on their location and the economy. Some shops specialize in lower priced yarns, some higher. Consider this when spinning yarns for that specific shop. If you're selling in a shop that markets to knitters and crocheters on a tighter budget – you can adjust your pricing as well by selling smaller skeins, or using less expensive fibers in those skeins.
It's always good to ask the shop what price point sells well. I sell yarns at a yarn shop where the average price of a handspun skein is $50. Another shop 3 hours away sells the most skeins at $25.  I simply cut my yardage per skein in half to adjust for this market – while still keeping the price fair from shop to shop.
Offer to teach spinning classes.
Teaching a spinning class is a great way for your local yarn shop to offer a unique resource to their customer base, and for both of you to make some money.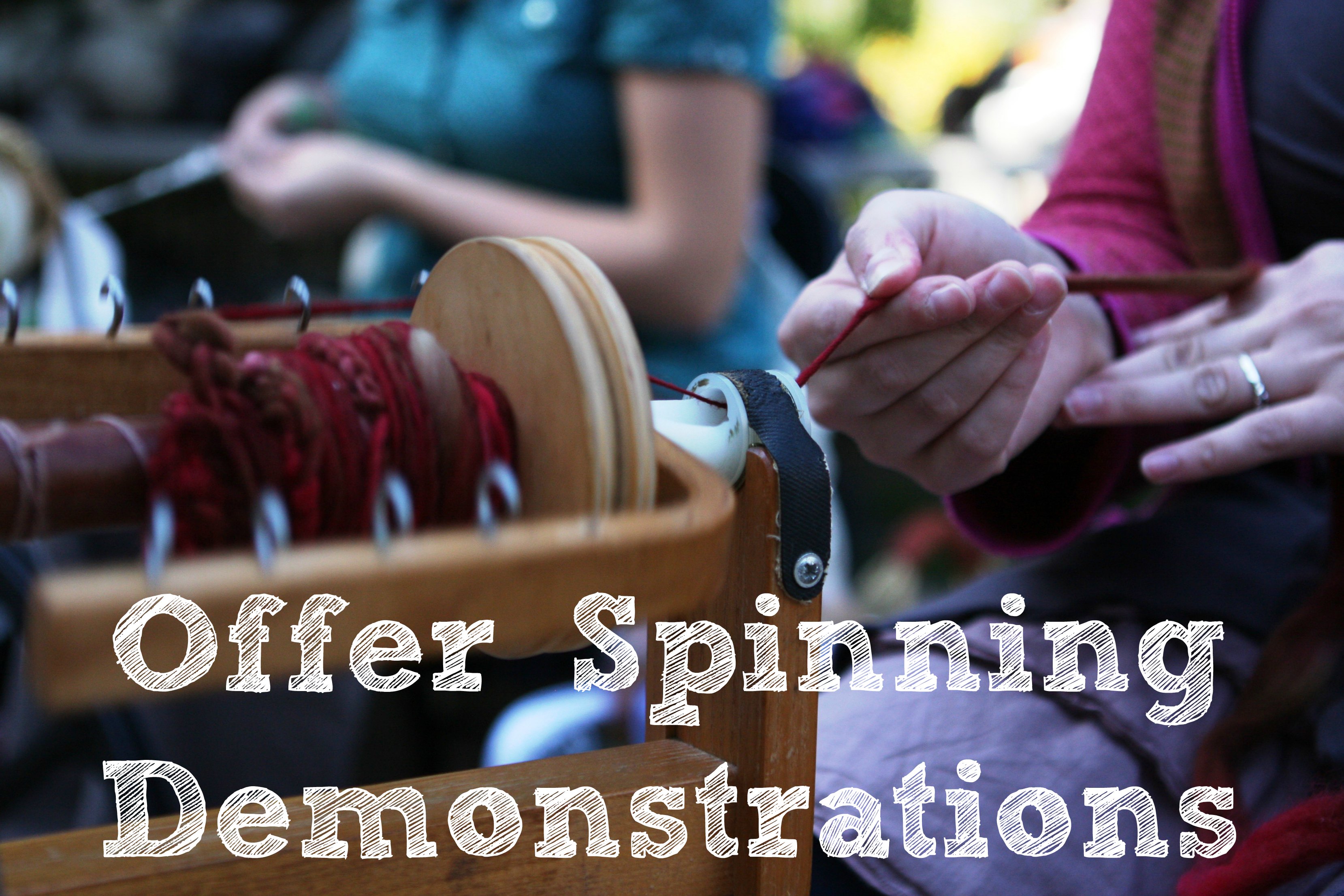 Offer to do spinning demonstrations.
If you don't feel prepared to teach a class, you can offer to volunteer to sit and spin at the shop for a few hours on a busy afternoon or weekend for customers to see you in action. Many knitters and crocheters are fascinated by watching spinners. Children also love to watch and learn.
I have sold many skeins of yarn to knitters who are excited to show their friends, "Look at this handspun yarn I got at my local yarn shop – and I met the lady who spun it!" It adds a personal touch to your inventory and you can answer questions about how the yarn is spun. Ask the yarn shop about upcoming shows and events where there might be more traffic coming thru to watch your spin.
Finding your local shop.
A simple google search for "yarn shop [your city, state]" will help you get started!
Spin brilliant yarns that are to dye for!
Create both space-dyed & hand-painted fibers, with hues so vibrant & beautiful, the yarn will never see your stash.Enroll Here Now »