Making the leap and transforming your embroidery skills into an online business can be a little scary. We are here to make it less so and give you a little push into the online sales market.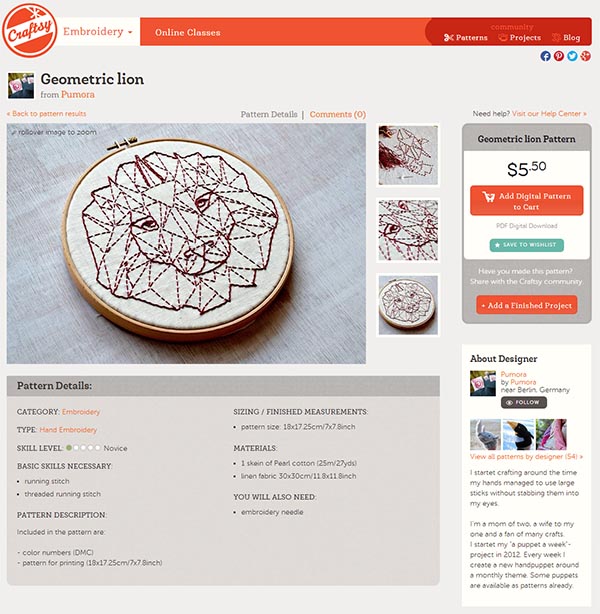 Photo via Bluprint Member Pumora.
Unleash your work on the world wide web and be on your way to your first online sale!
Select your online market place
Bluprint is a wonderful place to start selling your own patterns, and it is super easy to get started — just sign up for free and click 'add a Pattern' on the Patterns page. Here, we provide you all of the information you need to get selling, as well as a few helpful hints on how to make your listing look great!
If patterns aren't your thing, there are a wealth of websites already up and running that you can easily sign up to and start selling within just a few minutes. Online handmade markets such as Etsy or UK based Folksy are a brilliant place to begin selling. They're easy to use and already have a huge audience browsing handmade products. They make payments easy to make and take, as well as offering lots of support and advice with their online forums and FAQ's. 
Alternatively, you could set up your own e-commerce store via your own website — visit your website host for more information on how to get started. Or, why not take orders direct via email!
Once you've decided on your platform, you can begin listing items! Remember to be thorough with your descriptions: Include sizing, materials used, techniques (types of stitching etc), care instructions, etc. — anything that an image alone may not convey.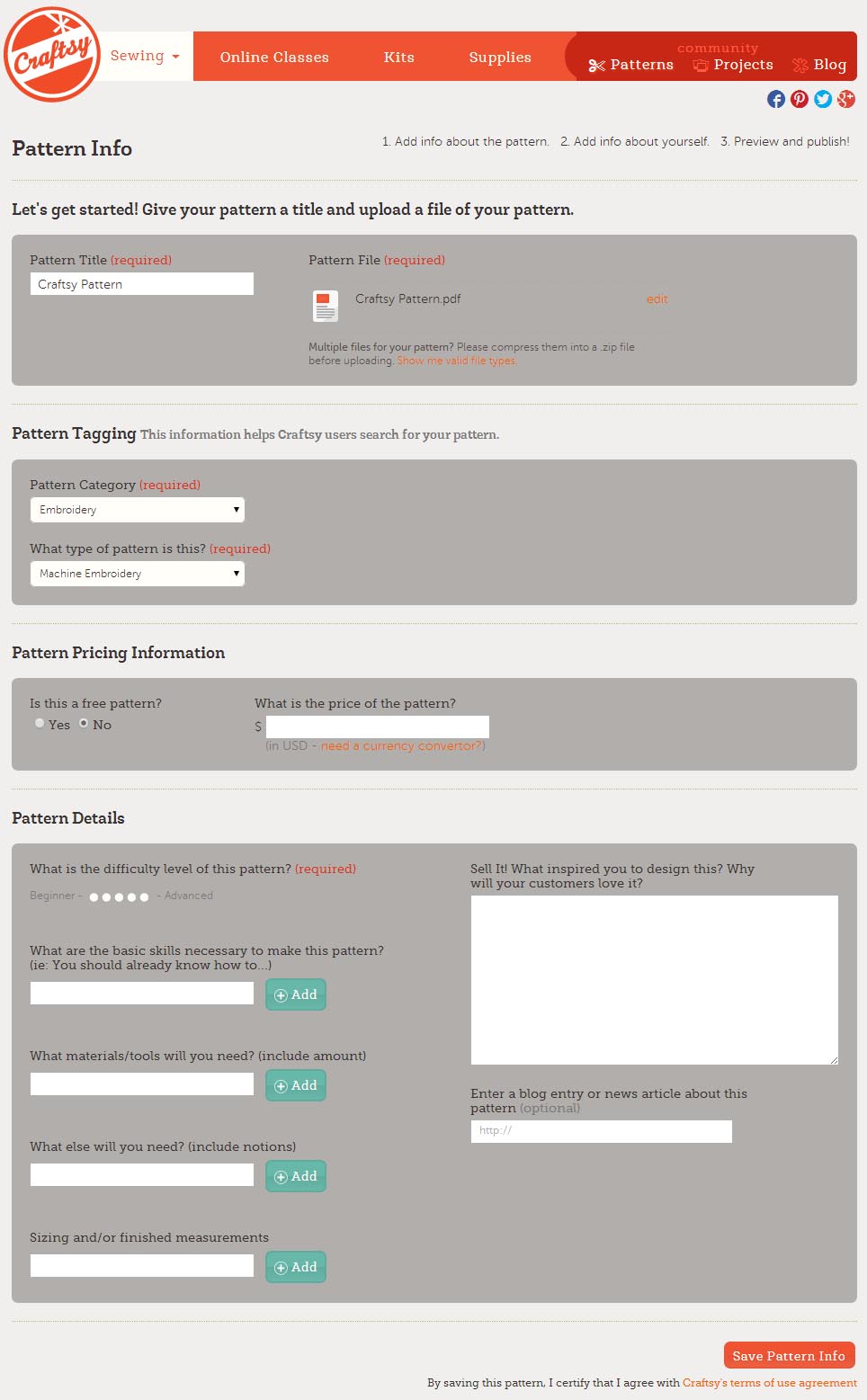 Adding a pattern via Bluprint is so easy: Just follow our step-by-step system
Capturing your work
Photographing your products can make or break a sale. Taking photographs in natural light will best reflect the true colors of the work and having a neutral background will not distract from the piece you are selling. Once confident, you can begin playing around with sympathetic backgrounds that reflect the theme of the product.
Having clear, consistently styled images throughout your store will help solidify your brand. A great close up can really show off the best parts of the work, and a photograph of the item 'in situ' allows your customers to imagine how they would use it themselves.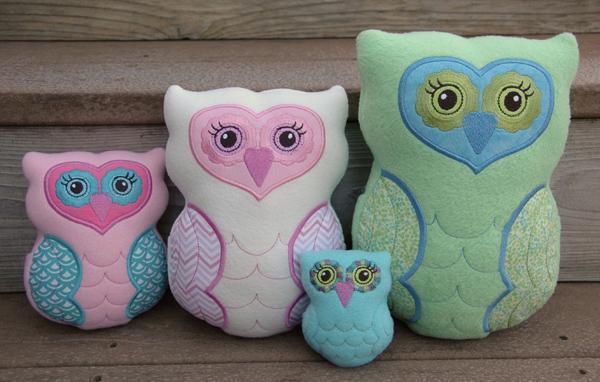 Photo via Bluprint Member EmbGarden
Socialize
Online social media is a free and simple way to reach a greater audience. Set up a blog, Twitter, Instagram, Pinterest or Facebook page (or all five!) and begin uploading images of the items you have for sale, with a link back to your store. These outlets all allow you to gain followers who will see your work whenever you upload something new.
Mingle with other artists and sellers by following their social media and be active in making a connection. Not only will you form a great social group, but the inspiration and advice you can gain from others is invaluable, whilst all the time expanding your own audience and potential customer base.
Update your social media regularly and be varied with the information you share. Consider sharing not only the products you sell, but some photographs of them being made, or an insight into your work area. Giving your followers something more personal, such as an insight to your crafting life, helps build a more loyal relationship.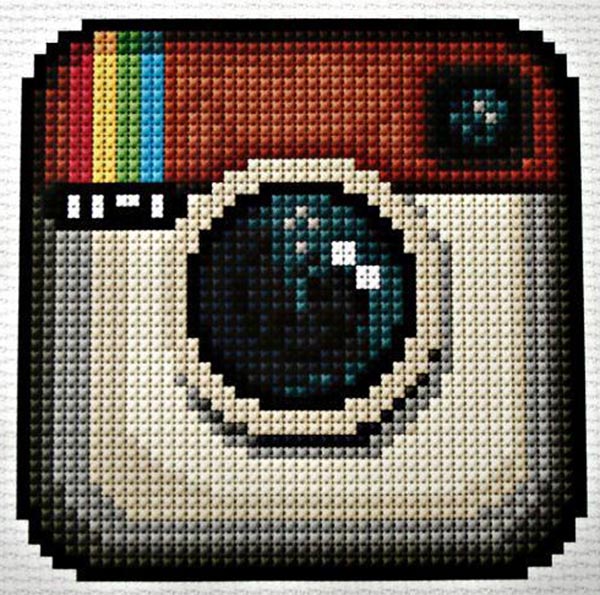 Photo via Bluprint Member CupcakeCctieNZ
7 "words of wisdom"
Taking new restyled photographs and adding new items to your online store can help keep things fresh!
Keep on top of your booking keeping: Maintaining a record of all incoming and outgoings (materials, postage, etc.) as well as receipts will make your tax return ten times easier!
Be open to creating commissions and let your audience know. Include this at the bottom of every item description!
SEO is a simple but very important element to online selling. Search Engine Optimization uses key words relating to the topic.  It allows your audience and customers to find you. Consider what keywords best describe your work – they may include materials and techniques used, themes of the work and its purpose (e.g. quilt, brooch, scarf etc).
When starting up, try working on a made to order basis. This will allow you to gauge interest and find out what is popular and what is not.  It also means that you are not left with unsold stock. Make the made to order element of your sales method clear and allow for this in your shipping time estimates.
Be open to a worldwide audience – research shipping costs and offer delivery all over the globe to instantly expand your customer base.
Just go for it — Don't put pressure on yourself to sell everything right away, and enjoy what you make!
[box type="shadow"]
Why not start selling your PDF patterns with Bluprint right now? With no listing or posting fees, there is nothing holding you back!
Sign up today to start selling!
[/box]
What embroidery products are you going to sell?