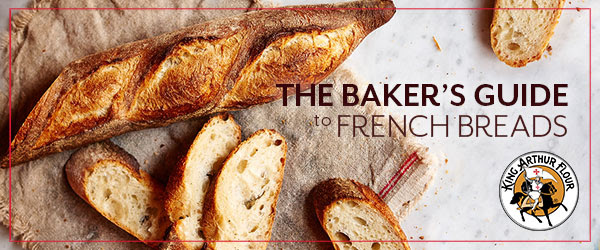 Break Only The Best Bread With Grateful Loved Ones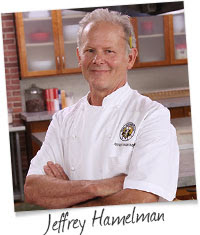 Learn the secrets to making fresh French bread and enjoy the golden–brown crust, chewy–tender interior and beautiful open crumb that sets this bread apart from the rest. Join me, Director of King Arthur Bakery and Certified Master Baker Jeffrey Hamelman, for my online Bluprint class The Baker's Guide to French Breads and get ready for loved ones to request these delicious baguettes, bâtards and more any chance they get!
In this class, you'll learn how to prepare, proof, shape and bake a variety of classic French breads. To begin, I'll guide you through the life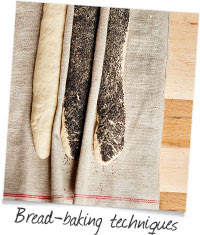 cycle of French bread dough, and we'll discuss hydration, fermentation and gluten development as we make our first batch. Need to see one of these techniques again? With Bluprint, it's easy to repeat any lesson you wish, and you can ask me questions along the way.
Want to turn your dough into beautiful ready-to-bake loaves? We'll learn how in our next lesson! Find out how to recognize when your dough is fully mature and get tips for dividing it into even pieces for shaping. Then, I'll show you how to create distinctive baguette shapes and we'll score the top so that your loaf expands as it bakes for irresistible results. Take a sneak peek at that technique right here:
Every oven is different, but the tools you need to bake the perfect loaf are the same. In this lesson, learn how to use a thermometer, a baking stone and a cast-iron pan to get the results you want. And, find out how to create the steam that's so critical to a wonderfully crusty baguette. You'll also learn how to identify when your bread is done baking and how to store it for optimal freshness.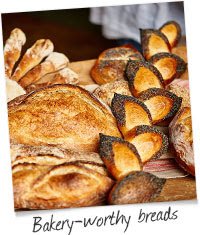 Stronger dough, added flavor and less processing time? It's all possible with a pre-ferment, also known as poolish. Learn how to recognize a mature poolish and brush up on the desired dough temperature so that you always enjoy consistent results and bread bursting with flavor. Plus, I'll share tips on mixing your dough like a pro!
Pre-shaping is an important step, so we'll spend time there next. Learn how to form dough into cylinders and let them rest before giving the three-step shaping method a try. Once we've baked our baguettes, I'll show you how to set your bread apart by using all your senses to check for the perfect doneness.
In our last lesson, we'll play with a few new shapes. From a sandwich loaf and hearty bâtard to dinner rolls with sesame or poppy seeds, you'll learn how to enjoy a variety of satisfying French breads whenever you wish. Enroll in The Baker's Guide to French Breads today and you'll even find out how to wow a crowd with a ring loaf, épi de blé and a decorative Lyonnais sun.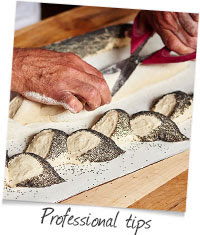 Good bread is my passion and my life's work. I came to King Arthur in 1999 to open their baking and teaching facilities and today, I am the director of the King Arthur Bakery. Additionally, I am the author of BREAD: A Baker's Book of Techniques and Recipes, I served as captain and coach of Baking Team USA and I am a recipient of the Bread Bakers Guild of America's Golden Baguette Award.
I also teach in King Arthur's Baking Education Center where I share my knowledge with people from all over the world. Now, with Bluprint, I can teach you in your very own kitchen.
Make bakery-worthy baguettes at home, and enjoy the "mmms" you get when you share your new skills with satisfied friends and family!
Join us in The Baker's Guide to French Breads »
Jeffrey Hamelman | Bluprint Instructor