Pony up! While the subject matter of these horse cakes is often whimsical and includes touches of fairytale fantasy, the finished cakes themselves are indisputably works of cake decorating wonder. These masterpieces, including hand sculpting and gravity-defying elements, may seem like they'd require a pastry degree and years of experience to create — but they are actually more accessible than you'd think once you've mastered the proper technique.
From a horse of a different color to a vintage, carousel-style seahorse to a fairytale-inspired horse-drawn carriage, these incredible sculpted cakes may just tempt you to try your hand at equestrian-themed edibles for your next cake decorating project. 
To take your horse cake prowess to the next level, check out Bluprint course Sculpting Magic. Along with instructor and famed cake decorator Kaysie Lackie, you'll master simple and methodical techniques for carving and sculpting your own amazing unicorn or horse cake.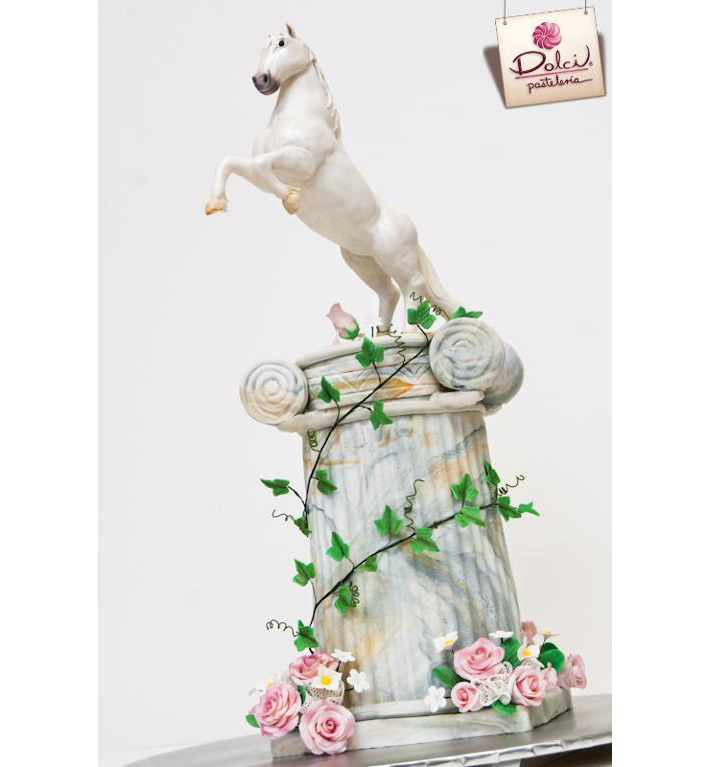 3-D Horse cake via Bluprint member Kalid M. Torres
Horse on a column
What's on top of that column? A horse, of course! And amazingly, this work of sculptural art is edible. The outer elements are composed of fondant, gum paste and modeling chocolate; beneath, the "bones" of the sculpture are a mixture of cake and rice cereal treats.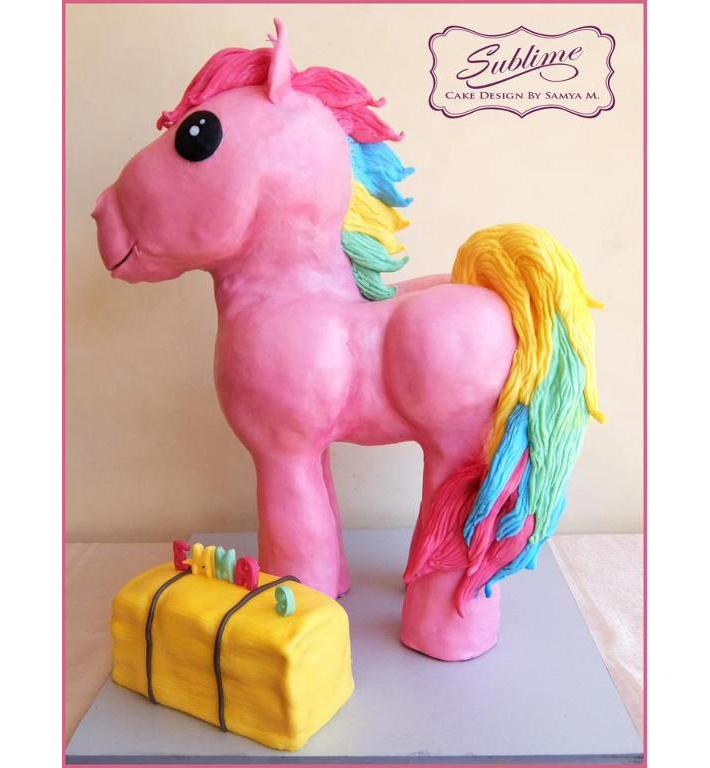 3-D Pink Pony via Bluprint member Sublime by Sam
Painted pony
While this finished cake is whimsical, it's also a serious feat of cake decorating. It started with a wooden structure as a base to support the cake, which was then coated with modeling chocolate and fondant to form a pretty finished pony cake. Inspired by Bluprint course Sculpting Magic, this cake undoubtedly made birthday wishes come true!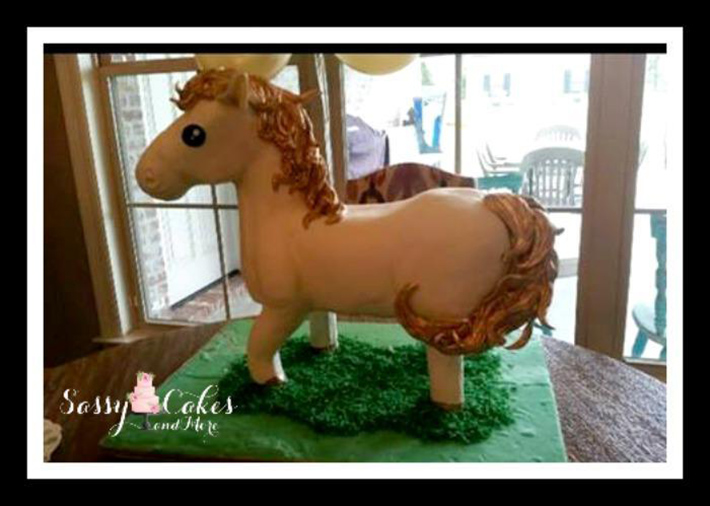 Willow the white horse via Bluprint member nanny1015
Sculpted horse 
While the process of creating this cake was very similar to the one featured above, a different color scheme creates a quite different effect. Where the pink pony cake above is whimsical and sweet, this cake has a more realistic color scheme and would be suited for a grown-up affair or even an upscale equestrian event.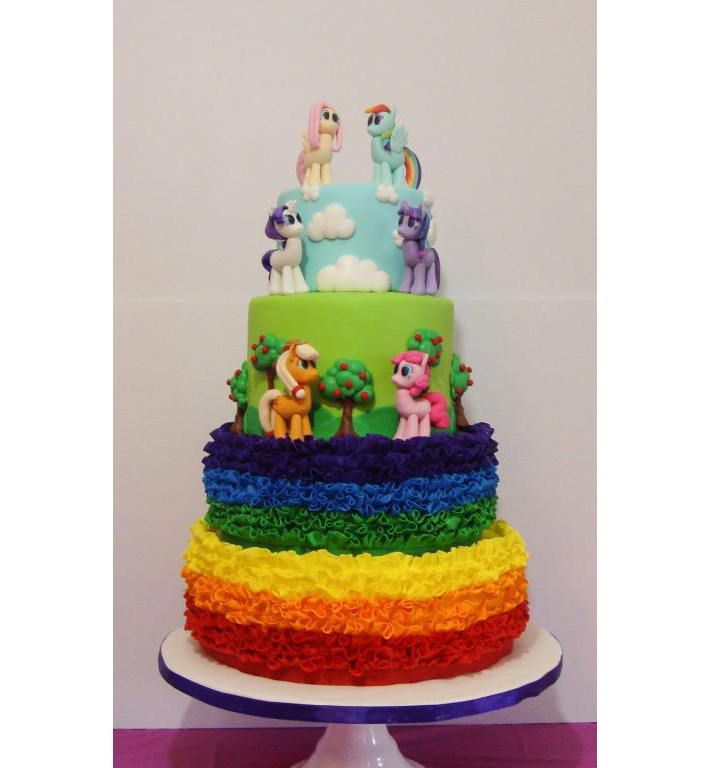 Pony birthday cake via Bluprint member jaci.rolffs
Rainbow pony cake
This show-stopping cake features a magical array of cake decorating effects, starting with vibrant fondant ruffles in the colors of the rainbow on the lower layers, and culminating with tiers of trees and clouds dotted with ponies hand-sculpted from fondant and gum paste. The cake was inspired by Bluprint course Too-Cute Toppers!, and it certainly lives up to the class name.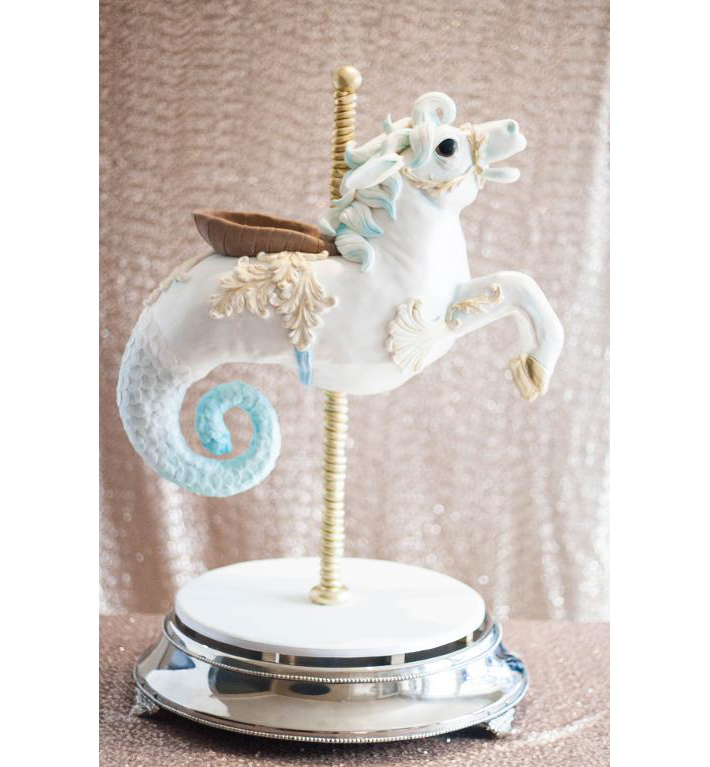 Sea Horse Cake via Bluprint member cakearcade
Sea horse cake
This cake is like a carnival fantasy, with a beautifully sculpted sea horse presented in the style of a vintage carousel element. With sculpted chocolate mud cake and ganache forming the base of the cake, polystyrene elements help maintain the structure of the tail and legs. After sculpting, the decorator covered the "skeleton" with fondant. Inspired by Bluprint course Advanced Cake Sculpting: Bobblehead Cakes, the finished cake is an absolutely breathtaking piece of edible art.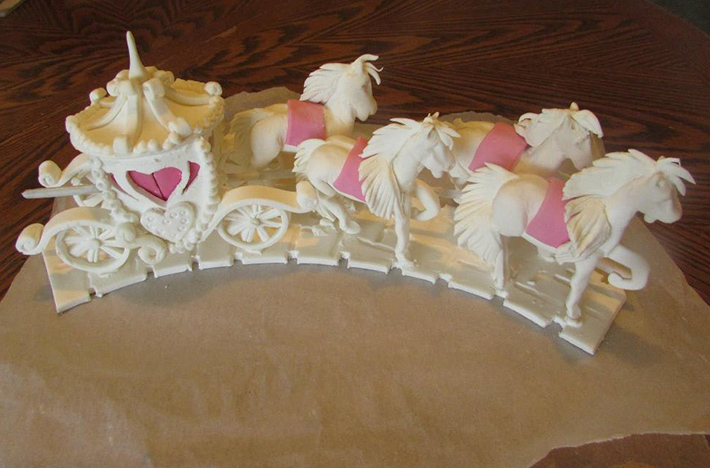 Fairytale horse and carriage cake via Bluprint member bettycrocker18
Horse and carriage cake
To the untrained eye, this might appear to be a beautiful series of porcelain horse figurines, but this stunning composition is in fact a feat of cake decorating. Pastillage (a substance like gum paste, but with a harder texture when dried) was used to create amazingly detailed horses, pulling a fairytale fantasy–worthy carriage. The white pastillage with pink spot detail on the horses' saddles and on the inside of the carriage make for a striking contrast. A piece like this is beautiful enough to stand alone, or it could be used as an incredible cake topper. 
Sculpt Magical, Breathtaking Cakes!
Create gravity-defying cakes for legendary parties using a sturdy, versatile structure! Learn to carve, sculpt, cover and decorate custom unicorn cakes. Enroll Now »