The log cabin quilt pattern is a classic and traditional look, one that nearly every quilter is familiar with. With nearly unlimited variations possible, quilters have been drawn to this pattern for many years. There are a number of different ways to put the block together, from techniques that use templates or paper piecing to more free form methods.
Try this easy way to design your very own log cabin quilt without having to do a lot of measuring, and use up some of the scraps in your stash.
Follow along to make your own scrappy log cabin blocks!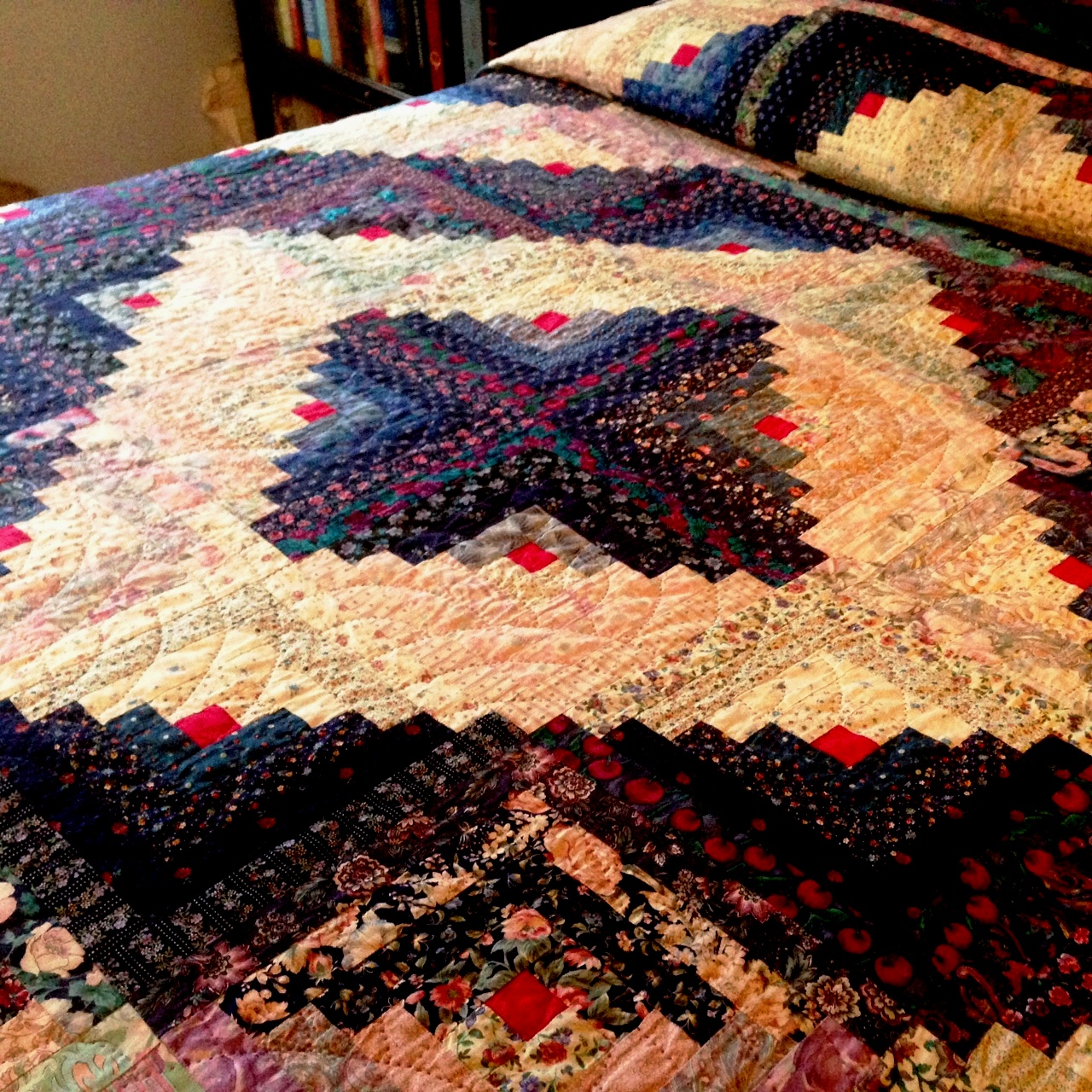 Photos courtesy Cindy Grisdela Art Quilts
Step 1. Decide on a color scheme
The first step is to decide what your color scheme will be. Traditionally, the log cabin block has a red center to represent the fire at the hearth of the home, surrounded by "logs" of light and dark strips. But you can use any color that appeals to you. The pattern works best if you use quilting fabric that has some contrast, like lights and darks or warm colors like red or orange on one side and cool colors like blue or green on the other.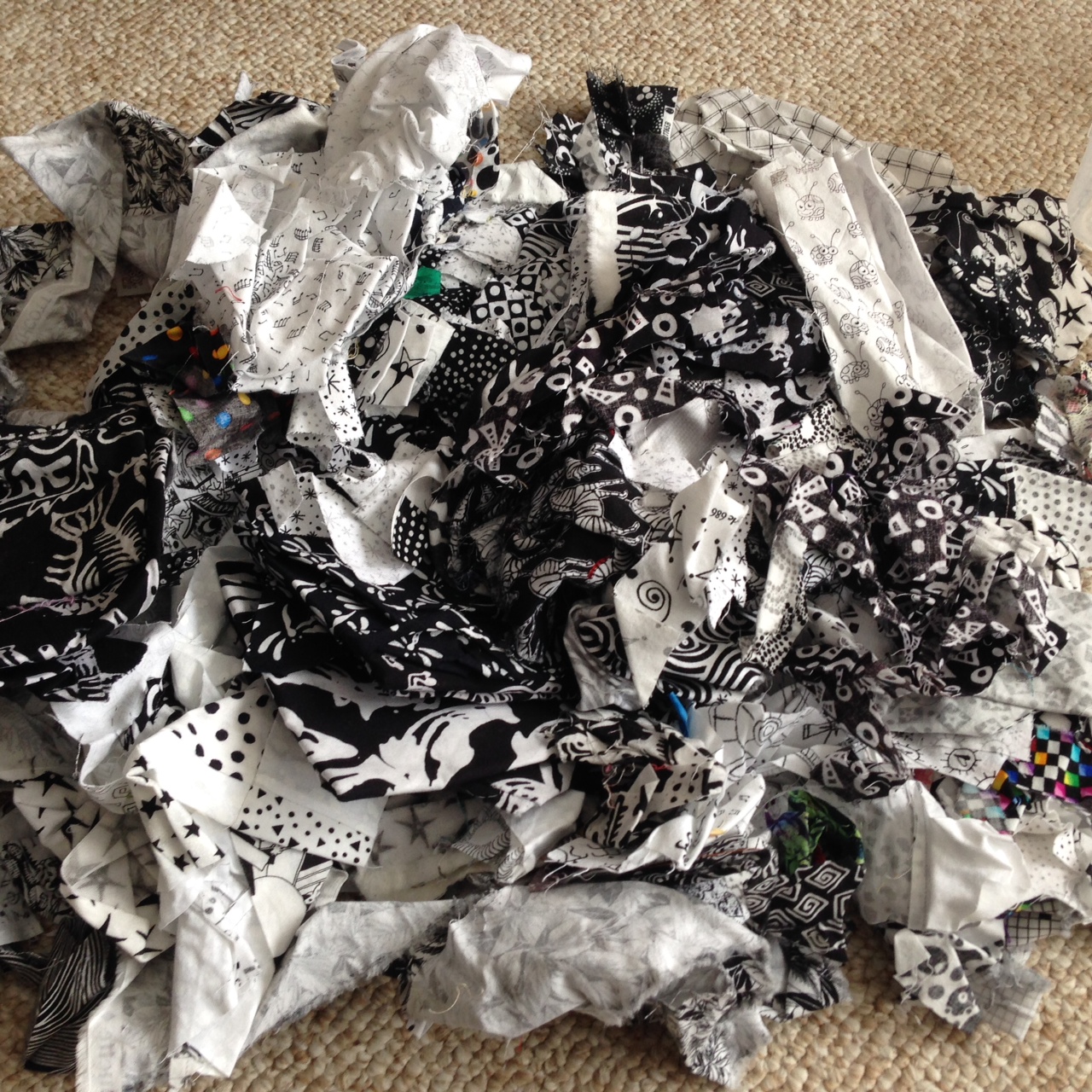 This is a relatively free-form method, so once you've decided on your color scheme, you can go to your fabric scraps to get started. I keep boxes and baskets of scraps — strips and blocks from other projects that are separated roughly by color or type of fabric. To get started on this project, I dumped out my box of black and white scraps.
Step 2. Separate scraps into light and dark
You'll want to separate your scraps into lights and darks, then cut them into strips that are 1.5″ wide. Don't worry about the length of the strips at this point. Your quilt will have a more scrappy feel if you use a variety of patterns in your strips. Your center blocks need to be cut 1.5″ square, too.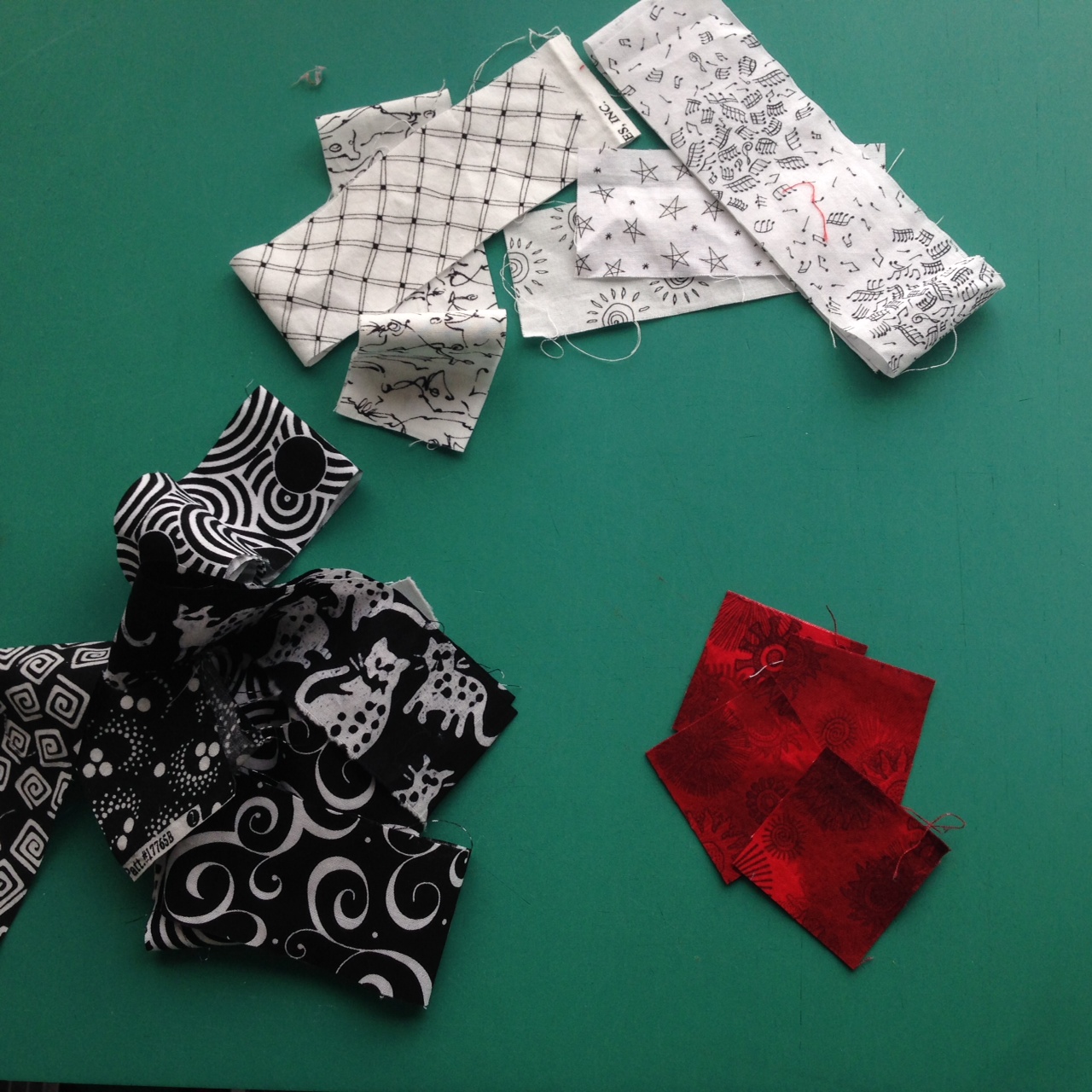 It may help to divide your strips into shorter and longer ones at this point. You'll use the shorter ones in the beginning and need longer ones as your block grows. If you prefer to start with yardage, simply cut 1.5″ strips from your fabrics and divide them into lights and darks.
Step 3. Chain piece blocks
I like to chain piece about four blocks at once to save time. Starting with your four red centers, choose a shorter light strip to sew onto one side. Place the strip on the red block and cut it to the same size as the block. This first strip will end up being a square to match the center. Then sew all four seams at once without stopping. When all four pairs have been sewn, remove the chain from the sewing machine and press the seam away from the center.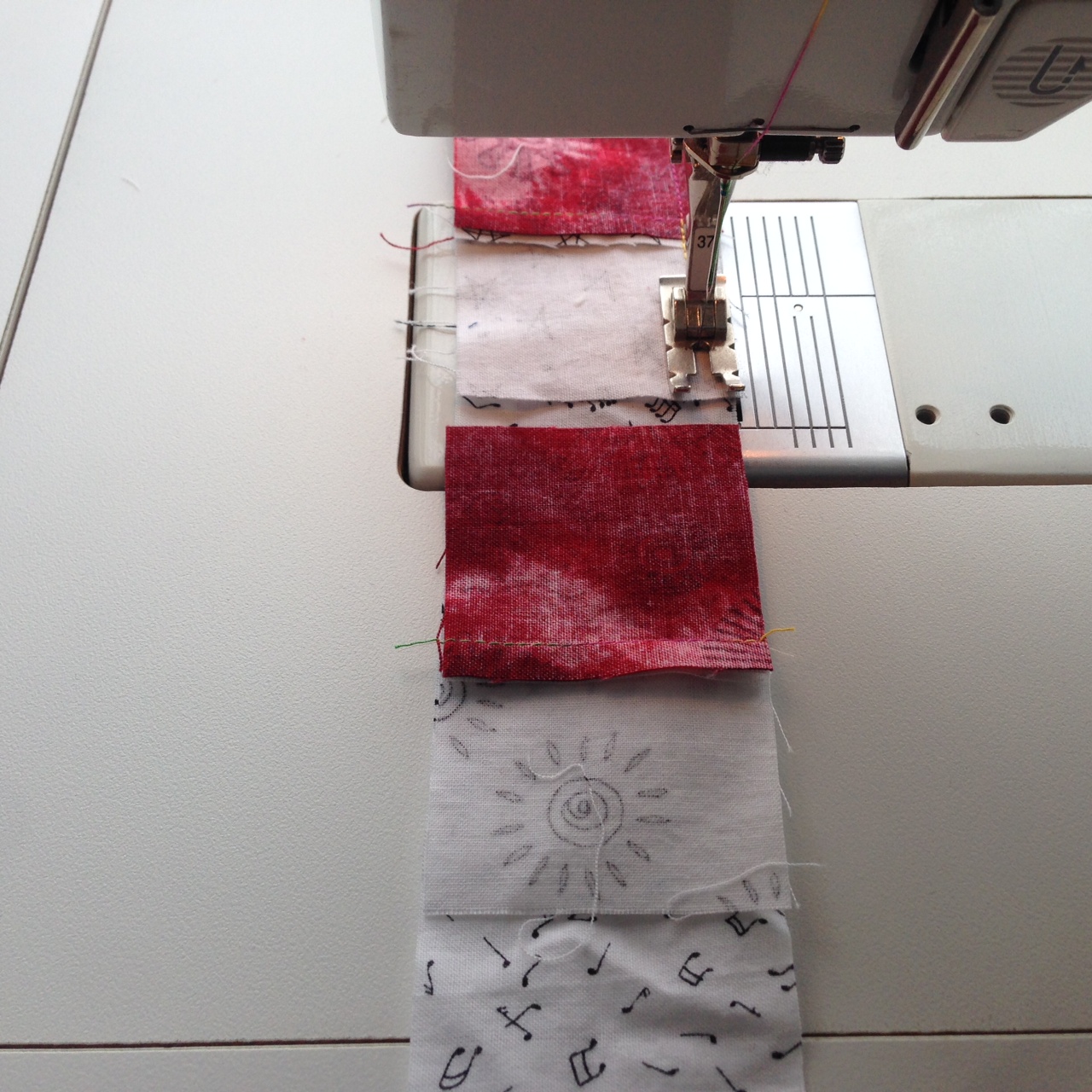 If you're making a large quilt and want to save time, for the next rounds you can take one of your longer light strips and lay the pressed units on top of it, leaving a small space between each unit. Then sew them all at once in one long seam. Remove the units from the sewing machine, cut them apart and press the seams away from the center.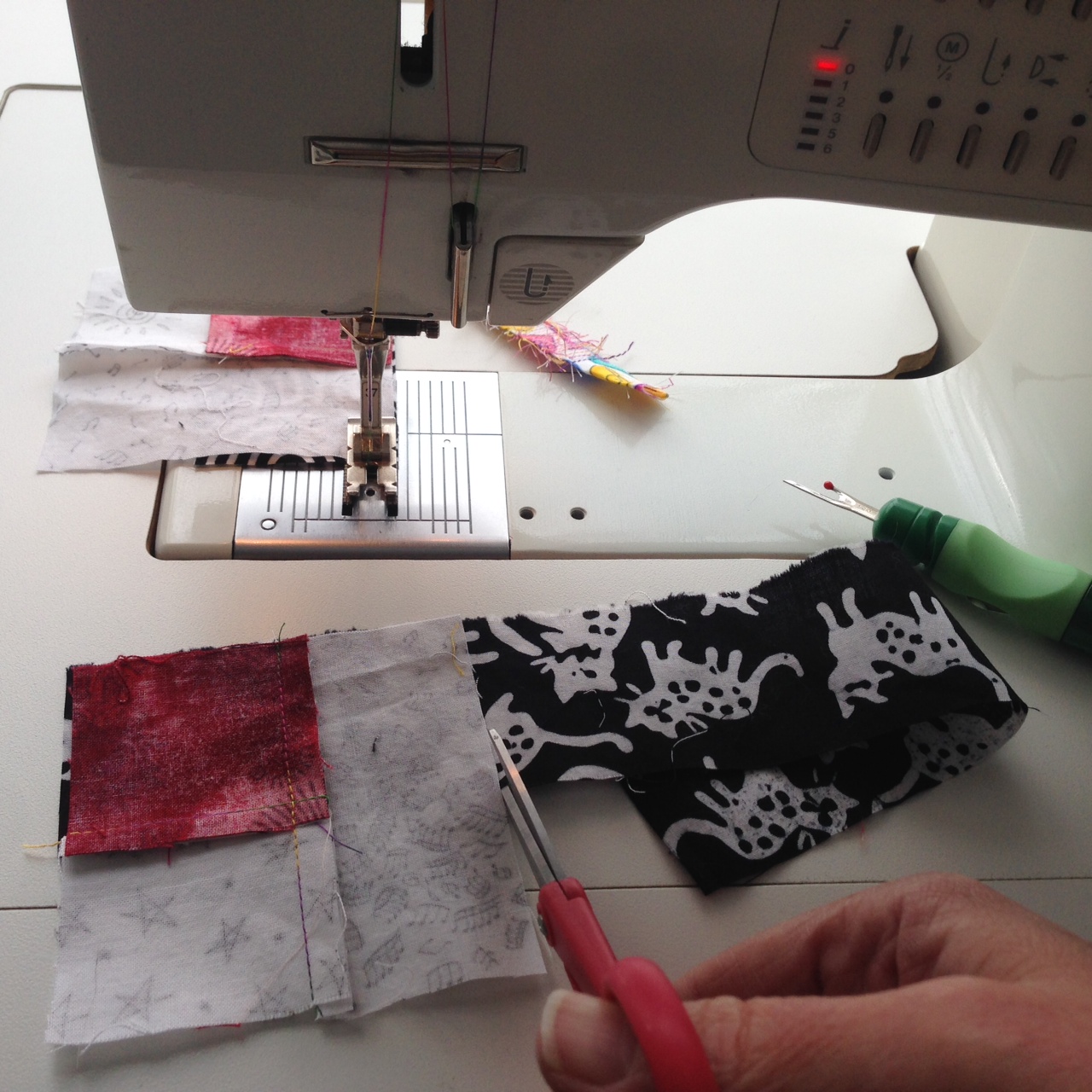 Step 4. Add strips clockwise — two light and then two dark
If you want a truly scrappy look, or you're making a smaller quilt and want more variety in your blocks, lay each unit on one of the longer strips and cut it to fit before stitching. You'll add two light strips and two dark strips to each unit, always adding the next strip in a clockwise fashion.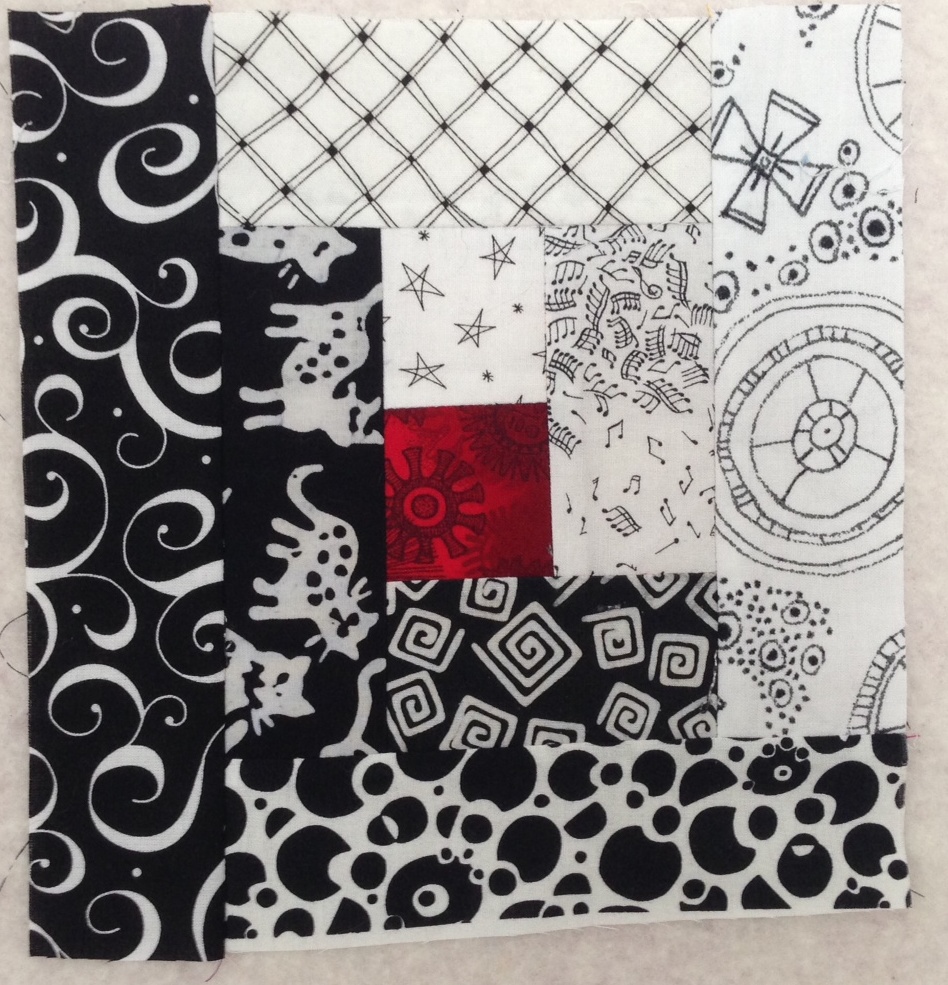 Depending on the finished size of the quilt — and maybe how much you like making the blocks —you'll add two or three rounds to each block, with one side being light and the other dark. Once I get started, I have a hard time stopping! I enjoy seeing each block come to life, and savoring the memories of where each fabric came from.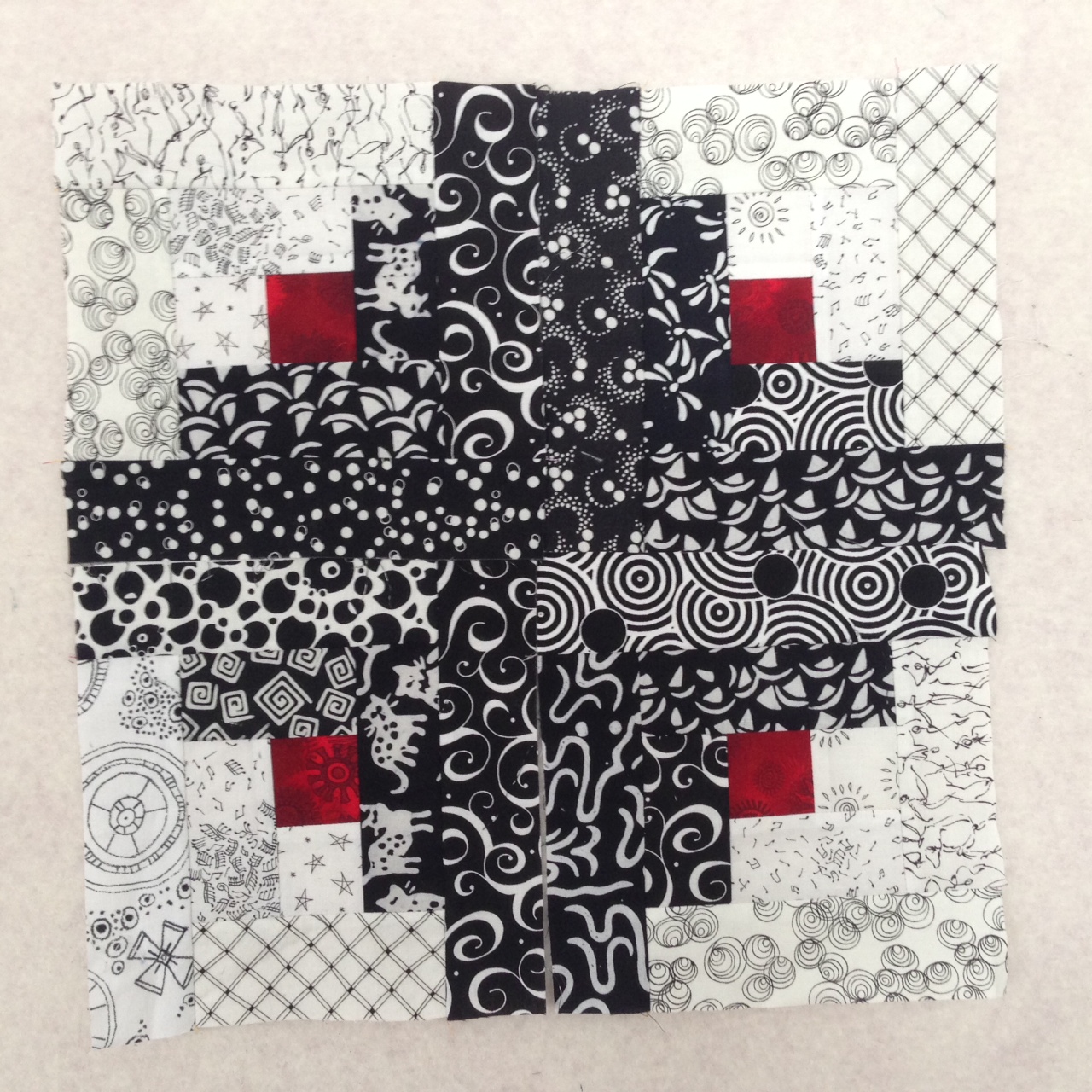 You can put the blocks together in lots of different ways. Four blocks with the dark sides touching creates the beginning of the log cabin variation known as Sunshine and Shadow, similar to my full-sized quilt in blue and white at the beginning of the post.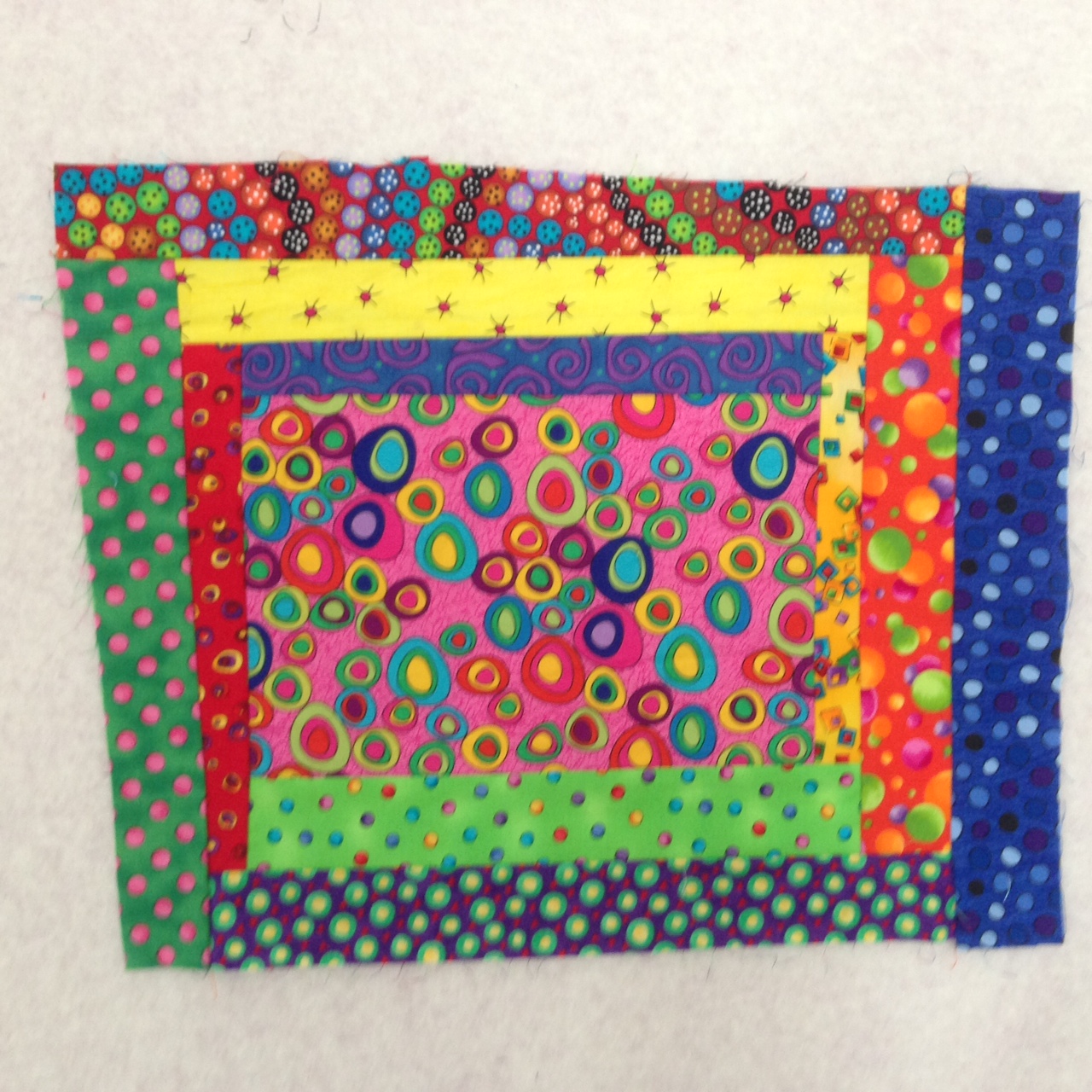 Make it Modern
Of course, you don't have to be limited to the traditional log cabin block! This technique will work for more modern variations, like the contemporary block I created above using a large rectangle as the center and logs different colors and sizes. This block would be trimmed to size before combining it with other blocks.