Breakfast is my favorite meal of the day. When I go to bed every night all I can think about is waking up making breakfast. But sometimes breakfast just isn't enough, which is why breakfast for dinner was the best invention ever.
That said, are you ready for a savory waffle recipe? Do you think you can handle it?
One look at the photo below and you'll be convinced.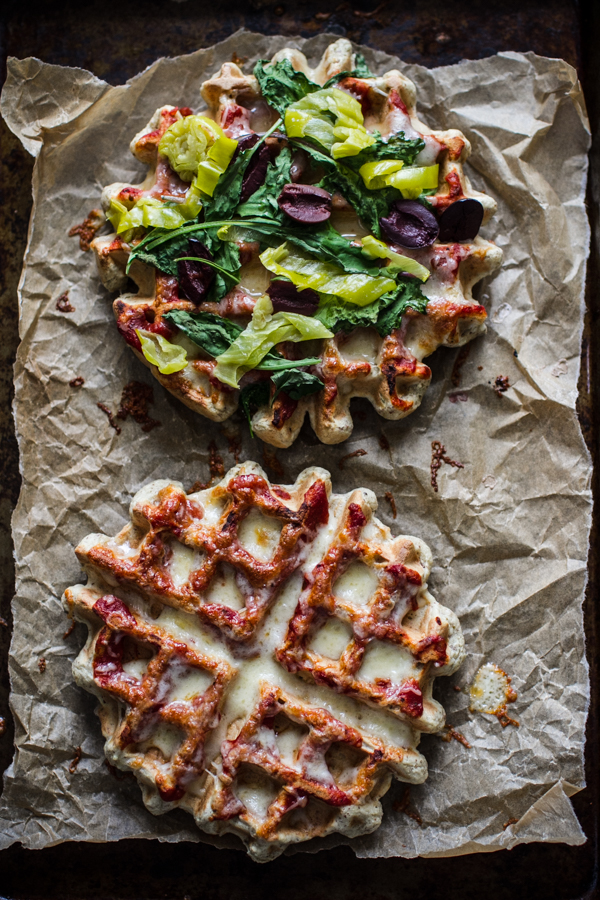 Photos via Edible Perspective
Today we're adding a handful of savory ingredients to this waffle recipe and turning them into pizza waffles!
Do you remember eating pizza bagels growing up? Of course you remember. They were only one of the best kid-foods ever. These savory waffles definitely remind me of that childhood favorite. They're doughy on the inside, crispy on the outside, and covered in your favorite ingredients. You can customize them any way you like!
But first it starts with the base waffle. I've added ricotta, Parmesan, garlic, and oregano to this savory waffle recipe. With just a smear of herb butter and sprinkle of salt, these waffles can totally stand on their own. However, adding the pizza toppings is highly recommended.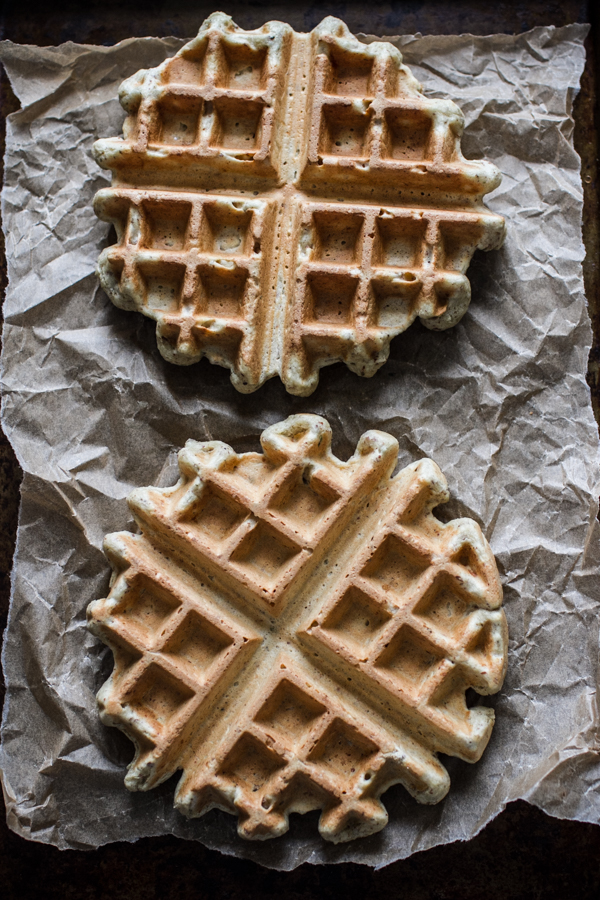 I went two directions with my waffles.
First: The waffle below is topped with a light coating of sauce, provolone cheese, baby kale and arugula, pepperoncinis, and kalamata olives.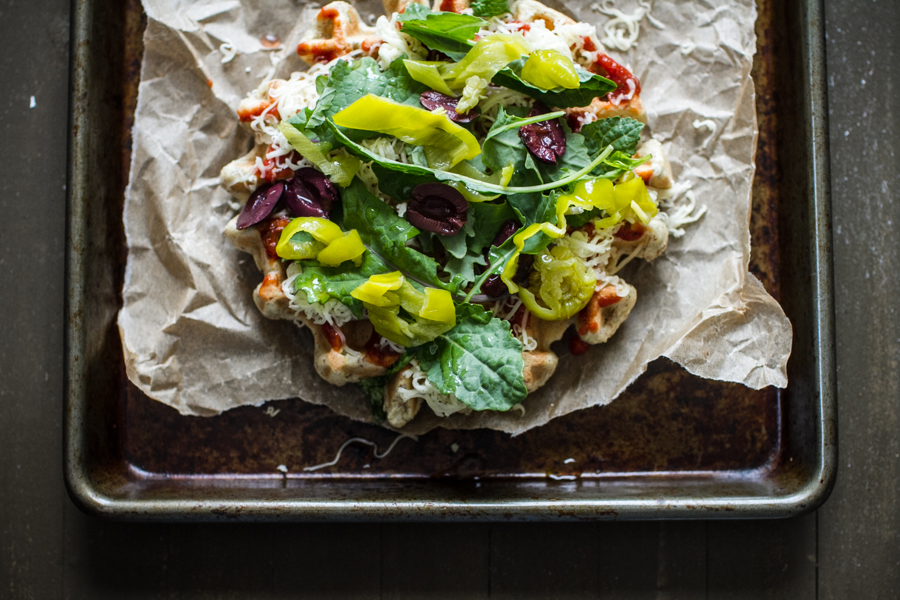 Second: Plain cheese! (My childhood favorite.)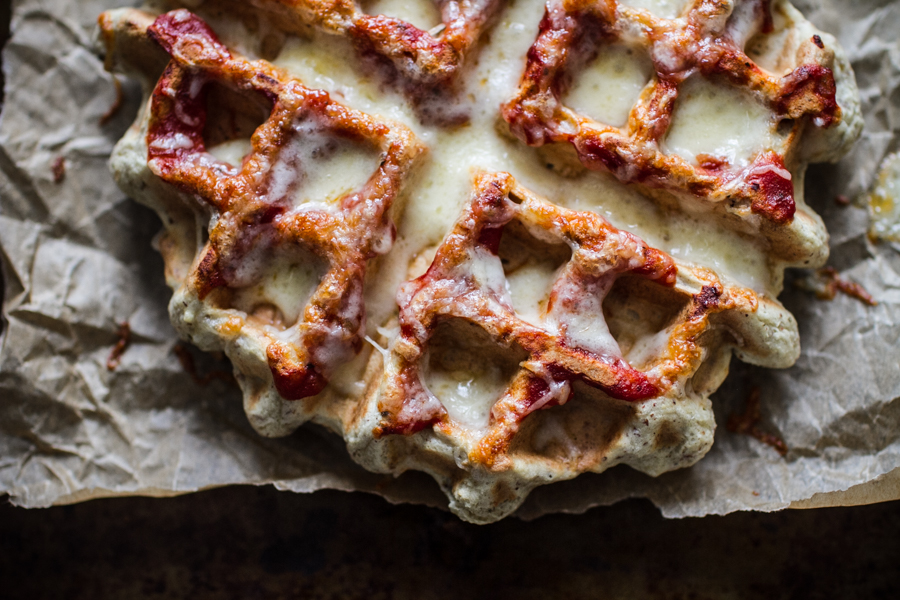 The key to avoiding a soggy waffle is to spread just a light coating of sauce. No need to fill the pockets. If you are a fan of sauce, just warm some on the side for dipping!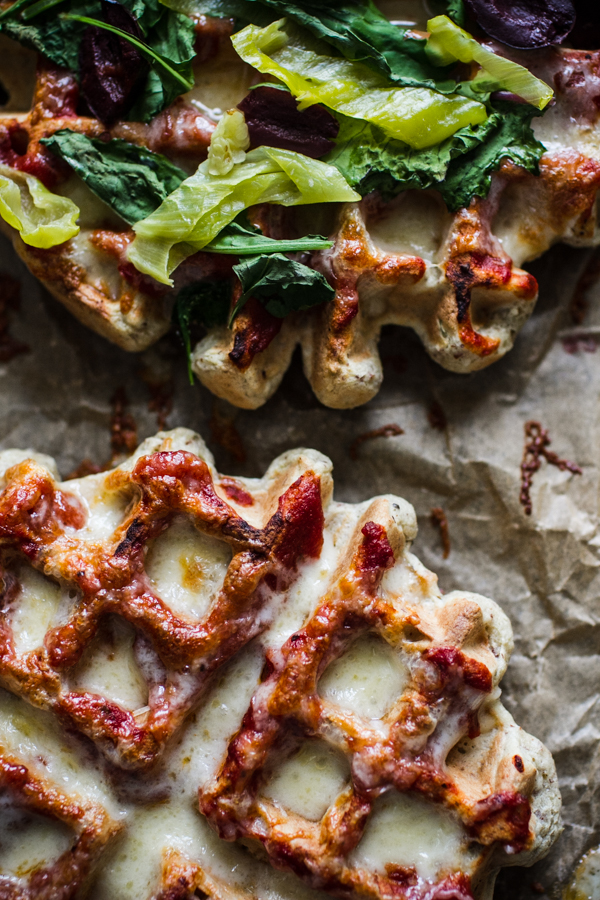 Slice it up and you're ready to chow down.
I used a double-sided Belgium waffle maker, but a shallower waffle iron would work really well for an extra crisp waffle-crust!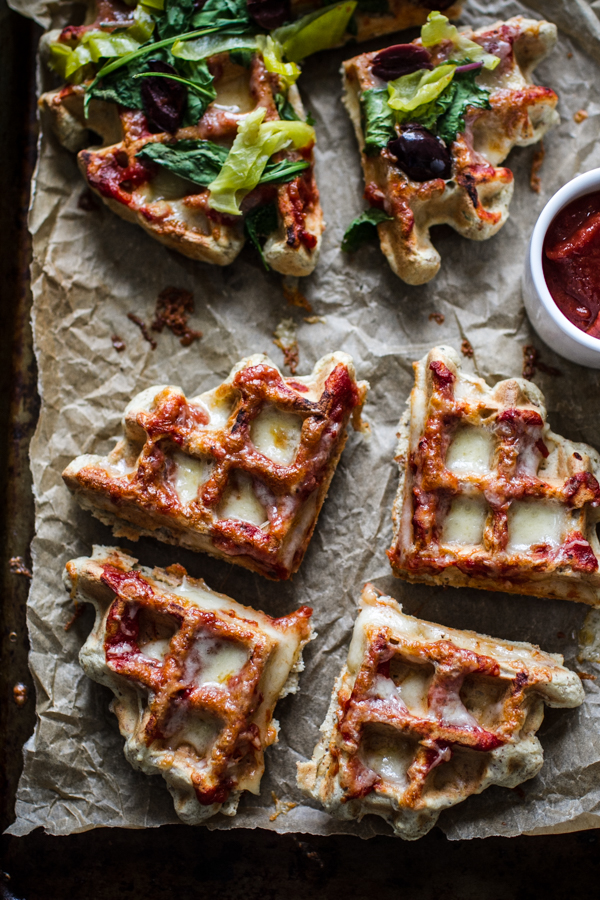 Gluten-Free Savory Pizza Waffles
Yields: (2) 5-6 inch Belgium waffles
Ingredients:
3/4 cup quinoa flour
1/4 cup almond meal
3 tablespoons sweet rice flour
1/4 teaspoon salt
1/4 teaspoon baking powder
1 large egg
1/2 cup + 1 tablespoon milk
1/4 cup full-fat ricotta cheese
2 tablespoons olive oil
1/4 teaspoon garlic powder granules
1/4 teaspoon dried oregano
1/4 cup grated Parmesan cheese
1/2 – 3/4 cup finely grated provolone or mozzarella cheese
Step 1:
Preheat your waffle iron to medium/medium-high heat.
Step 2:
Stir together quinoa flour, almond meal, sweet rice flour, salt, and baking powder in a medium sized bowl.
Step 3:
In another bowl whisk the egg. Then whisk in the milk, ricotta, oil, garlic and oregano.
Step 4:
Pour the wet into the dry and stir or whisk until fully incorporated. Stir in the Parmesan cheese.
Step 5:
Pour half the batter into the middle of your waffle iron and cook until golden brown and crisp. Repeat with the second waffle.
Step 6:
While the 2nd waffle cooks, preheat your oven to broil.
Step 7:
Place the waffles on a baking sheet. Spread a very light coating of sauce (too much and it will turn soft after broiling), then top with provolone and any other toppings desired. Broil for a few minutes until the cheese is bubbly.
Step 8:
Serve immediately with extra sauce for dipping on the side.
Recipe notes:
Oat flour, millet flour, or buckwheat flour can be substituted for quinoa flour. There is no substitute for sweet rice flour (also known as glutinous rice flour) but it can be found at many natural food stores (check Bob's Red Mill brand and Ener-G) and very easily at Asian markets.