There's nothing like apples in the fall. While they're perhaps most famously used for sweet baking projects, there are also plenty of opportunities to use them in savory recipes, too.


Curious about how to make the most of fall apples in savory cooking? These 12 awesome recipe inspirations will have you cooking in no time. 
1. Applesauce 
File under "duh." While most applesauce is slightly sweetened, it still works great in your savory cooking. There's not much more classic than pork chops with applesauce on the side. Applesauce also tastes great on top of biscuits at your next at-home brunch.
Want to give it a go? Try out our homemade applesauce recipe!
2. Apple slaw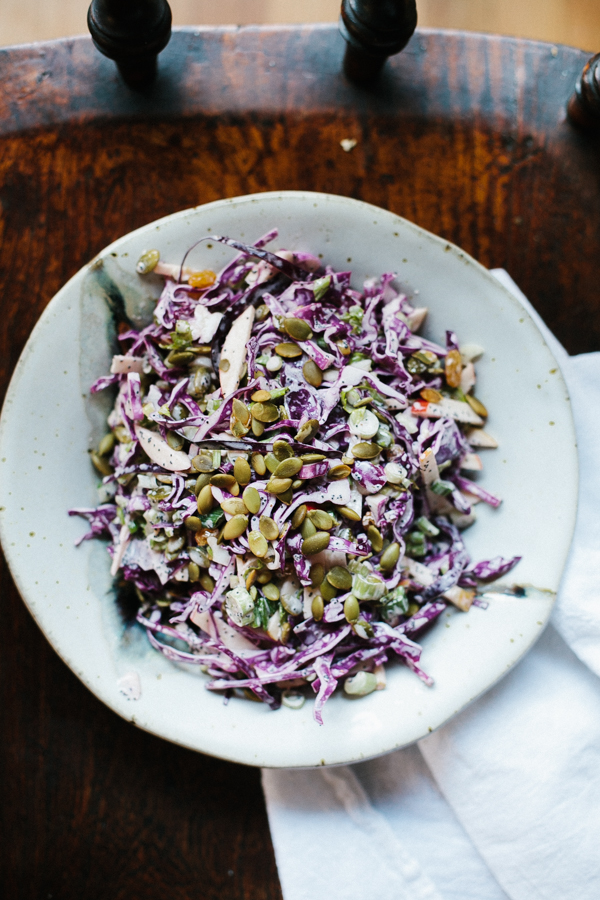 Savor the flavors of fall by combining chopped apples, purple cabbage and crunchy celery with a zippy vinaigrette. This delectable slaw is tasty enough to serve as a salad or side dish, and it also makes a perfect accompaniment to sandwiches and soups.
Here's our easy apple slaw recipe. 
3. Pomegranate apple salad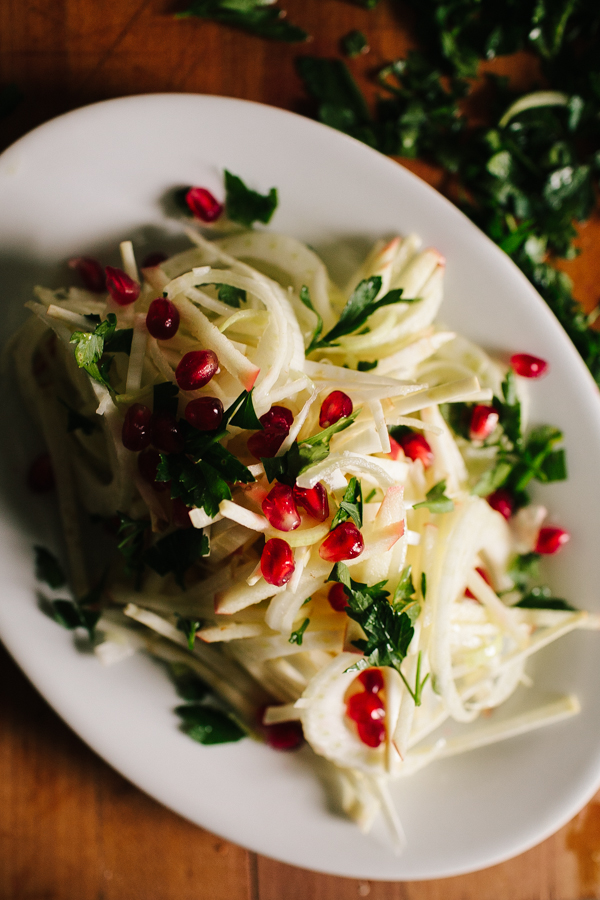 Even as the weather begins to grow cooler, apples can be combined with fresh fall produce to create delicious and nutritious salads. For a flavorful and healthy option, slice apples into matchsticks and combine with cheddar, pomegranate, fennel, and spices and flavorings to create a memorable cold weather salad. 
Make it yourself with our winter salad recipe.
4. Apple sauerkraut 
Apples add an unexpected (but quite welcome!) touch of sweetness to sometimes-bracing sauerkraut, softening it just enough so that it pairs perfectly with rich main dishes such as sausage or braised meat. This version includes bacon and apple for a memorable finished flavor.
5. Apple sausage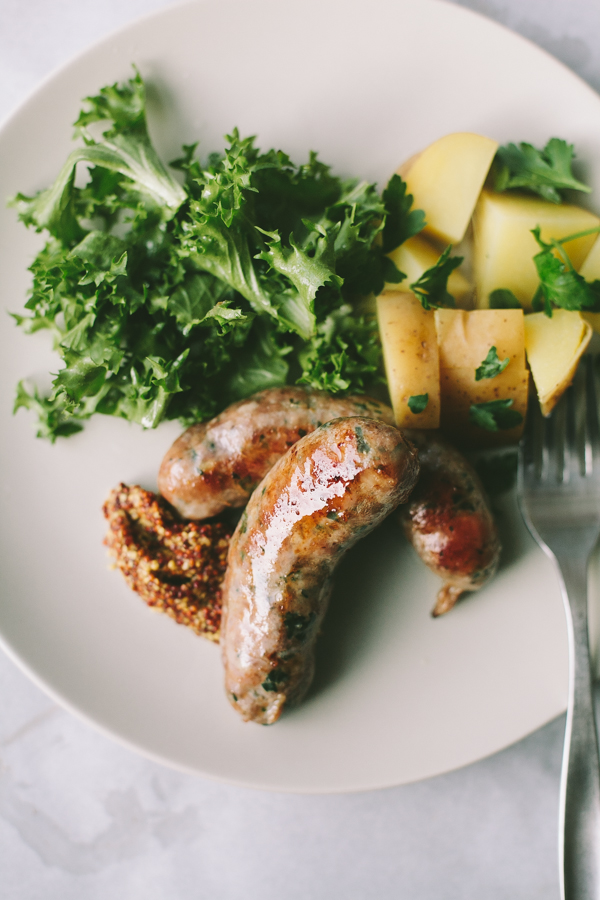 Making sausage? Go ahead and include some finely diced apple in your mixture before sealing it in the casing (or, mix it with the meat to make sausage patties sans casing). A bit of apple adds a wonderful flavor contrast to the richness of pork sausage, but it works with other meats as well. 
Start with our handy recipe for homemade sausage. 
6. Apples and grains 
Love the nutty flavor of cooked whole grains like bulgur, millet or farro? Near the end of cooking your next batch, fold some finely diced or matchstick-sliced apples into the mixture. They'll add a pleasing crunch and flavor to your healthy side dish. Plus, it pairs well with a number of main dishes and makes a delicious morning cereal. 
7. Apple BLT 
Do you love BLTs? Upgrade your next one with apple slices. It's such a simple way to use your perfectly fresh fall apples, but it creates an incredible flavor experience. 
8. Apple and potato latkes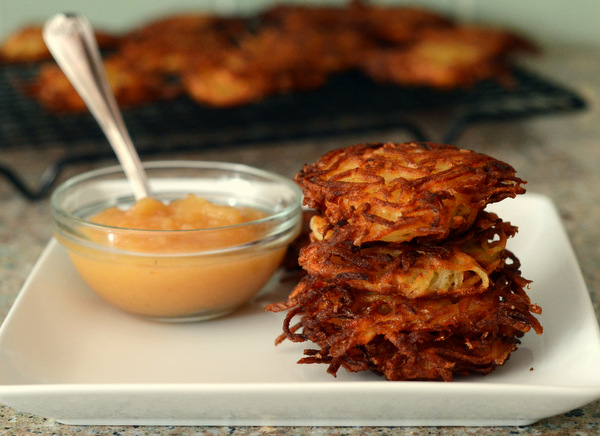 Next time you make potato latkes, don't just serve them with applesauce on the side: Try mixing apples with the traditional potatoes! Swap out ¼ to ½ pound of the potatoes called for in the recipe for apple, sliced the same way as the potato. Mix the potato and apple evenly, and make the recipe as usual. You'll be treated to a uniquely flavored batch of this classic Hanukkah (but delicious any time of year) treat! 
Swap out some apples in our potato latke recipe. 
9. Fried apples with bacon 
Fried apples are exactly what they sound like: Sliced apples fried in oil or butter in a pan. From there, you can flavor them however you like. For a real savory treat, fry some bacon first and then add the apples to the mixture when the bacon is done cooking. Fried apples with bacon taste awesome on top of a baked potato! 
10. Roasted apples and vegetables 
Roasted vegetables are a fail-safe and cozy fall side dish or vegetarian dinner. Next time you whip up a batch of roasted vegetables, add some apples! Add sliced apples to a melange of vegetables such as sweet potatoes, parsnips, carrots or beets, drizzle with olive oil, salt and maybe a little bit of honey or maple syrup, and roast at 425 F until browned to your liking (usually about 25-40 minutes). 
11. Savory apple quiche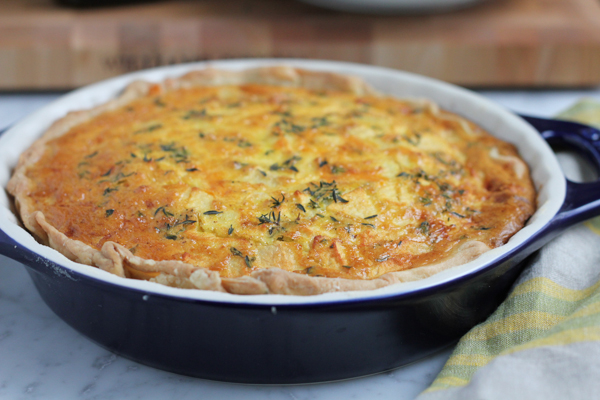 Photo via Hip Foodie Mom
Apples are famous in sweet pies and pastries, but they work equally well in savories, too! For an easy and delicious savory quiche, combine sliced apples and sharp cheddar along with your whisked eggs. This delectable recipe by Hip Foodie Mom amps up the flavor by combining it with an olive oil and thyme crust. 
12. Roasted apple bread
Roasted apples will give your next loaf of bread a feel-good fall flavor. Peel and chop your apples, then roast on a parchment lined baking sheet at 425 F for 15 to 20 minutes, or until softened and slightly crispy on the edges. Let cool, and then fold into a loaf of homemade bread or rolls for a deliciously fall-flavored finished result. 
What's your favorite way to cook with apples?