At the end of March, I attended Quiltfest Destination Savannah, a quilt show featuring many beautiful quilts and special exhibits. What struck me almost immediately is the diversity of techniques and styles through the show.
Follow along to see some of these fantastic quilts for yourself!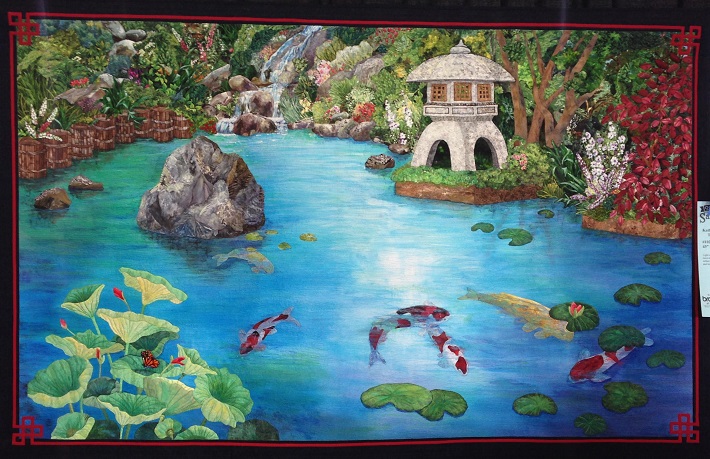 Best in show
The quilt awarded best in show was Reflections, a hand-appliquéd water landscape quilt created by Kathy McNeil.
Each piece was meticulously hand appliquéd and extra shading was added — maybe with paint or fabric markers? I heard many quilters speculating on how Kathy McNeil created the shadows within this quilt. I especially loved the subtle free-motion quilting designs used on the surface that mimicked the softly flowing water and highlighted the shapes of the leaves.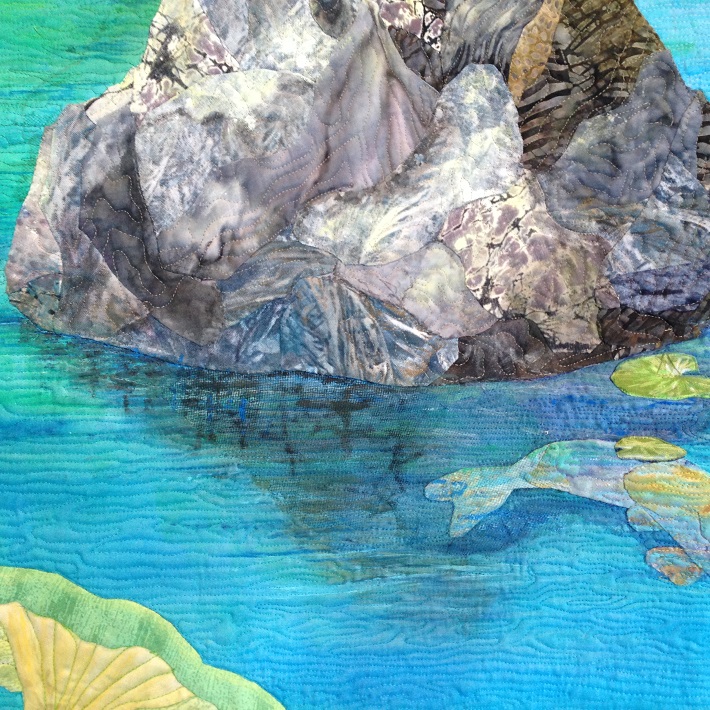 Texture on trend
Beautiful texture was a recurring theme in the show, especially evident in the special exhibit of Vickie Clontz's quilts and wearable artwork.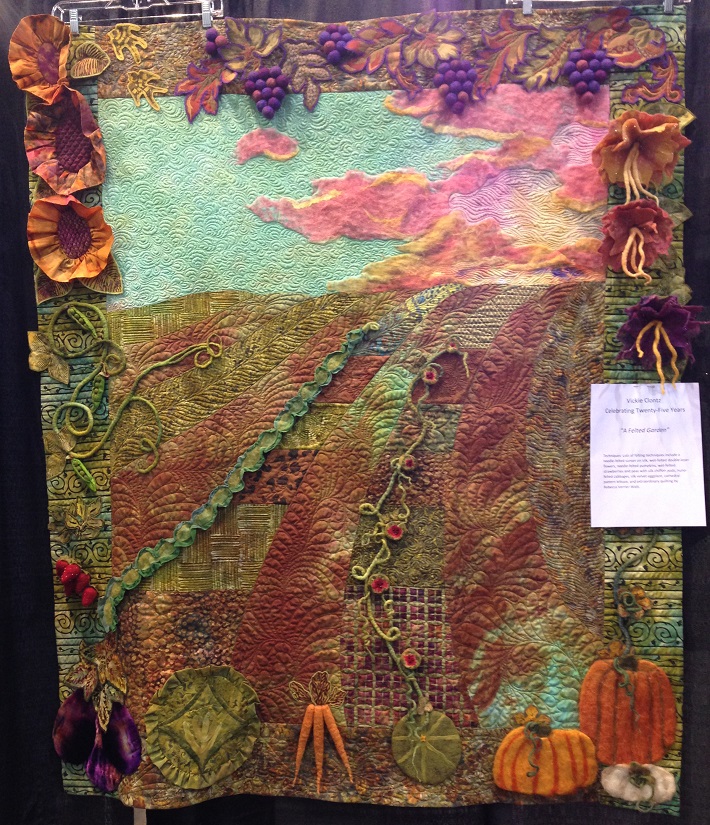 Vickie works with far more than just cotton fabric. She uses wool, alpaca fiber, silk and silk velvet to create much more texture and visual interest on the surface of her quilts and garments. My fingers were itching to touch Vickie's work to see how all these different fibers feel on the surface, but I wisely remembered the show rules and kept my hands to myself.
Intricate hand stitching
Lately, I've been on a hand quilting kick and enjoying Bluprint instructor Andi Perejda's Hand Quilting: Heirloom Design & Technique class immensely. I found many beautifully hand-quilted and hand-embroidered quilts like this quilt called Dandelion created by Louise Moor.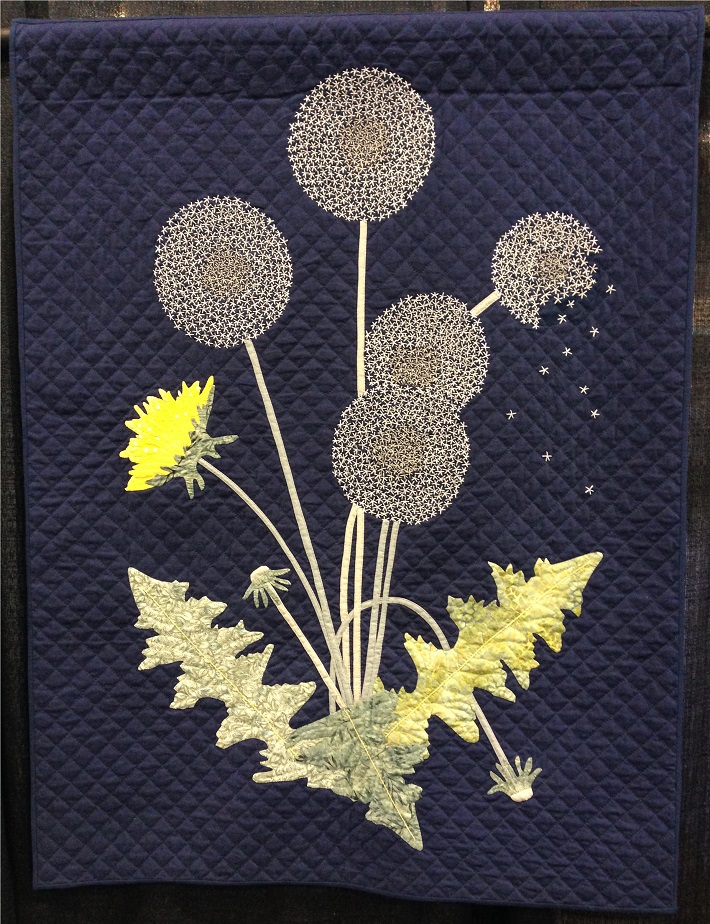 I love the combination of hand quilting and machine quilting on the same quilt. Hand-quilting stitches form a broken line which creates slightly softer designs, and the stitches can range from very tiny to big and chunky. This can be a very nice contrast to the solid lines created with machine quilting stitches. I kept my eyes peeled for a quilt that combined hand and machine quilting and found a perfect example in Exotic Attraction created by Jane Gavlick.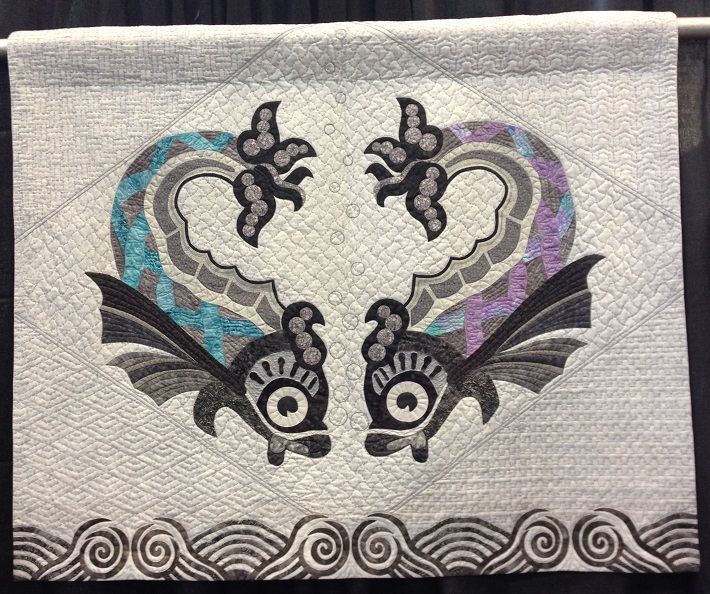 This quilt was machine appliquéd and the fish were machine quilted, but the background was hand quilted and hand embroidered. It was just incredible and I love the visual contrast between the hand quilting designs and machine quilting fills in the fish.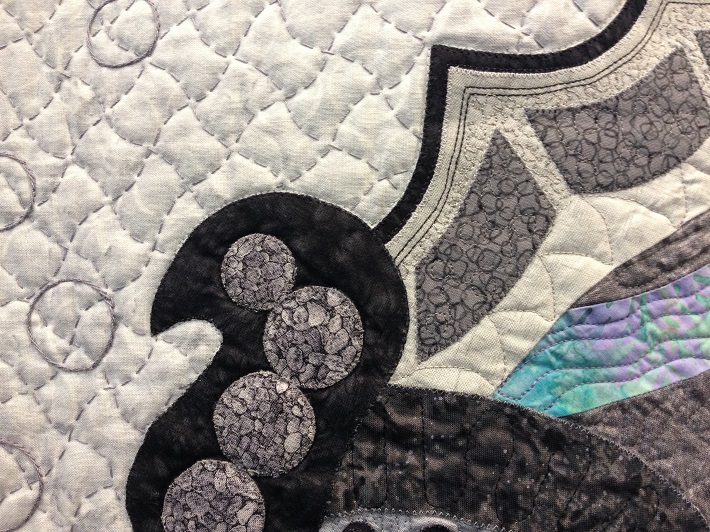 This is by no means a complete sample of the quilts at Savannah Quiltfest, but a selection of the ones that stood out to me the most. When walking a show, I pay close attention to what jumps out at me immediately and spend a lot of time looking at those quilts in particular.
For this show I was most attracted to quilts with rich texture created by hand quilting, hand embroidery and couching. I found many quilts that featured these techniques and it was a treat to see all the ways quilters are combining designs, different materials and both new and old techniques to create beautiful quilts.
Have you attended a quilt show recently? What caught your attention most at the show? Did you feel drawn most to the quilts you knew how to make, or the quilts that were created from new techniques you haven't tried yet? Share your latest quilt show experience in the comments below!
Let's go quilt,
Online Quilting Class
Become the confident quilter you long to be with Leah Day!Enroll Now »