Many quilters have a sampler quilt or two under their belts. These quilts are comprised of different block patterns that are generally non-repeating. In most samplers, every single block is different. Traditionally, each of these unique blocks are the same size, but they can vary. When all of the blocks are completed, they are sewn together with or without sashing.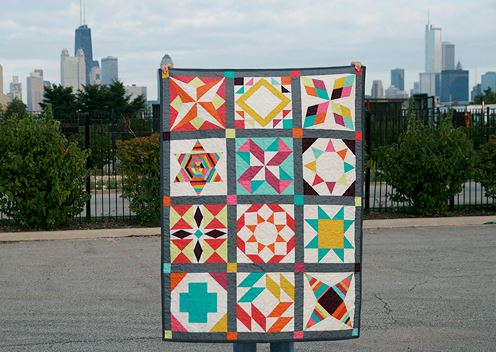 Photo via Fresh Lemon Quilts
Sampler quilts play an important role in the history of quilting.
They first became popular during the mid-1800s. Prior to this, the majority of quilts were medallion patterns, where the design began in the center of the quilt with the medallion and then radiated out.
In the mid-1800s, quilters started to switch things up. Rather than a center focal point, they began to lay out their smaller blocks in a grid-like formation. These projects were either single block quilts or samplers.
Why were sampler quilts so popular? Why do they continue to be so popular?
People like variety! Rather than piecing the same block over and over, stitching up something new each time keeps you on your toes. Quilters are creating new blocks all the time, so there is an seemingly endless supply of patterns to choose from.
Whether you are a novice or an advanced quilter, you will learn new skills when piecing a sampler quilt. Precision piecing is practiced over and over in these blocks.
Samplers are a great way to use up your scraps and smaller cuts of fabrics. It is easy to mix and match fabrics with these blocks, and it is easy to use all sorts of fabric, even the smallest pieces.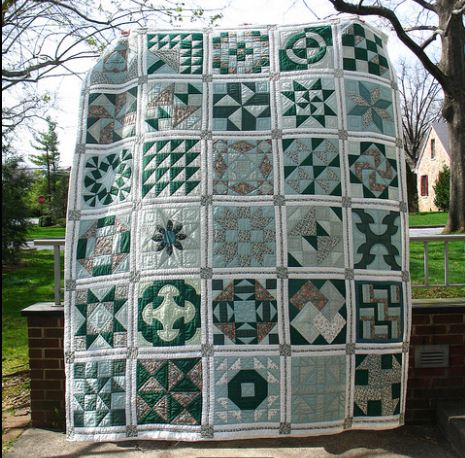 Photo via Yahaira Ferreira
Sampler quilts can be as simple or as complicated as you'd like them to be.
If you are hoping to truly challenge yourself, have a look at the legendary Dear Jane quilt. It is designed to mimic the original Jane Stickler sampler quilt, which was completed in 1863. It is a true masterpiece comprised of 169 pieced 5" squares and 56 pieced triangles.
For a slightly less daunting but still challenging sampler, check out the Farmer's Wife quilt. This quilt was designed by Laurie Aaron Hird and is made of 111 blocks that measure 6" each. Both of these notable samplers are stunning and are considered to be great sewing accomplishments.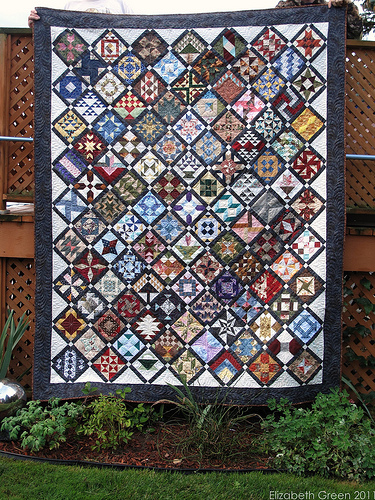 Photo via Elizabeth Green
Bluprint has plenty of resources to get you going on your own sampler quilt.
Try out the FREE Bluprint Block of the Month 2013 and the Bluprint Block of the Month 2012 classes. In each class, you will learn new techniques while sewing 10 different blocks. Some of the skills covered are curved piecing, partial seams, Y seams, appliqué, triangles, paper piecing and more. When each class is over, you will have 10 sampler blocks that are ready to be sewn together!
If you'd like to hone your piecing skills before tackling a sampler quilt, try out Norah McMeeking's Precision Piecing class. And Leah Day's Free Motion Quilting a Sampler class will show you more than three dozen free-motion designs, demonstrated step-by-step, and plenty of close-ups.
Have you ever completed a sampler quilt? Please share your favorite pattern!