Recipe courtesy of Martha Homberg from Homestyle Pan Sauces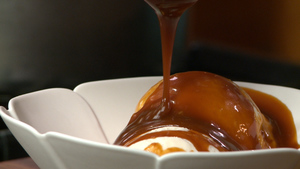 Ingredients
1 cup (200 g) granulated sugar
3 tablespoons water
3/4 cup (180 ml) heavy cream or crème fraîche
1 tablespoon unsalted butter
1/2 teaspoon kosher salt
1/4 teaspoon vanilla extract
Directions
In a medium, heavy saucepan, combine the sugar and water and bring to a boil over mediumhigh heat, stirring just until the sugar is moistened. Let the mixture boil, without stirring but swirling the pan occasionally, until it is a deep amber, smells like caramel, and you can see the tiniest wisps of smoke, 9 to 12 minutes. The caramel will be very hot. Remove the saucepan from the heat and carefully add a little bit of the cream; the caramel will bubble up furiously.

Place the pan over low heat and whisk in the remaining cream a little at a time (to avoid bubbling over). Then whisk in the butter, salt and vanilla. Continue to whisk until the sauce is very smooth, about 1 minute. Remove the pan from the heat and let the sauce cool; it will thicken as it cools. Serve warm or at room temperature.

Refrigerate in an airtight container for up to 3 weeks or freeze in a lock-top freezer bag for up to 2 months.
Yield: 1 1/2 cups (360 ml)