Nature's woodsy touch is behind the beautiful trend of rustic, in-the-woods-inspired wedding cakes. From cedar round cake boards to faux-bark fondant techniques, there are plenty of ways to add a forest feel to your upcoming wedding or party.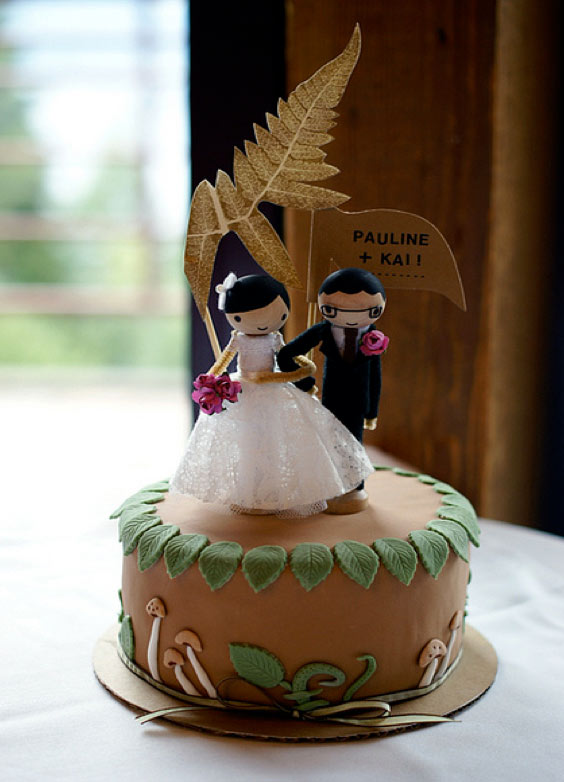 Photo via Coco Cake Land
Little woodland themed cutting cake with fern topper:
This fondant covered wedding cutting cake topped tiers of cupcakes. Curly ferns and little mushrooms were made from fondant and leaves were cut from a fondant leaf plunger-style cutter. The paper fern on top was cut from craft paper, and the bride supplied the adorable wooden couple cake toppers.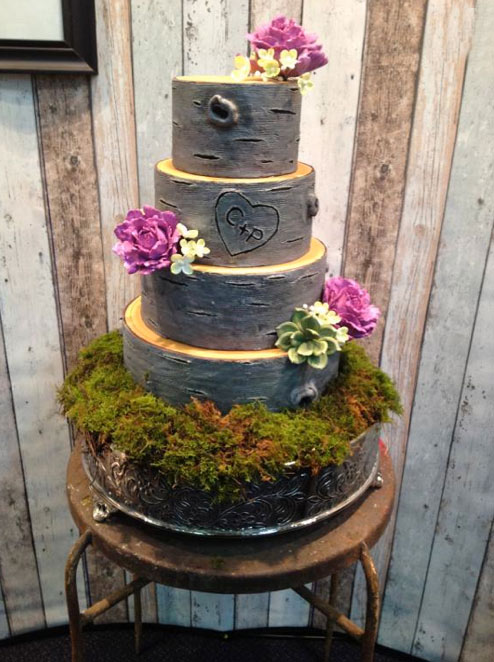 Photo via Craftsy member KristyLeesCakes
Faux-bark fondant woodland cake:
Craftsy member KristyLeesCakes created this awesome tiered Woodland Peony wedding cake with fondant faux bark. Doesn't it look realistic? It was decorated with gum paste, fondant and modeling chocolate. She learned how to make these gorgeous blooms in Nicholas Lodge's Craftsy class The Ultimate Sugar Rose.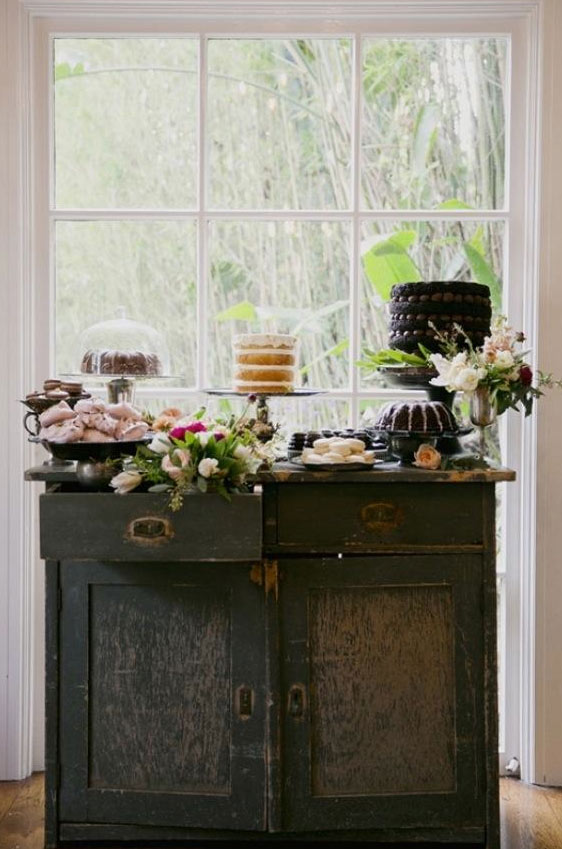 Photo via Sweet and Saucy Shop
Rustic dessert table:
Looking for a cool way to display your desserts and give it a rustic feel? Set your cakes and treats on top of  a vintage distressed cabinet. Love how the drawer is propped open slightly with a bouquet of flowers poking out. Naked wedding cakes have a rustic feel to them, too — so instead of covering your entire cake, simply fill the layers and ice the top. The whole display sits in front of a window to a forest-like setting, too. Proof you can host a rustic-themed party without having to cover your cake in a million handmade fondant pinecones!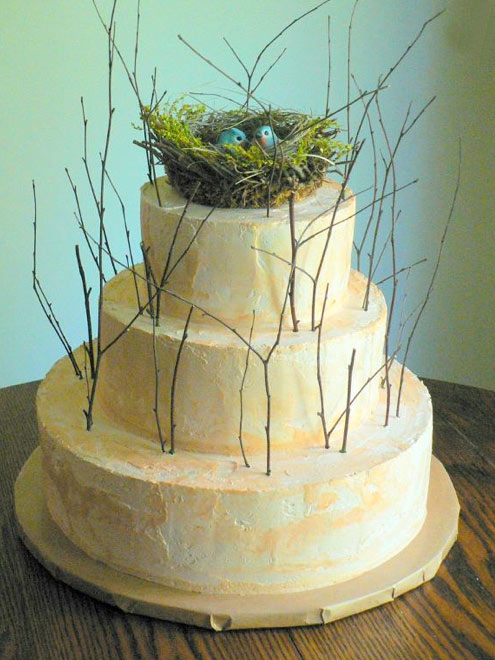 Photo via Craftsy member Max9680
Buttercream bark bird's nest cake:
A beautiful and simple cake created by Craftsy member Max9680. I even like how the cake board is covered in brown craft paper to add to the rustic feel. Layers of buttercream in two tones creates a bark-like application. Thin, mini sticks are tucked into cake layers, and the whole cake is topped with a little bird's nest that was provided by the wedding couple. Love the look of the sticks! For a challenge, one could attempt to make chocolate versions.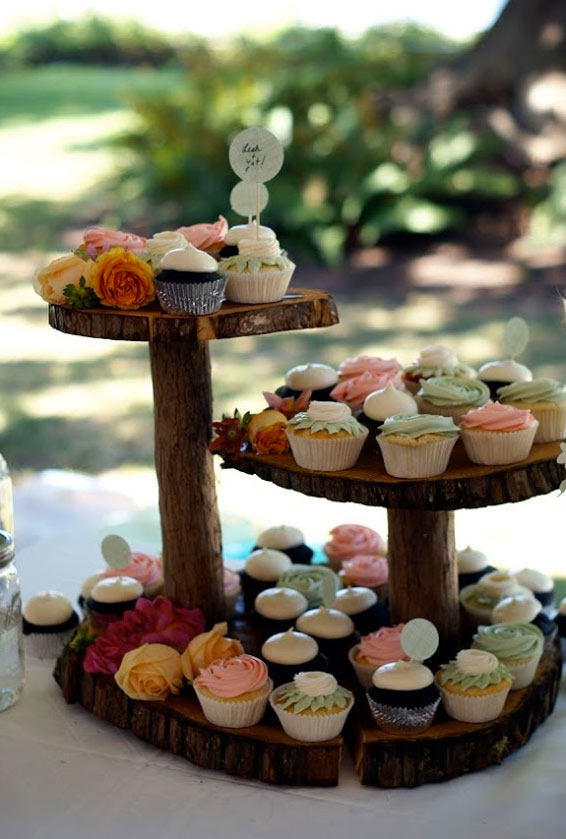 Photo via Coco Cake Land
Rustic wooden cupcake stand:
These beautiful wedding cupcakes were displayed on a custom wooden cake stand made by the groom himself out of cedar wood slices. This is a very cool way to add instant "woodsy rustic" cred to your nuptials. The cupcakes were iced in rosettes and leaves, and fresh roses and daisies added to the natural feel of the display.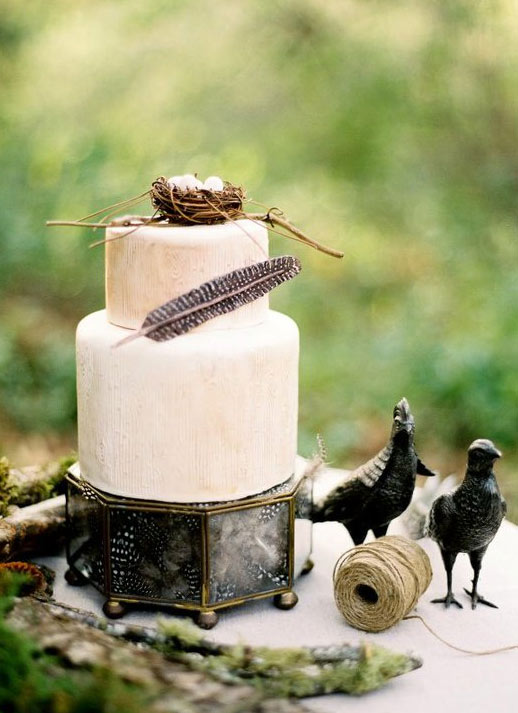 Photo via Erica OBrien Cake Design
Modern bark cake:
This beautiful little two-tiered cake would be lovely for a modern rustic wedding. Love the simple fondant look to create a tree bark feel, and the single feather and tiny nest of twigs on top. Note also the beautiful aged-looking cake stand — another example of how a cake stand can add to the mood you are trying to set with your cake.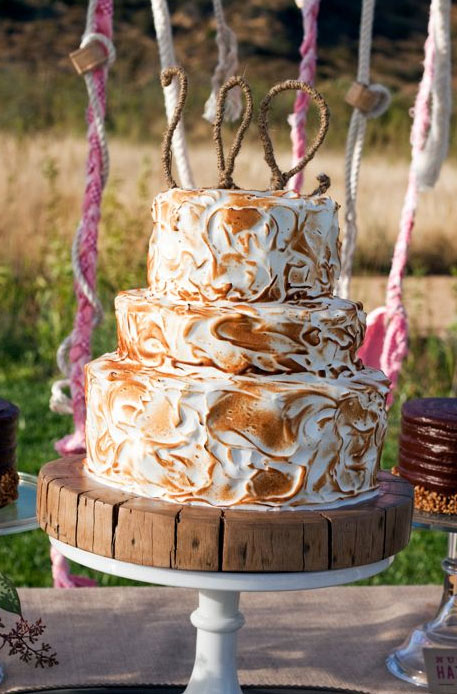 Photo via Sweet and Saucy Shop
Toasted meringue covered wedding cake:
Love this unique idea for a rustic wedding cake from Sweet and Saucy Shop – toasted meringue as "bark" treatment! The raw rope monogram cake topper and the wooden cake round all add to the vintage rustic effect, too.
Did you know you can make a bird's nest out of spun sugar? Learn this cool technique and more in the Craftsy class Intro to Isomalt with Charity Pykles-George! And learn how to make beautiful gum paste botanicals that would look perfect on rustic wedding cakes in Maggie Austin's Sugar Berries, Leaves & Blossoms class.
Be sure to come back to the Craftsy Blog next Wednesday for more wedding cake inspiration!
Which woodland themed cake idea was your favorite? Do you have a way that you like to create "bark" or a rustic feel to your cakes? I would love to know!