Have you ever played yarn chicken? It's when you keep knitting and knitting, even though you may run out of yarn before you finish the project.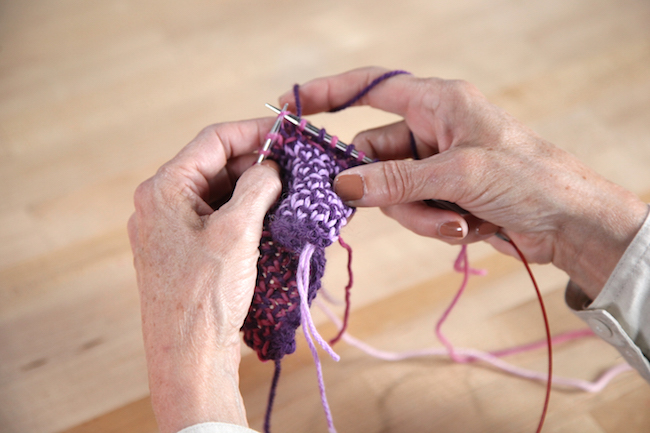 Yes, there are certainly ways you can plan ahead to make sure you have enough yarn. But sometimes we knitters like to go crazy and just start knitting. It can be kind of fun!
But even if you lose the game of yarn chicken, don't panic! There are ways you can still save your project.
Here are a couple of options, including a trick for turning heavier yarns into lighter yarns.
1. Buy more yarn.
This is the obvious solution, but it's one that sometimes isn't an option.
Perhaps you're using an unidentified yarn, and you don't even know what to look for. Maybe the yarn is discontinued or out of stock. Or maybe you need to finish the project ASAP and don't have time to order the yarn online.
If any of these apply to you, read on for creative solutions!
2. Add another color (or five).
Recently I was knitting Stephen West's Dotted Rays shawl, pictured above. I just started knitting with some fingering-weight yarn from my stash, and I didn't weigh the yarn or even consider how much I had.
When I ran out of yarn, I wasn't happy with the size of the shawl, so I just kept adding more and more colors to it. The result was amazing!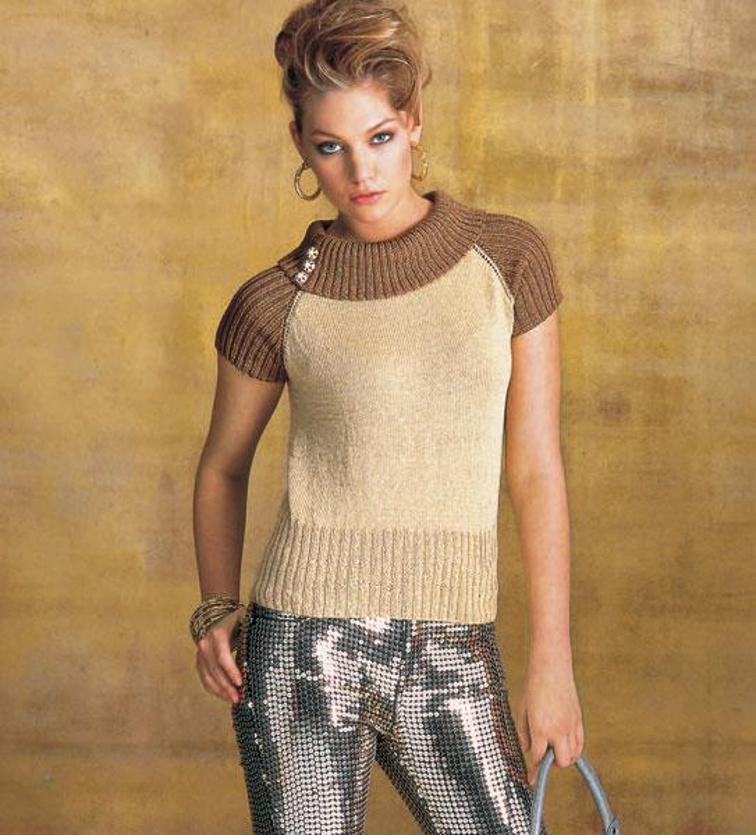 Photo via Craftsy member Vogue Knitting
3. Add a contrasting trim.
The beauty of this strategy is that it totally looks like you did it on purpose. Let's say you successfully knit the entire sweater, and the last step is to add a ribbed band around the neck. If you run out of yarn, just choose a complementary color and stitch the neckband a different color than the body of the sweater.
Check out the Two-Color Top pictured above. Designers like Cathy Carron use this technique as a design feature all the time. No one will ever know that you used it to avoid running out of yarn!
4. Find a similar color (even if it's a different weight).
Do you have a yarn of similar color and weight in your stash? It might just save you! You can also buy another skein of yarn that's a near match.
If neither of these are possible, there's still hope. Recently I was test knitting the Silvermine Shawl by Christina Danaee. I added a pretty fingering-weight gray border to it and I was knitting the bobble bind-off, mere inches away from finishing, when I ran out of yarn. I dug through my stash. I had plenty of gray yarn that matched, but it was all too heavy.
Desperate, I turned that heavy yarn into lighter yarn. Here's how:
If your yarn is plied, you can pull apart the plies to make the yarn thinner. Be sure to pull gently, otherwise you might break the yarn.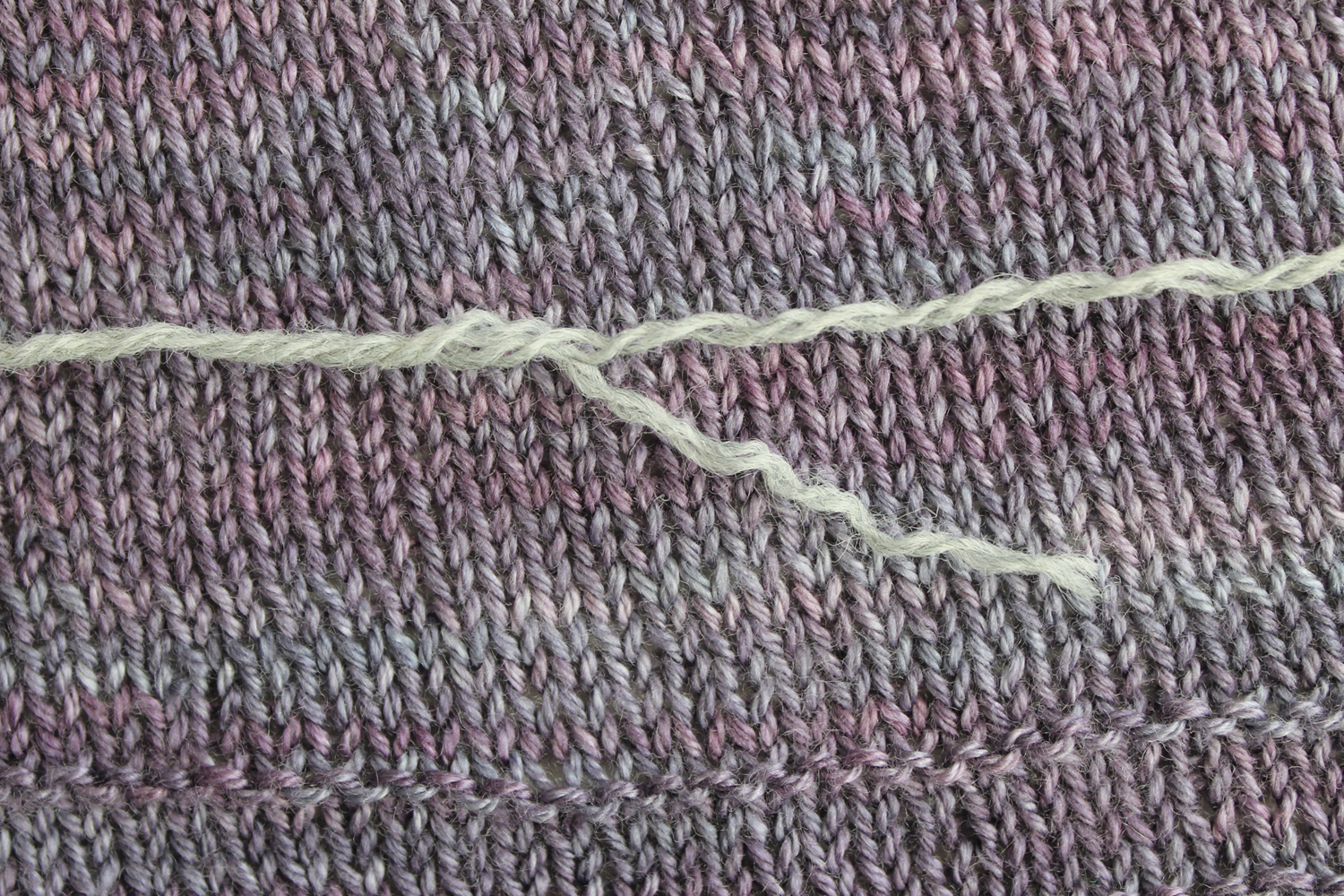 You may also need to re-twist the yarn a little after pulling it apart. Then, just join the yarn to your working  yarn and keep on knitting!
Here's what the bobble bind-off looked like after I finished. I couldn't tell the difference between the two yarns, especially since I was just using the second yarn for the bobbles.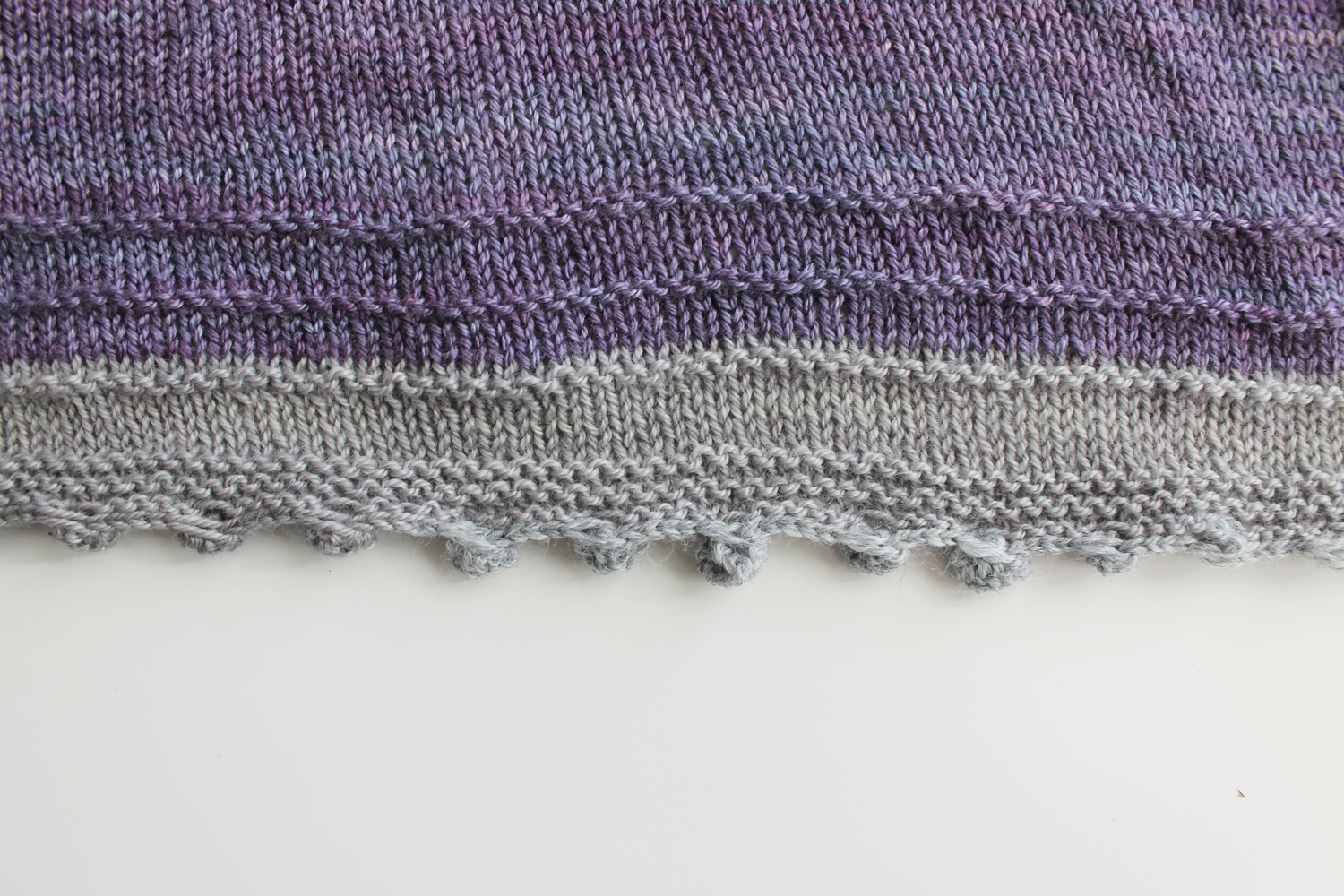 This isn't the perfect fix, but it will definitely help you finish a project in desperate circumstances! If you're unsure about whether the yarn will work with your gauge, you can always knit up a little swatch and compare before taking the plunge.
5. Stop when you run out of yarn.
With some projects, it doesn't matter if you omit the last couple of rows. (That would've worked with my shawl, for example.) Just try to leave enough at the end for your bind-off row.
6. Use a smaller needle.
If you're close — and I'm talking on-the-bind-off-row close — and you see that you might not make it, switch to a knitting needle that's a size down from the one you're using. Your stitches will be a little smaller, therefore using up less yarn as you make your way toward the end.
The most important tip?
Don't rip back in a panic. There's always something you can do to save your stitches!
Do you have any stitch-saving tips for what to do when you run out of yarn? Share them with us and you just might save a knitter from distress!