Learning how to work with royal icing can certainly be a test of patience, but it is an incredibly rewarding skill to develop. The perfect royal icing pearl border or delicately placed leaves can be just the thing to finish off a cake you've put your heart and soul into.
Why not discover how to work with royal icing before it's too late? With this in mind we've compiled a quick guide to some beautiful and traditional piping techniques for you to practice or even refer to for your next cake.
Here's a quick guide to some amazing piping techniques for the traditional cake decorator…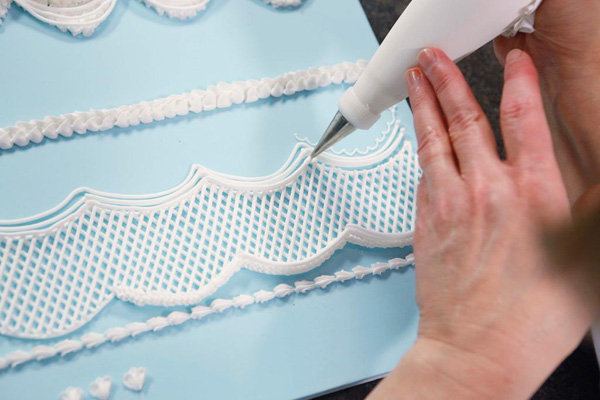 Photo via Bluprint instructor Wendy Kromer
Technique #1: Trellis & lattice work
This technique provides such a fantastic texture and quick amount of detail to a cake. It's perfect for filling a large amount of space when incorporating piped designs to a cake. We recommend using a small writing tip and to always check your plain round tips for "seams" (where the metal has been fused together) as these can cause some pretty frustrating faults and crookedness when piping.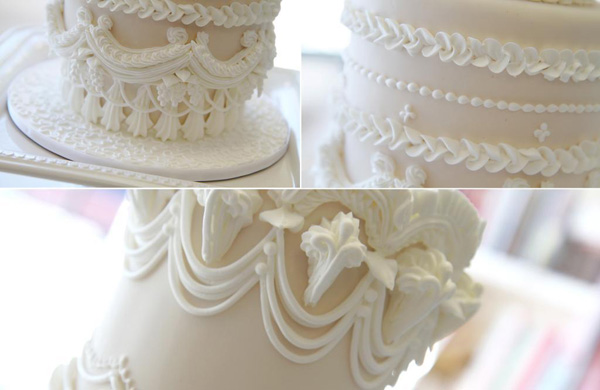 Photo via Bluprint instructor Anne Heap
Technique #2: Stringwork
The key to achieving great stringwork is getting the right consistency of royal icing. Our tip is to aim for your icing to be the consistency of toothpaste. If your icing is too thin it will be runny and will quickly pour out of your piping bag, creating a big mess. Too thick and your icing will clog up your piping tip.
Stringwork is incredibly popular and creates lovely romantic borders on wedding cakes. It takes some skill, so keep trying and practicing on dummy cakes or the sides of cups and glasses until you feel confident and happy with your work! In the Lambeth Method, stringwork is often layered to create incredibly dramatic effects!
Discover how to pipe some show-stopping royal icing designs with Wendy Kromer's Learning the Lambeth Method class!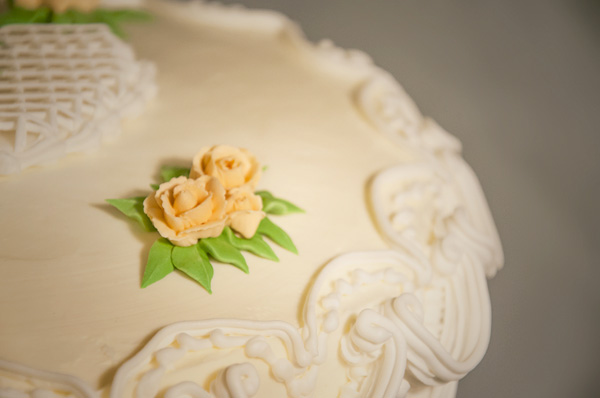 Technique #3: Flowers and leaves
Piping with royal icing is perfect for creating delicate and detailed floral and leaf accents on cakes. Because the icing dries and hardens fairly quickly, it makes for an ideal medium when working on tiny details. Our tip when creating clusters of piped roses and leaves is to pipe them straight onto parchment paper and leave to set, before using a flower lifter to place each one onto your finished design. (Hint: You can even use this tip when working with buttercream!)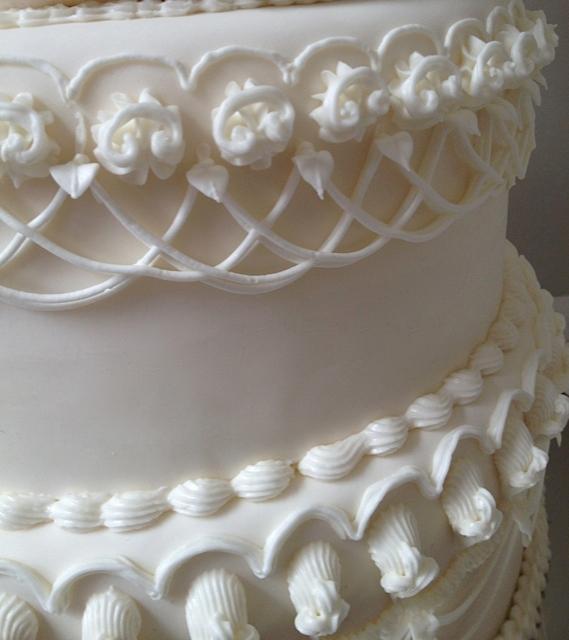 Photo via Bluprint member Lana Witherspoon
Technique #4: Shells
This piping technique creates a traditional looking border around cakes and tiers, which are still used widely in grocery store bakeries. If you're hoping to achieve a more modern look, you can make shell borders appear by using a specialty open or closed star tip and perhaps use smaller sizes. Shells are also great for added quick floral accents, stars or piping into fleur-de-lis designs!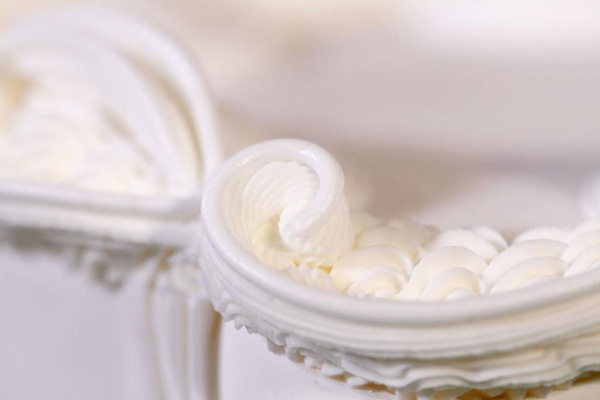 Photo via Bluprint instructor Ceri DD Griffiths
Technique #5: Scrolls
Piping scrolls is a fantastic way of building a romantic and ornate royal icing pattern on a cake. The general design rule with scroll work is to work in either "C" or "S" shape patterns (as these mimic Hogarth's Line of Beauty theory). Again, practice makes perfect with this technique and we suggest growing your confidence with controlling the icing, flow and shape; as you become more confident you'll find your lines smoother and more elegant!
Scroll work is an essential technique used in Ceri DD Griffiths' Contemporary English Over-Piping class so why not enroll now to discover how to use this piping method to create stunning designs.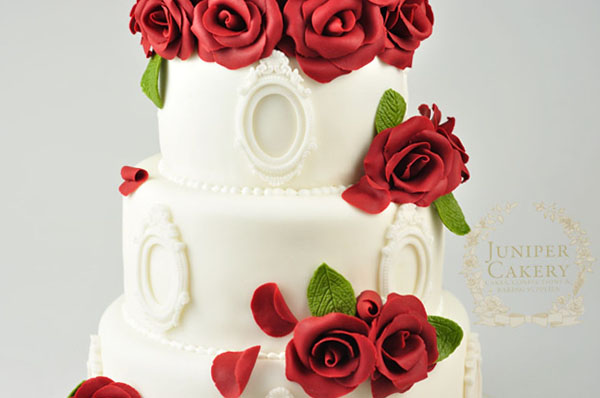 Technique #6: Pearls
This is one of our favorite go-to piping techniques. It's quite unassuming but adds a wonderfully subtle finish to a cake. It's perfect for adding a delicate pearl border around the base of each tier especially when you don't want any attention taken away from the design of the rest of the cake. Pearls are also perfect for creating sweet polka dots around tiers or for building up into more ornate designs.
Hopefully, this quick guide to piping techniques and royal icing designs will prove to be a helpful reference point for the traditional decorator or for anyone attempting a more traditionally styled cake!
What's your preferred piping technique?