Extremely popular around the turn of the 19th century, the Rose of Sharon appliqué quilt pattern has never really gone out of style. Here is a trio of gorgeous modern machine embroidery variations on an old favorite.
Like many time-proven quilt patterns, the Rose of Sharon design has Biblical origins. Referenced in The Song of Solomon 2, today's Rose of Sharon most likely was named for tulip-like flowers still growing on the plains of Sharon, near Palestine. Originally stitched by hand, the Baltimore Album styled appliqué was extremely labor intensive. Fortunately, the design has been digitized for machine embroidery.
Let's take a look at three Rose of Sharon embroidery quilts!
Roses of Remembrance
Internationally renowned quilting teacher and author Sharon Pederson, business partner Elizabeth Phillips and some of the best companies in the industry conducted a block design contest to benefit Alzheimer's research.
Twelve winners were among the 31 blocks digitized in the Roses of Remembrance quilt series.
Traditional blanket stitch appliqué was combined with Pederson's unique quilt-as-you-go technique to produce a stunning quilt.
Get the Roses of Remembrance Rose of Sharon designs here.
This gorgeous Mayflowers Roses of Remembrance quilt was stitched by Bluprint member born2sew.
Bluprint member soalica used Sharon Pederson's designs as inspiration for her Rose of Sharon Hexagon table runner project.
Midnight Roses
Pederson's sister company, Nine Patch Media, went on to produce Midnight Roses.
Digitized by KennyKreations, these stunning designs featured satin stitched appliqué against a deep blue batik.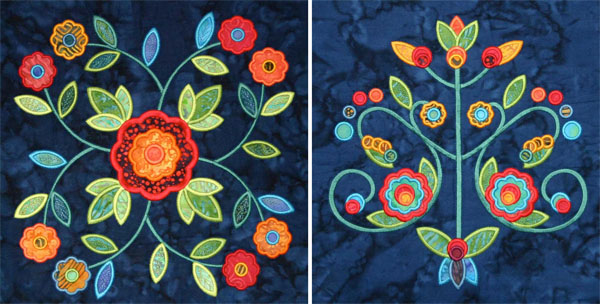 Proceeds again benefitted the Alzheimer's Art Quilt initiative.
Get the Midnight Roses Rose of Sharon designs here.
Traditions
The benefit trifecta was another collaboration between Pederson and Kenny Kreations.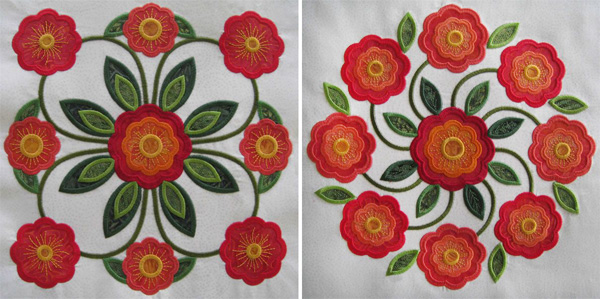 In addition to the Rose of Sharon blocks with satin-stitched appliqué, Traditions features a beautiful scalloped swag border.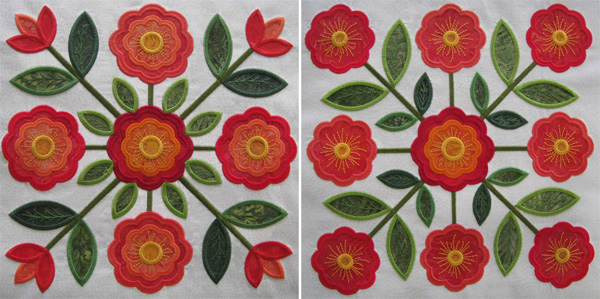 These three machine embroidery designs are compatible with AccuQuilt GO! Rose of Sharon dies 55045 and 55382. The appliqués can also be created without the dies using standard tack and cut appliqué methods.
Get the Traditions Rose of Sharon Quilt designs here.
Other Bluprint members' Rose of Sharon designs
Create beautiful appliqué by hand or machine with this traditional Rose of Sharon pattern.
Get the Rose of Sharon Tablerunner pattern here.
Using tips she learned in Crafty's Quilting Big Projects on a Small Machine class, Bluprint member mtngrl55 created several Rose of Sharon designs and combined them with log cabin blocks to create this Rose of Sharon in the Cabin project.
Free Online Embroidery Class