We absolutely love how cakes have become more fashion-influenced and on-trend over the years. Lately, rose gold metallics have been oh-so popular in everything from tech (hello, rose gold phones and tablets!) to home furnishings — so why wouldn't there be rose gold cakes?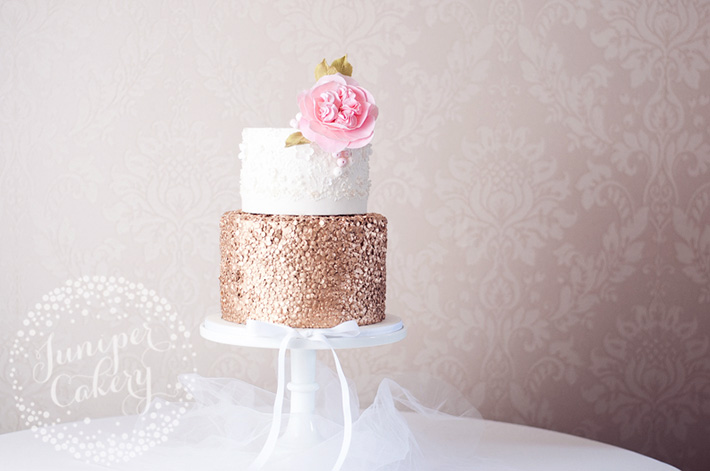 Rose gold is a more subtle gold tone so don't be scared to use it liberally! It can be just as versatile as your traditional gold leaf or paint.
Plus, rose gold is one of few metallics that works with similar tones as well as contrasting tones, muted and bold! If you're a little weary of the color, collect color samples and put together 3-5 colors to see what works before settling on a design. We'd recommend 1-2 neutral colors (white, ivory, cream, beige or gray) at least.
Check out some fashion-forward rose gold cakes and learn how to create the shimmering color on your own!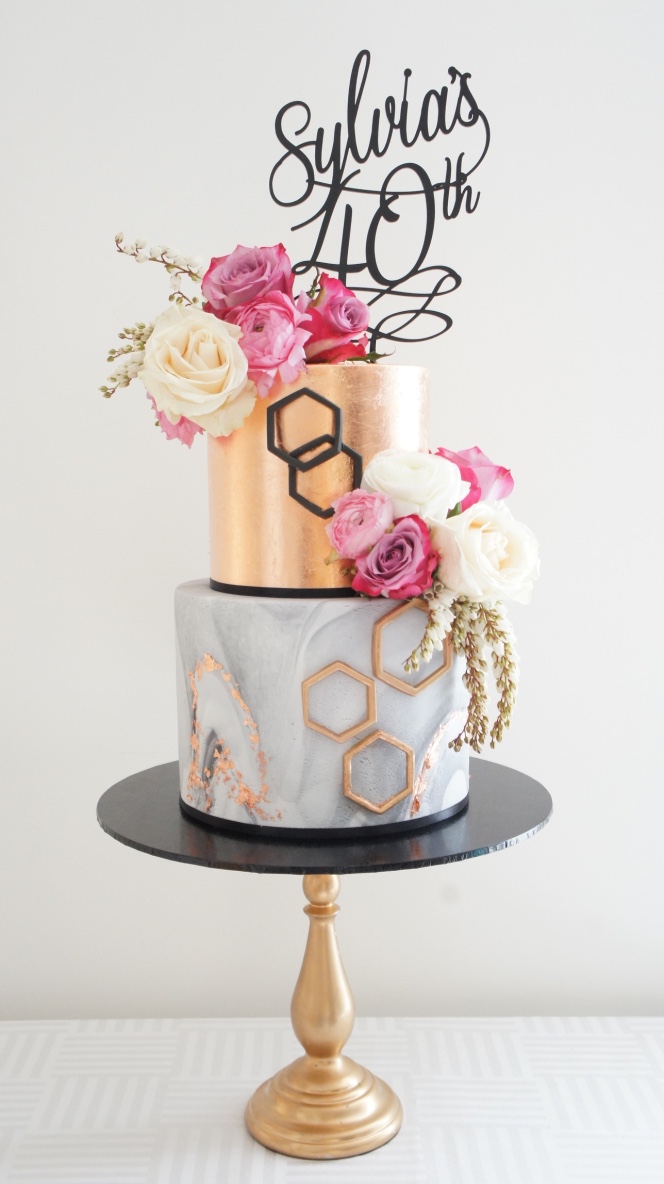 Photo via Cakes2Cupcakes
Rose gold leaf geometric cake
This on-trend birthday cake showcases rose gold elements perfectly. The gray marble and geometric shapes are softened with the fresh blooms and pink-tinted gold leaf.
The key to putting lots of fashionable ideas together is to not go overboard. Play with ideas, colors and shapes, but don't try to combine too many things.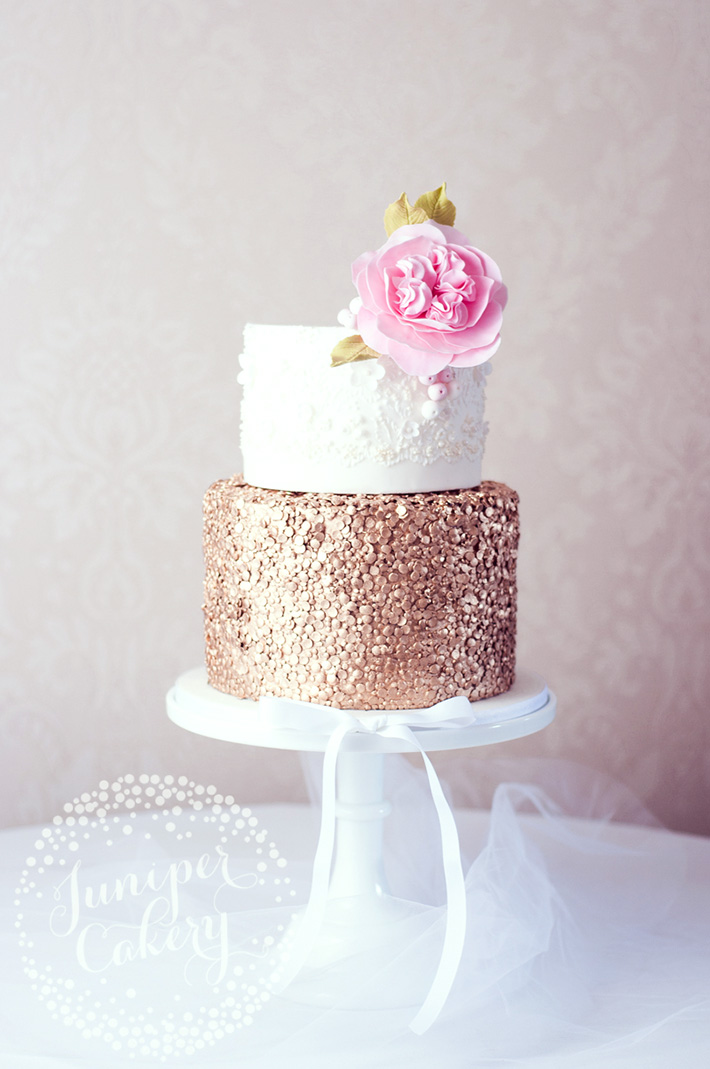 Photo via Juniper Cakery
Rose gold sequin wedding cake
You can easily add the rose gold look to a cake by simply hand-painting your design! For this cake, we added a touch of pink food coloring to our edible gold paint mix to get a slight rose gold hue.
Top tip! It's better to play it safe and mix more edible paint than you think you need. You don't want to run out of paint halfway through — if you mix up a second batch, it might be slightly too pink or too gold, and you'll be left with an annoying patch in a different color!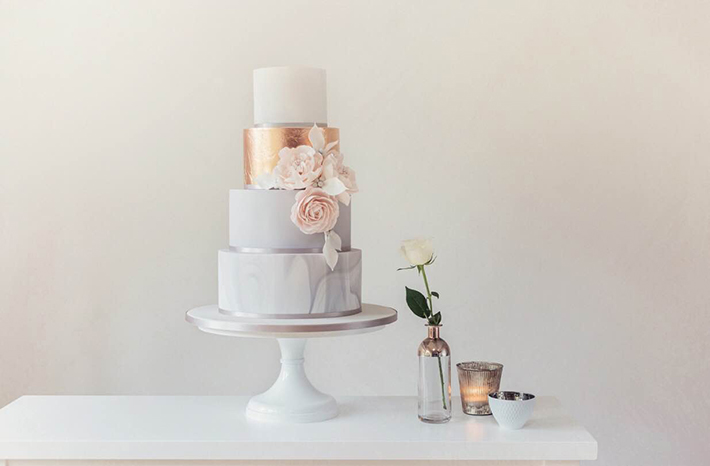 Photo via Poppy Pickering
Rose gold marble cake
We love that the rose gold elements take center stage on this cake! The simple (but luxurious) florals and muted gray tiers let the rose gold leaf tier really stand out.
You can also easily amplify this look with hand-painted rose gold sugar leaves and berries nestled among florals on a white wedding cake.
Top tip! Rose gold can come in varying tones: there's pale champagne, gold with a definite pink tone or a more copper-y look. Try to choose or adjust your rose gold to make it work harmoniously with the rest of your color palette.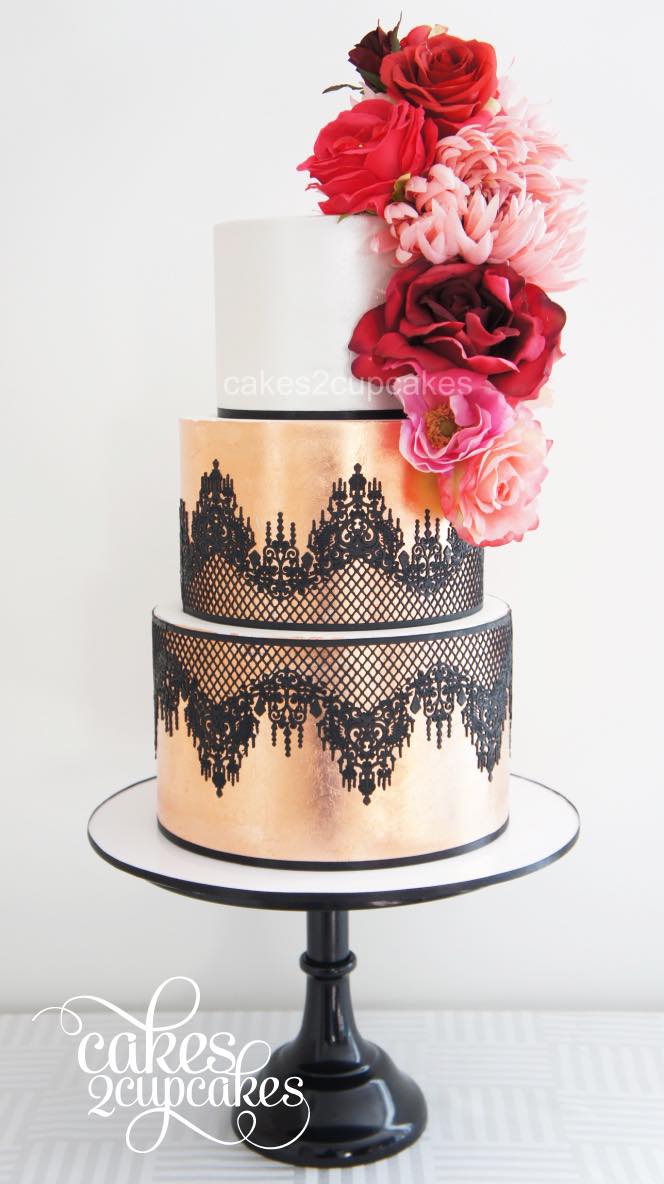 Photo via Cakes2Cupcakes
Rose gold and lace cake
While rose gold works well with softer color schemes, it also looks incredible in a bold palette, as this gorgeous cake clearly shows! We love how the use of black along with bright florals add some great focal points to this design.
Practice makes perfect, so when working with trickier materials such as gold leaf and lace, try them out on a fondant-iced dummy cake. You'll get used to the materials, learn how to handle them and establish the methods you like best. It's better to be safe then sorry!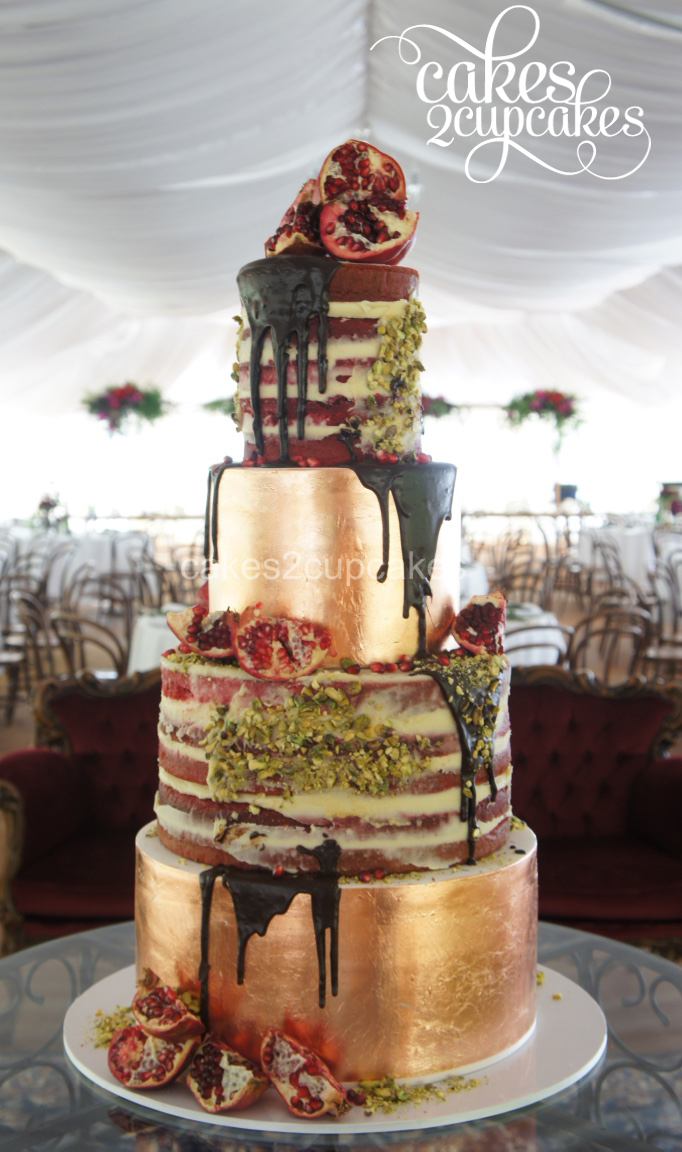 Photo via Cakes2Cupcakes
Rose gold naked cake
Alternate gold leaf–covered tiers with naked cake tiers to get a touch of luxe in a rustic design. Naked wedding cakes are still super popular and can become quite quirky center pieces. The crushed pistachios, sliced pomegranates and dark chocolate drips make this cake fun, luxurious and unusual!
Top tip! Gold leaf can be pricey, so if your clients have a smaller budget, suggest smaller rose gold elements instead of full tiers. For example, rose gold leaf on on meringue kisses, macarons, sugar flower leaves and berries will be a more affordable ways to use this color.
Are you ready to hop on the rose gold cakes trend yet?