Did you know that Rome has been called the Eternal City since the time of the ancient Romans? Apparently, it was so called because the Romans believed that no matter how many other empires rise and fall, Rome would go on forever.
Obviously, this was not correct, but the name stuck. Kingdoms may fall, cakes may crumble, but this collection of Rome-themed cakes is captured to provide eternally delicious cake decorating inspiration.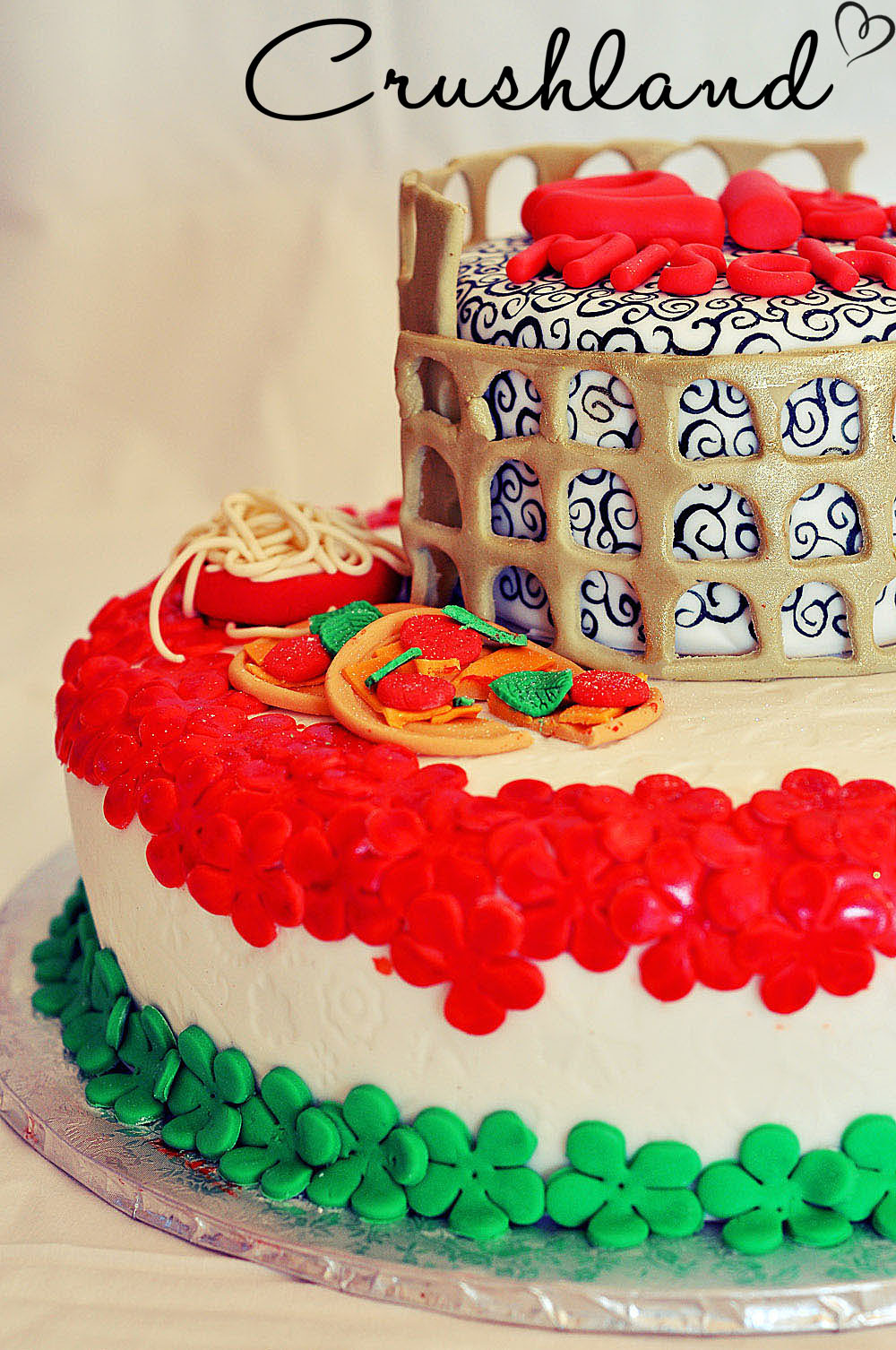 Photo via Crushland
Stylized Rome cake:
A fondant Colosseum is tinted with ivory gel food coloring and detailed with edible gold paint. It covers a cake that is hand-painted with stylized black swirls and garnished with floral motifs in the colors of the Italian flag, as well as some adorable Italian touches — cake decorations depicting pizza and pasta.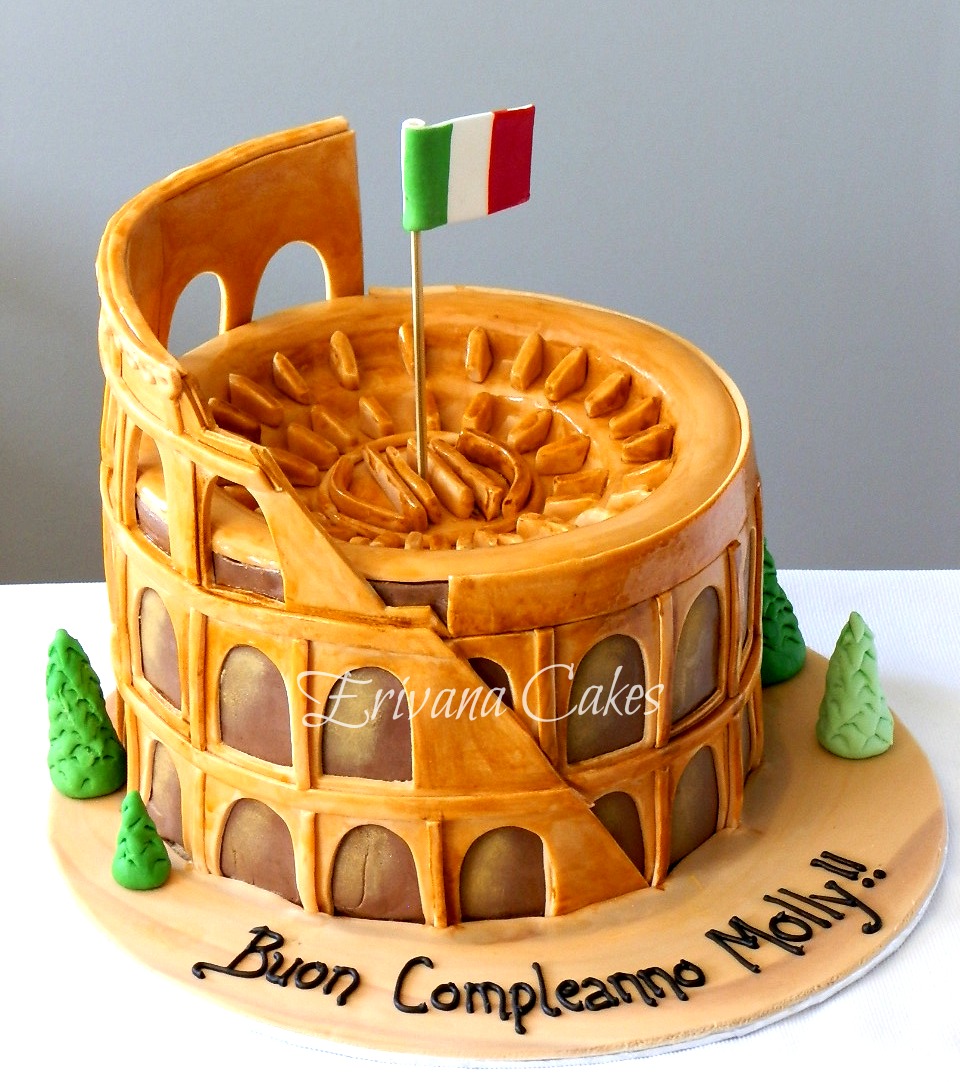 Photo via Erivana Cakes
Colosseum birthday cake:
Any birthday is bound to be a joyous occasion with a cake like this. Fondant is arranged to form the famous Colosseum, which is hand-painted for an antique effect, and prettily garnished with hand-formed trees and a cute Italian flag. It's all prettily finished with "Buon Compleanno" (Italian for "Happy Birthday") piped across the bottom.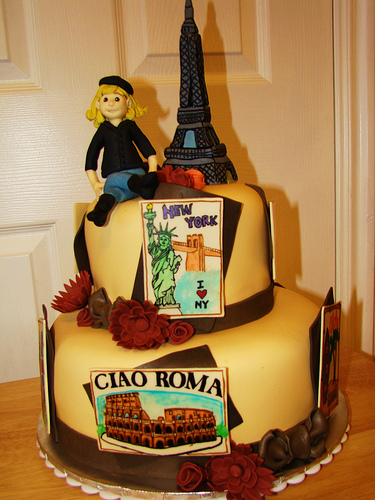 Photo via Layers of Love
Cosmopolitan adventure cake:
This worldly cake is covered in fondant and accented with chocolate ribbon detailing and beautiful sugar flowers. It's also garnished with edible wafer postcards from not only Rome, but New York as well. Garnished with an Eiffel Tower, this cake gives a nod to Paris, too.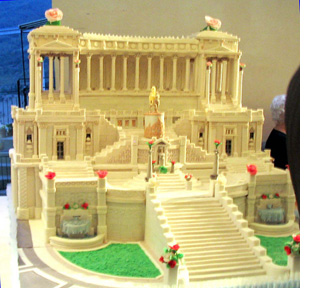 Photo via Traveling Tales
Vittorio Emmanuel Monument cake:
Designed to resemble the Vittorio Emmanuel Monument, this cake appears to feature fondant, gum paste, and edible metallic paint. It's so painstakingly decorated that even to those who are not familiar with the monument, this cake is bound to inspire architectural awe.

Photo via Cake Heaven
Trevi Fountain cake:
It's said that if visitors throw a coin in the magical Trevi Fountain, they are guaranteed to return to Rome one day. Just as lovely as that thought? This fantastic wedding cake, which is molded with tiers of cake and decorated with molded figurines resembling the sculpture on the famous fountain, In the foreground, a happy bride and groom are perched on a lower level of cake. That's amore!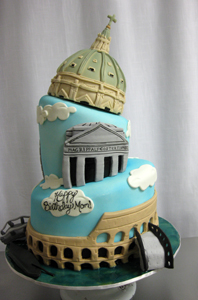 Photo via Amanda Oakleaf Cakes
Topsy-turvy Rome cake:
This cake may have topsy-turvy alignment, but it's not inspired by the leaning tower of Pisa — it's inspired by the Eternal City. The offset layers add a sense of whimsy to scenes featuring popular tourist haunts rendered in fondant, including the Colosseum and St. Peter's Basilica.
Learn how to make a gravity-defying cake like this in the Bluprint class Topsy-Turvy Cake Construction with Richard Ruskell.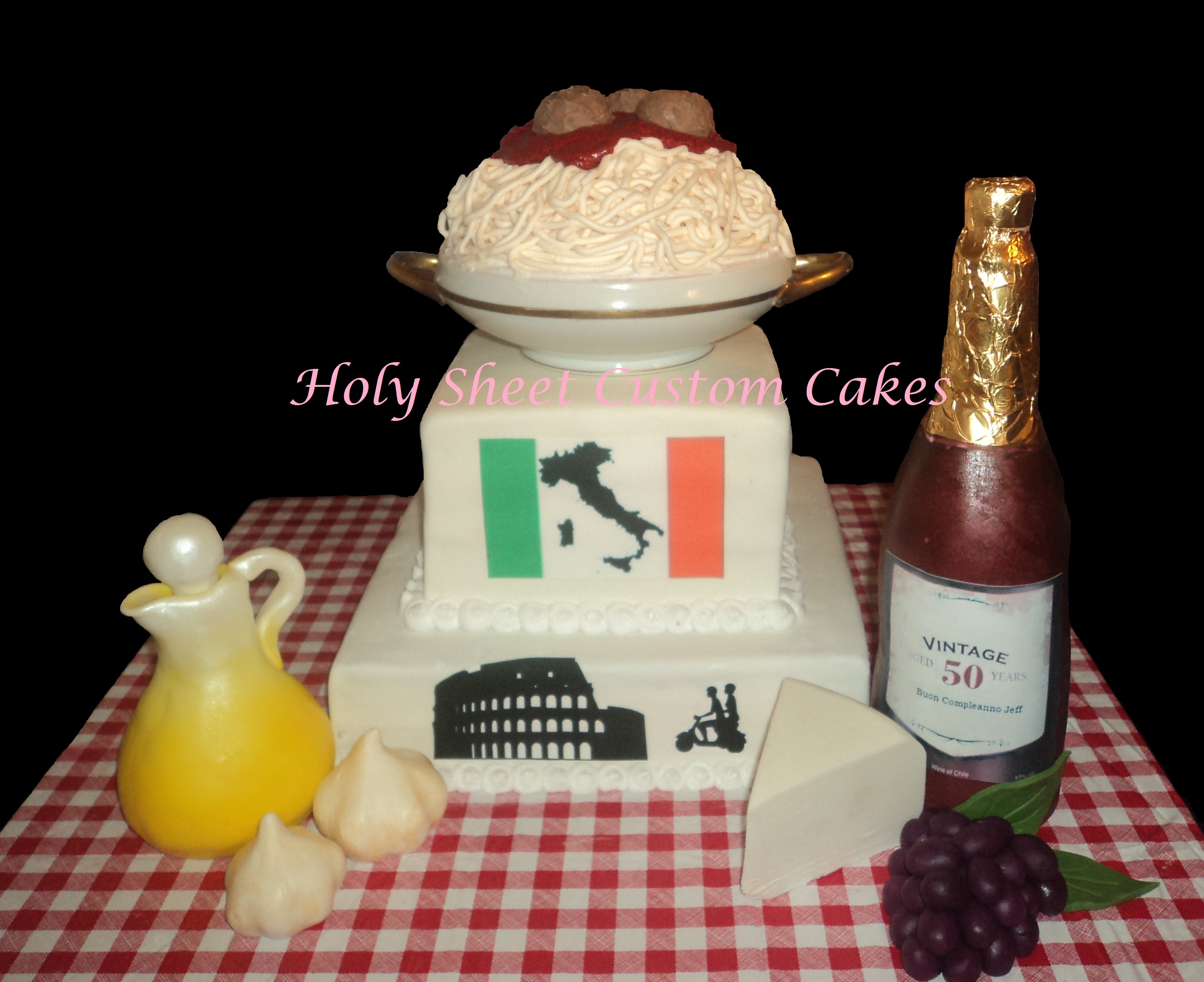 Photo via Holy Sheet Custom Cakes
Everything Italy cake:
This cake celebrates Rome with a silhouette of the Colosseum next to a couple on a scooter à la Roman Holiday. But it doesn't stop there — it also features many other things that are fantastic about Italy…mostly food related! Believe it or not, everything is edible, reports the baker, "except for the bowl…but even that is filled with cake." Talk about working sugar magic.
Bluprint has an awesome assortment of sculpted and novelty cake classes that will teach you how to make fun, playful cakes like the ones seen above. 
These cakes make every day a Roman holiday! Have you ever made a cake that looks like a famous building?