Garbanzo beans aren't just for hummus anymore. Once you try this easy roasted garbanzo beans recipe, you're guaranteed to crave the crunch of this satisfying, naturally vegan and gluten-free snack. 
Photos via CakeSpy
It's one of the easiest potato chip alternatives you could possibly make: simply strain a can of garbanzo beans, dry them thoroughly, then season and roast until crispy. You can make roasted garbanzo beans in less than an hour, including setup and cooling time. Once you sample their unique, nutty, salty flavor, you'll be hooked. 
See below the recipe for suggestions for seasoning variations that can help you design the snack of your dreams!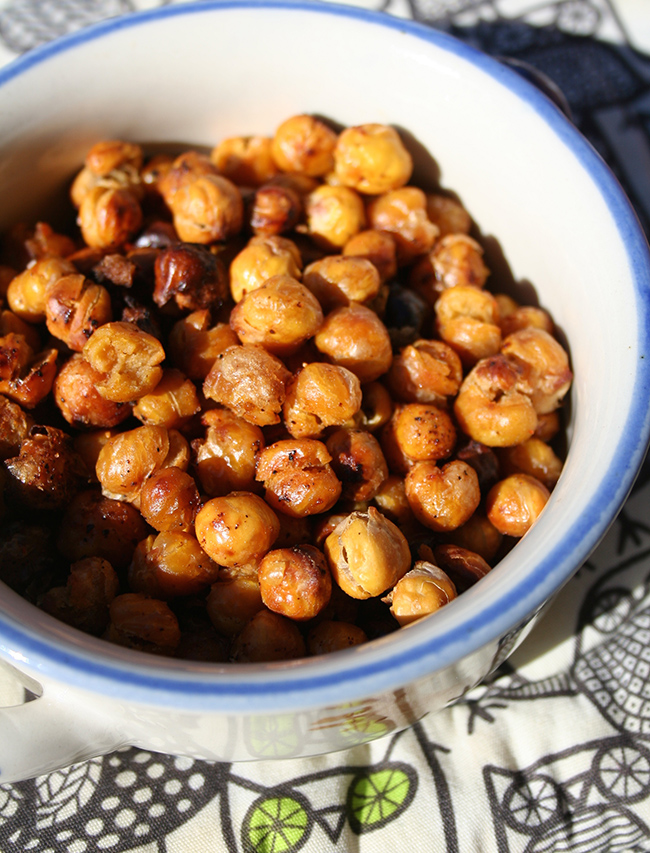 Dry roasted garbanzo beans
Makes about 1-1/2 cups
Ingredients:
1 can (15 ounces) garbanzo beans
2 tablespoons olive oil
1/2 teaspoon sea salt (see recipe notes)
Spices of your choosing (see recipe notes for suggestions)
Step 1:
Preheat the oven to 400 F. Line a rimmed baking sheet with parchment or a silicone liner.
Step 2:
Set up a strainer atop a bowl, and pour the garbanzo beans into the strainer. You can either give the strainer a little shimmy or leave it there for a few minutes to make sure you strain all of the excess liquid.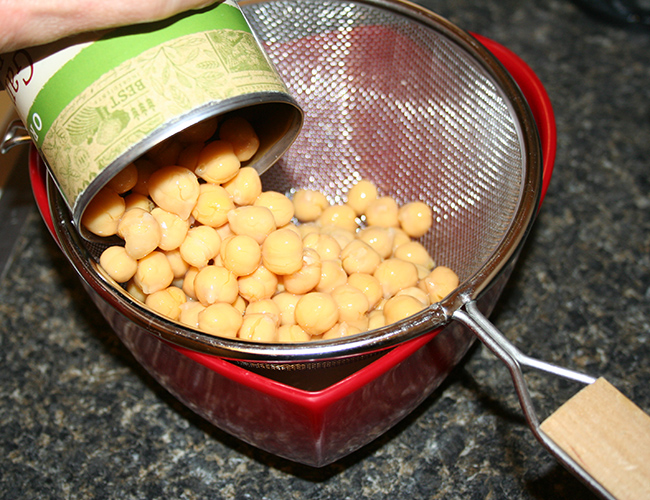 Step 3:
Set up some paper towels on a work surface, and transfer the garbanzo beans on top. Use more paper towels to blot the beans dry.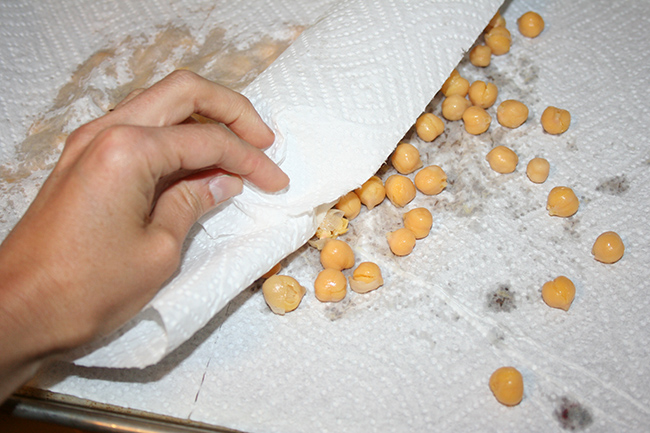 Note: I did this right on top of my silicone liner, which made letting them loose on to the baking surface afterwards a snap.
Step 4:
Transfer to the lined baking sheet. If you notice any errant "skins" on the sheet, you can pick them off and discard them; they will become very "toasty" rapidly, and can impart a burnt flavor to your snack. Place in the oven, and bake for about 10 minutes. You're just trying to slightly dry the beans, so that they can receive the flavorings without getting gummy in texture.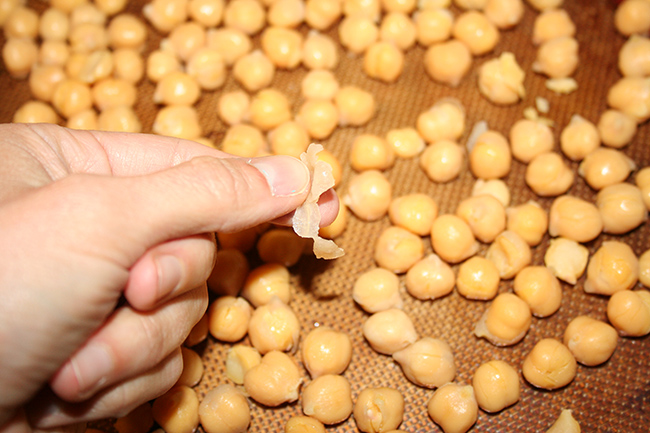 Step 5:
Remove from the oven; chances are, the beans look a little drier now. Drizzle with the olive oil, and sprinkle with seasoning. Use a spatula to move things around to ensure even coating.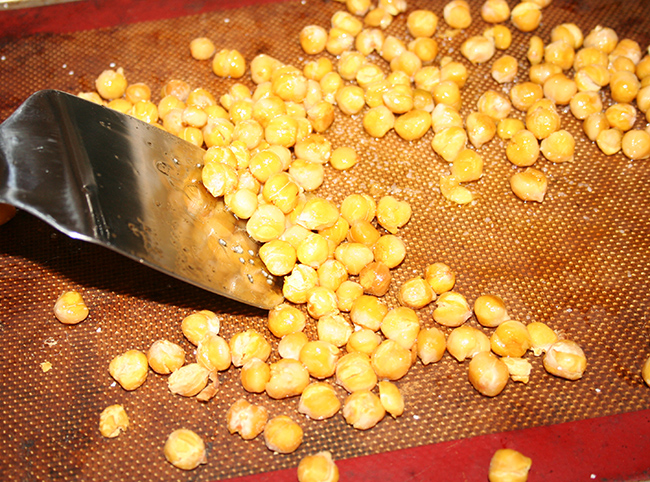 Step 6:
Place the tray back in the oven, and cook for 15-20 more minutes, or until browned to your liking. At approximately the halfway mark, you can open the oven and shift the beans around on the pan using a spatula to ensure even baking.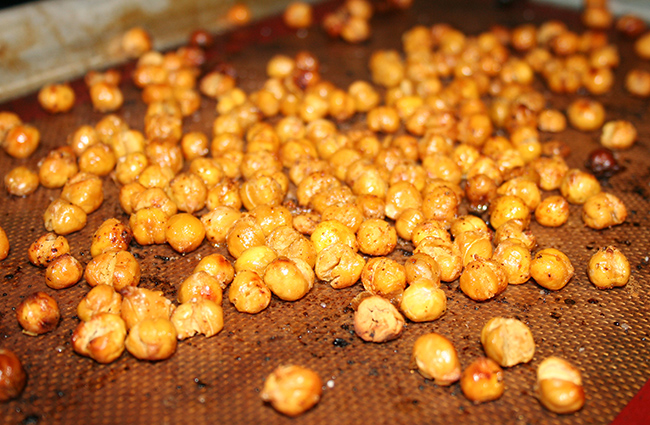 Step 7:
Once you're satisfied with the level of crisping, remove the sheet pan from the oven and transfer to a wire rack so that the beans can cool completely. 
Enjoy! Store any leftovers in a container that can slightly "breathe" to retain the crunch; in an airtight container, they will become soft.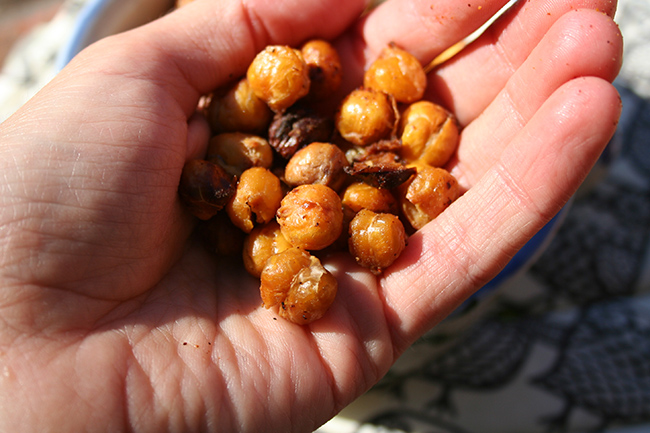 Recipe notes
Scaling the recipe
This recipe can be doubled or tripled; just make sure that the beans aren't too crowded on your baking sheet.
Salt content
Some garbanzo beans are packed in salt water. This is fine, but just note that you'll want to reduce the amount of salt in the recipe by about half so that they're not over-salty.
Spice it up!
This recipe is easy to personalize with a spice mix. Here are just a few ideas:
Want to keep it simple? Simply season your garbanzo beans with sea salt and freshly ground pepper.
Instead of plain olive oil, use an oil-based dressing, such as our simple homemade olive oil dressing, to give your garbanzos added flavor.
A DIY za'atar mix will transform these garbanzo beans into a Middle-Eastern-inspired snack. 
Homemade taco seasoning (the option pictured in the recipe) will make these chickpeas an appropriate accompaniment to a Mexican meal.
The same piri-piri spice (Pequin chiles, Spanish paprika, salt, lemon peel, garlic and Greek oregano) that makes roasted avocado slices crave-worthy is also perfect for roasted garbanzo beans.