The whole Bluprint team is buzzing about Chef Raghavan Iyer's amazing James Beard win. Here, Bluprint Producer Jared Jacang Maher gives an insider's view of the awards ceremony where it all happened.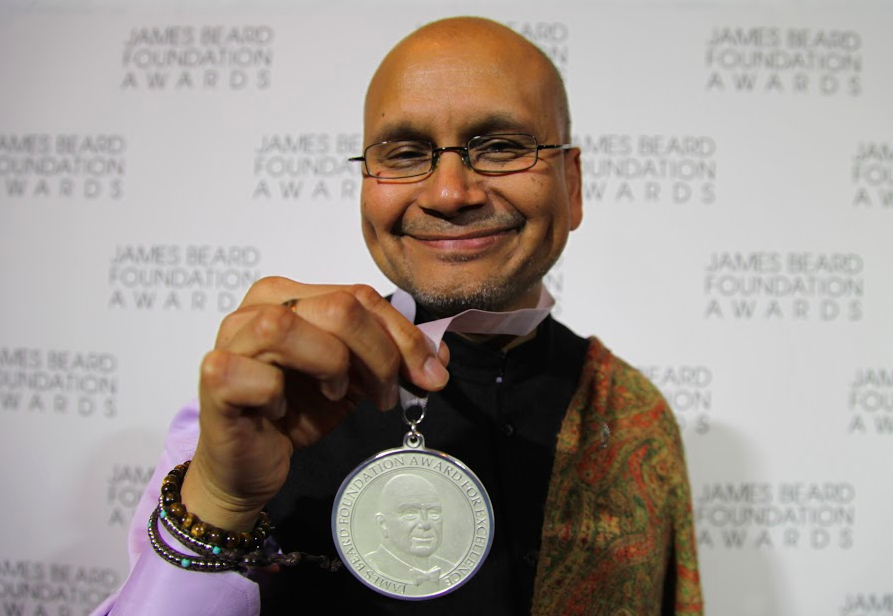 You always hear people talk about how it's an honor just to be nominated, but in our case we actually meant it.
I walked through New York City's Chelsea neighborhood Tuesday evening en route to the 2016 James Beard Awards. The invite to the swanky awards ceremony on April 26 listed Pier Sixty as the location. As I got closer I simply followed other well-dressed people through a maze of concrete pillars toward the waterfront.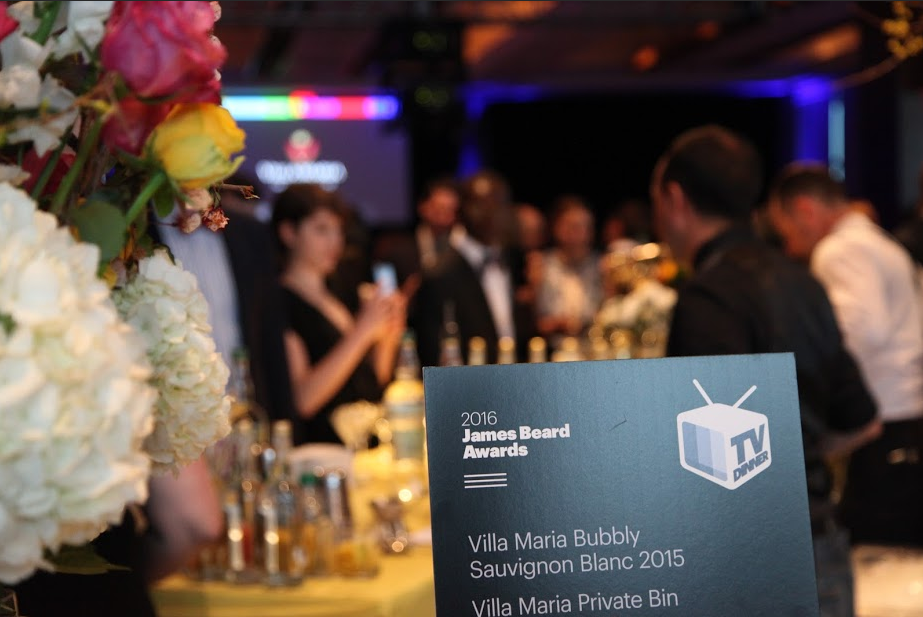 The annual awards by the James Beard Foundation are to the culinary world what the Oscars are to film or what the Grammys are to music. For chefs or restaurants in North America, the prestige you receive from winning a James Beard can be life-changing. For those who work in media—and especially the media industry focused on food and cooking—it's a pretty big deal.
The cocktail reception was in a large space overlooking the Hudson River and it was packed with attendees representing broadcasters like The Food Network, PBS, CBS, MSNBC, The Travel Channel and NPR. Big New York publishers such as Little, Brown & Co, W. W. Norton & Company and respected publications like Bon Appetit, GQ and The Washington Post were also up for awards. For a 5-year-old internet start-up based in Denver to be included in the same realm as these established players makes it feel like the educational video niche Bluprint has been cultivating is finally starting to break into the big time.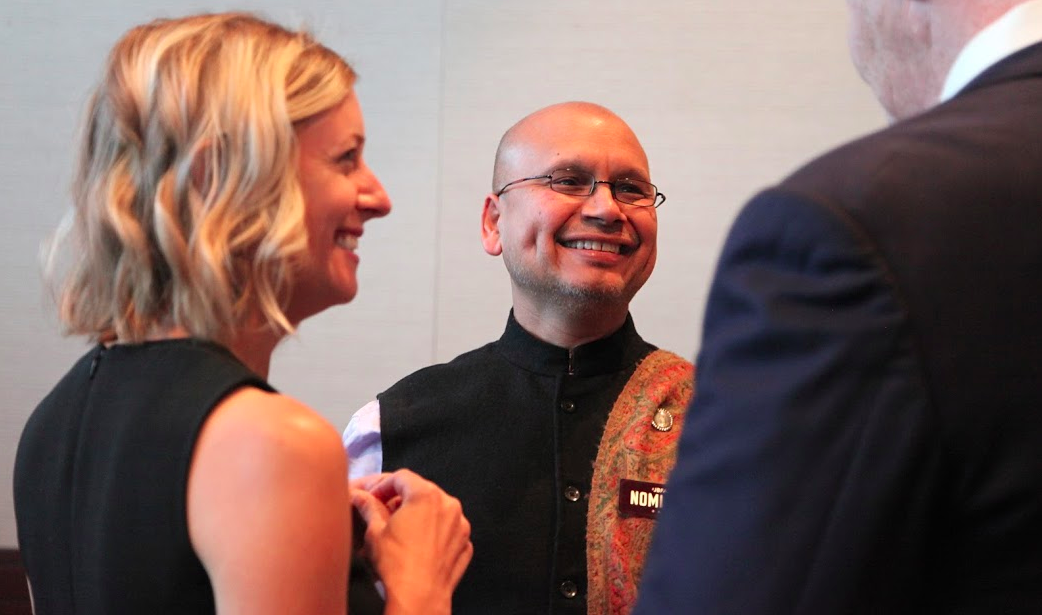 I spotted chef and author Raghavan Iyer within the crowd, multitasking conversations with industry friends. The video class Bluprint created with Raghavan, Indian Curries: The Basics & Beyond, was a finalist in the online video category.  
As producer and director of the 7-part series, I experienced Raghavan's encyclopedic knowledge of Indian cooking along with his deep love of "yo mama" jokes, which he reveled in reciting between takes as if adding exotic spices to the set.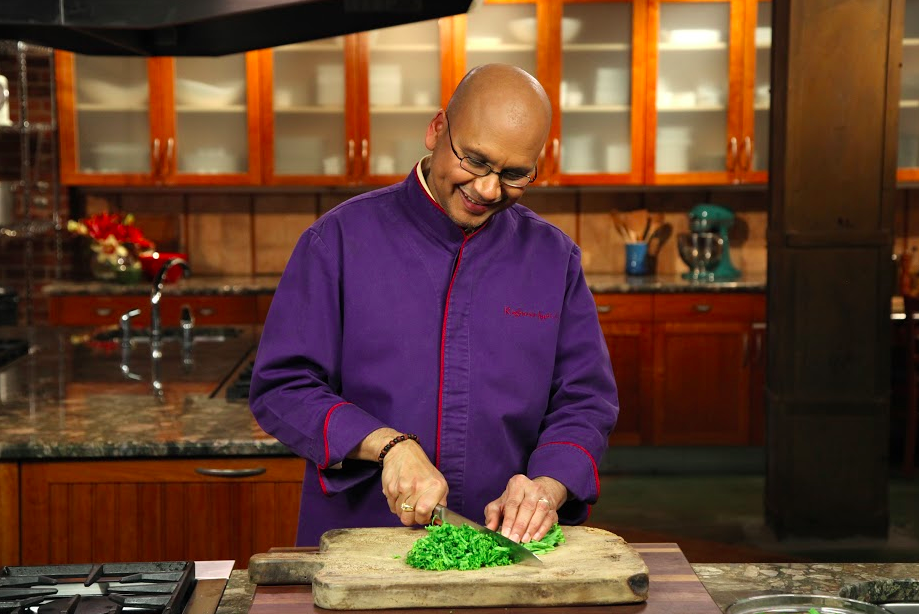 This was in late 2014, during a time when we were looking for ways to 'up' the production value on our food videos and I convinced my bosses to let us add additional camera operators and rigs for the four-day shoot at Bluprint's cooking studio in downtown Denver.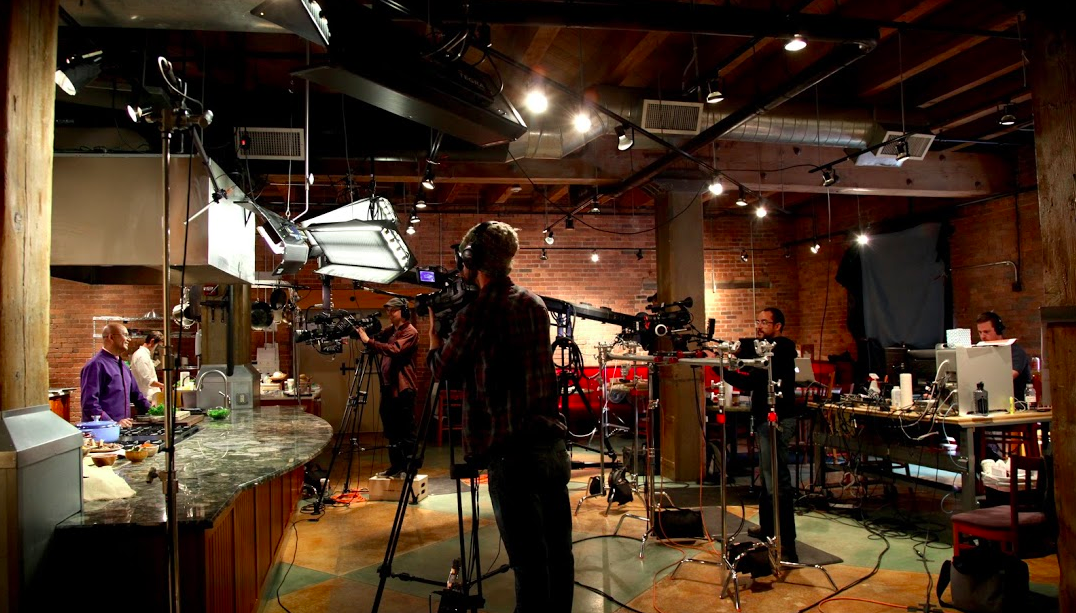 Culinary assistants prepped the mise en place for Raghavan to assemble recipes like Batter-Fried Chile-Smothered Vegetables With Coconut Sauce (Thenga Bonda) and Multicolored Layered Rice With Garlicky Vegetables (Subzi Biryani). Stylists arranged displays of spices and legumes for Raghavan to explain and our food photography team captured hero shots of the final dishes.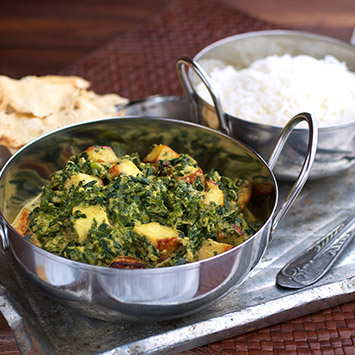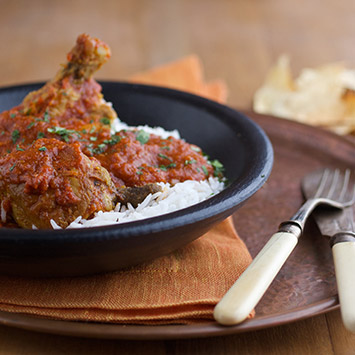 The end result assembled by editor Adam Speas and Bluprint's post-production team, I think, captures Raghavan's skill as a culinary teacher and storyteller of traditional Indian cuisine.
Content like this made some of us on the food team think crazy thoughts. Last year, our Acquisitions Editor Denise Mickleson put "Win a James Beard Award" as the final slide in a staff presentation on our 2016 goals. I'm not sure any of us imagined it might really happen.
The cocktail hour was in full swing when Denise arrived to join me. It was difficult to keep up with all the amazing hors d'oeuvres being thrust in our direction: beef carpaccio, gastro shrimp cocktails, short ribs adobo, and more. Soon the organizers summoned everyone to the ballroom.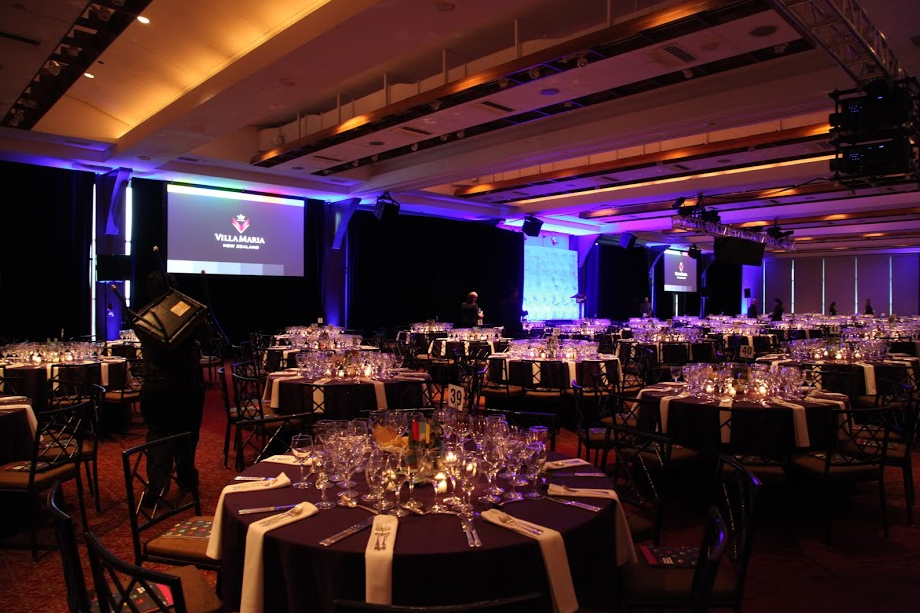 We found our table and the ceremonies began. In the books category, there were several nominees who were also star Bluprint alumni. Abigail Johnson Dodge leads our popular Baking Bootcamp and blogger Samantha Seneviratne. I realized I had seriously been neglecting all the multiple courses being served by top chefs.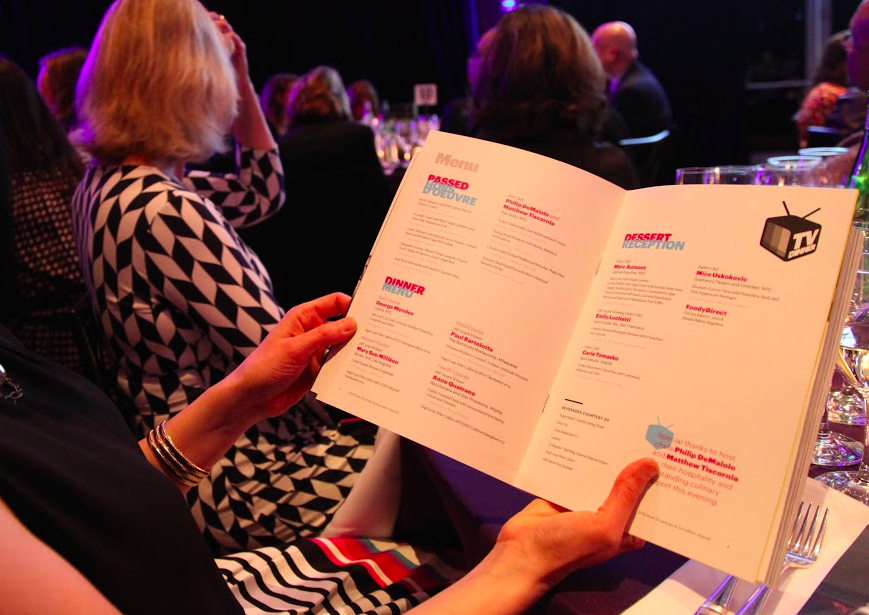 The theme was "TV dinner." There was Salt Cod "Cru" with Coconut, Smoked Trout Roe, Coriander, and Shiso by Chef George Mendes, inspired by Gilligan's Island. Chef Mary Sue Milliken channeled I Love Lucy as the inspiration for a Cuban Squash Blossom Empanada.
Our category was "Video Webcast, Fixed Location and/or Instructional," a clunky title that reflects how hard it is to define anything in the undefinable space that is online video. Past year's awards have gone to food-focused sites ChefSteps and Tastemade.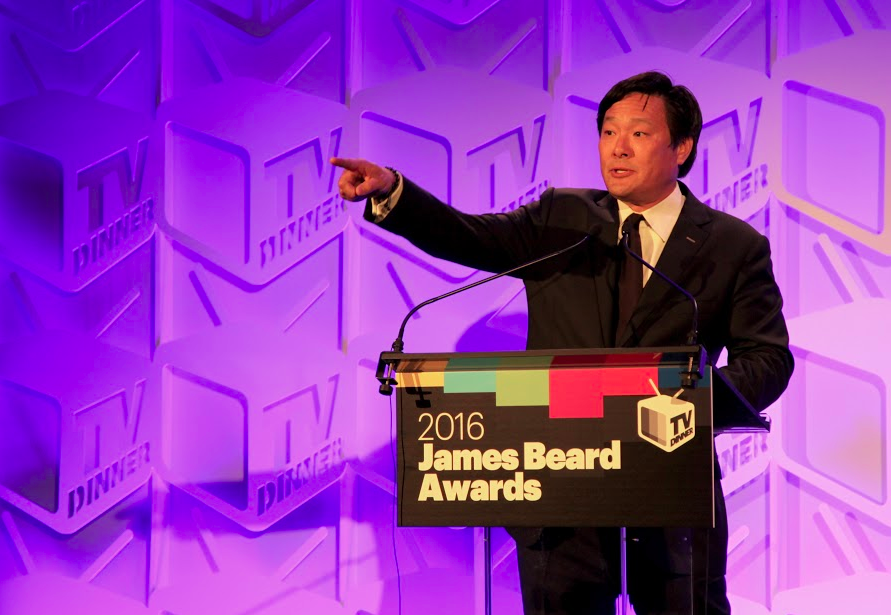 Host Ming Tsai (aka Simply Ming) announced the nominees. Along with Bluprint there was the great Food & Wine video series Mad Genius Tips with Justin Chapple and the fun and fast Epicurious show 3-Ingredient Recipes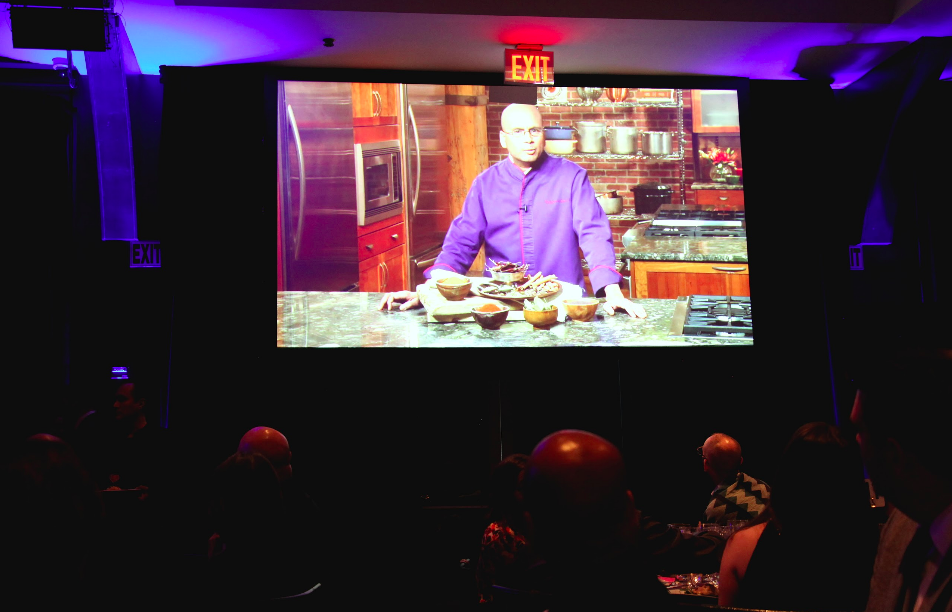 When the announcement was made, screams erupted from our table. At the podium, Raghavan noted that this was actually the fourth time he'd been nominated; the three previous nominations for his books did not win the metal.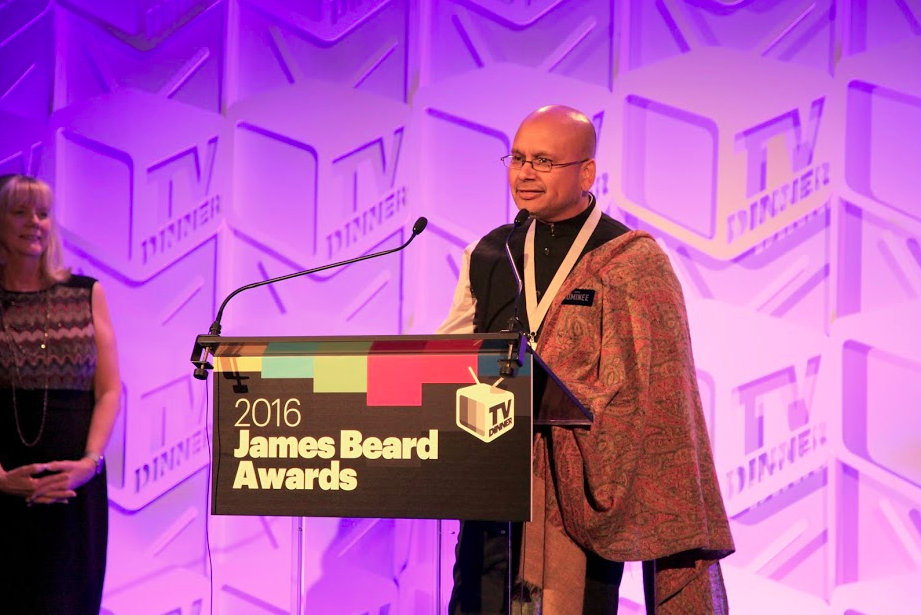 "Thank you James Beard Foundation," he told the crowd. "For not making me into the Indian Susan Lucci."
And thank you for a great night for Bluprint.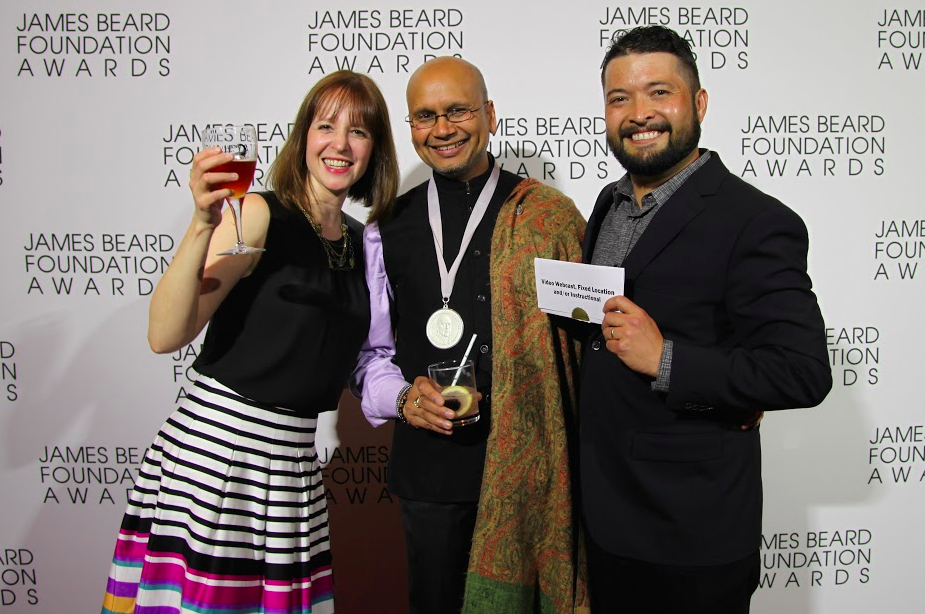 Jared is a producer at Bluprint. Follow him on Instagram @everyday.producer.
Learn more about Chef Raghavan's James Beard Award-winning class here.