Have you fallen in love with the hottest (and prettiest) trend in the cake decorating world: wafer paper? Edible flowers made from delicate wafer paper (also known as rice paper) provide an ethereal touch to even the darkest cakes.
Master the chic technique of creating rice paper flowers with the new Craftst class Delicate Wafer-Paper Cakes, taught by the innovator of the technique Stevi Auble, owner of Hey, There Cupcake, a boutique bakery in San Diego.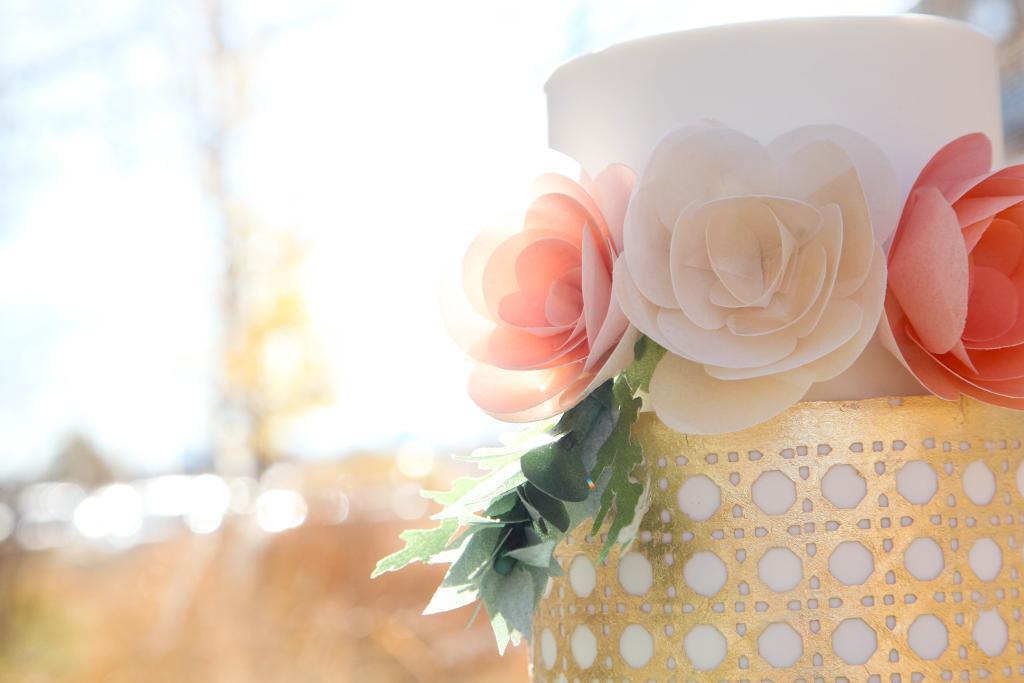 Elegant cake via Craftsy instructor Stevi Auble
Get ready to be wowed by this collection of oh-so lovely modern rice paper cake designs, made by the students and instructor of Craftsy's Delicate Wafer-Paper Cakes class!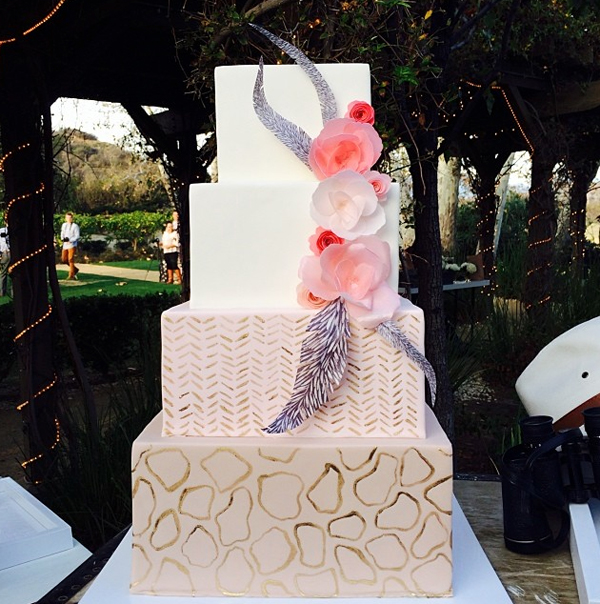 Photo via Hey, There Cupcake! San Diego
Modern feathered wedding cake
This artful wedding cake made by Stevi Auble features four gorgeously smooth square tiered cakes stacked and decorated with modern flourishes, including edible gold paint in retro modern patterns and a sweet flurry of wispy blush-toned wafer paper cake roses and hand-colored wafer-paper feathers.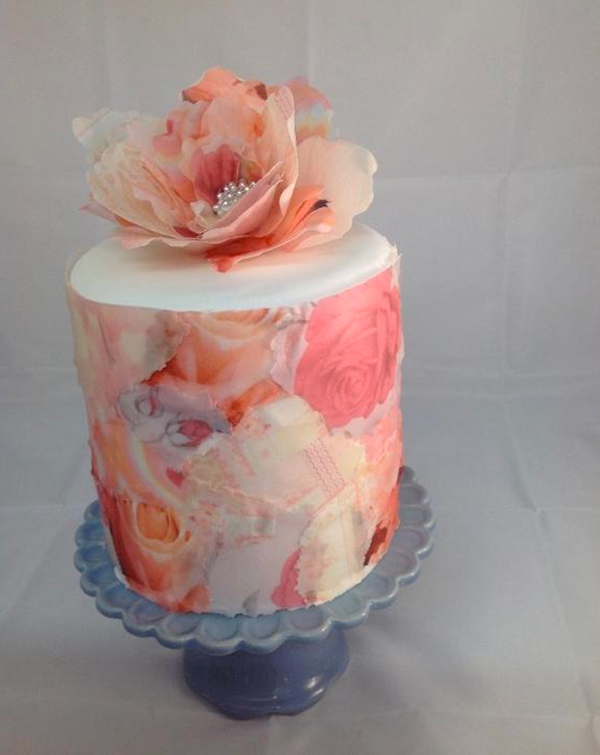 Decoupage cake via Craftsy member loopyscak294681
Wafer paper decoupage rose cake
A perfectly dainty and visually appealing decoupage party cake, created using printed wafer paper wrapped around a single round cake tier. This cake would rock the fine china off a shabby-chic afternoon tea sweets table!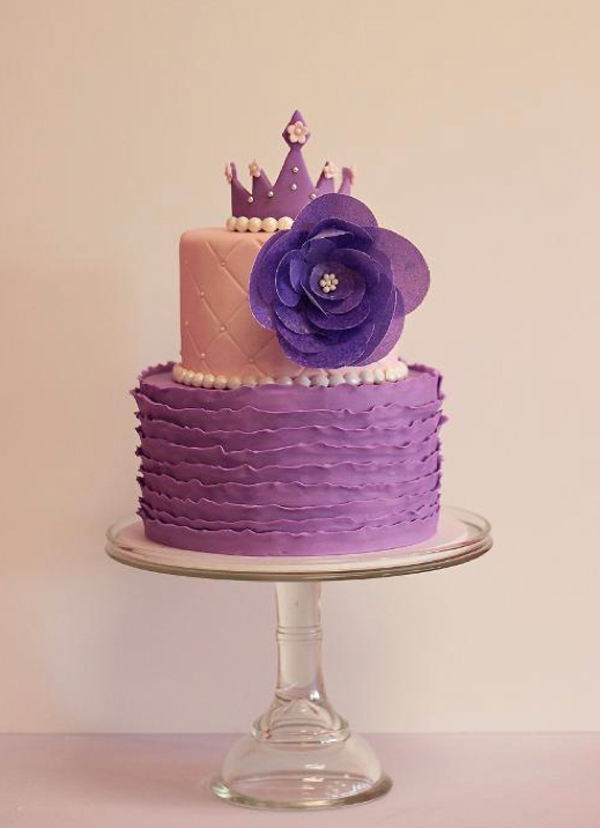 Ruffled Princess Cake via Craftsy member Couture Cakery
Ruffled princess birthday cake
Craftsy member Couture Cakery did a fabulous job in creating this purple ruffled and quilted princess party birthday cake. The fondant frills paired with the violet wafer-paper fantasy flower give the cake just enough frilly femininity.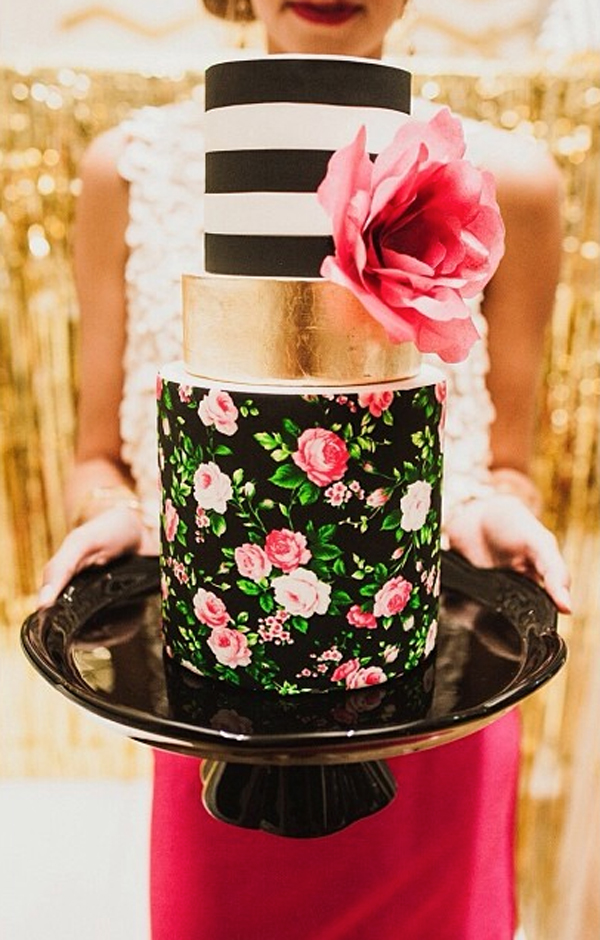 Photo via Hey There, Cupcake! San Diego 
The chicest cake in town
Honest to goodness, this tiered beauty by Stevi Auble boasts all of the hottest trends in cake design: bold, high-contrast stripes, romantic wallpaper-esque printed wafer-paper-wrapped goodness, and a gold leaf covered tier, too! Top it all off with a giant blush wafer paper rose and you've got the "It" girl of cakes.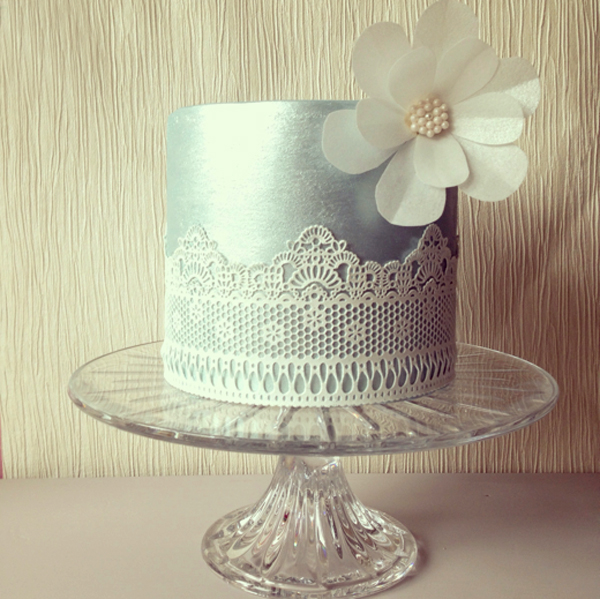 Silver cake via Craftsy member Luv Cake Blog
Shimmery lace cake
This shimmery silver-blue single-tiered cake uses a pretty fondant lace pattern and the simplest of wafer paper flowers – white, crisp, delicate, folded petals with a center dotted with edible silver dragée candies. I love this cake on its own at a bridal shower, or imagine this as the top tier of a towering shimmered fondant cake in a color gradient of silvery blues?
Decoupage cake via Craftsy instructor Stevi Auble
Decoupage cake
This frolicking fun cake reminds me of the cool girl at prom in the 1980s — rocking it in a black and white and peach confection of a dress with a blush pink flower in her hair. In this case, the flower is a perfectly created pale pink-wafer paper bloom, contrasted beautifully against a stark black fondant cake tier.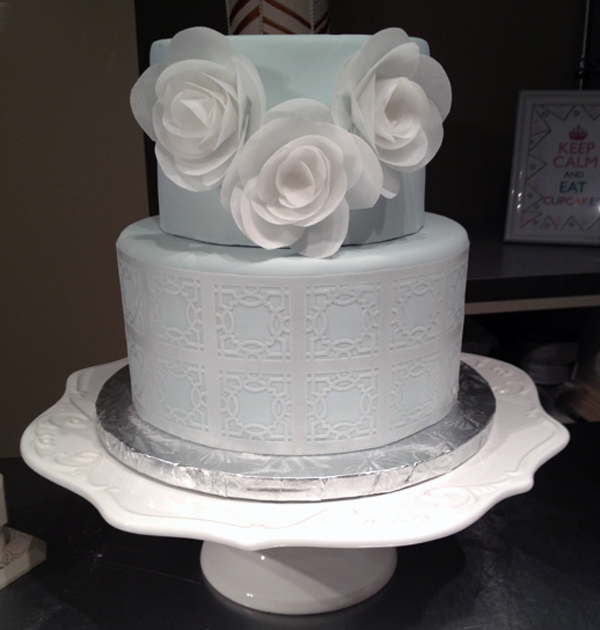 White ranunculus cake via Craftsy member Sweet On You
Austere cake with white ranunculus
A pretty, icy blue two-tiered fondant cake patterned with perfect rattan is made more feminine with the addition of precise wafer paper ranunculus. I like how the flowers are set on the front of the cake as opposed to sitting on the top — it gives it a more modern feel to a more traditional leaning cake.
If you're wanted to create beautiful flowers out of more than rice paper, be sure to take a look at Nicholas Lodge's newest sugar flower class,  Mastering Modern Sugar Flowers, which covers making the popular ranunculus, dahlia and succulent flowers out of sugar.
Tiered black cake via Craftsy instructor Stevi Auble
Black and gold slash cake with rolled roses
Stevi Auble also created this artful, dark and sparkly confection. The painted on edible gold leaf looks like a slash of paint on a canvas against the black fondant tiers, which are feminized by a smattering of prettily hued wafer-paper rolled roses.
Ready to try your hand at making rice paper flowers?
Sign up for Delicate Wafer-Paper Cakes today to learn how to make wafer-paper roses, ranunculus and peonies, as well as how to create pattern and unexpected artful flair with your edible wafer paper!
Do you love the wafer-paper trend in cake design?