Adding pretty ribbon borders to the base of cakes give the whole design a finishing, sophisticated touch. You can also incorporate some extra design by adding a bow, piping or other decorative details. Check out our easy-to-follow tutorial (with tips) below to learn how to add your own cake ribbon border.
The basics for cake ribbons
Choosing the best attachment method
Some decorators use pins to attach ribbons to a cake, but we strongly recommend against this. It is so dangerous. Your client or their guests could end up pricking themselves or, worse, swallowing it.
It's also good practice to not insert wire or metal into your cake. Here in the U.K. it's illegal, as wires and pins can contain nickel or other metallic elements people can be allergic to.
Fondant vs. buttercream
For this tutorial, we're using a fondant-covered cake. Adding a ribbon trim can be a little trickier on a buttercream cake.
The moisture of the frosting will staining the ribbon, which makes for a messy look. That's why we generally avoid ribbon trims on buttercream-frosted cakes. If you must, it's still possible: Some people like to add a piece parchment paper the same width as the ribbon between the ribbon and the cake.
How to add a ribbon border to a cake
What you need:
Fabric ribbon of your choice
Melted white chocolate or royal icing
Double-sided craft tape (tape with adhesive on both sides)
Sharp scissors
Step 1: Set up your work station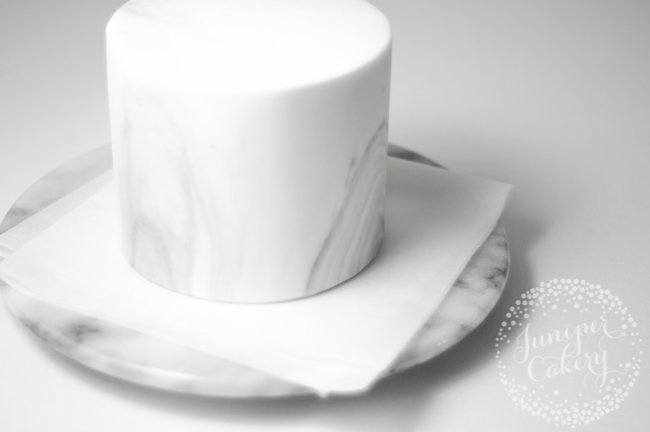 Place your cake on a clean, flat and level surface, on top of a sheet of parchment or waxed paper. This is going to help you neatly trim your ribbon (it's much harder on a cluttered counter top!).
Tip! A good, wide turntable is a huge help. We actually love to use a large marble lazy Susan (and here are a few more turntable substitutes that you might like). There's lots of space to leave any ribbon or trimmings to the side as you attach it.
Gather up all the tools and materials you need. Working in a prepared environment with everything you need helps keep you calm and focused.
Step 2: Wrap and measure the ribbon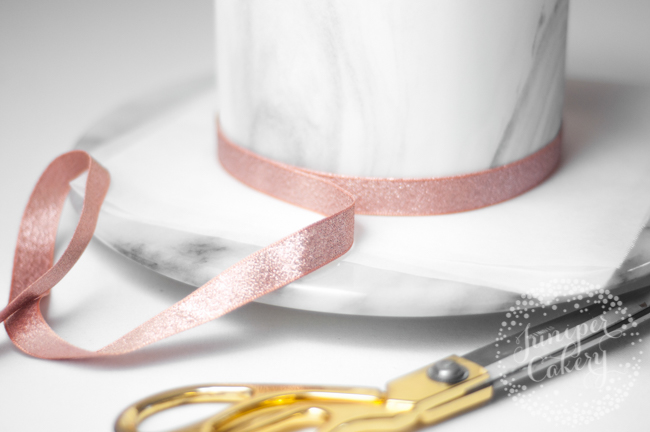 Wrap your ribbon around the base of your fondant-covered cake to measure out how much you'll need.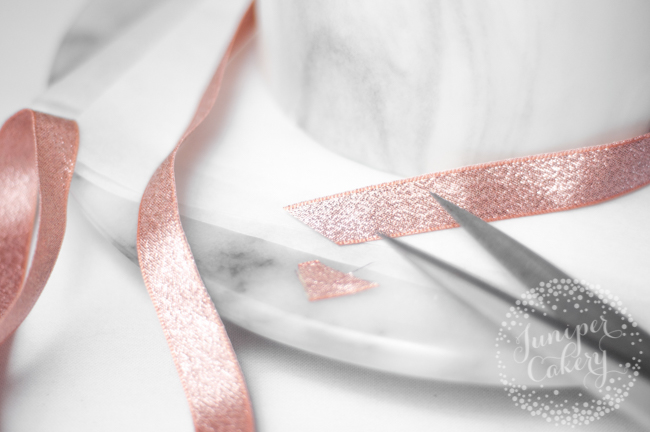 Cut the ribbon down, leaving plenty of excess ribbon. It's always a great idea to cut your ribbon a little longer than you need: Ribbon can fray as you work with it, and having a little extra means you can trim it and neaten it up.
Step 3: Secure the ribbon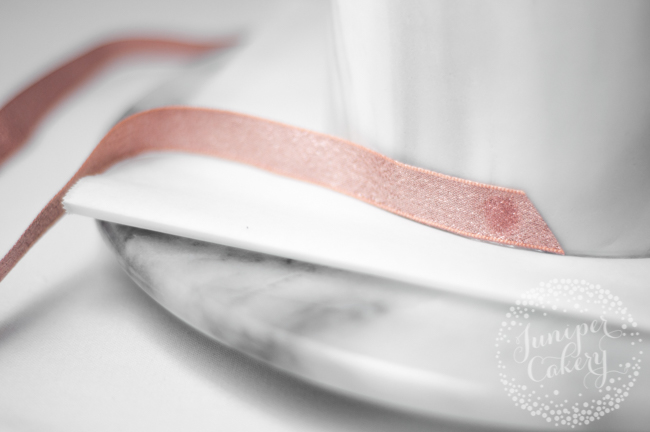 Using a bit of white chocolate or royal icing as "glue," stick one end of the ribbon to the back of your cake, right at the base. Hold the ribbon end down lightly until your chocolate or royal icing has dried / set.
Tip! Dark or milk chocolate can get a little messy, so we'd definitely recommend using white chocolate Royal icing is a good option too, but it takes much longer to set than chocolate. 
Step 4: Secure the ends together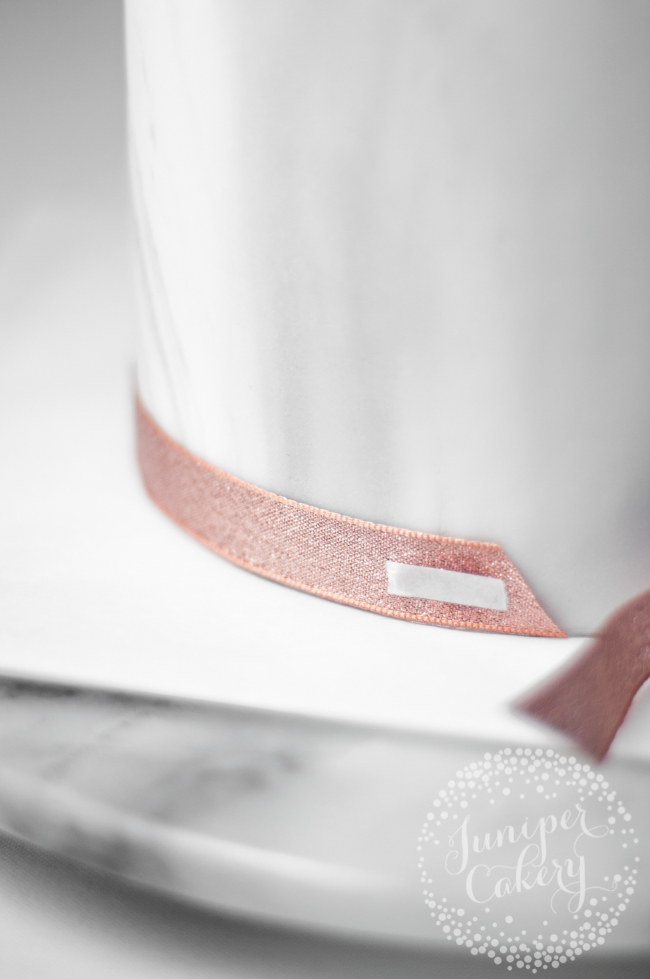 Next, cut a small piece of double-sided craft tape. Gently undo one end (this helps make it so much easier to peel away later) and then attach the piece to your ribbon.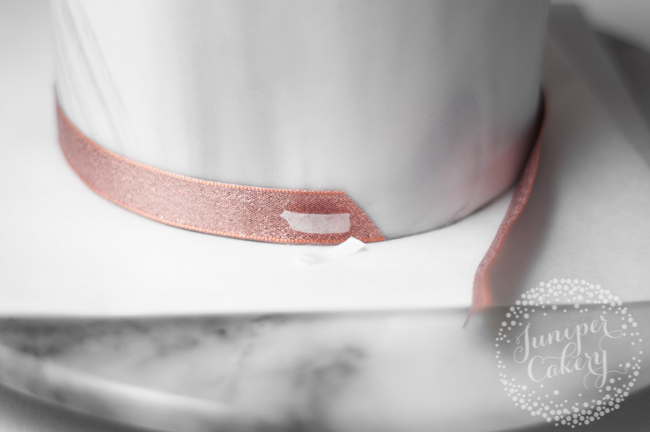 Peel away the white backing of the tape before you lightly press the other end of your ribbon in place.
Adding a ribbon bow to a cake
Give your cake a little more feminine flair, finish off your ribbon border with a bow!
Step 1: Tie a bow
Cut another piece of ribbon and tie it into a nice bow.
Step 2: Add the glue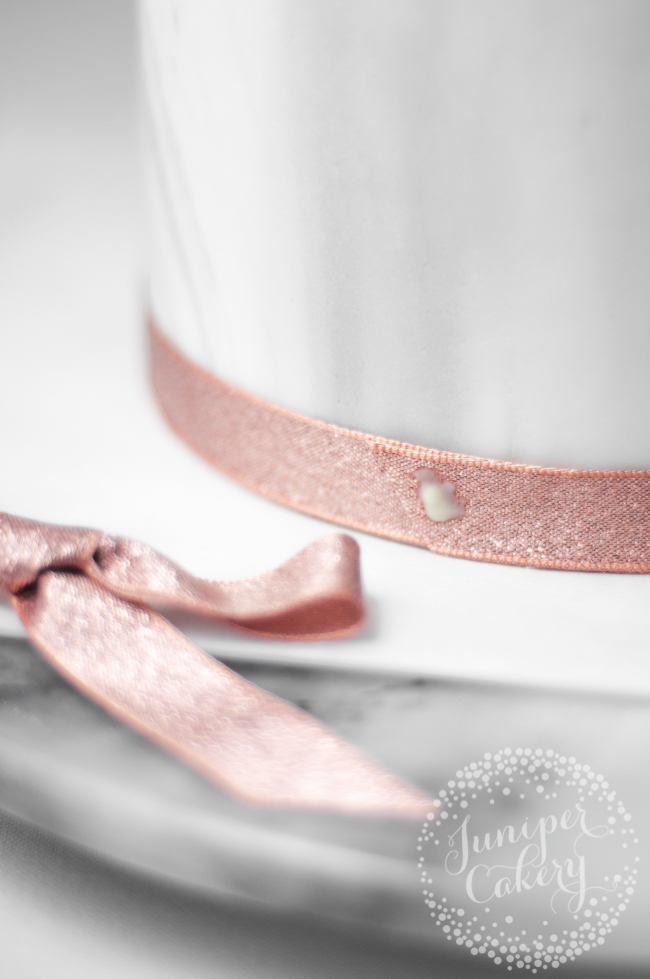 Add another blob of melted chocolate or royal icing onto the "seam" where the two ends of the ribbons meet.
Step 3: Attach the bow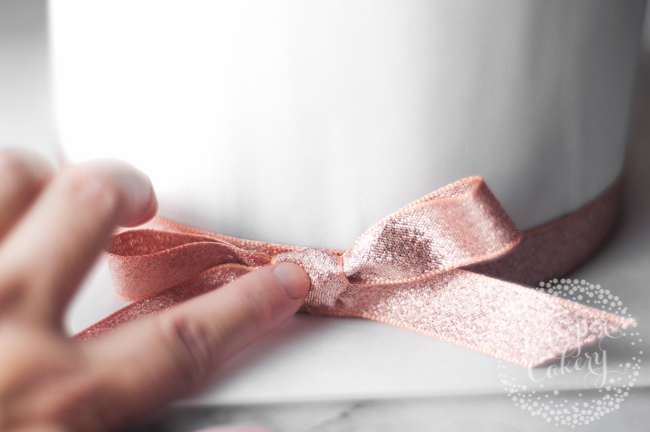 Press the bow over the dab of edible glue, and lightly hold it in place until the chocolate or icing dries completely.
Having trouble? Keep in mind that sometimes a ribbon isn't suited well for a cake.