Have you ever tried reverse appliqué quilting? Unlike traditional appliqué, where a fabric shape is sewn on top of a base fabric, reverse appliqué involves cutting away a layer of fabric to reveal a shape appliquéd underneath.
Reverse appliqué can create interesting visual effects on your quilt, and the technique can be tweaked to create clean, precise shapes or scrappy, artistic layering.
In order to get inspired for your reverse appliqué quilting project, check out these blocks, small projects and quilts!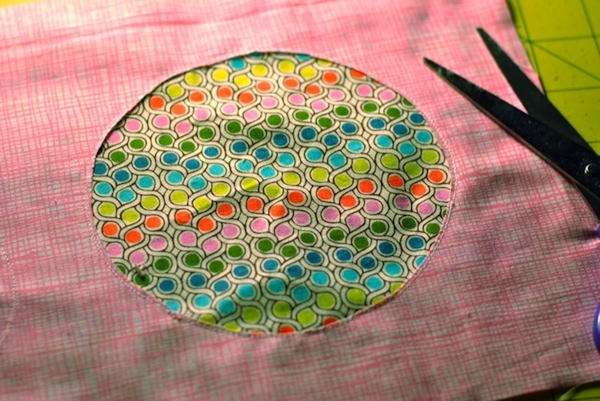 Photo via Lindsay Sews
Start with a basic circle
If you are just getting started with the technique, this reverse appliqué quilt block tutorial explains the basic process.
By using a lightweight fusible appliqué to trace your design, you can stitch circles or another shape you'd like to reverse appliqué to the back of your quilt block. When you flip it over, you'll use scissors to cut into each circle (the top layer only) and trim away the excess fabric, leaving a 1/8″ seam allowance from the stitched outline.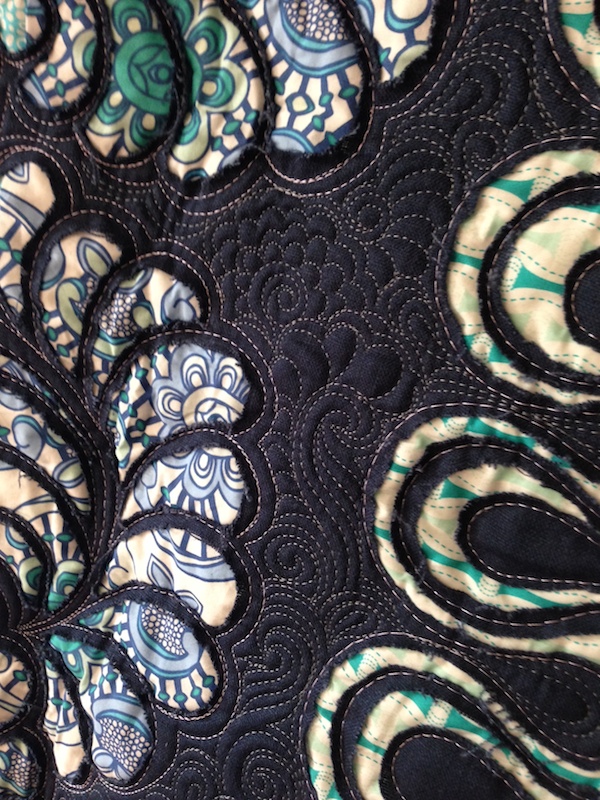 Photo via Craftsy instructor Angela Walters
Try organic shapes
Once you've tried cutting out a basic reverse appliqué circle, you can experiment with organic shapes like swirls and paisley. In her project Quilt it Up, Cut it Up, Angela pieced a quilt top using a large rectangle of each print in her Drift fabric collection. Then she added a solid piece of dark navy linen on top and free motioned on her longarm quilting machine. Using sharp scissors, she carefully cut away the top layer of the linen in between the quilting lines.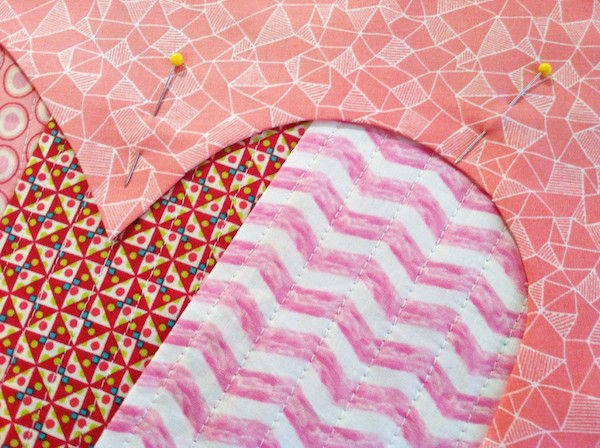 Photo via imagine gnats
Have a heart!
Rachael's Reverse Appliqué Heart Pillow incorporates patchwork and smooth (rather than raw-edge) reverse appliqué. She uses freezer paper to get the effect, and you won't believe how easy it is! Check out the patchwork heart pillow tutorial for complete instructions, and use your imagination to try different shapes.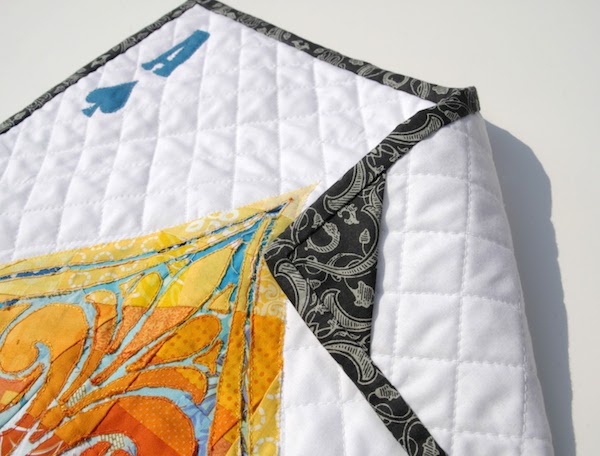 Photo via 13 Spools
Patch it up
Did you know that you can reverse appliqué with patchwork in the foreground and background for a great dimensional effect? In her Playing Card Mini Quilt, Amy used a reverse appliqué method, inspired by Dan Rouse. To play with complementary colors, she layered intense oranges gradating out to yellow on the top.
The layer underneath was quilted with light aquas and darker blues. This color contrast allows the stitching and cutting away of fabric to visually pop off the quilt.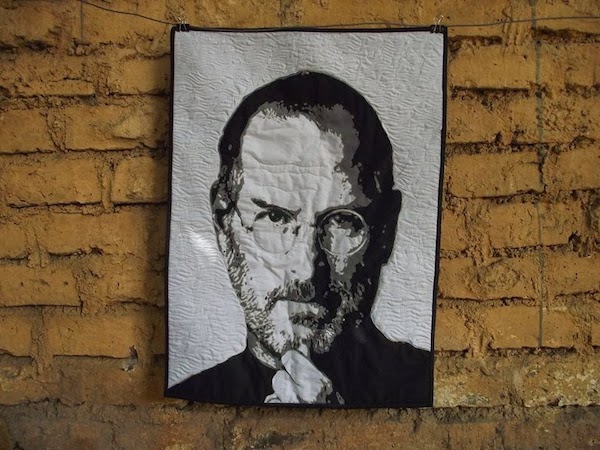 Photo via 13 Woodhouse Road
Shades of gray
Using just three shades of a color (even white, grey and black), can lend to some really stunning visual reverse appliqué. Shruti's iQuilt is based on the famous photo of Steve Jobs by Albert Watson. She made the gift as a surprise gift for her brother, who loves Apple products. The 24″ x 30″ wall quilt was time intensive, particularly one part. "Making the beard part was a nightmare with so many tiny pieces," Shruti says.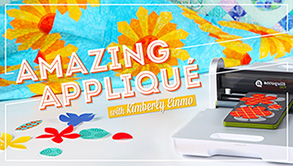 Finish appliqué projects with more interest and efficiency than ever! Find out how with instant access to Kimberly Einmo's Craftsy class Amazing Appliqué. Sign up now to learn speedy die-cutting, snazzy single and double needle decorative stitching, and innovative stitch-stacking techniques!
Sign me up!
What makes online Craftsy classes great?
Learn for life! With lifetime access to your classes, you can watch lessons at your preferred pace and easily revisit your favorite concepts with just a click.
Kick up your feet! Enjoy classes anytime from the convenience of your home or even on-the-go with our mobile apps.
Get personalized guidance! Ask your instructor questions to receive all the answers and feedback you need to succeed.
Love it! There's no risk in trying with our 100% money back guarantee.