Retro animated programs not only evoke a sense of nostalgia in those who remember growing up watching them, but have also made a comeback in popularity to entertain the newer generations. The resurgence of these classic cartoons has also increased the requests and demands for aptly themed kids' parties, complete with cupcakes. When you're new to design and learning how to make cupcake decorations, looking to cartoons for inspiration is a great place to start!
Let these classic cartoon cupcakes take you back to the oldies but goodies, while inspiring you to create your own trendy projects!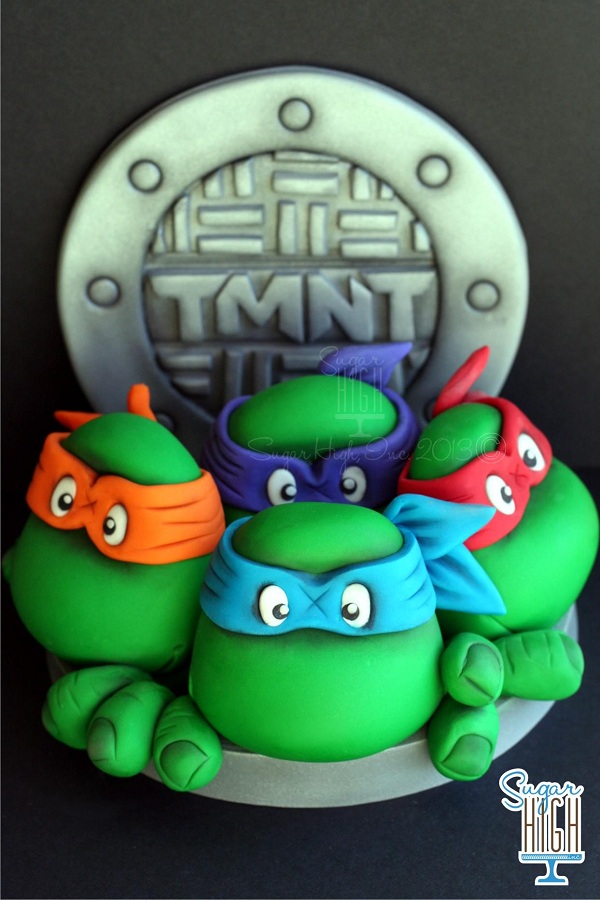 Photo via Sugar High, Inc.
Teenage Mutant Ninja Turtles fondant topper:
In the 1980s, mutating ooze created the Teenage Mutant Ninja Turtles, a group of four turtles who rise from the storm sewers to fight criminals. The turtles have resurged, both on television, as well as in this jaw-dropping fondant topper by Sugar High, Inc. The three-dimensional figures were assembled to look like they are making their way out of the sewer with the signature manhole cover behind them. The incredible use of shading on the fondant brings both the characters and their details to life.
Hone your figure modeling skills with Cake Topper Techniques: Fondant Animals with Sharon Wee.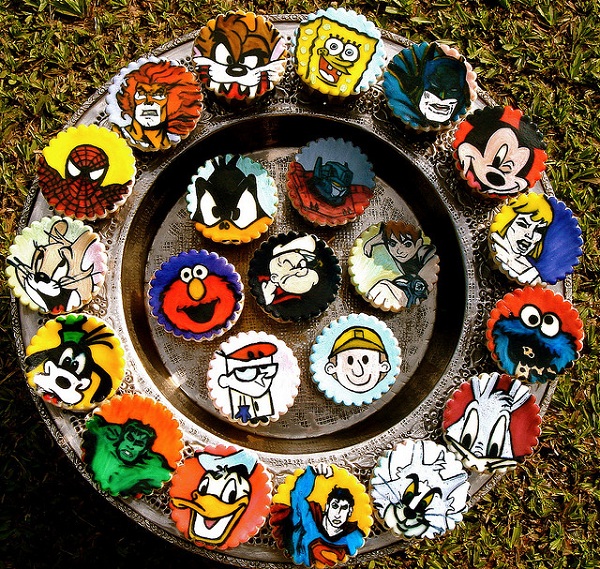 Photo via The LadyGloom
Old school toon cupcakes:
The LadyGloom did an exceptional job at capturing a variety of classic cartoons on these adorable and colorful fondant toppers. The popular characters, ranging in time frame, from Tom and Jerry to Popeye and the Looney Tunes gang to He-Man and ThunderCats, were hand-drawn onto the fondant. Practice painting directly on fondant with edible markers or utilizing soft gel paste mixed with a bit of water, clear vanilla extract or a clear alcohol (the alcohol evaporates) to achieve the same look.
Explore airbrushing techniques with The Art of Airbrushing with Lisa Berczel for additional ways to apply paint to fondant.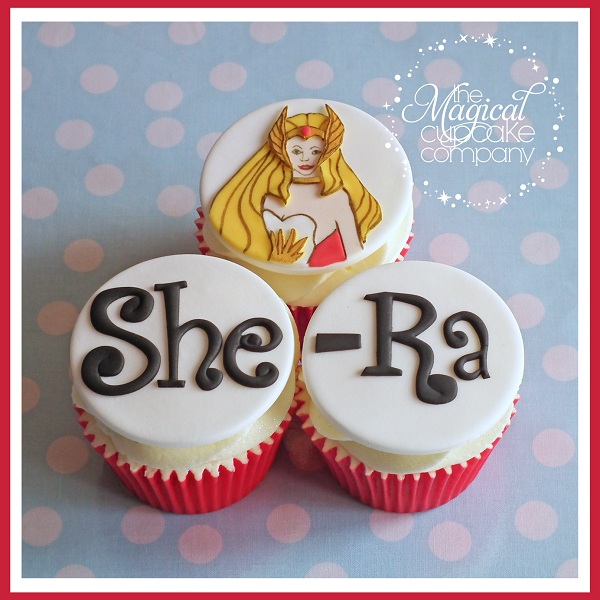 Photo via The Magical Cupcake Company
She-Ra cupcakes:
In the mid-80s, He-Man and the Masters of the Universe was a bit hit with the boys, but to appeal to the girls, He-Man's twin sister, She-Ra, was created! These vintage cartoons and toys are being reintroduced to children by their parents who used to be big fans. This marvelous She-Ra set by the Magical Cupcake Company makes a big impact with the incredibly detailed depiction of the princess, delicately cut out of fondant with details outlined and painted onto the piece.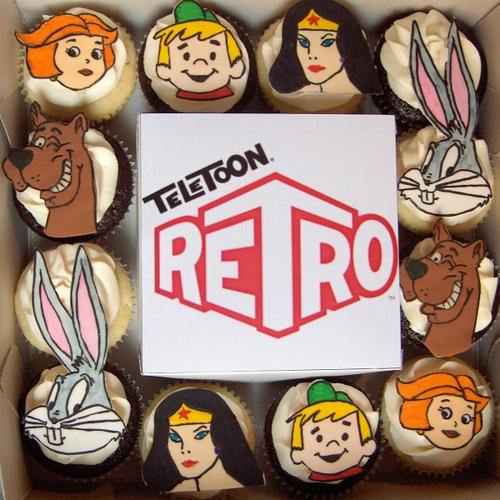 Photo via Clever Cupcakes
Retro cartoon cupcakes:
In this cute and alluring set of treats by Clever Cupcakes, the retro cartoon characters, such as the Jetsons and Bugs Bunny, are carefully cut out with a precision knife and placed directly onto the icing, rather than attaching them to a fondant backing. The outlines, facial features and colorings are painted on to add dimension and personality to the toppers.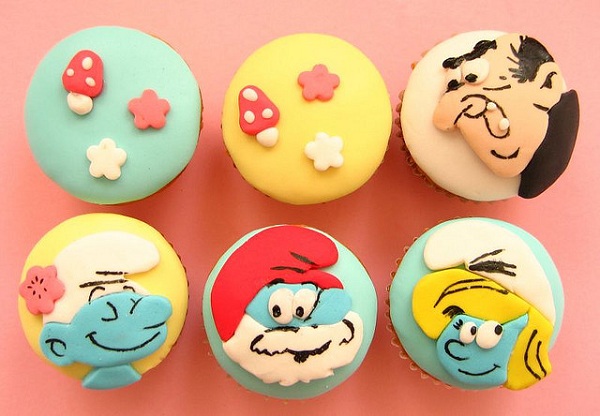 Photo via Hello Naomi
Smurfs cupcakes:
The Smurfs originated as a Belgian comic in the late 1950s and made their way to hearts and televisions all over the world throughout the years. In addition to television, the Smurfs have become known to the younger generation with two recent feature films, creating a surge in popularity. Hello Naomi created this fabulous set of Smurfs cupcakes, showcasing the beloved characters (and one evil one!) over fondant that covers the entire cupcake in a dome. If you want the embellished fondant to conform to the dome, make sure you do not let it dry flat. You can decorate the cupcakes right away or utilize a dummy ball to hold the fondant as it dries in the appropriate shape.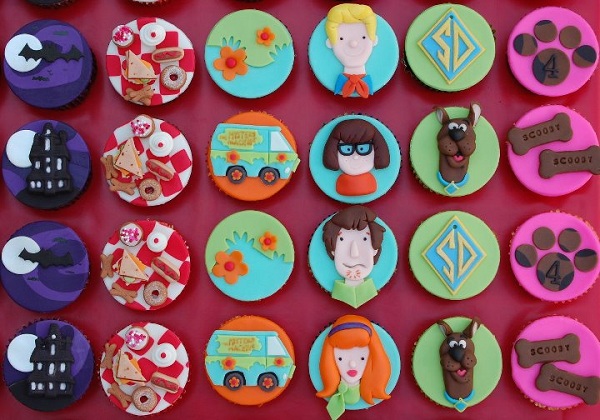 Photo via Royal Bakery
Scooby Doo cupcakes:
A timeless cartoon that has stood the test of time is that of Scooby-Doo and his mystery-solving friends! These absolutely adorable and incredibly detailed fondant-covered cupcakes created by the Royal Bakery are hand-molded and cut to depict the characters and the entire show's mystical yet playful vibe. The figures' features are sculpted to provide additional dimension and personality.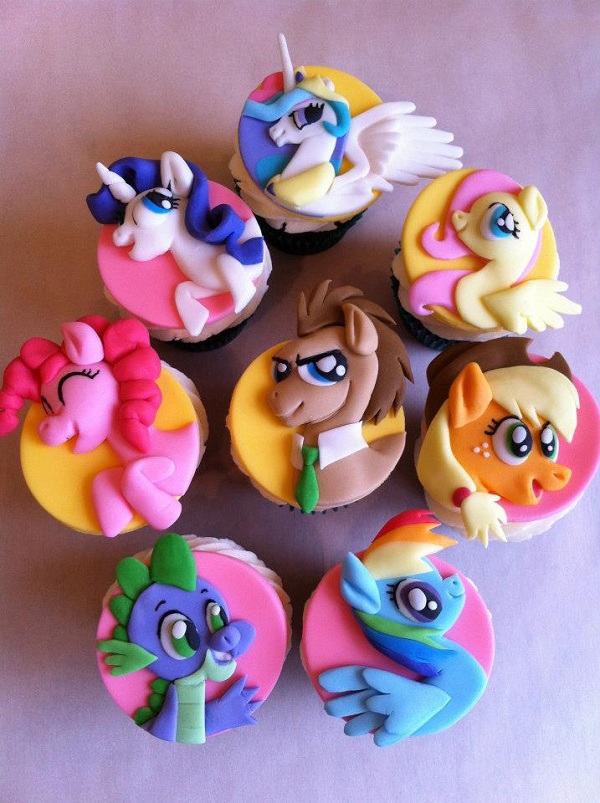 Photo via Zoey Cakes
My Little Pony cupcakes:
The My Little Pony characters have been popular since the 1980s, but have recently reemerged with both a younger kid and teenage following. The ponies have undergone a bit of a modern makeover and Zoey Cakes has replicated their newer look amazingly by modeling their bodies and manes out of fondant. Both the glimmer in their eyes, as well as the use of vibrant and coordinating colors brings these cupcakes to life in their spirited facial expressions.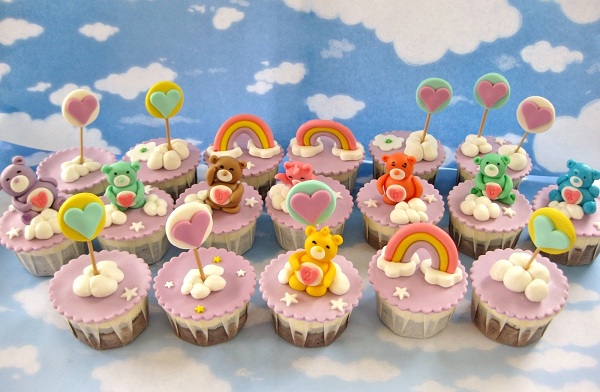 Photo via thecupcakelicious
Care Bears cupcakes:
Similar to My Little Pony, the Care Bears were created in the 1980s, but have since been revitalized with a newer look and continually appeal young children today. Thecupcakelicious did a terrific job bringing these little stuffed bears to life and replicating their dreamy life up in the clouds. The flat toppers create a base for the three-dimensional figures, rainbows and puffy clouds, while additional decorations are propped up on wooden sticks.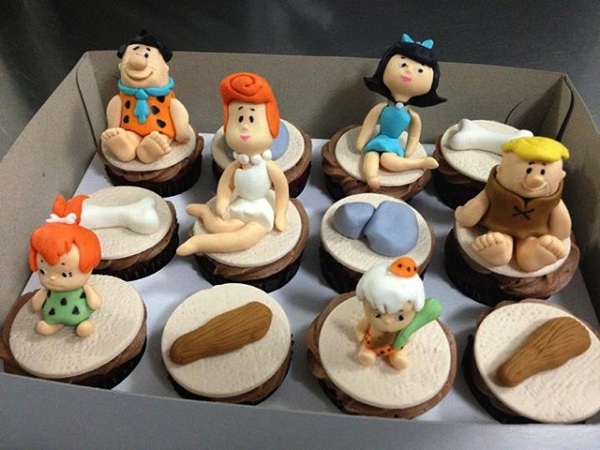 Photo via The Bunny Baker
The Flintstones cupcakes:
The Flintstone family has stood the test of time, from the Stone Age until today! The Bunny Baker created this adorable set of cupcakes, modeling the three-dimensional characters so perfectly out of fondant. The cast from Bedrock, along with some bones, stones and embellishments, sit upon a textured fondant base achieved with an impression mat.
For more practice with modeling people, check out Anne Heap's Cake Topper Techniques: Figure Modeling and try to re-create your own favorite cartoon characters.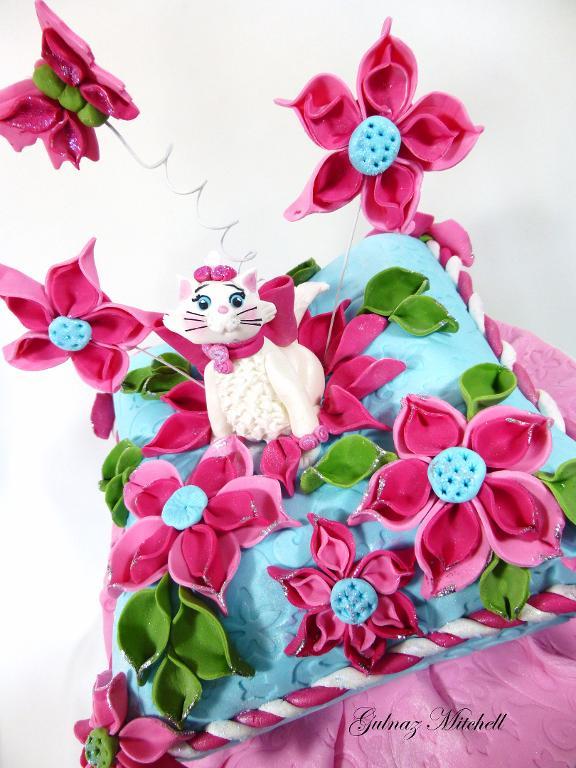 Photo via Bluprint member Gulnaz Mitchell
Aristocats Marie cake:
After taking the FREE class Basic Fondant Techniques with Elisa Strauss, Bluprint member and cake artist Gulnaz Mitchell did a tremendous job in modeling this precious and adorable character of Marie from Disney's The Aristocats to top this gorgeous pillow cake.
Learn more about texturing techniques, such as the one utilized to achieve this fabric pattern, in Designer Fondant Textures with Marina Sousa.
Now that you've taken a trip down memory lane, which classic cartoon are you ready to revive in cake?