In the '80s I coveted my older sister's cool eighth grade style: spiky hair-sprayed bangs, pastel sweatshirts and slouch socks and frosty pink lipstick. Rubik's cubes were on every shelf and the Pacman arcade game was in every 7-11. Young and beautiful pop stars such as Madonna and Michael Jackson blared on boom boxes, and wildly decorated tiered fondant cakes were never even heard of! Thank goodness for 2013, where cake decorators all over the world recreate the '80s in cake form. Explore a collection of fabulous '80s cakes!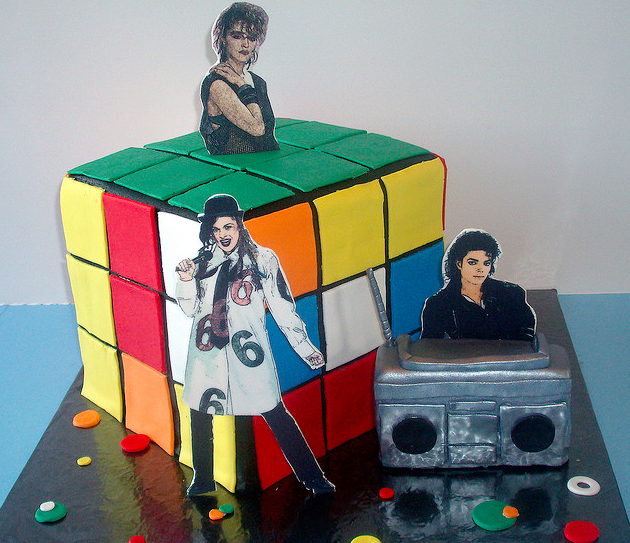 Photo via Dragonfly Custom Cakes
1980's Pop Star Cake: You must be my lucky star! I just love '80s era Madonna. Here she pops out printed on edible paper and adhered to gum paste, rising to the top of this fondant squared Rubik's cube cake. Boy George and Michael Jackson all make appearances, too!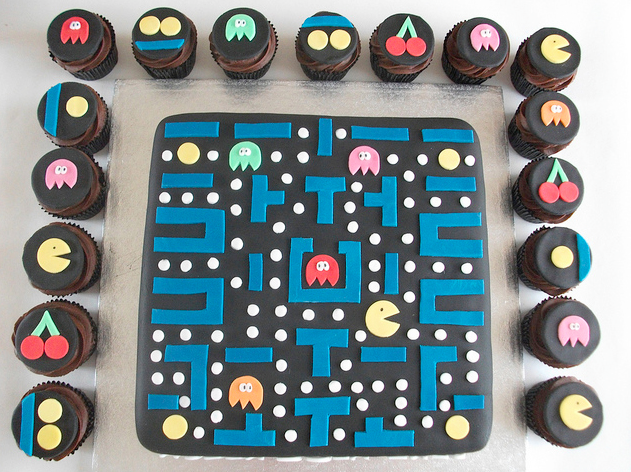 Photo via Fairy Dust Bakery
Pacman Cake and Cupcakes: Who else was obsessed with Pacman or Ms.Pacman? I can just hear that satisfying "wacka wacka wacka" sound when Pacman eats up the white power pellets. I love this Pacman cake and matching fondant topper cupcakes.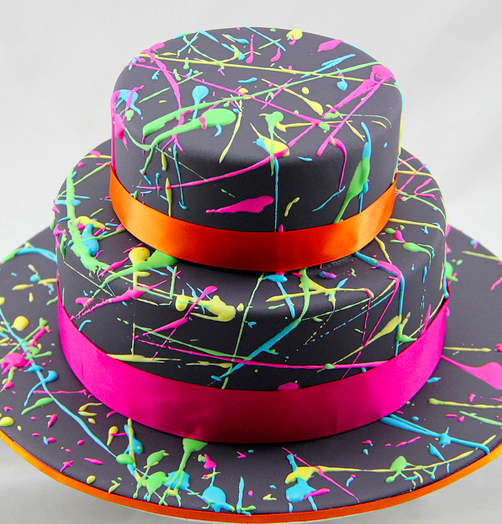 Photo via Coco Jo Cake Design
1980's Splatter Cake: Splat! This simple but effective design by Coco Jo Cakes featured black fondant tiered cakes with a lovely graphic splattering of what appears to be candy melts in varying colors. How fun this must have been to make… albeit a little messy! Jackson Pollock might even enjoy a slice of this one.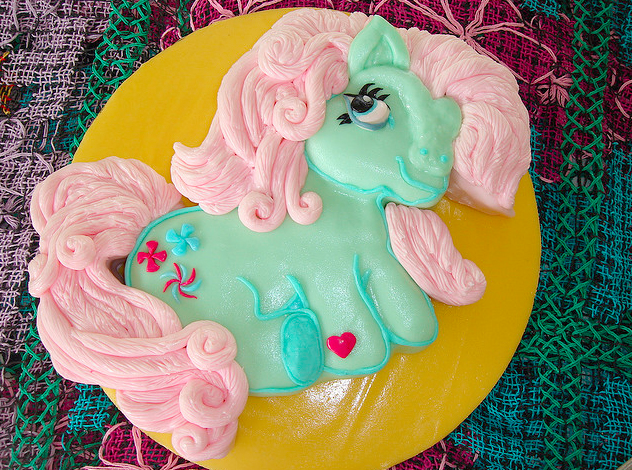 Photo via The Lady Gloom
My Little Pony Cake: This minty green My Little Pony cake features awesome textured pink fondant tresses. Doesn't it look like Minty the pony spent hours curling her lovely locks? Did anyone else out there have My Little Pony dolls? My pony dolls played happily with He-man and Transformers, too.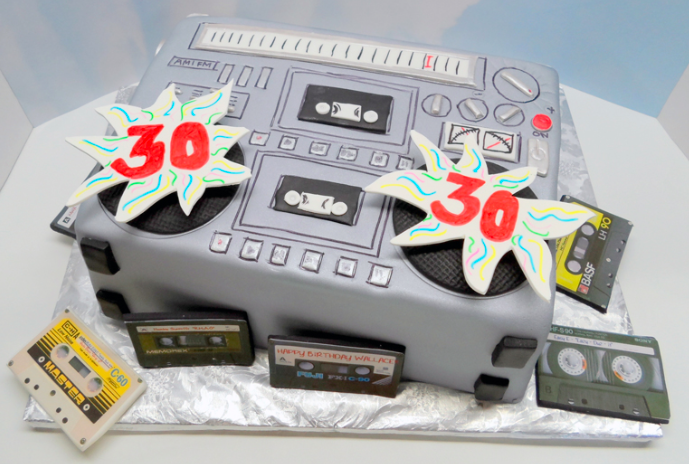 Photo via Glass Slipper Gourmet
Boombox Cake with Edible Cassettes: What was the 1980's without the awesome music, and what better way to pump those classic tunes than on a giant silver retro boombox? This is a fun cake for a music lover and the best part is those cassette tapes (kids, you won't know what I'm talking about) are edible, cut in gum paste and cleverly topped with printed edible ink.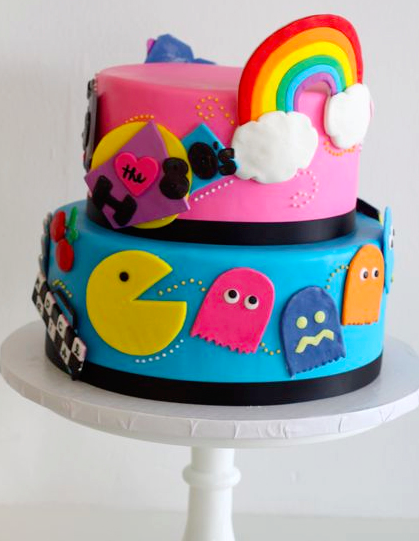 Photo via My Sweet and Saucy
Fun and Bright 80's Cake: This bright '80s themed two tiered birthday cake is lots of fun. The rainbow and of course our friend Pacman and his ghost friends, including one unhappy ghost, are all nice touches! I like how the little piped dots tie both of the tiers together.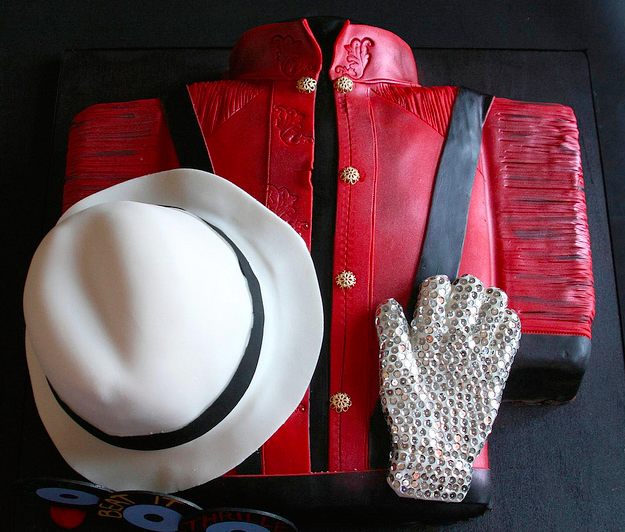 Photo via Cakes by Toni
Michael Jackson Themed Cake: Is there any more iconic 1980s video than Michael Jackson's Thriller? I watched it recently and it still chilled me to the bone. This is a fun ode to Michael Jackson through his unforgettable clothing: the red leather jacket from Thriller, the silver sparkled glove (can you believe that's edible?) in Billie Jean and the white fedora from Smooth Criminal.
Feeling inspired to create a colorful 1980s themed cake? View Bluprint's growing selection of online cake decorating classes by today's top cake designers and artists! Come back to the Bluprint blog tomorrow to move into the 1990's with a fresh roundup of cakes.