Leathery, scaly skin, icky-slick lizards, and slithering tongues — not exactly the stuff of cakes, you say? Well, we beg to differ. We've got the coolest reptile cakes to make you change your mind — you'll be digging into that snake cake in no time! Perhaps not, but…let us present…reptile cakes!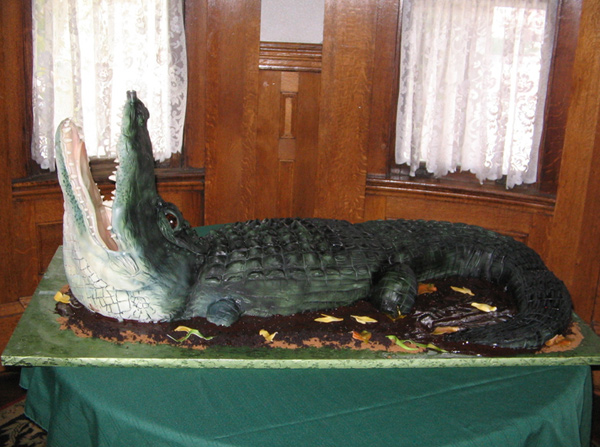 Photo via EB Cakes
Insanely awesome crocodile cake:
I think this might be the coolest reptile cake I've ever seen! Elizabeth of EB Cakes had this to say about her amazing cake: "It took me about 40 hours in two and a half days. I literally slept 3 hours, worked 20, slept 3 hours, worked 20 more. Very hard!"
She designed the cake and her husband helped create supports for the inside: two pipes, one for each jaw, screwed into the bottom board. The head is made from Rice Krispies Treats (a smart alternative to ensure heightened pieces aren't too top-heavy) and the body and tail are a delicious sounding chocolate-almond pound cake. Alligator burgers? I'll take a slice of chocolate-almond pound cake instead, please.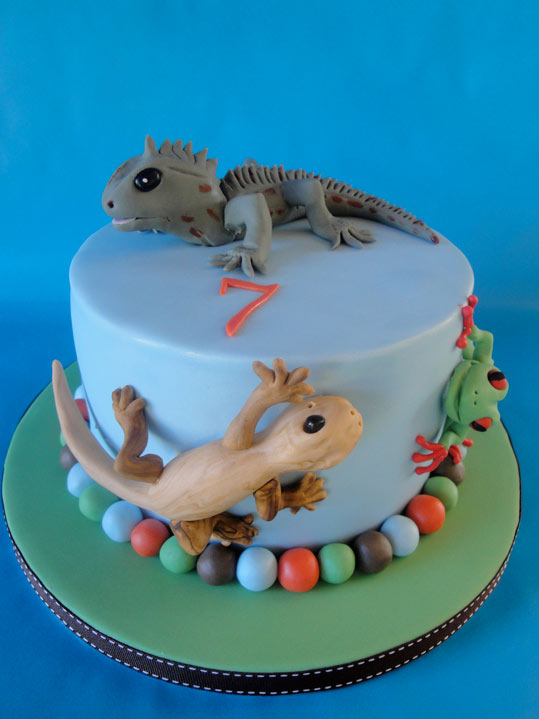 Photo via Magical Cakes
Lizard pals cake:
An otherwise simple cake gets taken over the top with the addition of some awesome fondant lizards, including a gecko, a tree frog and a native lizard to New Zealand called a tuatara. The cake itself is chocolate with chocolate-truffle ganache. Yum! Such a fun cake for a lover of amphibians and reptiles alike.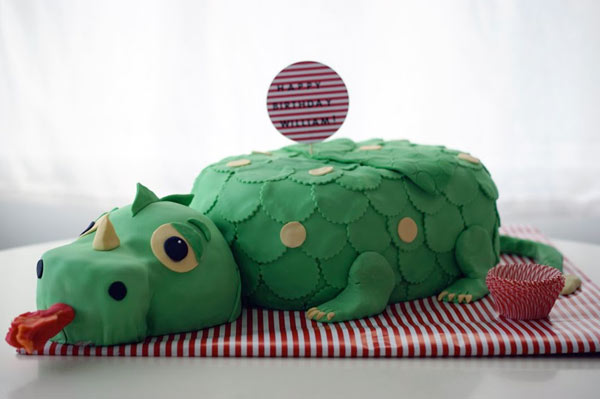 Photo via Coco Cake Land
Sleepy dragon cake:
If dragons were real, they would be classified as reptiles…giant, scary, fire-breathing ones, at that. This large and in-charge dragon is shown to scale with a regular-sized cupcake liner. He was made of vanilla cake with vanilla buttercream and covered in fondant scales made with a scalloped circle cookie cutter, and fondant claws and details.

Photo via Katy-Made Cakes
Modern crocodile 2-D cake:
I like the modern and clean style of this prickly-toothed fondant crocodile cake created 2-D picture-style cake, decorated in bright and inviting colors. The simple details such as the marbled "waves" and the dotty-scaled crocodile skin add an artful touch.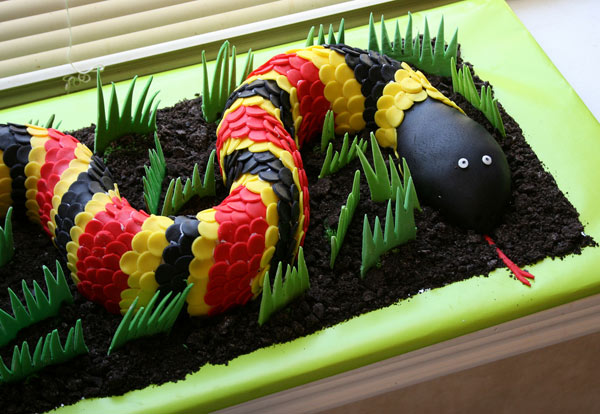 Photo via davidandkate95
Sneaking snake in the grass cake:
I love the style of this slithering cake with its bright scales offset by the black row of marshmallow fondant scales and black snake face. Chocolate cookie crumbs make up its "dirt" cake board, and shards of green fondant create the look of grass. Kate, the baker, used a Bundt cake pan and made two cake circles, cutting them in half and joining them to make a long snake figure. The head is carved out of a cake that was baked in a loaf pan.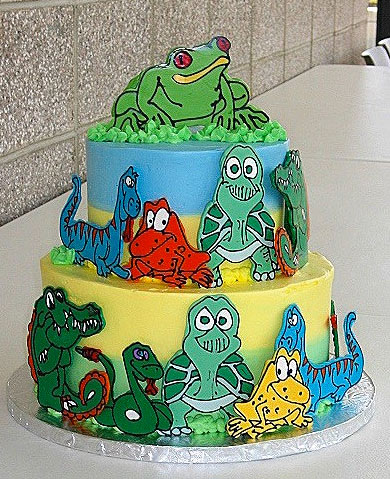 Photo via Baking Arts
Cartoon cutouts reptile and amphibians cake:
This cool cake was made for a little boy who likes all things reptile and amphibian. I think if I were him, I'd be pretty darn excited, especially since the cake is iced in buttercream and the cartoon cutouts are made from white chocolate. Yum!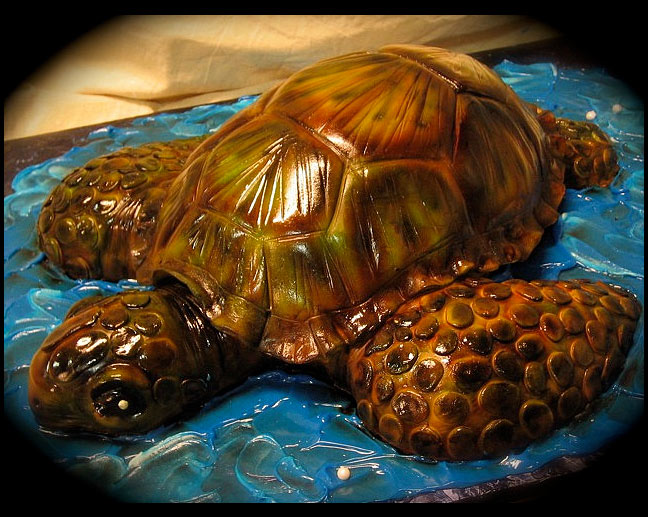 Photo via Debbie Does Cakes
Realistic 3-D sea turtle cake:
Only Debbie Does Cakes could rock this awesome sea turtle into cake life. This little guy was created using fondant and airbrushing to achieve the realistic tones of his shell and scaly textured body.
Suddenly have a slither in your step and a craving to craft a deliciously reptilian creation? Sign up for the Bluprint class Cake-osaurus Rex with Catherine Ruehle. You'll learn how to make an awesome sculpted dinosaur cake, complete with lifelike lizard skin made with corn puff cereal.
Are you loving these reptile cakes? What occasions do you think some of these would be perfect for?