While you're probably familiar with some regional pizzas like Chicago deep dish and New York City's floppy slices, there are even more pizza styles you probably haven't heard of. 
Photo collage, from left clockwise: pizza via Craftsy member jonalisa; tomato pie and Detroit style pizza pie via CakeSpy
Here, we'll introduce you to five regional pizza styles that you should absolutely know.
Study up on these pizza styles to inspire future cooking experiments, or just to offer some great cocktail party banter at your next pizza party. 
1. Bar pizza
Where to find it:
In the Boston area, though typically not in high-end establishments. As the name implies, this is a type of pizza most likely to be found in dimly lit bars. 
What it is:
A humble sort of pizza cooked in a round rimmed pan. The dough is totally saturated in olive oil, so that when it bakes, it absorbs the oil and crisps on the bottom. Typically the toppings are traditional and unfussy — onions, sausage, peppers, etc. 
The backstory:
The reason it's called "bar pizza" is simple to explain: This variety of pizza is typically served in bars. It's just greasy enough to pair perfectly with beer. 
2. Detroit-style pizza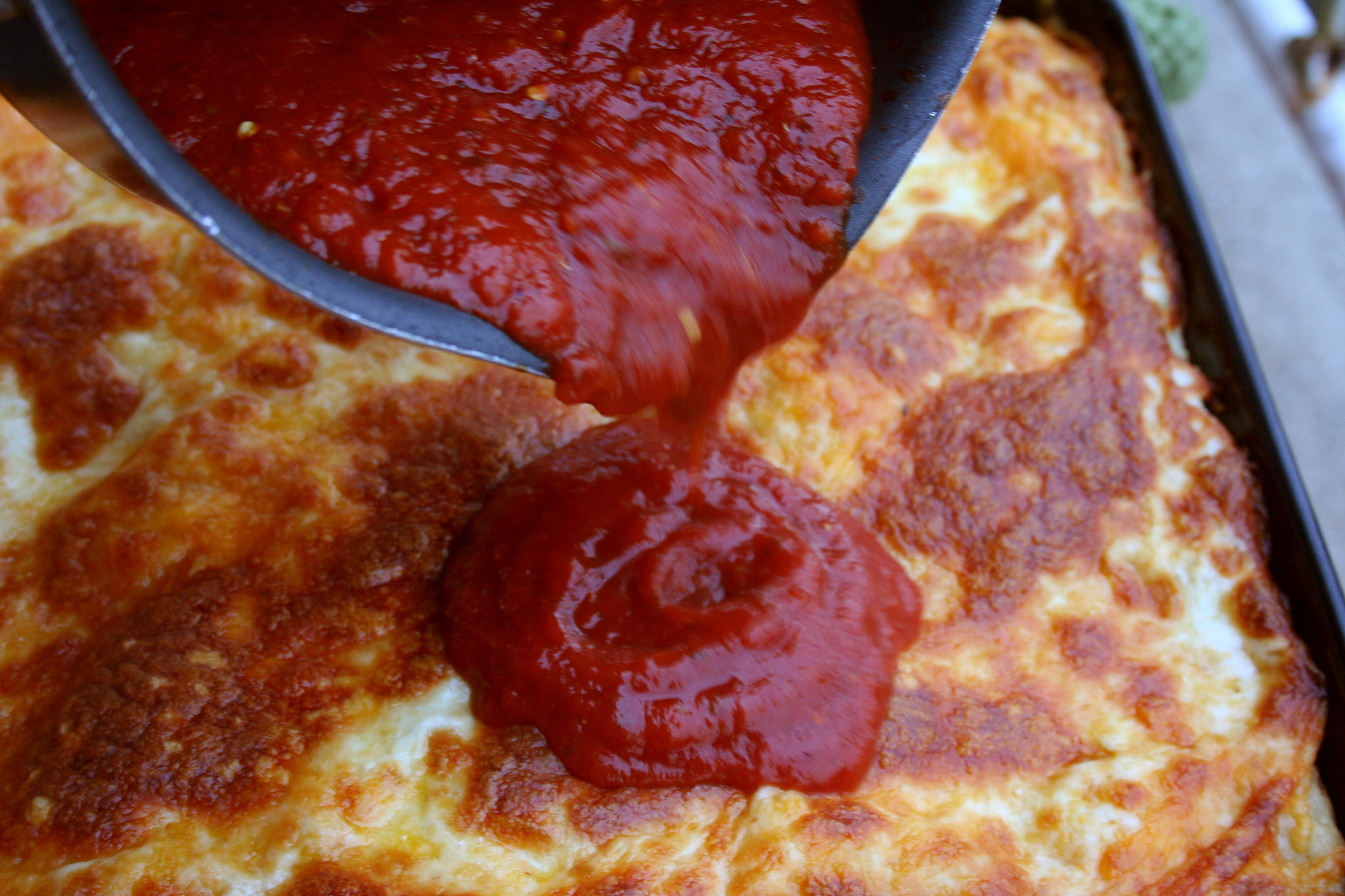 Where to find it:
This style still reigns supreme in the Detroit area, but its popularity is becoming more widespread, with niche Detroit-style pizzerias popping up in cities across the nation. With our easy recipe for Detroit-style pizza, you can also make it in your own kitchen!
What it is:
Almost like a reverse Sicilian pie: It's baked with the cheese below the sauce. The dough is pressed into a well-oiled rectangular or square pan and is baked with cheese all the way to the edges. The combination of the oil and cheese gives the dough a crispy texture and thoroughly delectable flavor. The sauce is warmed separately and poured on top directly before serving.
The backstory:
This saucy pie can be traced back to 1946, at an establishment named Buddy's Rendezvous (later, Buddy's Pizza). As cooks worked there and moved on and opened their own establishments, many of them kept on making the Detroit-style pizza. 
3. New Haven-style pizza
Where to find it:
The original restaurant still serves this type of pizza in New Haven, Connecticut, but has spread in popularity throughout the region.
What it is:
New Haven–style pizza is characterized by its thin crust and distinctive charred edges from being baked in a coal-fired brick oven. But this thin-crusted pizza has some quirks unique to the area. In New Haven, when you order a "plain" pie, it's more like a tomato pie (see below), delivered as a crust with tomato sauce, oregano and a little bit of grated hard cheese (such as pecorino Romano) sprinkled on top. If you want mozzarella, it's considered a topping, and you've got to ask for it. But one of the more famous New Haven toppings is actually not mozzarella, but littleneck clams. 
The backstory:
Also known as "apizza" (pronounced "ah-beetz!"), this kind of pie is said to have originated at the original Frank Pepe Pizzeria Napoletana on Wooster Street in New Haven, Conn. Pepe's also the establishment credited with developing the white clam pie variation.
4. St. Louis-style pizza
Where to find it:
The thin, cracker-like crust and tile-shaped serving style can be found throughout the Midwest, but the Provel cheese on top of pizza is really only found in concentration in Missouri. 
What it is:
This pizza features an unleavened, ultra-thin, cracker-like crust and a topping of Provel — a processed cheese blend of provolone, Swiss and cheddar. St. Louis–style pies are large and cut into numerous square tiles (referred to as tavern- or party-cut). 
The backstory:
While it's hard to say who in St. Louis championed the use of a thin, unleavened crust, a pizzeria called Imo's is credited with developing the famous Provel-topped version. Since they began preparing pizza with Provel in the 1960s, they've expanded to close to 100 locations in the area. 
5. Tomato pie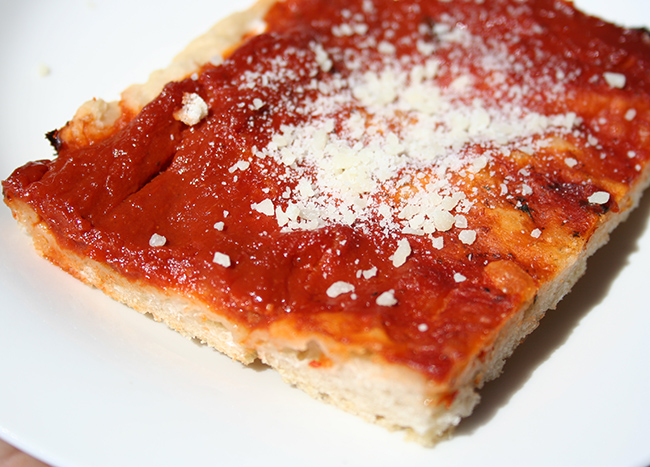 Where to find it:
Tomato pies are available in the greatest concentration in the Philadelphia area and outlying cities in Pennsylvania and New Jersey.
What it is:
Tomato pie resembles a very saucy Sicilian pie with a sprinkling of hard cheese on top. Tomato pies are baked in large, rimmed baking sheets, and feature a fluffy crust generously topped with a tomato sauce (sometimes called "tomato gravy") that's cooked before baking. After the sauce and crust bake, they're topped with Romano or Parmigiano-Reggiano, oil and maybe some Italian spices or garlic powder. Tomato pie is served in square or rectangle slices.
The backstory:
The tomato pie is said to be a descendant of the Sicilian pizza pie (which looks a lot like the tomato pie, but with melty mozzarella on top). It was first made by Italian immigrants in the U.S.; Iannelli's Bakery in South Philadelphia claims to have baked and sold tomato pies since about 1910.