Do you ever find that you have part of a bottle of red wine leftover in the fridge after a dinner party? (Unlikely, but play along.) One of the most fun uses for a bit of extra wine is to turn it into dessert by making this decadent Red Wine Chocolate Cake. Unsurprisingly, red wine and chocolate go together exceptionally well, especially when they are combined into one delicious dessert.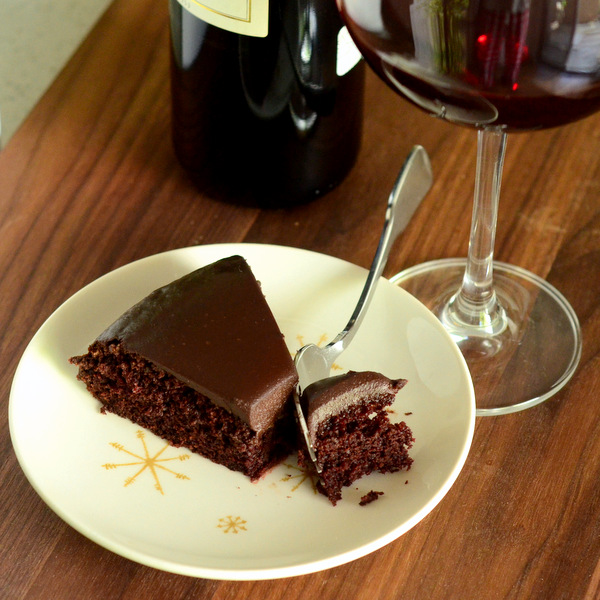 About the red wine cake recipe
The cake base
There are a couple of reasons that it is a good base for a wine cake:
The ingredient list is very simple, which allows the flavor of the wine to really come through.
Wine is acidic, and the original cake recipe calls for adding vinegar to the batter. When making the recipe with wine, the vinegar can be omitted and the cake still rises up very well in the oven.
Complex flavors
When you go to cut yourself a slice, you'll notice that this cake doesn't taste like drinking a glass of red wine. Instead, it tastes like a complex dark chocolate cake with surprisingly strong berry notes and just a hint of wine. The fruity flavors listed on the tasting notes of your wine — whether they are strawberry, blackberry or cherry — really complement the bittersweet cocoa in the recipe, giving the cake a rich flavor. The cake is moist and tender, with a soft crumb that almost melts in your mouth.
Finishing off the cake
I like this cake as a single layer, though you could double the recipe and turn it into a layer cake. I finish the cake by pouring a dark chocolate and red wine ganache over the top (you'll find the recipe below the cake recipe in this post. The ganache is easy to make and comes together in just a couple of minutes. Like the cake, it has a deep dark chocolate flavor and a hint of wine.
What kind of wine should you use? 
The truth is that you can use any red wine. I used a pinot noir in this particular cake. The earthy, berry notes in the pinot already remind me of chocolate — and I just so happened to have a bottle on hand. Merlot, cabernet sauvignon, shiraz and zinfandel are just some examples of red wines that will make a beautiful cake. You might get a bit more flavor from a fuller bodied wine, but you can't go wrong with any of them.
Red Wine Chocolate Cake
Makes one cake; serves nine people.
Ingredients:
1 1/2 cups all-purpose flour
1 cup sugar
1/4 cup unsweetened cocoa powder
1 teaspoon baking soda
1/4 teaspoon salt
1/4 cup vegetable oil
1 teaspoon vanilla extract
1 cup red wine, room temperature
Step 1:
Preheat oven to 350 F. Lightly grease an 8- or 9-inch springform pan and dust it with cocoa powder.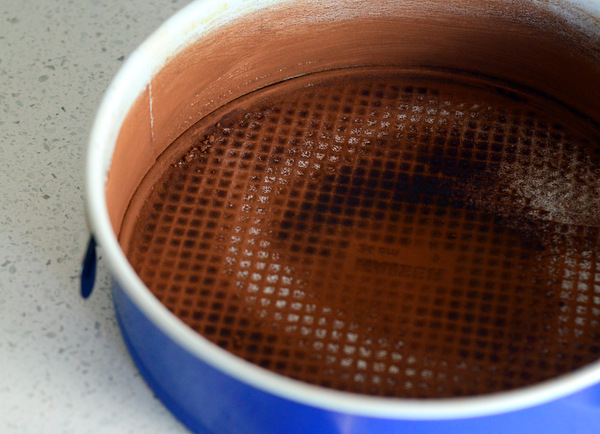 Step 2:
In a large bowl, sift together flour and cocoa powder.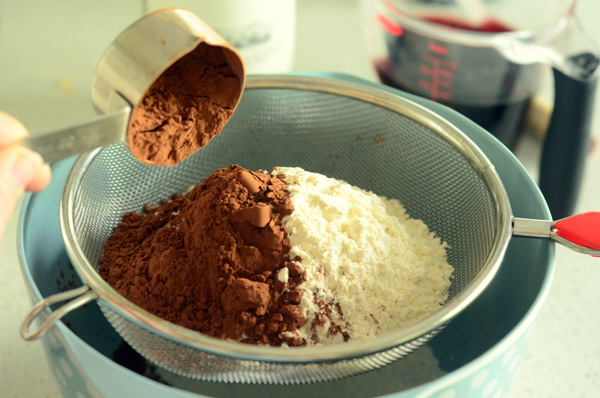 Stir in sugar, baking soda and salt. Pour in vegetable oil, vanilla extract and red wine and whisk until batter is smooth and no streaks of dry ingredients remain visible. Pour into prepared pan.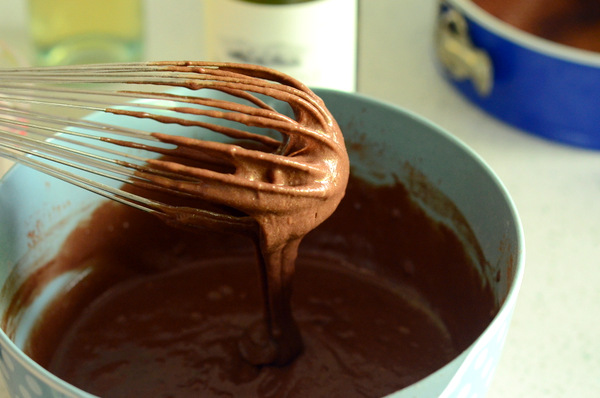 Step 3:
Bake for 25-30 minutes (an 8-inch pan may take 30-35 minutes), until the cake is set and a toothpick inserted into the center comes out clean or with only a few moist crumbs attached. Allow cake to cool completely in the pan before frosting with Dark Chocolate Wine Ganache.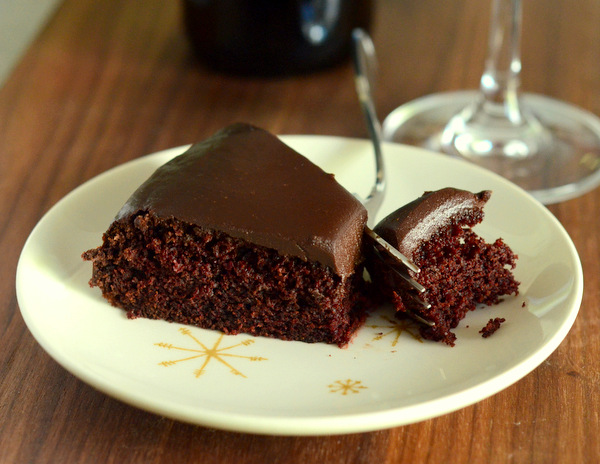 This wine-infused ganache is an elegant way to finish off your wine-infused cake. The ganache will be fairly fluid after you first make it. Allow it to cool and thicken slightly before pouring it over your cooled cake. You want the ganache to be thin enough to pour but thick enough that it doesn't run off the sides of the cake. The ganache will continue to set after it is poured onto the cake, so give it at least 1-2 hours before slicing.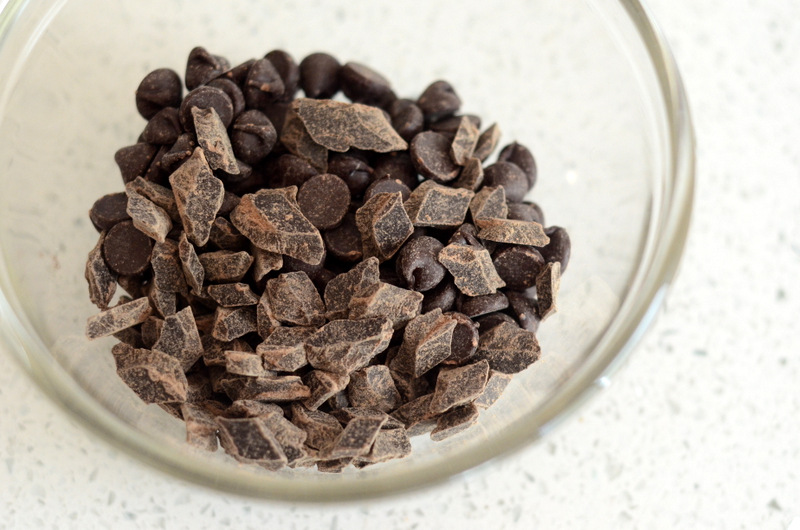 Use a dark chocolate that is 55 to 65 percent cacao for best results. You could also use high-quality semisweet chocolate chips (which are dark chocolate). Since there is no added sugar in the ganache, you don't want to use a chocolate that is so dark it will overpower the flavor of the cake. 
Dark Chocolate Red Wine Ganache
Makes about 1 1/4 cups
Ingredients
6 ounces heavy cream
8 ounces dark chocolate, chopped
2 ounces red wine
Step 1:
In a small saucepan, bring cream to a simmer. 
Step 2: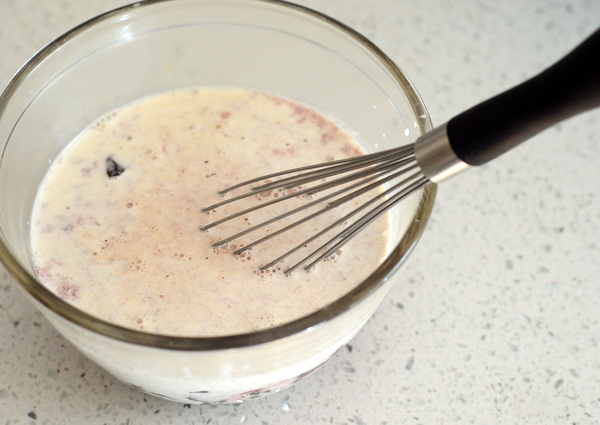 In a medium bowl, combine chocolate and red wine. Pour simmering cream over the chocolate mixture and allow it to sit for 1 minute. Slowly stir the chocolate mixture with a whisk or spatula until the ganache becomes uniformly smooth and no chunks of chocolate remain.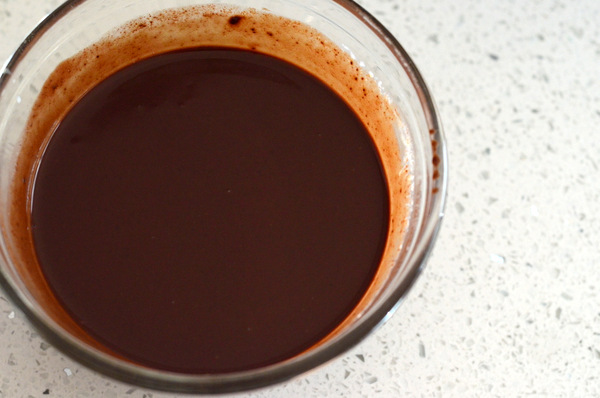 Step 3:
Allow ganache to cool and thicken for at least 20 minutes. The ganache should be thick enough to pour, but not so fluid that it pools around the sides of the cake. Pour ganache onto the cake and spread as needed with an offset spatula. Allow ganache to set before slicing and serving.