One fact about us artists: We practice a lot! And because we practice so much, we accumulate lots of extras, lots of practice pieces. In my years as a watercolor artist, I have been tempted to just throw these practice pieces away. But why not turn them into an entirely new works of art? Why not re-purpose theses watercolors?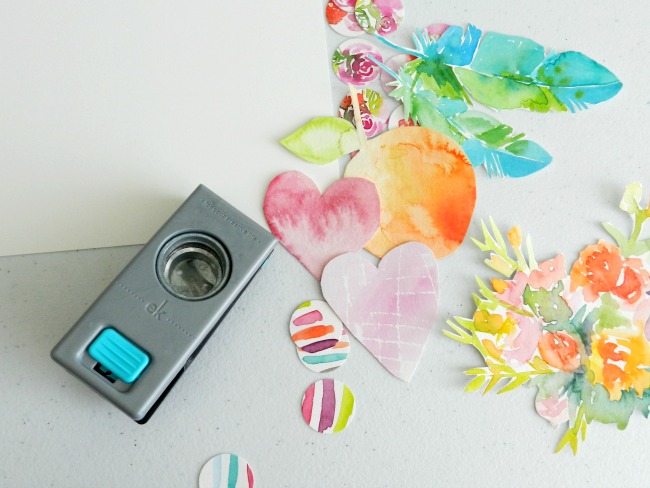 Photos via Grow Creative Blog
Ready to recycle your old watercolor practice paintings? Here are a few creative ideas.
1. Watercolor gift tags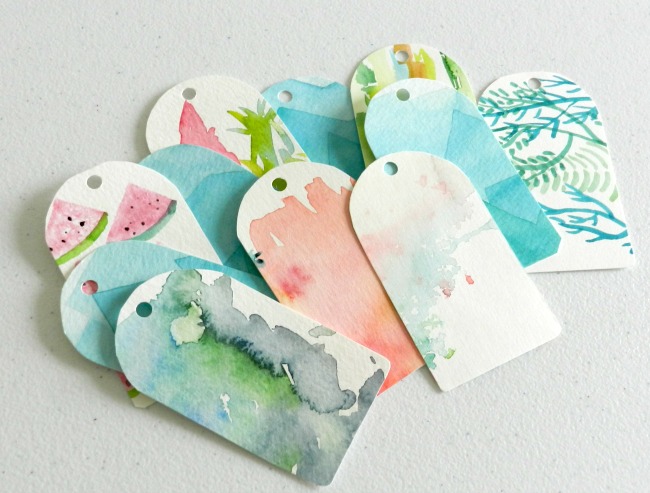 Add an artistic touch to your gifts. Cut out gift tags from your practice pieces, punch a hole at the top and tie some string through it.
If you have a special paper punch to cut out the gift tags, then use it! If not, don't worry. You can find templates online or even trace a gift tag that you already have, then cut them out by hand with scissors.
2. Watercolor garland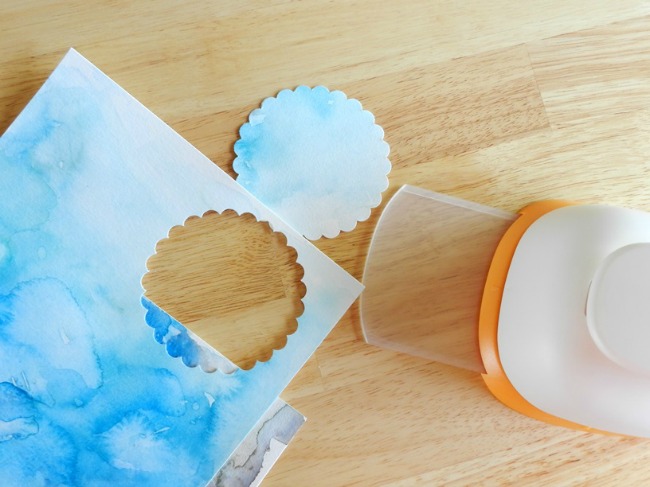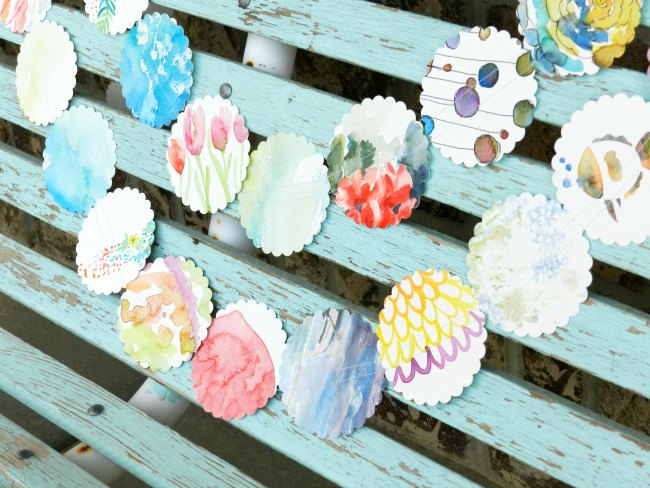 Make a colorful wall decoration by cutting out shapes in your watercolor practice paintings and stringing them together as a garland. I used a large flower paper punch, lined up the cut-outs next to each other and fed them through my sewing machine to bind them together. I sewed two lines through all of them. This works beautifully!
3. Watercolor board collage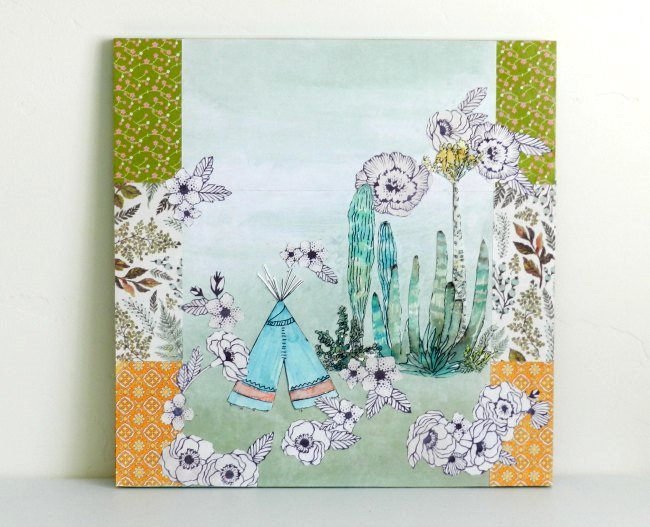 If you like certain elements from a painting but don't love the rest of the work, cut out the elements that you like and use them to create an entirely new work of art! You can combine your watercolor cut-outs with some fun scrapbook paper and then glue them to a wooden board using modge podge. This is such a fun way to re-imagine your artwork — have fun with it!
4. Watercolor bookmarks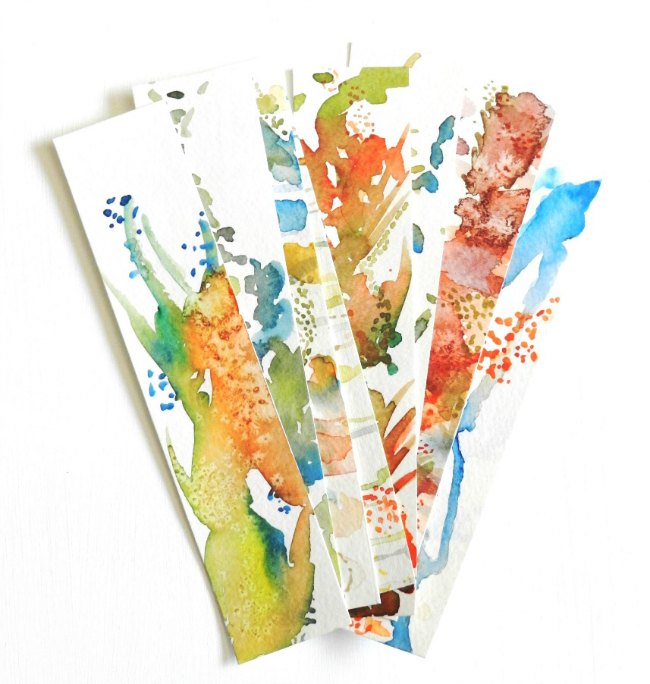 This project is best made with extra abstract watercolor paintings. 
If you have some abstract experiments or watercolor washes lying around, cut them into long uniform strips that are around 7″ to 8″ long and 1½" to 2″ wide. They make the most perfect bookmarks! You can sign the back and then laminate for extra durability.
5. Watercolor butterfly art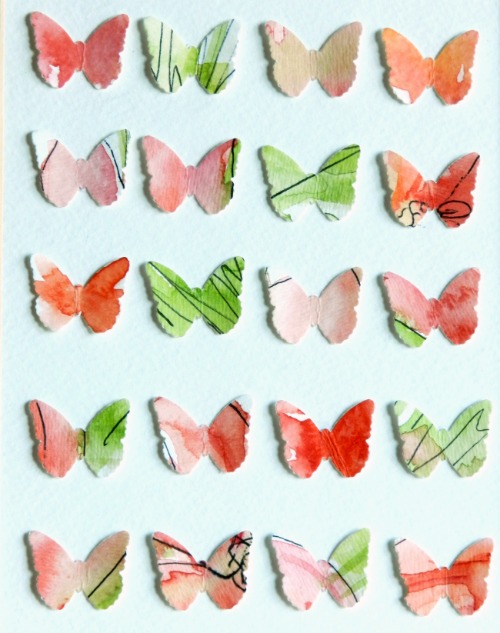 If one of your watercolor paintings doesn't work out, don't throw it away! Turn it into a new work of art with the help of a butterfly paper punch or this free printable template. Cut out butterfly shapes from a watercolor painting with a paper punch. Then line up the butterflies in rows on a clean sheet of watercolor paper. Use glue or adhesive dots to attach them to the paper.
6. Watercolor cut-out cards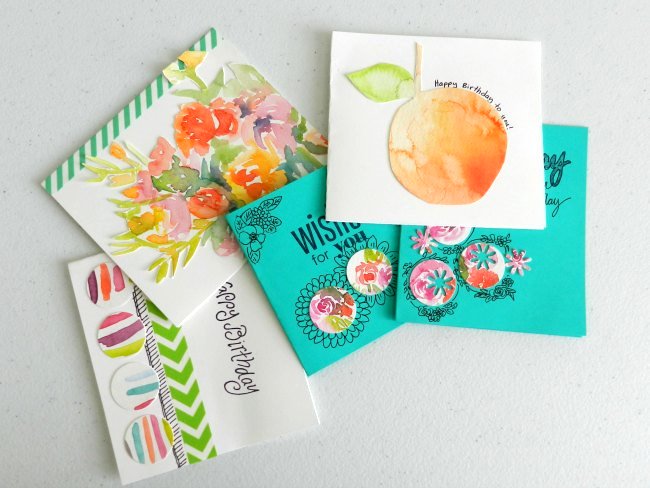 Don't let all those beautiful colors and interesting textures of your practice pieces go to waste! Cut out small shapes and use them as decorative pieces for birthday and thank you cards.  Add some ink doodles, stamped messages and washi tape, and you are good to go!
7. Watercolor clip art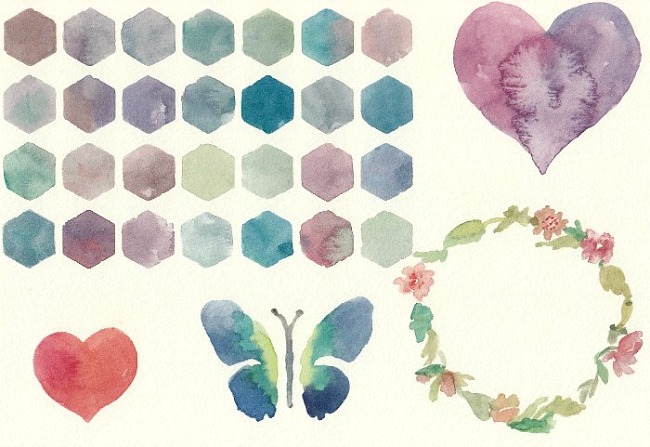 Practice washes and small practice pieces can easily be turned into digital clip art. Actually, you can do this with any of your watercolor pieces, not just your practice pieces. Scan your work at 300 dpi or higher as a png file. Then crop the white space to make a small clip art file. You can use these later on on cards or logos.
8. Watercolor heart collage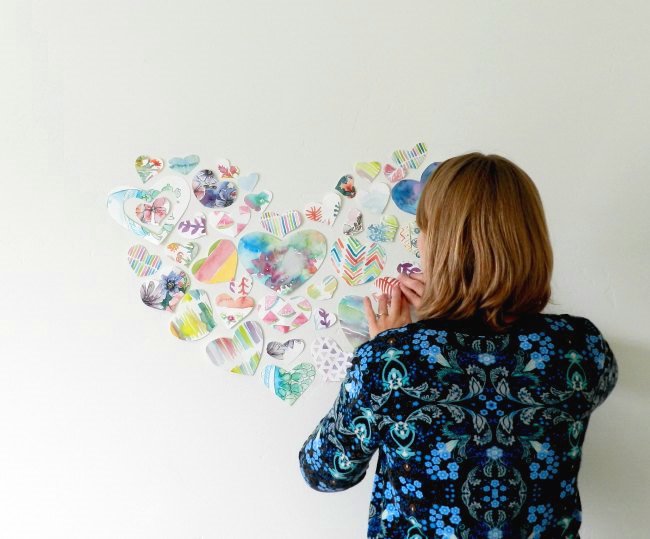 This is a good project for Valentine's Day! Cut your old paintings into heart shapes and arrange the cut-outs in a heart-shaped-cluster on your wall. Use sticky putty to attach them to the wall.  Now you have some unique Valentine's decor! Of course, you could choose a different shape and arrangement for a different holiday. How about holly leaves for Christmas and pumpkins for Halloween?
Pin this post to save it for later!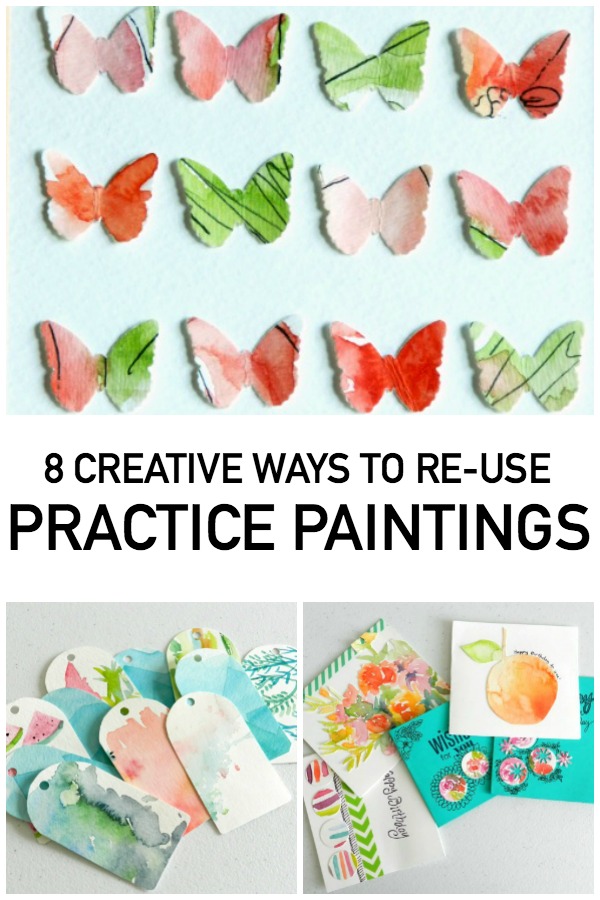 Wow With Watercolors!
Learn how to paint your best watercolor works.Download the FREE Guide