Busy weeknights are a struggle for everyone. Managing to get dinner on the table and deal with clean-up after is time consuming, to say the least! These one-skillet dinner recipes with rice take minimal prep work, are ready in about 20 minutes and best of all, you only end up with one dirty skillet to wash!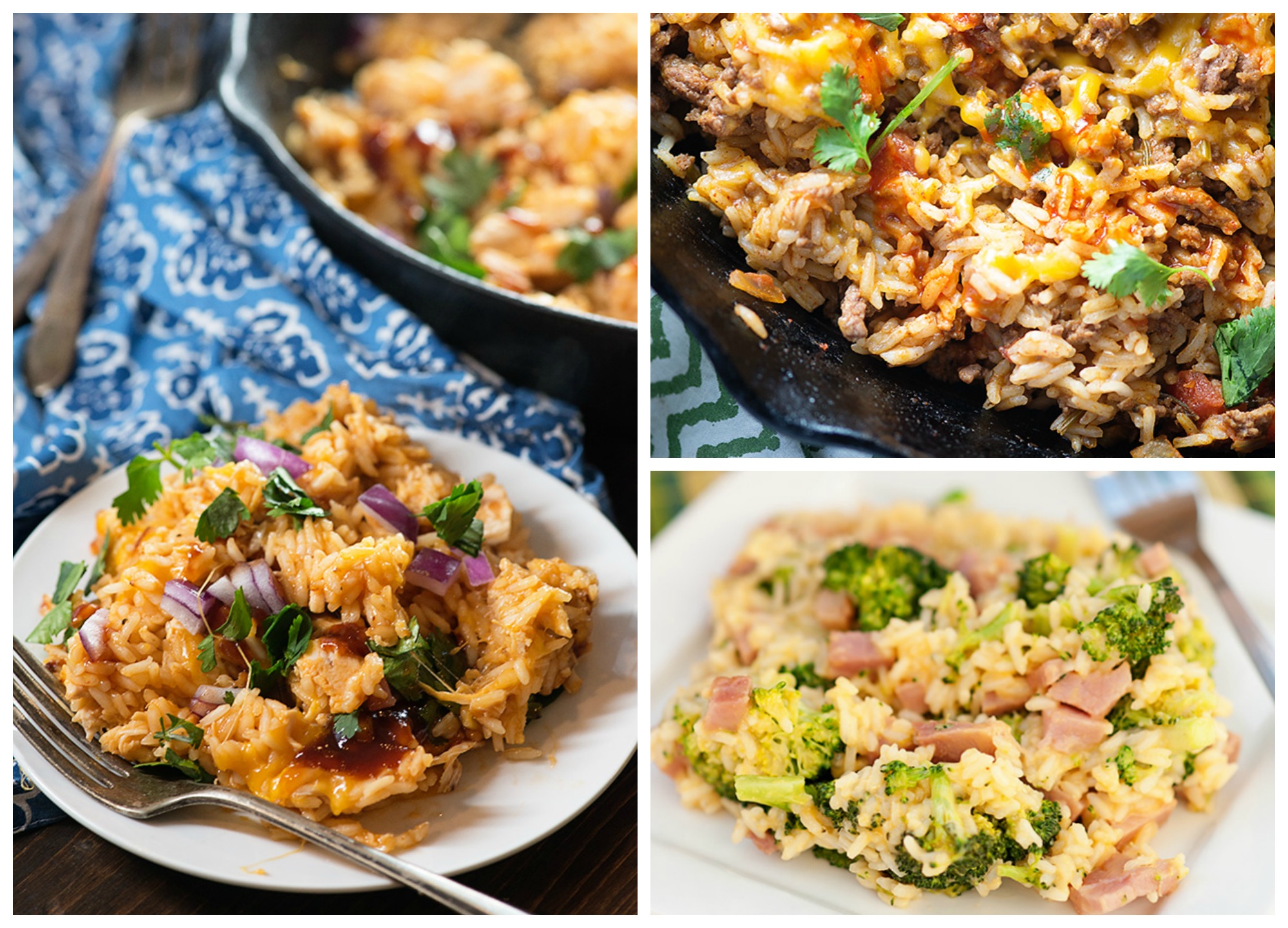 Even the "rice challenged" can cook these simple dinners!
I hear so often that cooking rice can be difficult for people. People resort to quick-cooking minute rice in lieu of making it on the stove top because it's faster and easier. The thing is, homemade rice tastes better and it's really quite simple. Here's our complete guide to cooking rice.
Plus, these one-skillet dinners take all the guess work out of cooking rice. You can't go wrong here! 
Why choose rice?
First, it's such an inexpensive and filling grain! I like to sneak a bit of rice into my ground beef anytime I make tacos. It helps stretch the meat, which means I don't have to cook an extra pound of beef just so we're not fighting over the last taco! 
Of course, sneaking it into other foods and serving it plain is nice, but let's fancy that rice up with these one-skillet dinners!
Learn more about rice and other healthy grains with our FREE mini class!
Check out these three recipes with rice for fast, easy, mess-free dinners!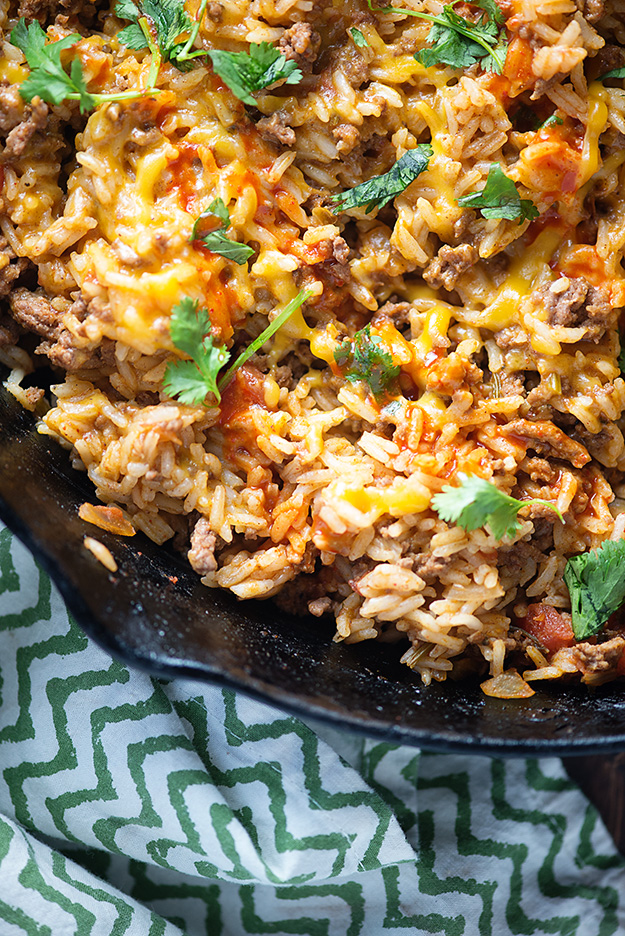 One-skillet taco rice recipe 
We love Mexican food in our house — I would have Taco Tuesday every night of the week if I could get away with it! This spin on a classic taco keeps dinner time interesting and easy. Best of all, the whole dish is ready in less than 30 minutes. 
Ingredients: 
1 pound ground beef
1 packet taco seasoning
1 cup white rice
2 cups water
1 cup salsa
1 cup cheddar cheese
Cilantro and hot sauce, for serving
Step 1: 
Brown the ground beef in a 12-inch skillet over medium heat. Drain the grease and stir in the taco seasoning, rice, water and salsa. 
Step 2: 
Bring to a boil, cover and cook on low for 20 minutes or until the liquid has been absorbed. Stir well and sprinkle on cheese and cilantro. Drizzle with hot sauce and serve
It doesn't get much easier than this 30 minute, one dish dinner, does it? You can add some sliced avocado on top for an extra boost of goodness or wrap it all up in a tortilla for an easy burrito filling!
BBQ chicken pizza rice skillet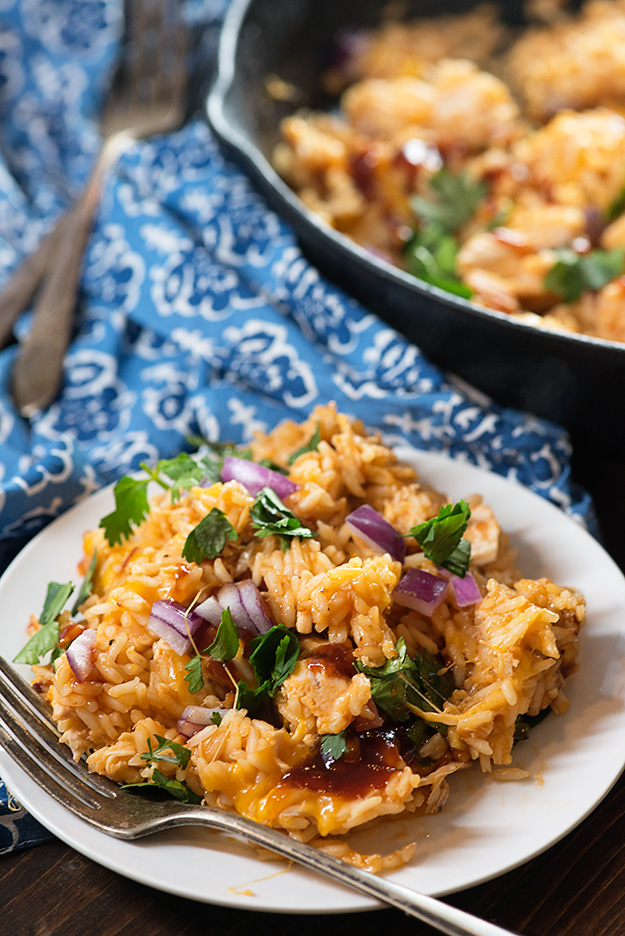 I recently made this BBQ Chicken Pizza Rice Skillet on a busy weeknight and my kids went crazy for it! The juicy chicken, sweet barbecue sauce and rice all paired together so nicely. You'll notice that it follows that same method above — some meat, a cup of rice, two cups of water and extra seasonings.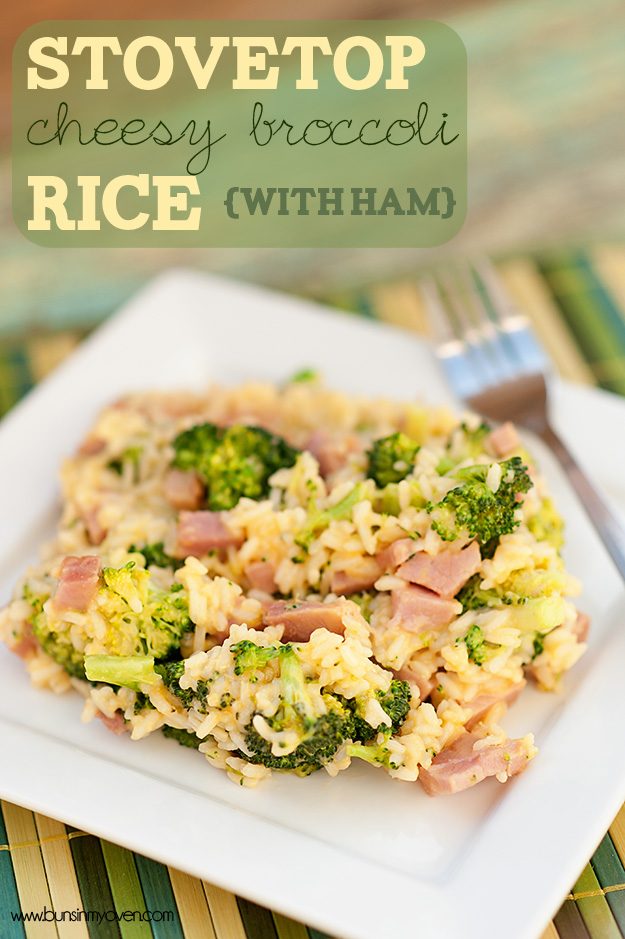 If you're looking for a few veggies in your rice dinner, this cheesy rice with broccoli and ham is the way to go! It's super cheesy, which means that even the kids will love this broccoli dish. It cooks up in no time and is a great way to use up any leftover ham you might have lurking in the fridge.
I hope you enjoy these recipes for rice as much as my family does! Between the bold flavors and the easy clean up, I think you'll be adding skillet dinner recipes with rice to your menu week after week.