If you've dabbled in the world of food photography you know there are many different methods in how to capture a recipe through photos. Even if you've never picked up a camera but are a food-blog lover, you probably have noticed some of the methods your favorite food photographers use.
Today we're going to look at my recipe photography method for capturing the steps of creating a meal!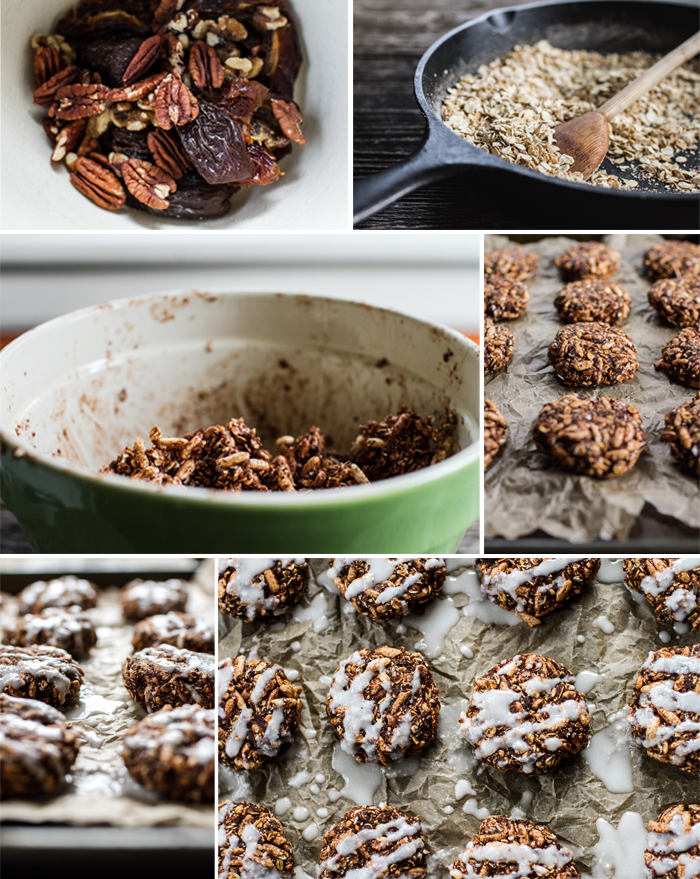 Photos via Edible Perspective
Some of the food photography techniques you may be familiar with and that are most common:
Taking just 1 single shot of the completed recipe
2-4 final shots of the completed recipe
Step-by-step photos capturing each part of the recipe
A mix of process shots and final shots
If you take a look at the collages I've provided, I think it's easy to see that I fall into the last category in this list. I like to share a combination of process shots and photos of the final recipe. I feel this is helpful to the reader in guiding them through creating my recipes in their own kitchen while also providing a visual story.
How do you decide when a photo should be taken?
I look for moments throughout the recipe creation process that may present dual opportunities for both beauty and guidance. I also try to capture the evolution of each recipe from start to finish. I typically work from a beginning to end process. This is most evident in the cake photos you'll see just below, but I think it's easy to see in all of the examples.
Now, let's check out my thought process when capturing these recipes.
For the first collage we have No-Bake Chocolate Granola Cookies. This recipe is extremely simple but there were still moments during the process of creating the recipe that I wanted to share.
In this post I was reviewing Izy's new cookbook, Top With Cinnamon, and this was the recipe I chose to make. She used almonds in her cookies but I only had pecans and walnuts on hand. While I stated this substitution in the directions I thought it might be good to show a photo of the nuts I decided to use. I also liked the look of the contrast between the nuts and dates which were two of the main ingredients.
This was the first time I had ever toasted oats in a dry skillet, so I thought it might be helpful to show what the end result looked like. With these first two photos I was also trying to show the simple ingredients included in this recipe.
The next two shots display the texture of the dough and what the cookies look like after forming. This can be helpful for readers to know if they're on the right track as they're making the recipe.
Last but not least, the final shots. I try to capture the end result of the recipe a few different ways. i.e.,: different angles, zoomed in, zoomed out, broken open or bitten into to show texture, etc. These are the images that sell the reader on your recipe!
Next, let's check out the Chocolate Chip Zucchini Cake below (side note: The best gluten-free cake I've ever made).
For the first photo, I wanted to show the readers what a greased and floured pan looks like in case this was something they had never done before. Cropping this photo in tightly, centering on the flute of the pan, and shooting with shallow depth of field brought interest to an otherwise uninteresting object. This photo also gave a visual checkpoint for readers to refer to.
The next photo provided contrast between the zucchini and chocolate chips and showed how fresh and vibrant the zucchini was. It also helped the reader understand these ingredients should be mixed in last. Using a shallow depth of field adds a bit of creaminess to the photo that creates visual appeal.
The next few photos were meant to show how the cake looks when after baking, what the consistency of the cream cheese frosting looks like, and a peak into a slice of cake to show just how tender and moist it was.
You'll see I followed the same general idea for the Tuscan Kale and White Bean Spaghetti Squash Lasagna Bake at the bottom of this post as well. There are many different squash varieties available, so I wanted to make sure my readers knew exactly which I used. I then showed the main steps of cutting the squash, scraping the spaghetti-like strands, cooking the filling, an then baking it and adding breadcrumbs at the end.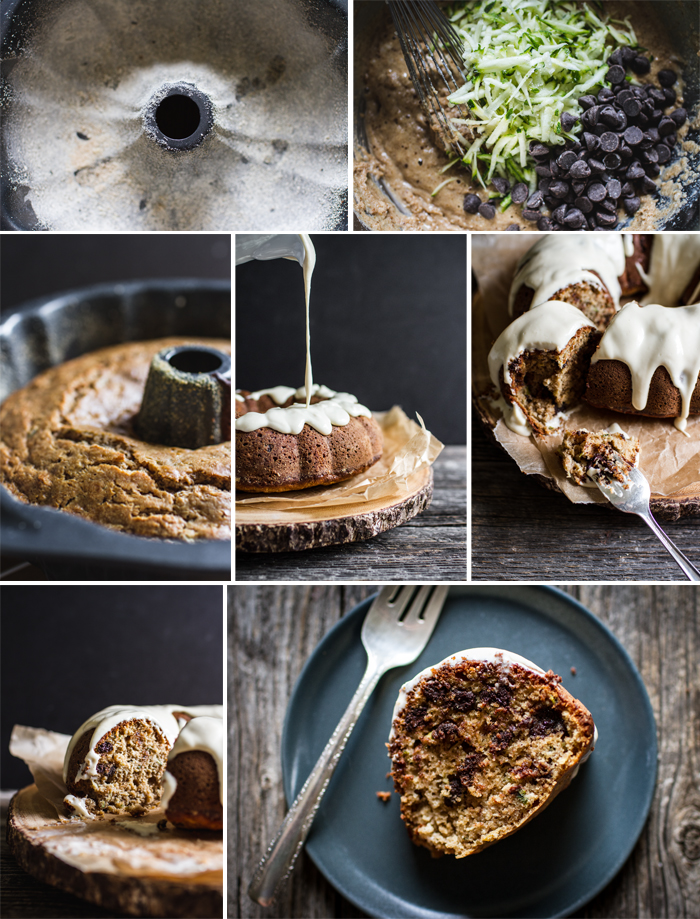 Now, let's say you want to show the reader a bit of action in your photos. Sounds intimidating, but I have a few tips to help you out.
How to capture action in a photo?
There are a few different ways of creating action in a photo. Each of these photo sets shows some type of action, but I don't always consider action to be movement.
Stagnant action – When capturing process shots I sometimes like to show a pan shot with a wooden spoon (or spatula, fork, whisk, etc.) I was using to cook said recipe. This shows that the mixture at one point was being stirred. You don't have to show an actual stir shot to make readers understand when something needs to be stirred. You can see this with the spoon in the pan of oats, the whisk in the cake batter, and the spoon in the pan of greens below.
Moving action – This is when you want to capture actual movement in the photo. Maybe you want to capture a pour shot, or sprinkle powdered sugar over something, or steam coming out of a mug. To do this I always suggest using a tripod with a remote shutter attached to the camera. This will let you pour said ingredient without also trying to manage your camera with your other hand at the same time.
A few helpful tips when capturing movement:
Shutter speed is what will determine how sharp or blurred your movement is. The faster the shutter speed setting the more detailed and sharp the movement will be. The setting you'll need will depend on what you're pouring and what look you're going for. A drink will pour much faster than the thick frosting you see above, so it would take a much faster shutter speed to get a crisp shot.
Stage the shot and take a few test shots before trying to capture the movement. Make sure you have it just right. Also make sure you pour exactly (or as close as possible) to where you've set your focus.
I always suggest using a tripod with a remote shutter attached to the camera. Even though you're shooting with a high shutter speed and less of a chance for an out of focus image, a tripod definitely helps to make this type of shot easier. There is less to manage and you can pay more attention to the shot, rather than a balancing act. Connecting a remote shutter will allow you to pour the ingredient while standing by the food instead of reaching to hit the camera shutter on the tripod with one hand, while trying to pour with the other.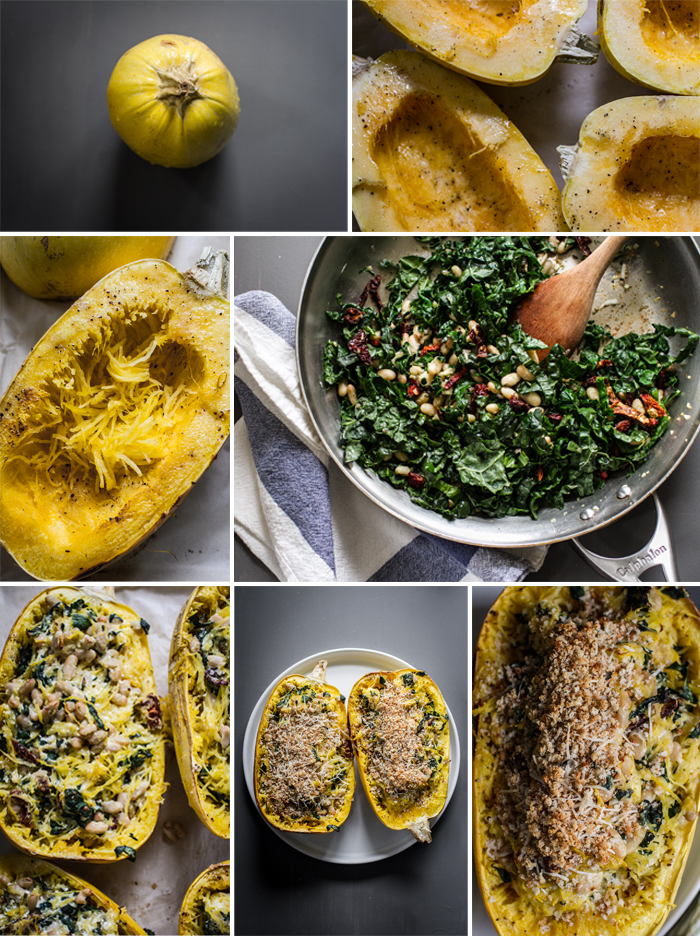 Hopefully this has helped you learn a little more about the process I use when capturing the steps of creating a recipe.
Hungry to learn more about food photography?
Learn to prep and prop mouthwatering images with Craftsy's newest online class, Food Photography: From Plate to Photo! Discover trade secrets to style an array of dishes, from soup and salad to an iconic tabletop scene. Sign me up! >>
What certain method do you lean towards with your own food photography?