What better way to celebrate the flourishing produce currently filling home gardens and farmers market than to whip up some of your very own pickled veggies? This foolproof recipe for pickled peppers is not only delicious but also makes for great way to make use of the best of fall's bounty all season long.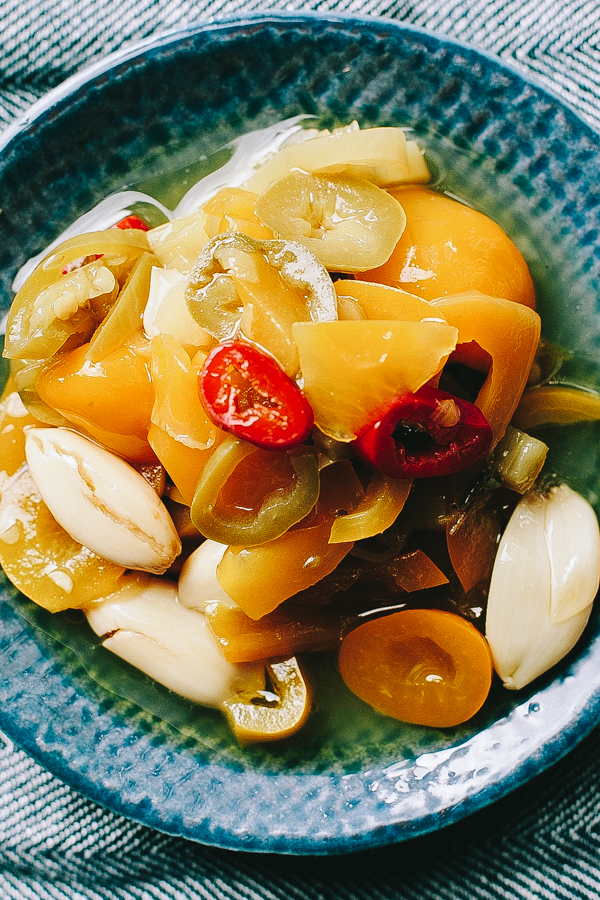 I've attempted to meal plan when it seemed that was the thing to do but I found myself feeling stifled and not actually craving the meal I had planned when it was time to eat it. So needless to say the planning didn't last long. Instead I focused on cooking the way that inspires and makes sense to me.
With a stocked pantry and a fridge full of fresh produce, I feel almost invincible, if feeling invincible means I have hundreds of meal options at my fingertips. On hand I always have a varied supply of beans, grains, pasta, oils, vinegars, mustards, sauces (soy, hot, chili garlic, etc.) and pickled peppers. Seriously, they are a staple in this family.
It wasn't that long ago that our fridge sat empty of the sweet, tangy and spicy peppers. Somewhere along my food-loving journey I was introduced to Mama Lil's pickled peppers and then everything changed. They're hot but not too much so. Their acidity matches the heat and then the sweetness sweeps in and tames in all. There's a good bit of oil in there too that sort of mutes it all and blends it together beautifully while giving them a soft bite, somehow smooth and less jarring than other pickled things.
We love them so much that they made their way into our breakfast eggs, our lunch sandwiches and our dinner pizzas. And our fridge was never the same.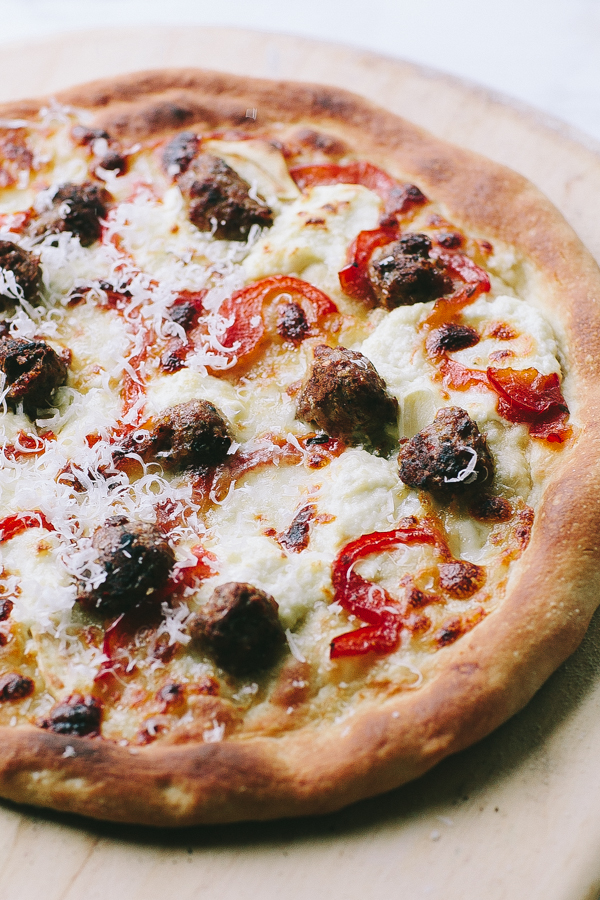 After a certain bit of time I realized that perhaps it's possible that I could make a batch myself and thus the recipe below was born. It's from my upcoming cookbook, fittingly tucked away in the pantry section.
It's quite simple, really. Only a few ingredients to seek out with peppers of course being the star. You get to choose the amount of heat here. I usually go for those elongated Italian peppers but these days there is quite the assortment in season. To those sweet Italian peppers I'll throw in a habanero or a red chile pepper for heat. The choice is yours. And for those of us who need pickled jalapeños on our tacos, burritos and nachos, this recipe works well for those too.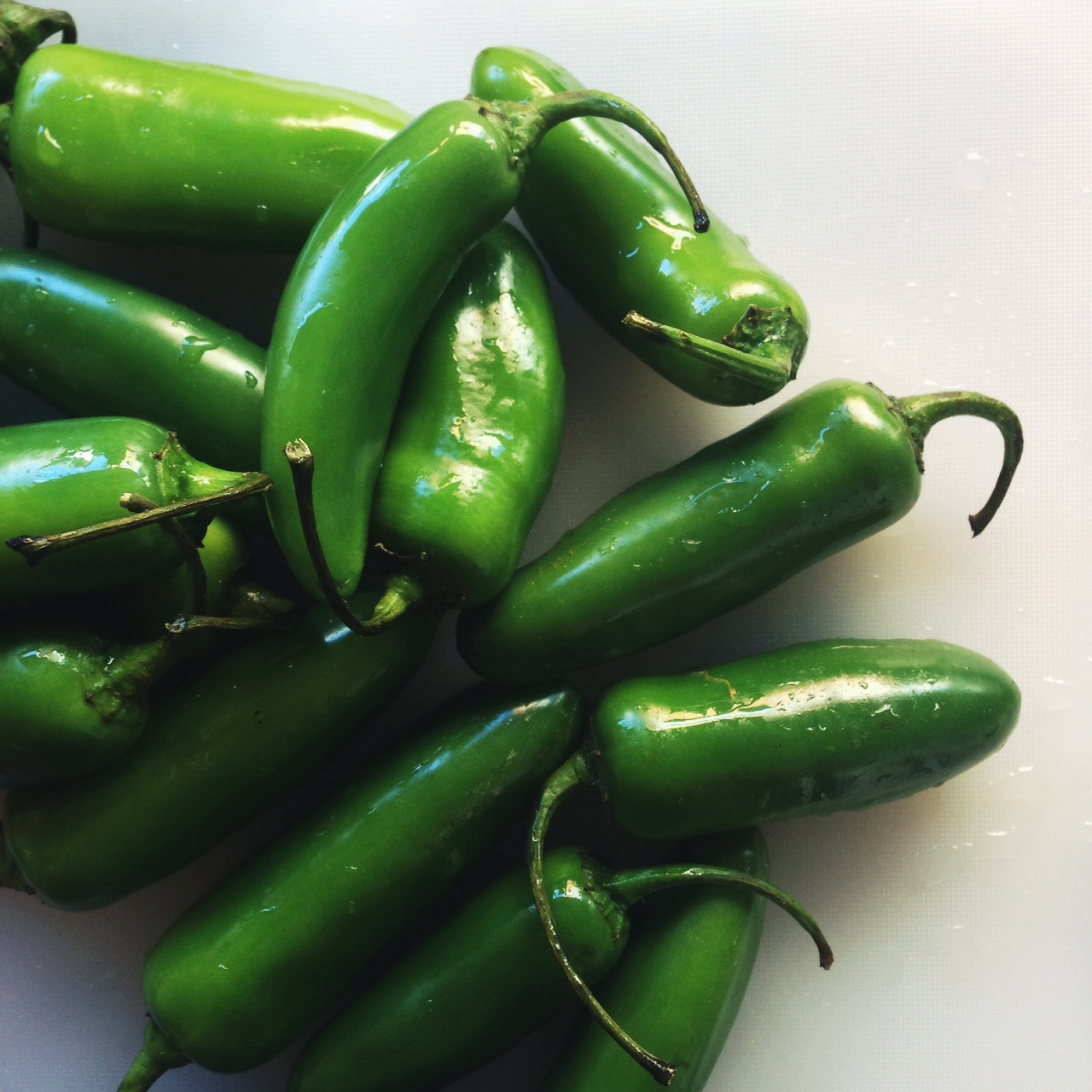 Recipe for pickled peppers
From Date Night In: More than 120 Recipes to Nourish Your Relationship, Running Press 2015
Yields 1 cup
Ingredients:
1 cup apple cider vinegar
1 teaspoon/15 g kosher salt
2 tablespoons dark brown sugar
1/2 teaspoon dried oregano
3 garlic cloves, peeled
1 red chile, sliced into thin rounds
1/4 cup extra-virgin olive oil
8 ounces/ 230 g Italian roasting peppers or colorful mini peppers, sliced into 1/4-inch rounds
Directions:
In a medium saucepan over medium heat, combine vinegar, salt, brown sugar, oregano, garlic cloves, red chile and olive oil and bring to a simmer. Add sliced peppers and simmer for 15 minutes, until the peppers are tender and flush with the pickling liquid.
Cool to room temperature in the saucepan.
Transfer cooled peppers into a jar and pour the liquid on top.
Refrigerate. These will keep in the refrigerator for 1 month.
Make a few pints of these and tuck them away for Holiday gifts. Include a few recipes along with the jar giving people ideas on how to use these peppers.
Looking for tips on canning and preserving? gifts from the kitchen? Learn how to make your own jams and jellies with Rachel Saunders in the online class Jam & Marmalade: The Blue Chair Way class.