In previous posts on illustrating for fashion design that detailed drawing the fashion figure and drawing movement, we talked about the basics of the 10-head stylized figure method that designers are generally taught in fashion school, how to draw quick poses and how to draw your own clothing ideas onto these figures. Today we will build up on that information by applying it to fashion sketching with realistic proportions.
Follow along as we draw and dress a realistic fashion illustration.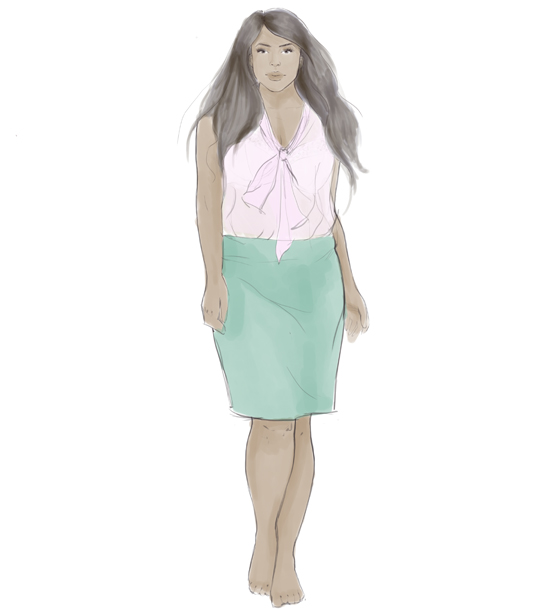 Step 1: Basic structure
To draw the unstylized body, we want to stick to the average 7 1/2 heads. Sometimes, bodies can have proportions of an even lower amount, like 6 1/2 to 7 heads when it comes to petite figures. Keep in mind that all bodies are different and these are simple generalizations. If you are designing clothes for yourself or someone in particular, you can use a full body photograph to draw that body type.
Draw a vertical line to determine the body's axis. This is where the weight of the body is resting. In the case of this pose, the weight distribution is perfectly centered and rests predominantly on the right one leg, while the left one is slightly bent. Use circles to indicate major joints, and lines for the basic frame of the pose.
Step 2: Finding the shapes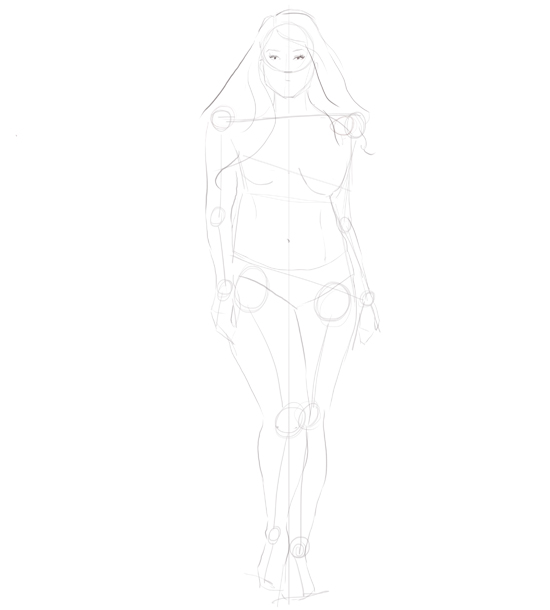 Draw the basic outline of the body. Find the silhouette of the torso, legs and arms by drawing around the wireframe we drew earlier and using it as guide. Once you finish drawing the body, erase all the foundation lines and circles.
Step 3: Refining details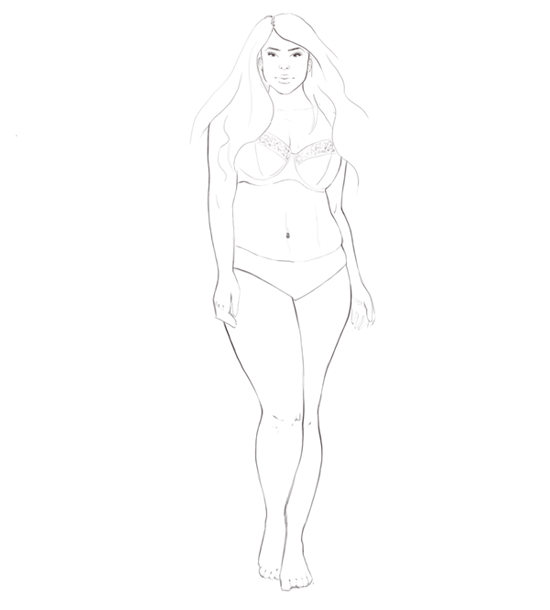 Refine the drawing as much or as little as you like. Usually, for fashion design, you want to get the body drawing done as quickly as possible so that you can get to the more important part, which is drawing the idea for the clothes that you have in mind.
This is why some designers prefer a less detailed sketch, while others like drawing elements like the face, hair, hands, etc. This is purely a personal stylistic choice so use it to define your own style and have fun. What some people also like to do is draw their model undressed and either trace or photocopy that drawing every time they want to draw new designs. This helps designers save some time during the sketching process.
Step 4: Design clothes
Now that you have your drawing ready, we can start drawing some pretty clothes! This is were you let your creativity flow and come up with all those great garments you wish to make or own!