Machine embroidered appliqué is a very hot topic in today's embroidery world. So this week lets look at some new ideas for lending a vintage feel to a traditional appliqué design you would normally use with printed cotton fabric.
All of the designs shown in this post are from the Nashville Lace Embroidery Collection and are embroidered on a single needle embroidery machine that didn't have a video camera for perfect placement. If you don't have a machine that has the capability to perfectly position an embroidery design, you can use a injet printable template material made specifically for machine embroidery.
Materials
Nashville Lace Embroidery Collection
Blue jeans or blue jean jacket
Scraps of lace
Sticky tear away stabilizer
Template tear away design placement paper
Embroidery thread: gold or silver metallic, rayon or poly thread to match lace
Needles: 75 embroidery, 90 metallic
Sharp curved scissors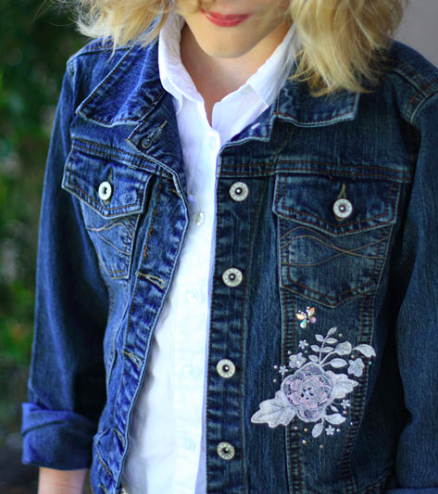 Preparation
Rip open an inseam of one leg of a pair of blue jeans or Capri's. I ripped it open from the hem to 1″ away from the crotch area.
Using an embroidery software program print the design template, with the vertical and horizontal placement lines showing, on template tearaway design placment paper and cut away excess paper that is outside of the printed box. Using a permanent marker, mark the top of the design with a "T". Remove the release paper off the back of the template and finger press it to the open leg on the jeans.
Hint: If you own a multi-needle machine with special free arm hoops, you won't need to rip the jean seams! To find out more, check out the post "Which Type of Embroidery Machine Is Best For You?"
This is what the design looks like when embroidered using a cotton tulle or netting fabric. It is very pretty, but doesn't necessarily have a vintage feel.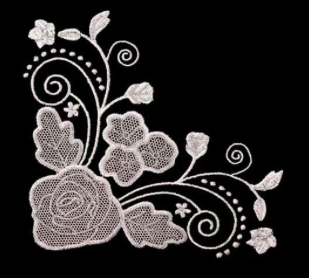 Photo courtesy of Hope Yoder
You might be wondering what type of lace to use. I'd suggest an old lace tablecloth, old lace curtains, lace fabric by the yard or wide insertion lace. Below are a few pictures of good choices to achieve the vintage look. You are only limited by your imagination. You may find some these things in your stash. If not try Goodwill or your local thrift shots or perhaps a good yard or estate sale.
Hint: If you have lace but it's too white and you want to antique, there are number of ways to achieve an old vintage look. One thing to keep in mind is permanency. Typical "tea dying" is perfectly fine if you don't plan to wash the garment, which of course isn't the case for a pair of jeans. My favorite method for antique dying laces and trims is using potassium permanganate. This is a chemical crystal used to treat water softners, gardening ponds and to treat fish diseases and works great with natural fiber fabrics such as silk, cotton and rayon. You can buy it at most pond and gardening supply stores and a little goes a long way, so buy the least amount possible.
Potassium Permanganate Dying Technique:
Wet the lace
Wear gloves, protect your work area (it will dye counters and porcelain sinks with scratches, making it a great project to do outside by a hose bib with a plastic bucket and a pair of latex gloves).
Mix ½-1 tsp tsp of crystals with ½-1 gallon of water and stir until crystals are dissolved. Have another bucket of plain water.
Immerse the lace in the dye bath and leave until it is 2-3 shades darker than you want as it will dryer 2-3 lighter than it appears when wet. Rinse with plain water and let dry.
Over dyeing: If you want more debth, mix ¼ tsp of crystals with 1-2 cups of water and dip edges of lace into dye bath. Think of this in the same way a lady would "low light" her hair.
Rinse the dyed fabric dry completely before using.

Embroidery Step 1
Hoop sticky stabilizer and score paper to reveal the sticky surface. Lay your hoop over grid lines on a quilting mat, matching up the vertical and horizontal lines on the mat with the hoop lines. Use masking tape to tape the hoop to the mat so it won't slide. Lay the first template on the jeans over the hoop, matching up the vertical and horizontal lines and finger press in place.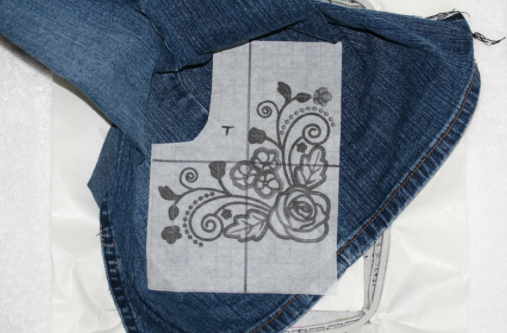 Embroidery Step 2
Pull up the first design on your machine an place the hoop on the embroidery arm. Move the needle position so you are starting in the center of the design by aligning your needle on the crosshairs on the paper template. If you can baste in the hoop, go ahead and do this now as this is a big help to making sure your design will go where you expect it to.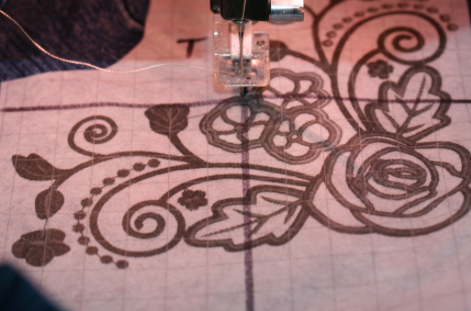 Embroidery Step 3
Use a sharp pair of scissors to trim close to the lace appliqué. I love to use curved scissors rather than straight scissors because I can easily slip the point under the lace and get very close to the stitching line which is necessary when doing appliqué. Another helpful hint is to hold the excess lace you are trimming taut to provide tension which helps trim closer to the stitching.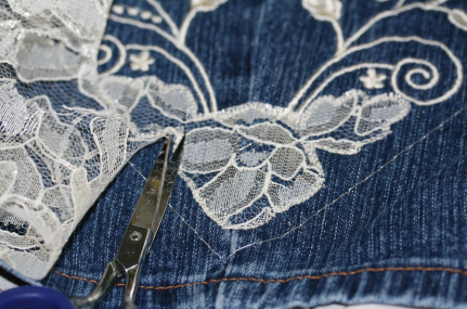 Embroidery Step 4
Continue the embroidery to finish off the first design. Notice the basting box that is around the design. This will help in lining up the next design.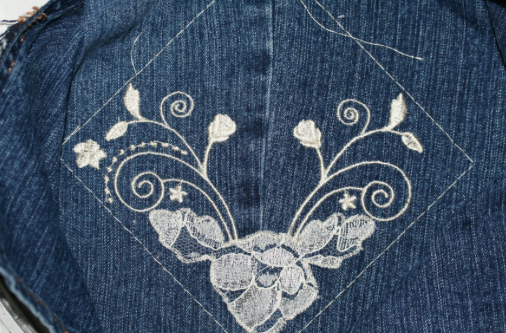 Embroidery Step 5
When the first embroidery is complete, remove the jeans from the hoop and hoop a new piece of sticky stabilizer and score the paper to remove.
Place the next sticky paper template on the jeans in the desired location. Embroider the next appliqué and continue with the steps above until you have finished all of your designs. When complete, sew the open leg seam on a sewing machine.
Do you like the little crystal butterfly on the jacket? This is made using crystals. I found a new book that I love from Design By Dawn called Dot to Dot…Crystal to Crystal Volume 2. This is a cool crystal placement template book that comes with the best directions I've ever seen for creating unique crystal motifs.
You can even add some vintage to the back pocket of your jeans. If you own a multi-needle embroidery machine it's so easy to embroider in a pocket, without ripping off the original pocket.
Want to find out more about machine embroidery? Check out Marjorie's post on entering the kingdom of machine embroidery appliqué. Then, why not take an online Craftsy machine embroidery class? Discover embroidery on Craftsy!