Do you look at your garden and the gardens around you and notice that they all kind of look the same? It isn't your mind playing tricks on you.
Seed companies have been consolidating for years, reducing the availability of diverse and interesting plants that your parents and grandparents used to grow. Go to the garden centers around you and you may find that they are all carrying the same plants from a select number of growers. Garden centers have razor-thin margins so they grow and carry what will sell.
But that doesn't mean you have to accept a boring garden. Break the garden monotony by growing plants from rare heirloom seeds.
What is an heirloom seed?
The term heirloom is kind of fluid. There aren't any clear guidelines on what seeds qualify as heirlooms. But one generally accepted definition of heirloom is a plant that has some age to it — let's say 50 or more years, and these seeds should be open-pollinated. You should be able to plant and collect the seeds and have them come true to type every year. Many heirloom seeds in America come from other countries, and many of them have been handed down by generations of gardeners and farmers in America.
Rare heirloom seed sources for gardeners:
Depending on what you want to grow, you may have to visit a few websites and pick a few seeds from one company and pick a few seeds from another. Below I'll give you some suggestions based on my favorite seed sources to introduce you to the wonderful world of rare heirloom seeds.
Probably the most popular of all heirloom seed sources around. Baker Creek Heirloom Seeds carries a lot of rare edible seeds and seeds from other countries that are perfect for foodie gardeners.
The largest network of heirloom seed savers and growers in the country. Seed Savers Exchange has been preserving rare heirloom vegetable and flower seeds for over 35 years.
If you're a foodie or vegetable gardener, the Ark of Taste may be a good place to do some research into heirloom seeds and plants that are at danger of becoming extinct. This isn't a seed company, but a directory of where you can find rare heirloom seeds.
A family-owned and operated business that focuses on heirloom, organic and rare seeds. Many of their seeds are grown on their 3-acre garden. The rest of the seeds are grown by Terroir's network of gardeners and farmers across the country. 
Southern Exposure Seed Exchange offers more than 700 varieties of vegetable, flower, herb, grain, cover crops, potatoes, onions and garlic. Their seeds can be grown by gardeners across the country, but they focus on varieties suitable for the Mid-Atlantic region and the Southeast.
If you are interested in growing heirloom tomatoes, Tomato Fest is a must for rare and unique heirloom tomato seeds. Here you can find just about every tomato you could ever possibly want to grow in your garden.
Other things to keep in mind —
Whether you want to grow some heirloom peanuts, zinnias you remember from your grandmother's garden, or a tomato you remember your dad growing when you were growing up, there are ample options for finding rare heirloom seeds. Your garden doesn't have to be boring or look like your neighbor's garden. It can be a living museum brimming with rare and heirloom plants that you start from seeds indoors.
On top of these heirloom seed sources I recommend connecting with seed libraries, garden clubs and seed-saving groups in your area to find heirloom seeds that have adapted to your region. But keep in mind that the popularity of heirloom seeds has resulted in many unscrupulous seed sellers setting up shop on the Internet. Do your research and buy heirloom seeds from trusted companies with a history of saving seeds and promoting the act of seed saving to preserve genetic diversity.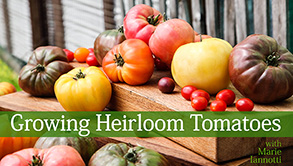 Get the techniques you need to grow healthier heirloom tomatoes year after year!
Join the online Craftsy class Growing Heirloom Tomatoes and enjoy hours of up-close instruction from gardening expert Marie Iannotti!