When your pet unicorn asks for a snack, what should you make? Rainbow sugar cookies, of course!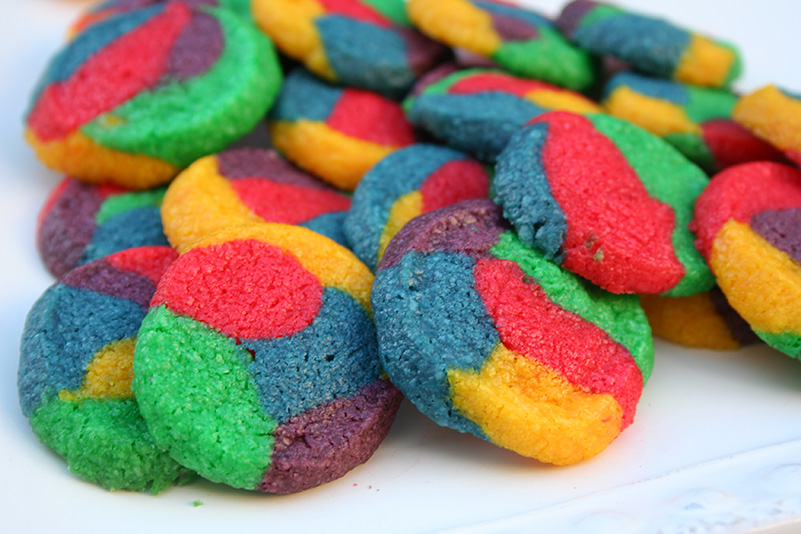 Photos via CakeSpy
These rainbow sugar cookies are incredibly easy to make, and deliver wow-worthy results.
While they might seem like magic, the process is simple enough: A pliable dough is prepared and then tinted in as many colors of the rainbow as you like, pressed together and rolled into logs. After chilling, it's as easy as slicing and baking these sweet treats.
These cookies are as delightful to behold as they are to eat, with a delicate texture that's somewhere between shortbread and classic sugar cookie. Taste the rainbow!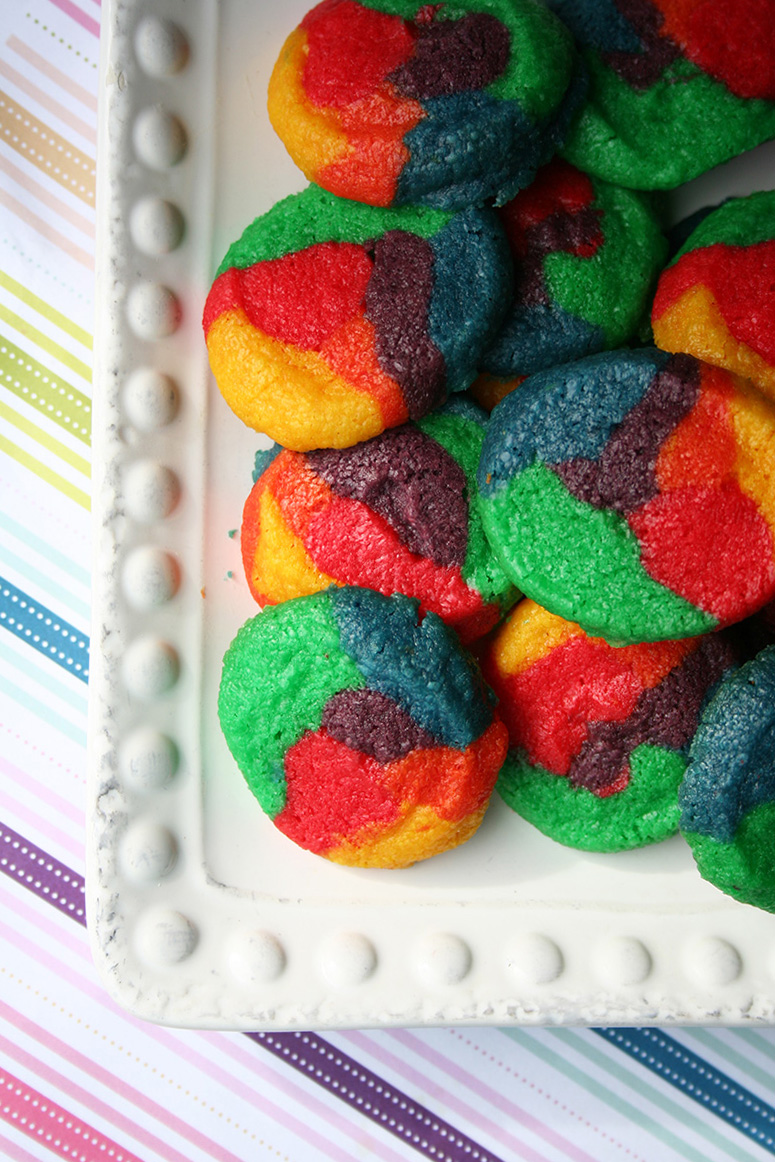 Easy rainbow sugar cookies
Makes about 60 small (approximately 1½") cookies 
2¼ cups all-purpose flour 
½ teaspoon salt 
2 sticks unsalted butter, room temperature
1 cup powdered sugar
1 teaspoon vanilla extract
Food coloring
Step 1: 
In a small bowl, sift together the flour and salt; set to the side.
Step 2:
In the bowl of a stand mixer fitted with the paddle attachment, cream the butter for 2-3 minutes on medium speed, or until soft and smooth. Add the powdered sugar and continue beating until the sugar has been absorbed (scrape down the sides of the bowl as needed). Stir in the vanilla.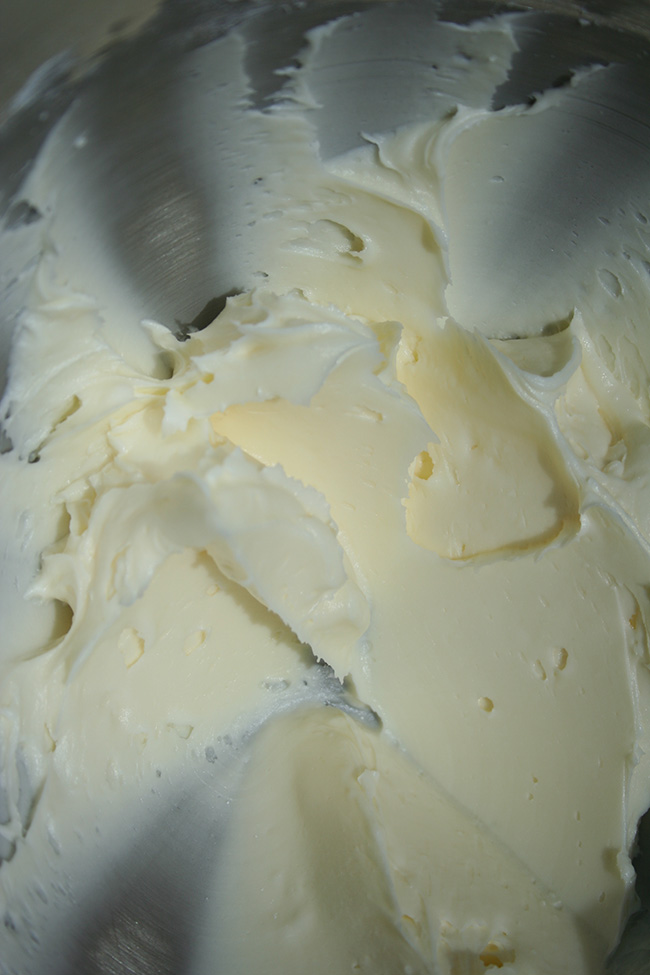 Step 3:
Add the flour mixture in 2-3 additions, mixing on low speed, using a rubber spatula to scrape down the sides of the bowl as needed. The dough will be soft and pliable, almost like Play-Doh in texture.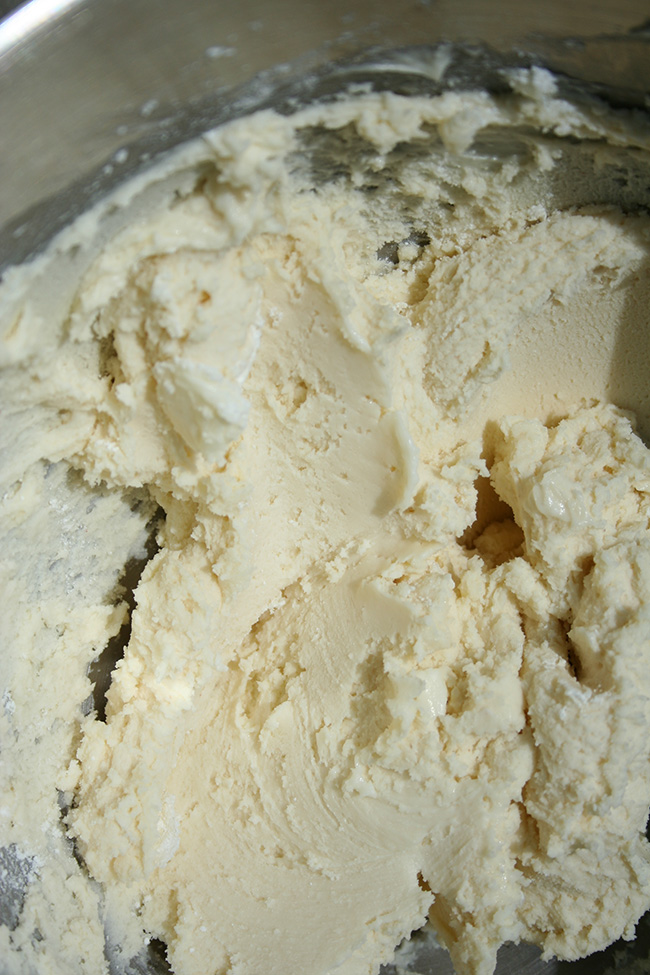 Step 4:
Divide the dough into as many equal portions as you want colors in your cookies (for the full rainbow, that's six). Tint each portion a different color. Go vibrant, because food coloring fades a touch in the oven.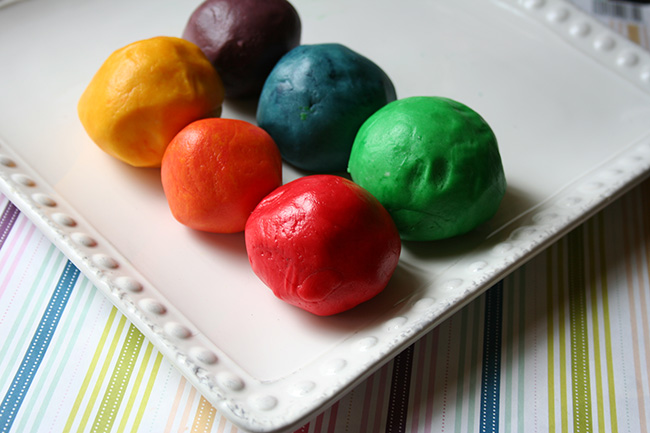 Note: If you don't relish the idea of having multicolored hands, wear gloves for tinting the dough. As you can see in the photos below, I did not, and my hands show it!
Step 5:
Divide each tinted portion into four equal parts. Roll each portion into a thin, slender log, about 6″ long. So if you have six different colors of dough, this will be 24 logs: four of each color.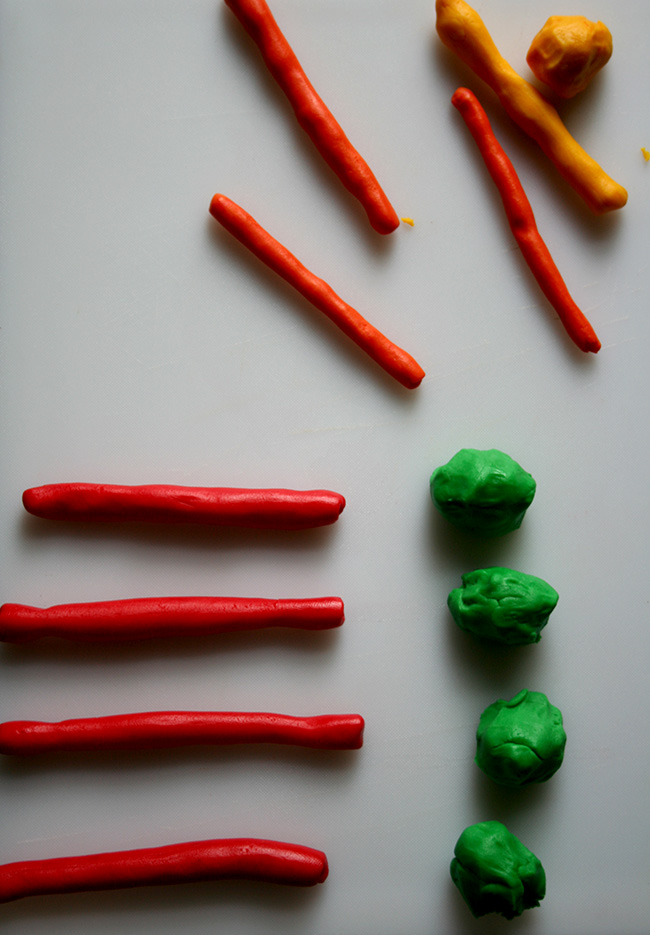 Once all of them are rolled, press one portion of each color together to form a new log. You'll have four units that look something like the unit in the forefront of this photo.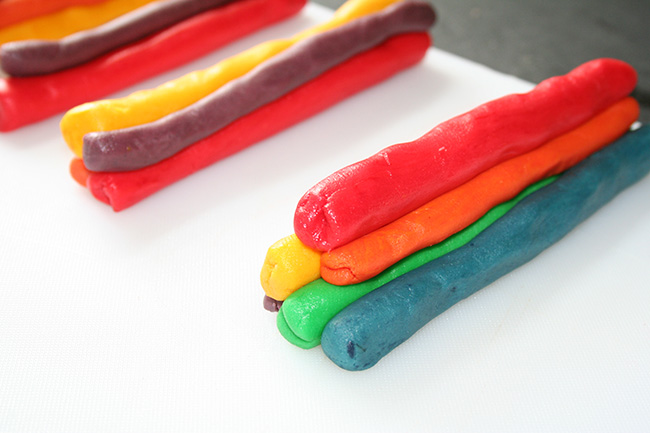 Step 6: 
Press the dough portions together firmly, to ensure a nice "seal." Roll into a new log, pressing and compressing the dough and then rolling it into a new approximately 8″ long log.
If it begins to get too long or slender, gently push on either end to squish it back into a shorter and fatter form. You can twist or braid the dough portions to create interesting shapes.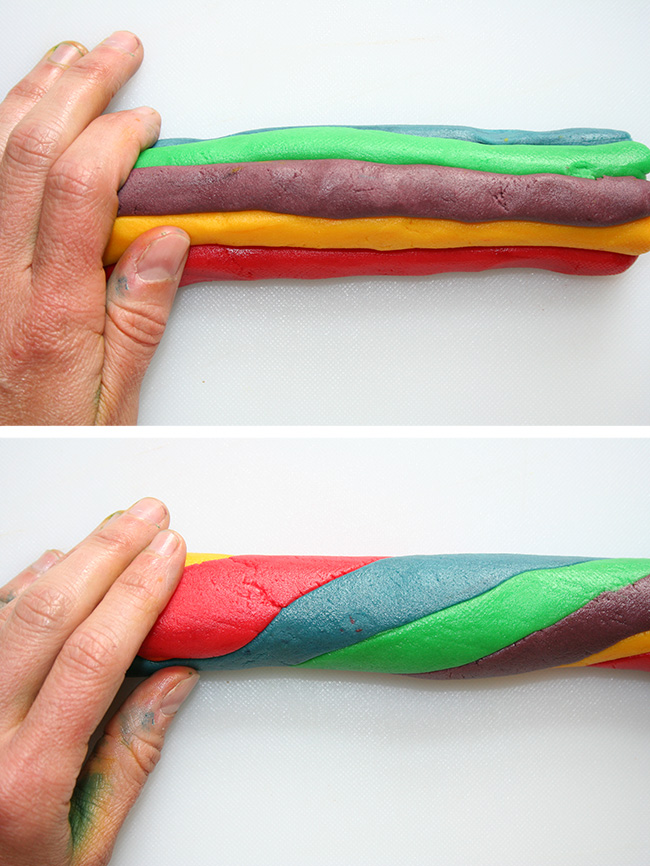 Step 7:
Wrap each log with plastic wrap and put in the fridge for 2-3 hours or overnight.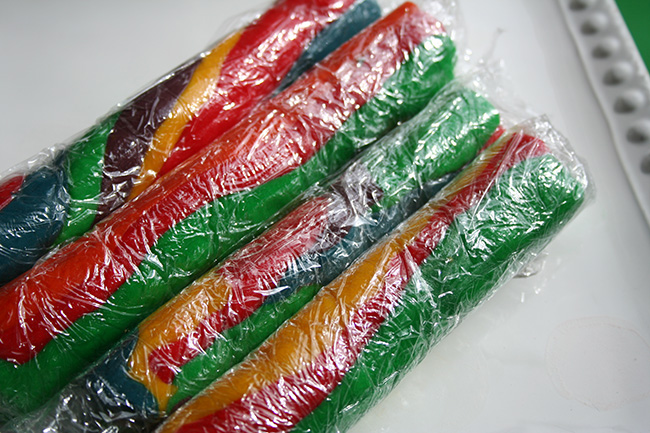 Step 8:
When you're ready to bake, line two baking sheets with parchment and preheat the oven to 375 F. Remove the dough from the fridge, and let it soften slightly.
Slice into coins. Mine were about ½" thick, which gave me about 15 cookies from each log of dough. If the dough is flaky or the color segments are cracking as you slice, let it soften a few minutes before continuing to work with it.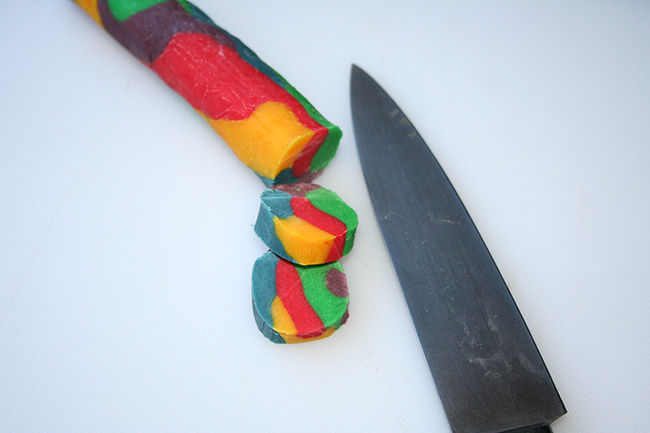 Step 9:
Place the coins of dough on the prepared baking sheets — they won't spread much, so you can put them fairly close together.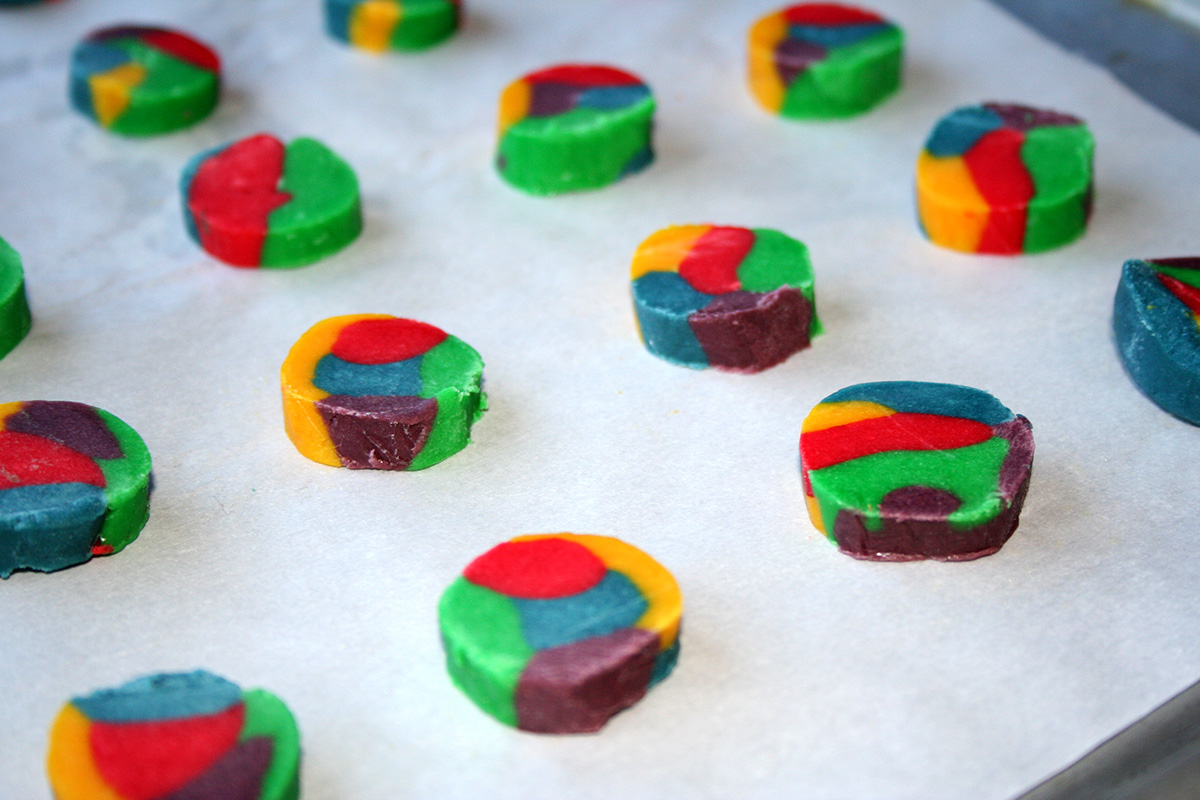 Bake for 7-9 minutes, rotating the pans after 4 minutes. Once matte on top (it can be hard to tell if they are lightly browned on the sides because of the vibrant colors) remove from the oven. Let the cookies cool on the pans for a few minutes before transferring to a wire rack to cool completely.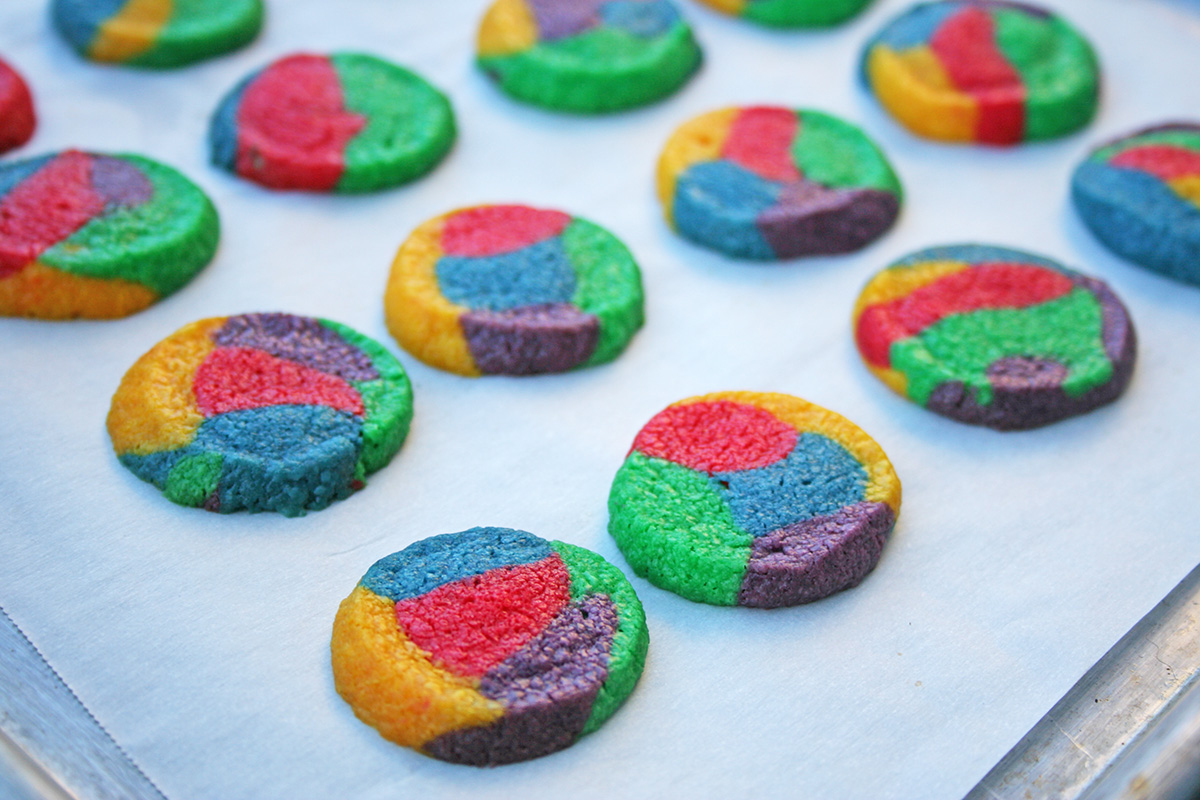 Store these cookies in an airtight container at room temperature for up to a week, or freeze for up to 1 month. Defrost before serving.
Recipe notes 
Flavored cookies
If you prefer to add a flavor other than vanilla to these cookies, use whatever extract or flavoring you like: almond, lemon or peppermint are all good choices. 
Food coloring
The cookies in this recipe were made using liquid food coloring. Another type of coloring, like gel or powder food color, can also be used. If you prefer not to use food coloring, you can make the cookies without; they will resemble more traditional slice-and-bake sugar cookies.
Make ahead
This dough freezes beautifully, so if you don't want to bake all of these cookies at once, freeze one or more of the four "logs." The dough can be frozen for up to 3 months; defrost before slicing and baking per the recipe.