Nature provides constant inspiration to art, quilting included. Rainbows are the perfect example of this! Those beloved shades of ROYGBIV grace all forms of art, don't they? Quilts full of rainbow colored  fabrics can be truly stunning masterpieces.
Here are 7 beautiful rainbow quilt patterns that will likely inspire you to sew a colorful rainbow quilt of your own.
Photo via traceyjay
Roundhouse
Careful attention to layout and color value result in this stunning rainbow quilt pattern. Simple piecing and templates are used to make a quilt measuring 72″ square or 48″ by 60″. Purchase a durable acrylic template from the designer or create your own quilt template out of freezer paper, cardboard or plastic.
Get the Roundhouse Quilt pattern.
Photo via Saltwater Quilts
Rainbow Steps and Stairs
Half-square triangles are used to create a rainbow design. Detailed tips and techniques are included, making this a quick and easy quilt that very beginner-friendly. Don't be afraid of those points, matching tips are covered too! Colorful pictures and diagrams to explain each step, and multiple sizes are listed.
Get the Rainbow Steps and Stairs pattern.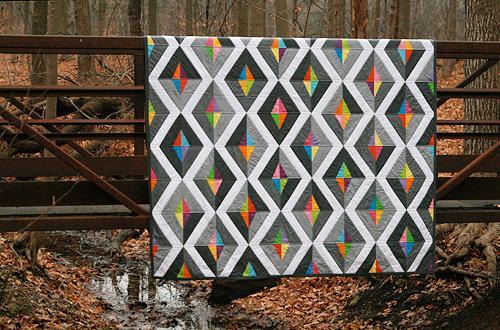 Photo via Fresh Lemons

Prism
The simple yet bold Prism quilt is paper pieced for accuracy. The quilt uses a variety of shades of gray and a rainbow of bright colors. Prior paper piecing knowledge is a necessity to stitch up this quilt. The pattern includes detailed assembly diagrams and templates for five different quilt sizes.
Get the Prism Modern Quilt pattern.
Photo via Lilac Lane
Chasing Rainbows
Try your hand at an eye-catching quilt made entirely from a single template and repeated over and over. Use all colors for a dramatic rainbow quilt, or choose your favorites for a different effect. The finished project makes a nice throw or twin-size bed quilt.
Get the Chasing Rainbows pattern.
Photo via Quilts by Emily
Double Plus
It seems like the world of quilting can't get enough plus quilts! Try out this playful version. Instructions are easy to read, beginner-friendly and include fabric requirements for four quilt sizes. Both novice and advanced quilters will enjoy this one.
Get the Double Plus Quilt pattern.
Photo via Amy Smart
Rainbow Connections
Here is another great rainbow quilt pattern that can be made from your leftover scraps. Sew together those smallest pieces to create pieced color blocks. Pair them with a white solid for an eye-catching modern quilt.
Get the Rainbow Connection pattern.
Photo via Fresh Lemons

Poinsettia Mini
Make a mini quilt measure 18" with the Poinsettia quilt pattern. This size is ideal for home decor, so hang the finished mini on the wall or use it to make a decorative, quilted pillow for your couch.
Get the Poinsettia Mini Quilt pattern.
Have you ever made a rainbow colored quilt? What is your favorite pattern?