Call them quirky, unconventional, off-the-beaten path or eccentric, but don't call them crazy! The following knitting patterns are anything but standard, and some may even call them mildly bizarre. Each of these patterns demonstrates its designer's creativity and out-of-the-box thinking.
Check out these eclectic knit designs to spur your own quirky project!
The Duck Hat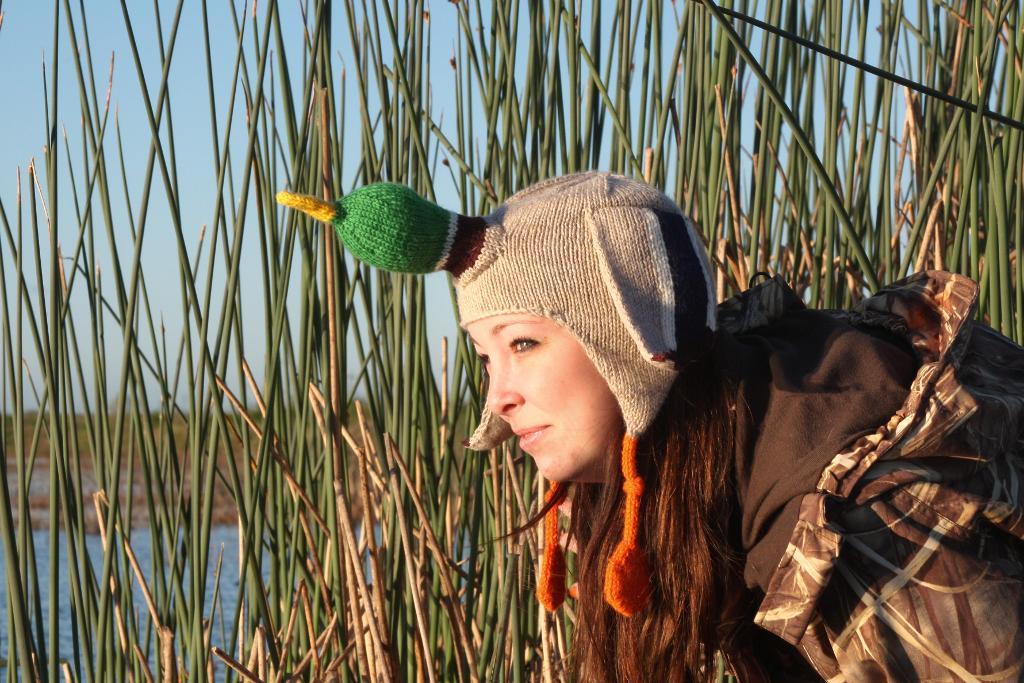 The Duck Hat via Craftsy member Emily Ringelman Designs
Tired of the same old hat styles and shapes? Don't despair, cry… fowl! Emily Ringelman's Duck Hat is a riot, delivering oodles of entertainment and chuckles for the wearer and for others who encounter the hat in the wild. Done in lifelike colors, the Duck Hat is sure to result in some double-takes from passersby but in a sufficiently progressive community, it could very well be trend-setting.
The designer's inspiration for the hat sounds surprisingly straightforward. She writes: "My husband,  an avid duck hunter and an ornithologist, asked me for a 3-D hat that looked like a mallard. I thought, you've got to be kidding me. But here it is! We often ride our bikes together, and he wears this hat. I bike a few feet behind him, so that I can watch the wings and feet flap in the breeze. Too funny."

Wondrous Finger Scarf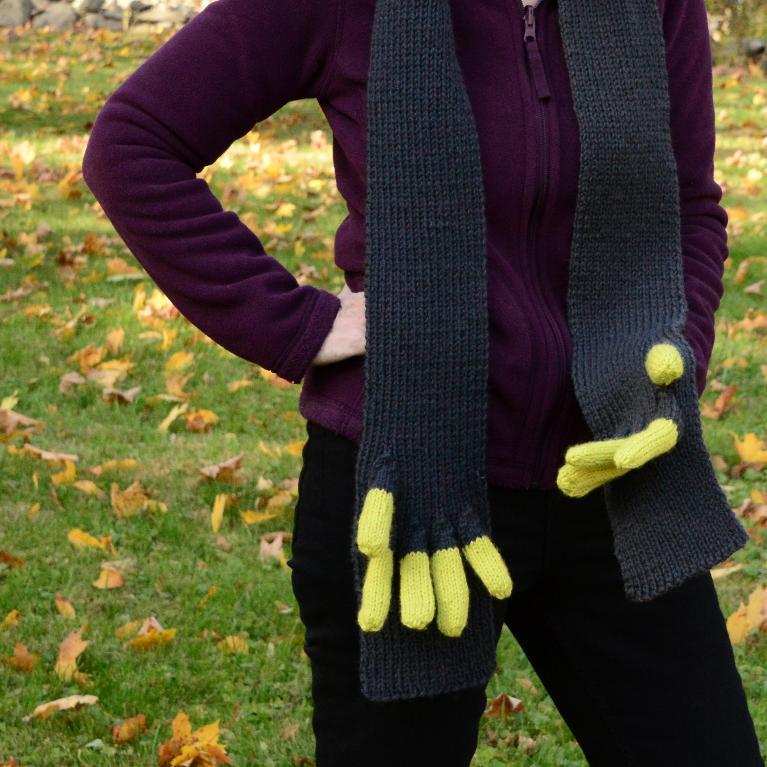 Finger Scarf via Craftsy member X & Y Designs
To someone bold enough to wear the Duck Hat, the Wonderous Finger Scarf may seem almost demure. This ever so slightly wacky yet surprisingly functional design is sufficiently simple to make. If ever there was a gift befitting the "For Someone who Has Everything" category, this scarf must surely be it.
If you go for contrasting colors, the appendages won't be lost in a crowd, but done in a densely variegated yarn the effect could be less conspicuous. Though your fingers may be covered, the rest of your hand will still be exposed to the elements, so think of the Wonderous Finger Scarf as a "palm-less" glove.
Udderly Divine Bag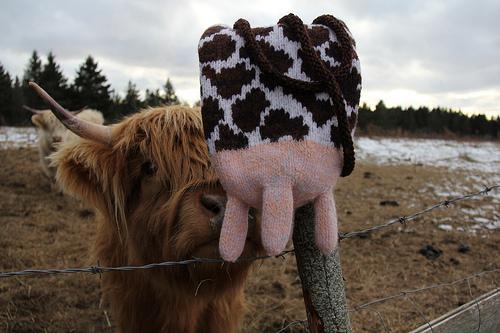 Udderly Divine Bag via Craftsy instructor Lucy Neatby
Similar to the scarf with appendages, the Udderly Divine Bag design takes familiar elements of a fingered glove and turns them, quite literally, upside down. How does one style this bag? You may want to steer clear of other animal prints and keep other accessories to a minimum. With an all-black layered outfit  (chunky boots + leather biker jacket?), this bag would make a real splash.
Street-style at the next Fashion Week? I wouldn't be surprised! Lest you think that Udderly Divine is somehow sheer whimsy and highly impractical, you may be delighted to discover that the bag is actually a knitting accessory! Yes, it dispenses yarn through a mechanism you should have no trouble imagining. Even colorwork is a possibility with this bovine satchel.
Lady of the Lake lace umbrella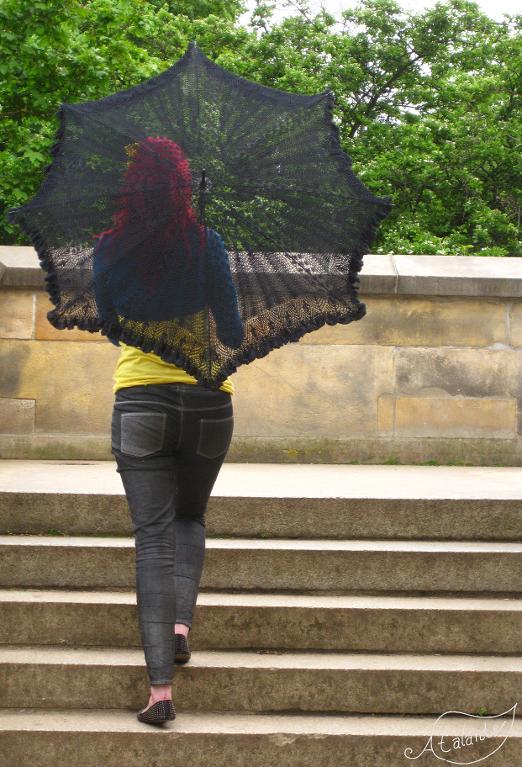 Lady of the Lake by Craftsy user Atalante Knits
Our next pick, Lady of the Lake, has less of shock value but it's equally extra-ordinary and definitely would leave anyone who encounters it in a state of awe. A fine lace parasol can make an appearance not only at a dainty tea party but at a barn wedding or a steampunk event too. And for the really tame at heart, skip the parasol and wear the piece as a circular shawl.
The Mitts of Sisyphus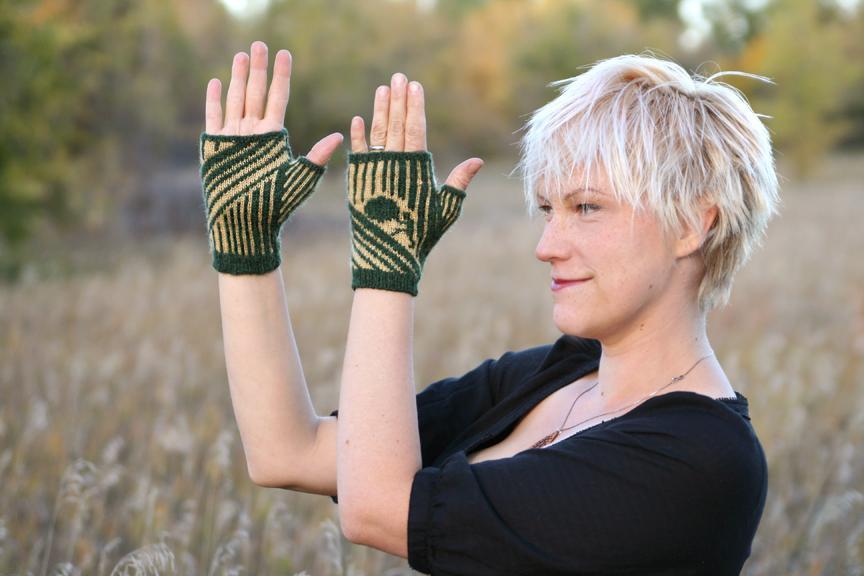 The Mitts of Sisyphus by Craftsy member Wattsolak Designs
Our final pick delivers its quirk factor with subtlety  look closely at the clever colorwork in The Mitts of Sisyphus, and I dare you to find another pair of gloves  inspired by Greek mythology.
To see more examples of knitting very much outside the box, check out Ruth Marshall's gallery-worthy work, include knit faux-animal pelts in the name of saving endangered species.
Which of the above unusual five patterns are you tempted to knit?